This layered pumpkin cake with pumpkin ganache frosting is the ultimate Fall dessert. Homemade pumpkin spice cake is layered with creamy pumpkin ganache and drizzled with caramel sauce. Yum!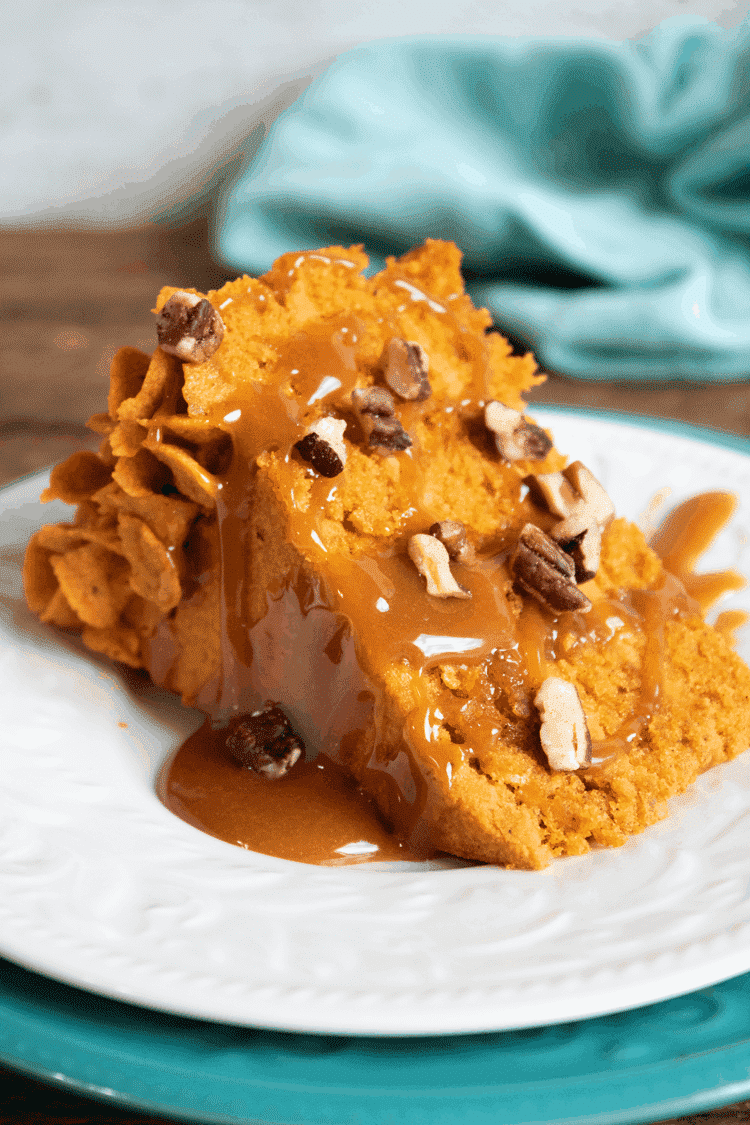 In this Article:
This layered pumpkin cake with pumpkin ganache is rather easy to whip up, even though it looks like it took all day. It's a pumpkin cake with layers upon layers of delight!
This pumpkin cake has a white chocolate pumpkin ganache frosting that is sure to leave you craving another bite.
Pumpkin is a favorite ingredient year-round in our home. We love it baked into all sorts of treats - like pumpkin cheesecake, pumpkin bars, or this easy pumpkin dump cake.
I made this for a family get together- and boy was it gone in a hurry. If you love pumpkin and looking for a stunning presentation, give this pumpkin cake a try. 
How To Store Pumpkin Cake
You can store your cake on the counter for 2-3 days, or store in the fridge for 3-4 days. Each day the cake will dry out a bit more, so it is best when eaten in the first few days.
Can I Make This Pumpkin Spice Cake Ahead of Time?
You can make this cake a day in advance. If you go any further it will begin to dry out and it won't be as fresh-tasting as day one. Just make sure you keep the cake covered to prevent it from drying out.
What Is Pumpkin Spice Made Of?
Pumpkin spice is a spice blend that contains cinnamon, cloves, and allspice. You can buy pumpkin pie spice to replace the spices in the recipe, if you prefer to just buy one item.
What Is Actually In Canned Pumpkin?
Canned pumpkin is simply a pumpkin puree. Be careful not to buy a canned pumpkin pie filling, which already has sweeteners and spices mixed in. Check the label and make sure pumpkin is the only ingredient.
How Do You Make the Pumpkin Ganache?
To make the pumpkin ganache you will use a mix of white chocolate, whipping cream, pumpkin, and spices. Melt down the chocolate and whip it up with the cream and other ingredients. It will give this a pumpkin spice ganache flavor that totally elevates the cake to a whole new level. 
Can I Make This Layered Pumpkin Cake in a Regular Cake Pans?
Yes. If you don't want to make a layered cake you can bake this up in a 9x13 baking pan. But you may need to adjust the cooking time a bit longer to accommodate the larger cake. All the cake to cool before you pour the ganache on top. 
Baking Supplies Needed
Stand Mixer or Hand-held Mixer- This makes it SO much faster to whip the topping. Like I said above, it can be done without a mixer, but make sure you have a strong arm and patience. I have a KitchenAid Pro Mixer that I've had for 12+ years and love it!
Round Cake Storage and Carrier- Having a pan with lid and carrier makes it easier for storage. No more having to deal with plastic wrap that gets messy and twisted up.
8-inch Parchment Rounds- No more dealing with cake sticking to the bottom of the pan!
Cake Leveler- This tool is a must if you want to make layered cakes. It allows you to evenly remove the rounded part of the cake top and make perfectly level layers.
Cake Server- A good cake server makes a world of difference. It makes it so much easier to lift the dessert lasagna out of the pan in nice and even slices.
Cake Decorating Set- Making a pretty cake is reasonably easy when you use the tools in this decorating set. With a little practice, you will be decorating cakes like a pro in no time.
Can You Freeze This Pumpkin Ganache Cake?
Yes. You can freeze this cake whole or by the slice. Once your cake is fully cooled down, you can cover with plastic wrap, aluminum foil, or just place in an airtight container. Then toss in the freezer for up to three months.
Allow your cake to thaw on the counter or in the fridge for a few hours before you plan to eat. 
How to Make the Layered Pumpkin Cake
First, mix the ingredients for the cake. I used unsalted butter and creamed it with granulated sugar, but you could also used a combination of half granulated and half brown sugar to get an even richer flavor.
Make sure your butter and eggs are room temperature. It is so much easier to bake when you use room temperature eggs and butter.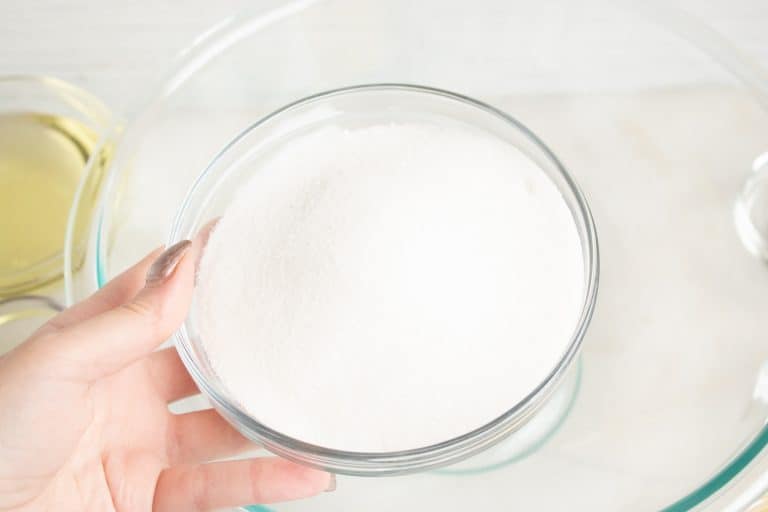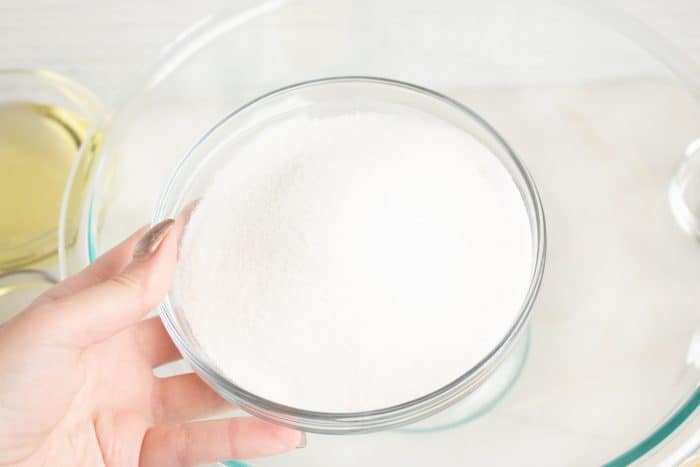 Mix the flour mixture in with the wet ingredients. Then, add batter to the prepared pans.
Bake the cakes and they are done when a toothpick inserted in the cake centers comes out clean.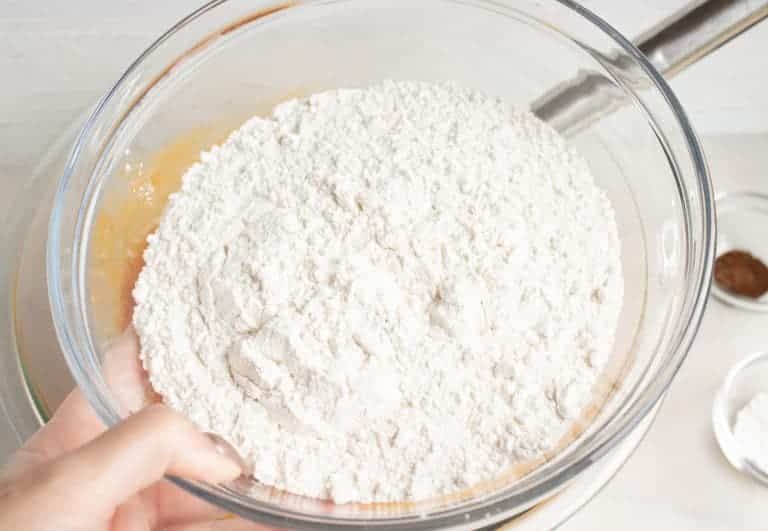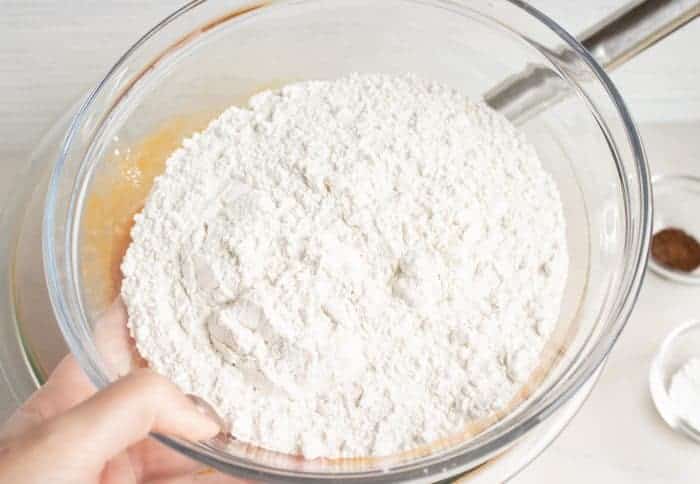 Cool cakes and prepare the pumpkin ganache frosting. Level the cake layers by removing the curved top.
I highly recommend a cake leveler for this part, which I've linked to above in the 'supplies needed for this recipe' section.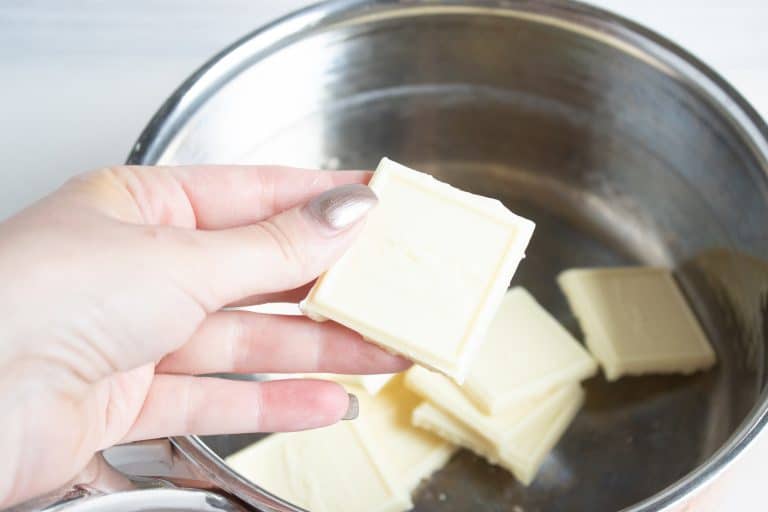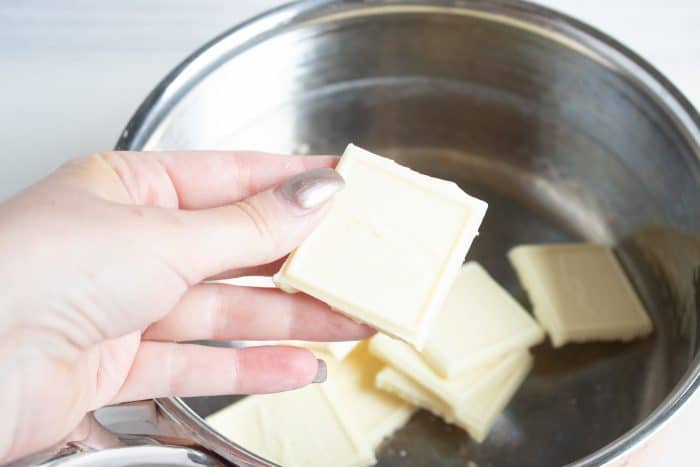 Frost the cake and decorate.
If you don't have the ingredients for the pumpkin ganache, you can make an equally delicious frosting by beating 4 ounces of cream cheese, ¼ cup butter, and powdered sugar together.
You'd beat cream cheese and butter together to start and then add in powdered sugar until you reach your desired consistency. Add in a teaspoon of vanilla and you're good to go. You could also add in a teaspoon of pumpkin pie spice.
If desired, add a caramel topping.
Recipe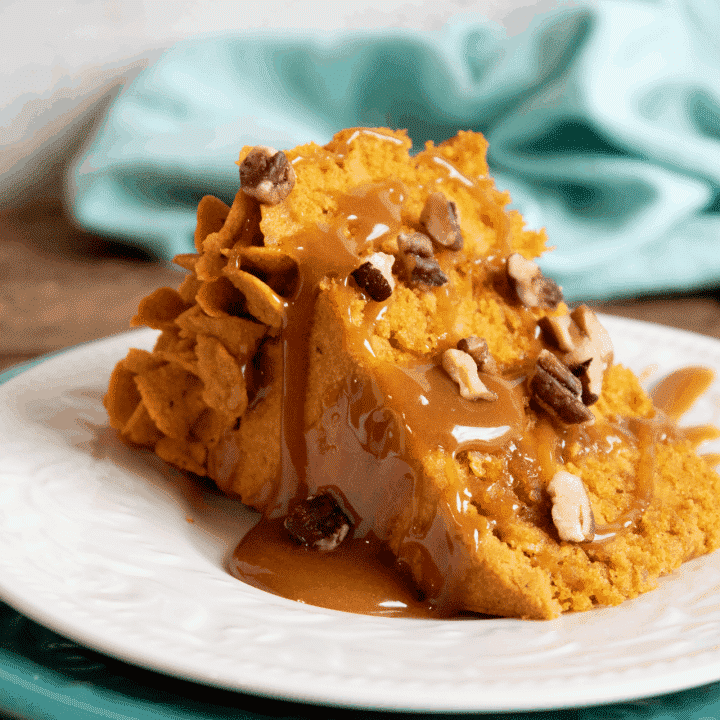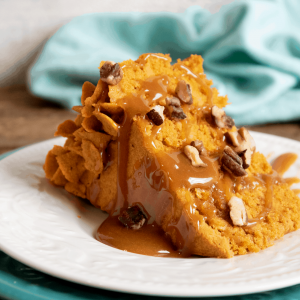 Pumpkin Cake with Pumpkin Ganache Filling
This layered pumpkin cake with pumpkin ganache frosting is the ultimate Fall dessert. Homemade pumpkin spice cake is layered with creamy pumpkin ganache and drizzled with caramel sauce. Yum!
Instructions
Preheat oven to 350 degrees. Spray 3 8-inch round cake pans with non-stick cooking spray and line the bottom of each pan with a circle of parchment paper.   

Mix wet cake ingredients until mixed well and then add all the dry ingredients to the same bowl.  Stir to combine until just mixed but smooth. Do not overmix. 

Divide batter evenly between the three cake pans and bake for 25-30 minutes, or until a toothpick inserted into the middle of the cake comes out clean.    

Set cake aside to let it cool in the pans for 30 minutes to an hour, and then drag a knife along the outside of the cake to make sure it isn't sticking to the pan at all before removing the cake from the pan.

Level the cakes using a leveler to remove the curved top. Toss top, or use in another recipe like cake pops or cake truffles.

Combine filling ingredients in a medium saucepan. Heat over medium-low while stirring frequently. When filling comes to a boil, continue to stir for 1-2 minutes while mixture thickens.

To assemble the cake, start with a cake layer (top side down) on a cake plate. Top with ⅓ of the filling. Repeat with the next two layers. If desired, add some of the filling to a decorating bag and use a icing tip to decorate the top of the cake.

If desired, top with additional garnishes like caramel sauce, chocolate ganache, and/or pecans.
Notes
You will need to buy 2 (15-ounce cans) of pumpkin puree to have enough pumpkin for this recipe.
Nutrition
Serving:
1
g
Calories:
403
kcal
Carbohydrates:
53
g
Protein:
6
g
Fat:
19
g
Saturated Fat:
12
g
Polyunsaturated Fat:
1
g
Monounsaturated Fat:
5
g
Trans Fat:
0.01
g
Cholesterol:
101
mg
Sodium:
206
mg
Potassium:
238
mg
Fiber:
3
g
Sugar:
34
g
Vitamin A:
10199
IU
Vitamin C:
3
mg
Calcium:
116
mg
Iron:
2
mg