Pumpkin Oatmeal Chocolate Chip Muffins... Healthy and Delicious
I made these Pumpkin Oatmeal Chocolate Chip Muffins this week and they were De.Li.Cious!  The recipe made a dozen perfect little muffins and half of them were promptly eaten.
My family loves pumpkin, consumes pumpkin, breathes pumpkin.  If you have any doubt, you might want to check out our pumpkin-licious recipes: Pumpkin Pie Bagel, Pumpkin Shake, Pumpkin No-Bake Cheesecake, to name a few.
Yes, there is not a doubt that we are a pumpkin loving family.
While our Pumpkin Chocolate Chip Muffins don't have the typical pumpkin pie spice, they are so moist and delicious that it is literally hard to stop at just one.  Ask my daughter.
If you're looking for a healthy muffin, this is without a doubt a muffin worth considering.  It has oatmeal, pumpkin puree, brown sugar and egg whites.  Low calorie and health-conscious ingredients.
Even better?  It tastes great!
We have a freezer basket nearly full of pumpkin puree.
If you have never preserved winter squash or pumpkin it is such a healthy and rewarding experience.
And fairly simple.
Not to mention how great it is to have frozen winter squash or pumpkin on hand for recipes like these Pumpkin Oatmeal Chocolate Chip Muffins, among other fabulous recipes.
How to Preserve Winter Squash/Pumpkin in the Freezer
Cut squash in half and scoop out the seeds.
Put face down on baking sheets.
Bake at 400 degrees until the squash is soft enough to scoop out of the peels.
Let cool for about 10 minutes and then scoop the squash out.
Puree the squash without adding liquid using either a food processor or a potato smasher.
Store in freezer bags labeled with the amount of winter squash/pumpkin that you are storing. (2 cups works great).
You will have an abundance of pumpkin/squash puree ready to use for soups, baking, and other fantastically healthy recipes.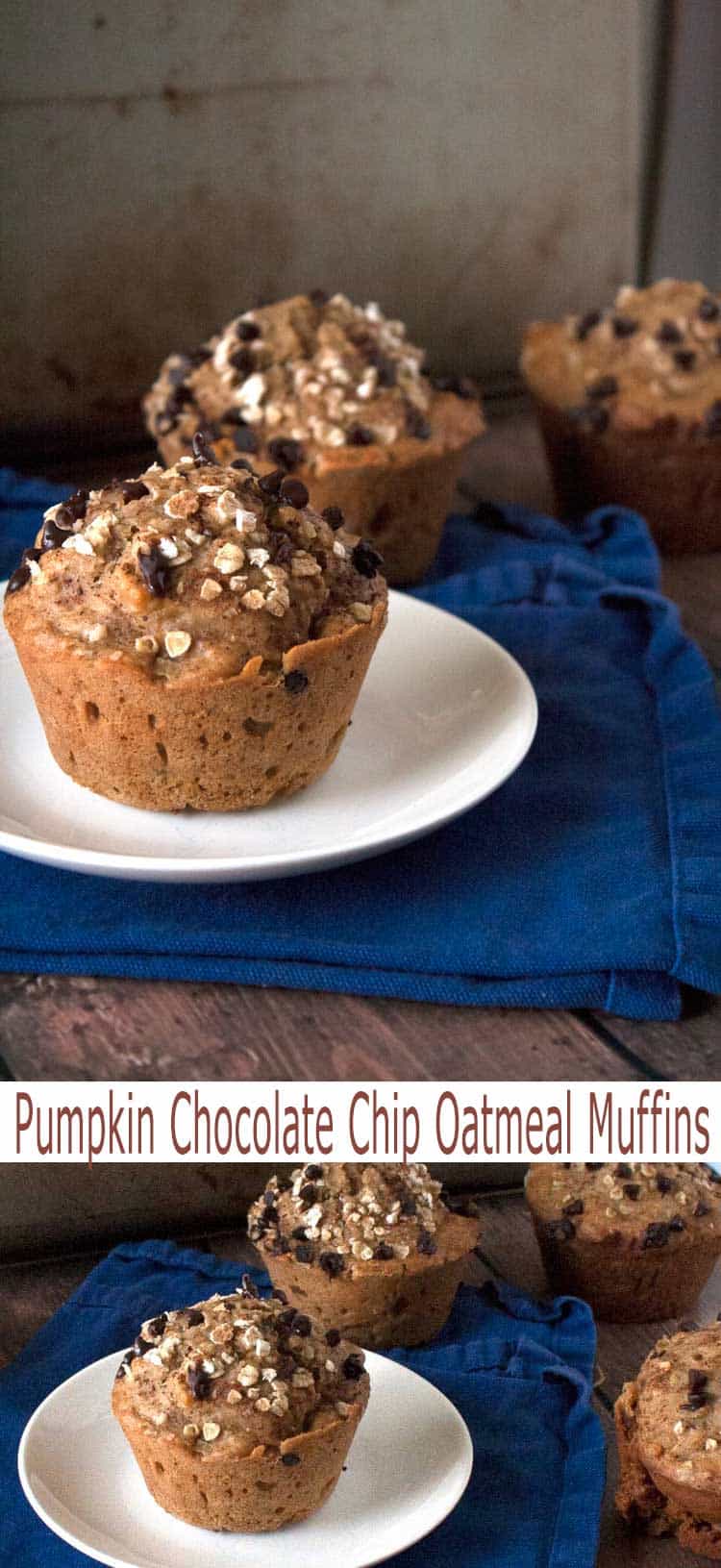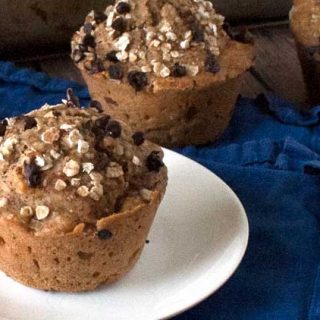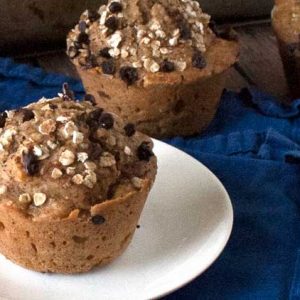 Pumpkin Chocolate Chip Muffins
Pumpkin Oatmeal Chocolate Chip Muffins. Pumpkin Oatmeal Chocolate Chip Muffins are the best breakfast muffins recipe. They are full of healthy ingredients and a touch of sweetness that makes them a healthier for you breakfast option than some other muffins. You'll love this easy muffin recipe.
Ingredients
½

cup

butter or margarine

melted

½

cup

brown sugar

2

cups

pumpkin puree

¼

cup

milk

2

egg whites

1

teaspoon

vanilla

1

cup

oatmeal

ground in a food processor

1

cup

all-purpose flour

1

teaspoon

salt

1

teaspoon

baking soda

½

cup

chocolate chips
Instructions
Preheat oven to 350.

Cream together butter and sugar. Mix in the remaining wet ingredients.

In separate bowl, combine the next four ingredients. Mix together until well blended and then add slowly to the wet ingredients.

Stir in chocolate chips.

Lightly spray a muffin pan with cooking spray. Fill each muffin cup nearly full and then bake for 18-20 minutes.
Nutrition
Calories:
525
kcal
Carbohydrates:
69
g
Protein:
8
g
Fat:
25
g
Saturated Fat:
5
g
Cholesterol:
2
mg
Sodium:
1171
mg
Potassium:
420
mg
Fiber:
5
g
Sugar:
32
g
Vitamin A:
20104
IU
Vitamin C:
5
mg
Calcium:
90
mg
Iron:
4
mg