Salted Caramel Ice Cream is just our flavor.
Ice Cream, ice cream, we all scream for ice cream!
Yes, it's a childhood song--a little chant that we all used to sing on the playground, but hey--we're talking about ice cream here. And when you think about being able to make the good stuff at home? The good stuff that looks this delicious...
Make Homemade Ice Cream with Coconut Milk
Well, that is exactly why we're still singing the ice cream song. Although this time we're singing it right in our own kitchen, armed with spoons and bowls to scoop this tasty Salted Caramel Ice Cream right up into.
If you could eat a bite right off of this page, we're pretty sure that you'd zero right onto this sweet treat:
Have a sweet tooth?
We LOVE Dessert
You're not alone. We like to indulge in a sweet dessert from time to time around here as well. You can find us nibbling on Hazelnut Cheesecake Icebox Cake, Twix Brownie Trifles, and other fun desserts like Peanut Butter Ice Cream Pie.
Yep. We're down with all of those desserts because they all have amazing flavor.
Salted Caramel Ice Cream is Easy to Make
All you have to do is follow the simple recipe instructions to make this delicious ice cream dessert. We're pretty sure it will quickly become a family favorite.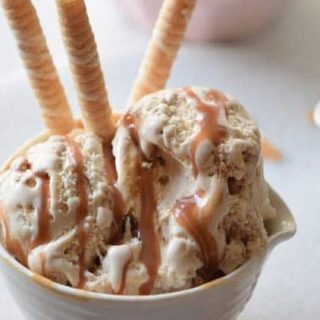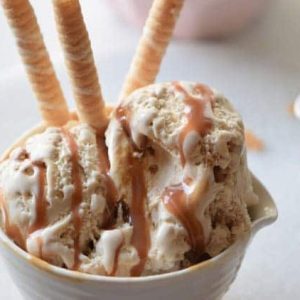 Salted Caramel Ice Cream Recipe
You'll want to try this Salted Caramel Homemade Ice Cream made with coconut milk. Homemade ice cream recipe that is easy to make at home and is easy for kids to help make.
Ingredients
3

Cups

coconut milk

½

Tsp

sea salt

1

Cup

sugar

¼

Cup

salted caramel

1

Tbsp

vanilla bean paste

or vanilla extract
Instructions
Place the ice cream maker bowl in the fridge.

Combine the coconut milk, sea salt, and sugar in a blender and mix for a minute until completely smooth.

Add the salted caramel and vanilla bean paste. Mix for 1 more minute.

Tips

Add some caramel sauce to the mixture while churning, to add more caramel flavor to the ice cream.

Pour the mix into the ice cream maker and follow the maker's instructions to churn the ice cream.

Serve and enjoy
Nutrition
Calories:
1198
kcal
Carbohydrates:
137
g
Protein:
8
g
Fat:
75
g
Saturated Fat:
65
g
Cholesterol:
2
mg
Sodium:
699
mg
Potassium:
809
mg
Sugar:
124
g
Vitamin C:
3
mg
Calcium:
102
mg
Iron:
11
mg
Tips
Add some caramel sauce to the mixture while churning, to add more caramel flavor to the ice cream.