Slow Cooker Apple Butter is incredible for slathering on toast, bagels, pancakes and more. It also makes an incredible holiday gift to loved ones. Apple butter is rather easy to make in the slow cooker, the hardest part is allowing it to cook low and slow.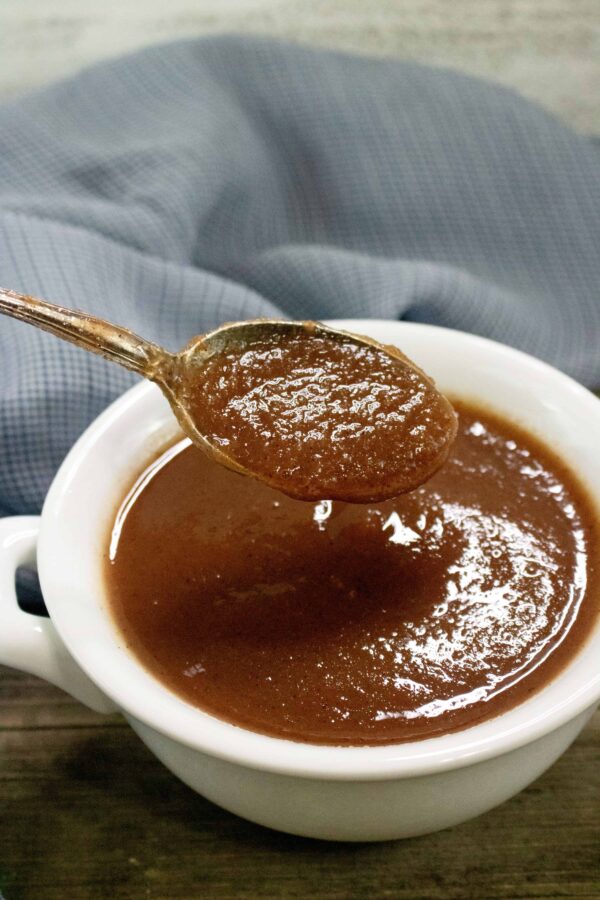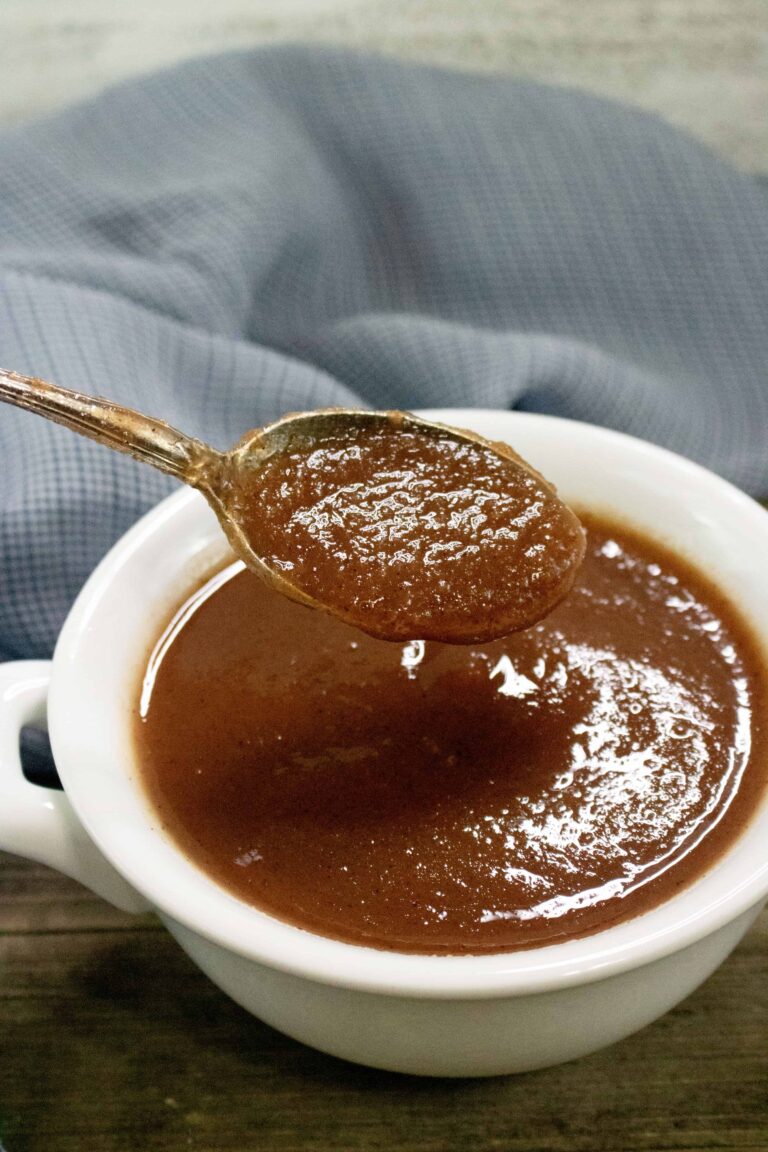 I used to think apple butter was a type of true butter. It isn't. It just gets the name cause you can smother it on all the things you would smother butter onto.
This easy apple butter recipe only has 5 ingredients. It takes seconds to whip up and toss into your slow cooker. Then just let it cook all day and you are ready to enjoy. 
Making Slow Cooker Apple Butter
While there are different methods to apple butter, I find this recipe to be my favorite. I use apple sauce to start, instead of sliced apples. I have homemade applesauce I use and it really elevates the flavor of my recipe.
If you see recipes that use whole apples they generally have to transfer and puree or blend. With applesauce as the base, you don't have that extra step.
What Is Apple Butter
Apple butter is truly just long-cooked applesauce that is super concentrated. Rich apple flavor, caramelized color, and bursting with spiced up apple flavor. You can pile it on your favorite baked goods, bread, waffles, and the list goes on. You treat it like a jam.
Can I Buy Applesauce for Apple Butter Recipe
Yes. If you don't want to make homemade applesauce you can always buy it. I highly recommend buying quality applesauce as it will truly set you up for flavor in this recipe. It is one area I don't skimp on when making apple butter.
What Spices Are Used in Apple Butter
Cinnamon, ground cloves, and allspice are what I really love. They bring out such a fall flavor in this recipe. It is spiced up, but yet smooth and refreshing so it doesn't feel overpowered by the spices. You also might like to use apple pie spice blend. I have used that in the past and found it offers a fantastic layer of flavor.
If you Love Apple Butter You Will Love These Recipes Too
What Is Apple Butter Used For
Putting on toast, English muffins, etc.
Topping for pancakes, waffles, etc.
Mixing into dips
Sweet Potatoes
Ice Cream
Marinading Meats
Cooking with it
How Long Does Apple Butter Keep
You can keep a jar of apple butter that has been opened in the fridge for 1-2 weeks. Use your best judgment of if you feel the butter is going bad. Since this is a larger batch, I recommend giving as gifts to loved ones, or freezing it.
Best Way to Freeze Apple Butter
I love freezing my leftover apple butter. With such a big-batch recipe, this will make a ton. What I do is take glass containers with lids and fill them almost all the way full. You need to leave some room at the top of the jar, so as the apple butter freezes it has room to expand.
Then store in the freezer for up to six months. When you are ready to use the apple butter, just place in the fridge the night before to allow it to thaw out. Then use like you would.
You can find smaller jars online or even at a craft store to use. I freeze in smaller containers so I am able to for sure use what I have out without being wasteful.

Holiday Gift Idea with Apple Butter
If you love giving baked goods and treats at the holidays, consider this recipe! I find really neat glass jars and use that to give as a gift. Find some holiday inspired ribbon whether for Thanksgiving time or Christmas. Tie around the lid, add a label and you have a fun gift. Pair with some homemade bread, muffins, or treats and you have a complete gift.
I hope you all enjoy has easy this recipe is. It is worth the wait for it to cook down and really blend all those rich flavors together. You will never buy store bought apple butter again.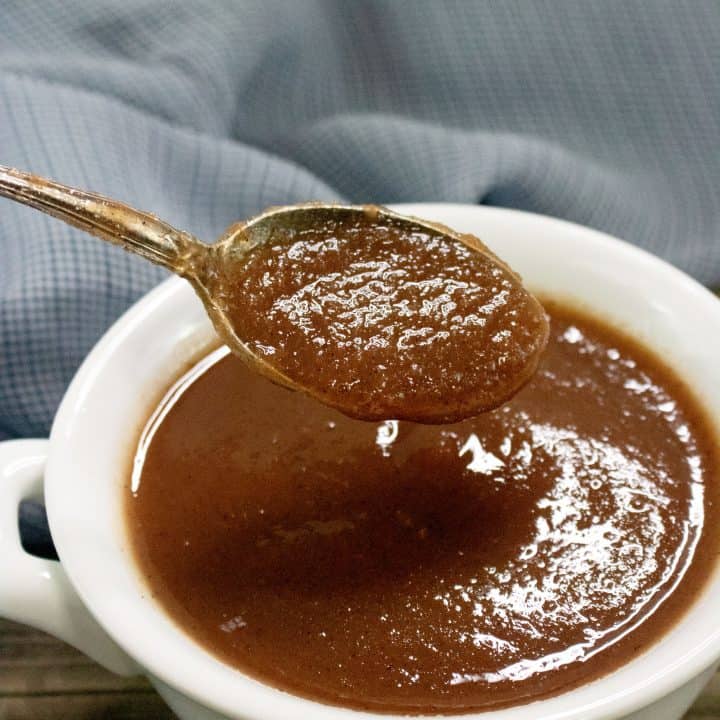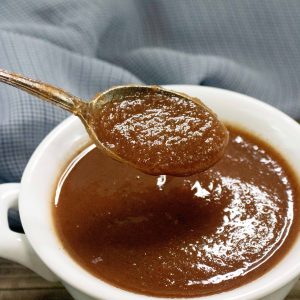 Slow Cooker Apple Butter
Delicious apple butter is tasty to serve on toast, or even as a syrup alternative on pancakes or waffles. Use jarred applesauce, or for an even fresher taste, homemade applesauce.
Ingredients
3

cups

apple juice

2

teaspoons

cinnamon

1

teaspoon

ground cloves

1

teaspoon

ground allspice
Instructions
Combine all ingredients in slow cooker and cook on low heat for 14 hours.

Stir and store in the refrigerator, can, or store in freezer and freeze.
Nutrition
Serving:
1
g
Calories:
34
kcal
Carbohydrates:
9
g
Sodium:
1
mg
Fiber:
1
g
Sugar:
7
g