Best Baked Pasta Recipes – Spicy Sausage Pasta Bake
Creative cooking is fun.  I love browsing around Pinterest, Instagram, other food blogs, and perusing the web for inspiration and then crafting my own designs from those inspirations.
And sometimes, an idea just comes to me from something I've made in the past, like a Chicken Vegetable Lasagna, Mushroom Bow-Tie Pasta, or Cheesy Butternut Squash Pasta Bake.
Glorious Dinner in the Oven
Yesterday when browsing around, I had an AhHa! moment.
I've always loved baked ziti and lasagna, but never thought of trying a baked pasta recipe with bow-tie pasta.  I don't know why, because bow-tie pasta is so much fun.
I love pasta so much that I've tinkered around with the idea of buying a
pasta maker
so I can make all kinds of nummy homemade pastas. We had one growing up and I remember that it was fun to use.
I thought I would spice things up a bit, and decided to use sausage instead of ground beef… the only reason why: I've had a couple rounds of sausage taking up room in my freezer not being used.
So… Spicy Sausage Pasta Bake was born.  And no, I didn't even use spicy sausage… just regular old mild breakfast sausage. But, you totally could use spicy Italian sausage–which is in fact one of my favorite things to cook with!
Spicy Sausage Pasta Bake Recipe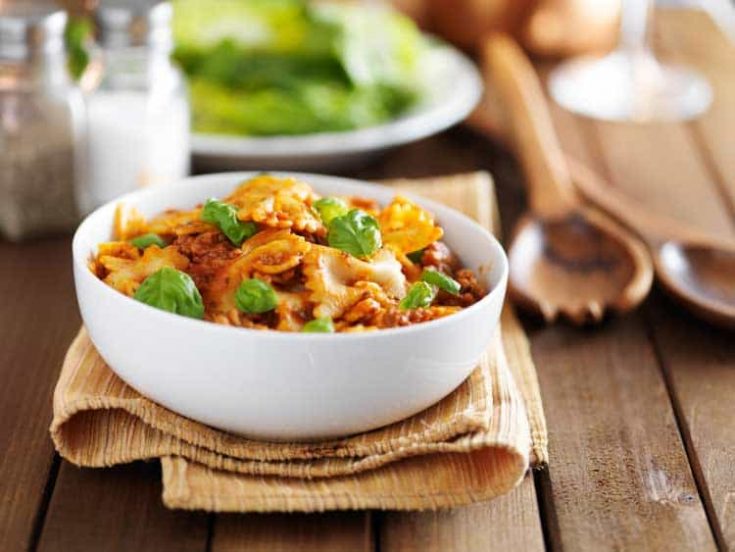 You May Also Like:
And don't forget dessert:
The following two tabs change content below.
Latest posts by Jessica McCoy (see all)