This post was sponsored by Sunshine Sweet Corn as part of an Influencer Activation for Influence Central and all opinions expressed in my post are my own.
I'm pretty sure it goes without saying that this Sweet Corn, Tomato & Avocado Salsa from Sunshine Sweet Corn looks utterly amazing. These are the photos I took when I made the recipe at home a week or so ago, and let me tell you--this sweet corn salsa tastes every bit as good as it looks.
I've always LOVED corn in salsa. So, when I saw this recipe on the Sunshine Sweet Corn website, I immediately KNEW that was the recipe I was going to make. There was nothing else that could possibly complete. I mean...come on! We're talking about corn, tomatoes, avocado and red onions all tossed up into this yummy concoction together. With CILANTRO. Win.
Sunshine Sweet Corn is in season now!
I was actually a little bit surprised to find cobs of corn available at my store this early in the season, but was super excited that they were there. There is nothing quite like fresh cobs of corn. And as soon as my son gets home from his semester away at school, you can bet I'm going to be making a LOT of corn on the cob for that young man. He absolutely loves corn.
Luckily, he gets home in a couple of weeks, so he'll be able to enjoy the spring crop of Sunshine Sweet Corn delivered to our store from where it is grown down in Florida. And since I was just down in Florida (albeit at the airport in Miami), I can testify to the fact that it is definitely warm enough there for bountiful crops of corn! And lets face it...once you taste the sweet goodness of Sunshine Sweet Corn, you're hooked. I know my family is!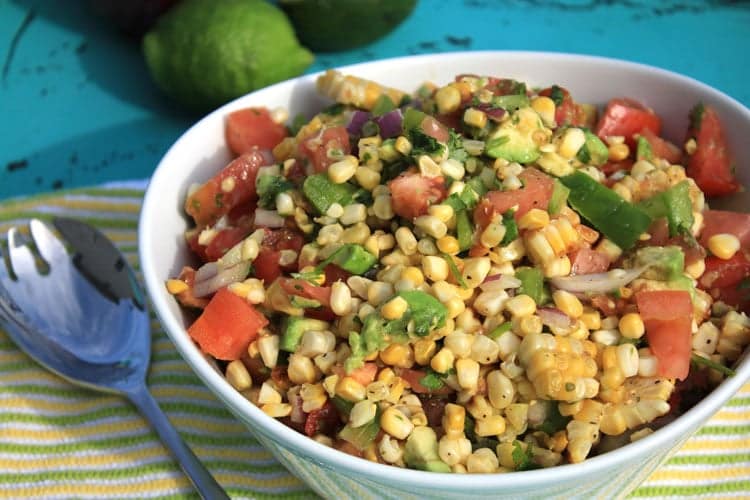 You can eat corn on the cob with braces! Just take it off the cob first.
And, lucky enough for my daughter who is in braces right now (she just got the bottom braces on-OW!), I can make recipes like this corn salsa and she can eat the corn without having to worry about cutting the corn off the cob herself. Or, I can just be the sweet mom that I am and fix her up a plate and take it off the cob for her...because sweet corn really is a perfect side to so many spring recipes. I love that it is non-GMO, extra tender, and regulated for quality control. Those are very important factors when looking for produce.
April and May are the perfect months of the year to enjoy this delicious sweet corn, and trust me when I say this--we're ready for sunshine and warm weather food here in the Midwest!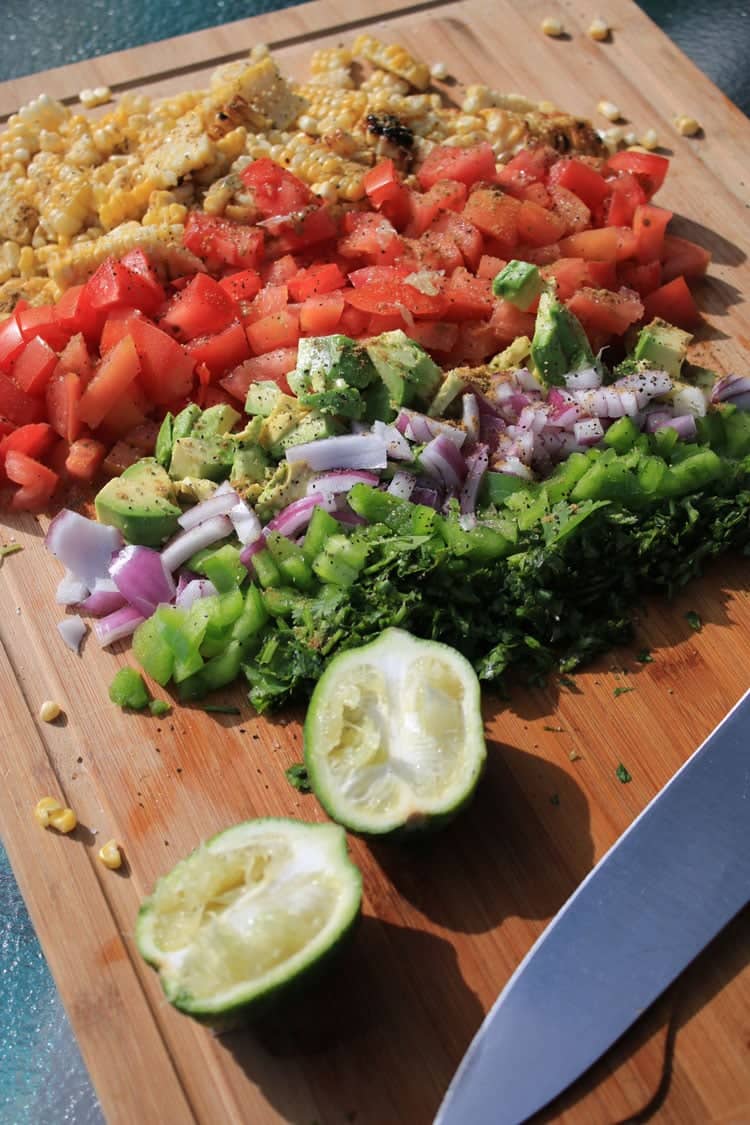 Get in the Kitchen and Make this Easy Appetizer or Side Dish Recipe
Sweet Corn, Tomato & Avocado Salsa is REALLY easy to make. If you can chop vegetables--you can make this recipe. It's that simple.
My favorite thing about making recipes like this (besides eating the final product of course) is taking deep inhalations while I'm prepping the vegetables and enjoying the aromas of fresh veggies. The insanely intense fragrance of cilantro...the soft undertone of a tomato...the sometimes overpowering bite of an onion.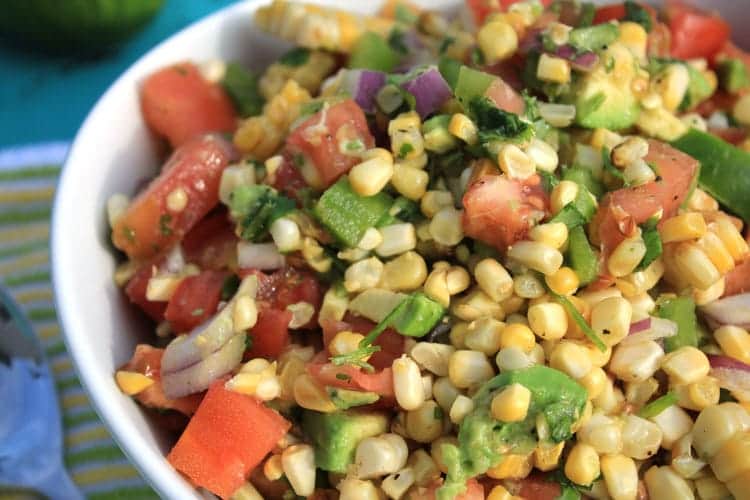 And avocado. While not entirely fragrant, this little green ingredient is heaven when we're talking about added flavor. I'm not a huge fan of an avocado on it's own, but top that delightful green charmer up with some salt and pepper--or better yet, include it in something like our Sweet Corn, Tomato & Avocado Salsa and you've got a combinations of flavors for a sensational palatable experience.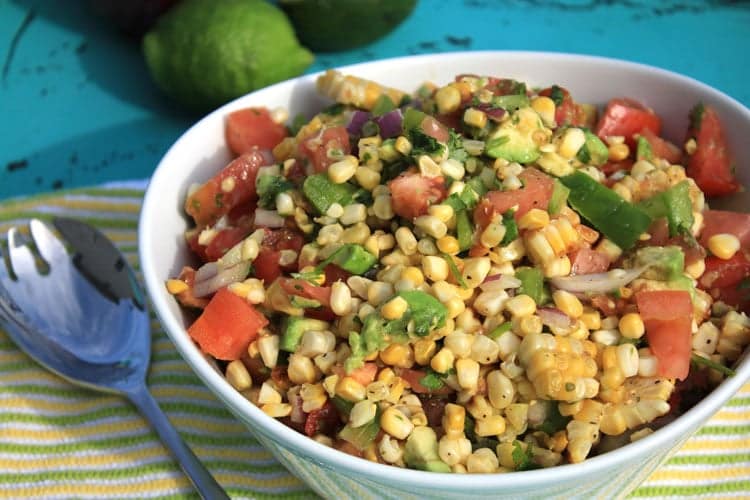 What we love about Sweet Corn, Tomato & Avocado Salsa
Another thing I LOVE about Sweet Corn, Tomato & Avocado Salsa is that it is SO bright and colorful. You've got the green from cilantro, pepper and avocado, purple from the pepper, red from tomatoes, and we can absolutely not forget that amazing yellow from our sweet corn.
You can serve Sweet Corn, Tomato & Avocado Salsa as a side dish, where it would pair perfectly with just about any grilled meat or fish. It could also be served with chips, or as a topping for pork, fajitas and so much more.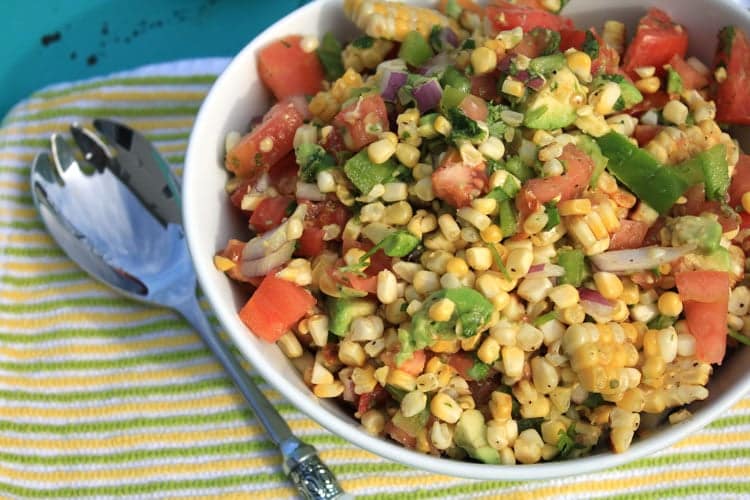 What would you serve with this Sweet Corn, Tomato & Avocado Salsa?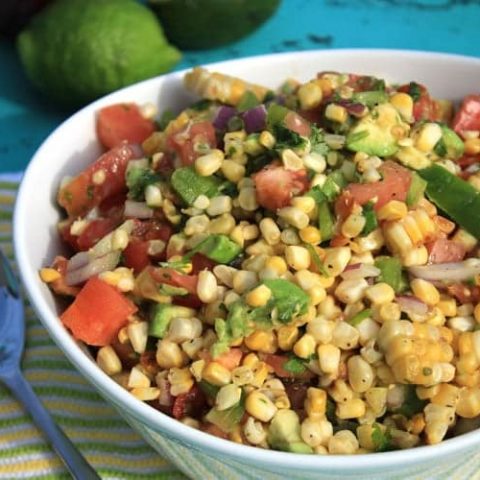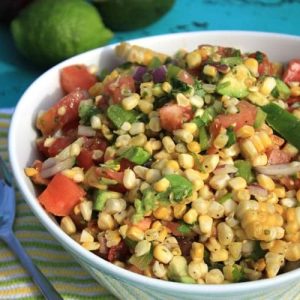 Sweet Corn, Tomato & Avocado Salsa
Enjoy Sweet Corn, Tomato and Avocado Salsa with fresh Sunshine Sweet Corn from Florida. This salsa is perfect served as a side dish, with chips, or as a topping to pork or fajitas. We LOVED it.
Ingredients
4

ears corn

roasted and kernels removed from the cob

2

large tomatoes

diced

1

large avocado

peeled, seeded and diced

½

cup

red onion

chopped fine

½

cup

bell pepper

chopped fine

¼

cup

fresh cilantro

hand torn

1

lime

juiced (plus more if desired)

1

teaspoon

powdered cumin

your favorite hot sauce

for heat

sea salt to taste

fresh ground pepper to taste
Instructions
In a medium-sized mixing bowl, combine all ingredients.

Stir to combine.

Taste and adjust seasoning with salt, pepper and hot sauce.
Nutrition
Calories:
190
kcal
Carbohydrates:
29
g
Protein:
5
g
Fat:
9
g
Saturated Fat:
1
g
Sodium:
23
mg
Potassium:
727
mg
Fiber:
7
g
Sugar:
10
g
Vitamin A:
1405
IU
Vitamin C:
50
mg
Calcium:
27
mg
Iron:
1
mg