Craving something sweet, crispy, and totally delightful? Look no further than these Air Fryer Churro Bites. Crispy on the outside and pillowy soft on the inside, these churro bites are the perfect way to satisfy your sweet tooth - and they're so easy to make in the air fryer!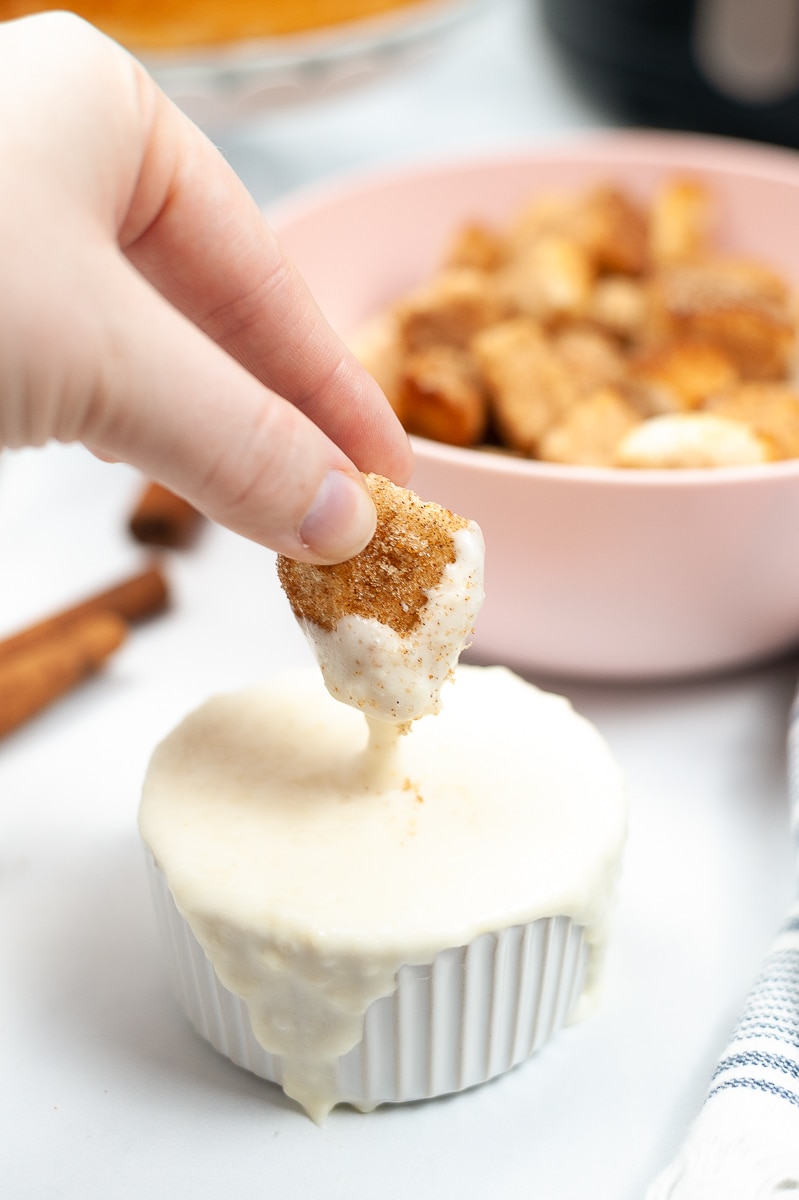 Say goodbye to deep frying and hello to a healthier, hassle-free treat. Ready in just 20 minutes, these bite sized delights are dusted with a magical cinnamon-sugar sprinkle and served up with a decadent cream cheese dipping sauce. What's not to love?
Why I Love This Recipe
I was lucky enough to be gifted an air fryer from a family member recently, so I have been experimenting with all kinds of air fryer recipes. And these bite sized churros have become one of my favorite new treats.
If you've ever been to a Disney theme park, you've probably had their famous churro bites. And these are pretty similar. They're perfect for when I'm craving something sweet and indulgent, yet light enough that I don't feel guilty enjoying them. And most of the ingredients are things I already have in the pantry!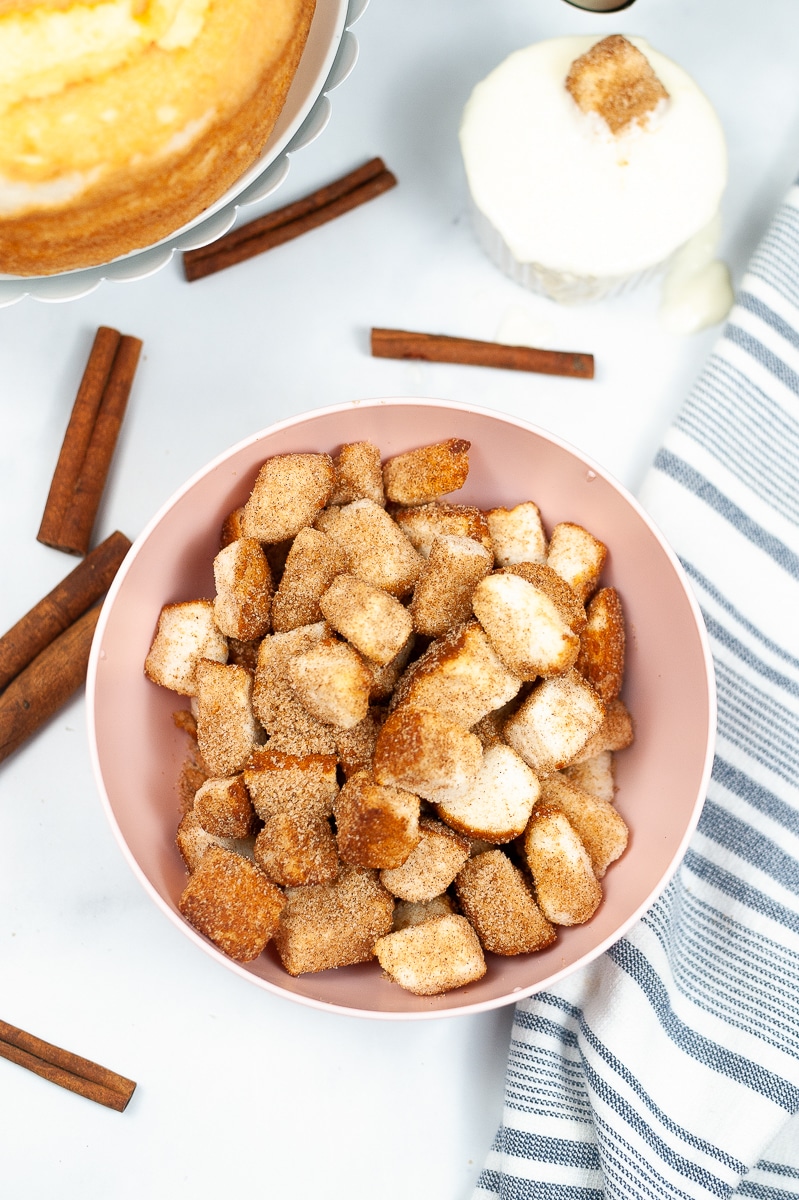 This recipe uses a simple hack to make it so much quicker and easier - angel food cake! Yep, instead of mixing homemade churro dough, I start with cubes of store bought angel food cake. The air fryer transforms them into golden brown, crispy morsels in just a matter of minutes.
These air fryer churros are:
A simple semi-homemade air fryer dessert.
Quick and easy thanks to the angel food cake base!
Ready in 20 minutes.
A surefire crowd pleaser - even the kids will love these.
Lighter than the traditional deep fried version.
This is the perfect dessert to go with your fave Mexican recipes!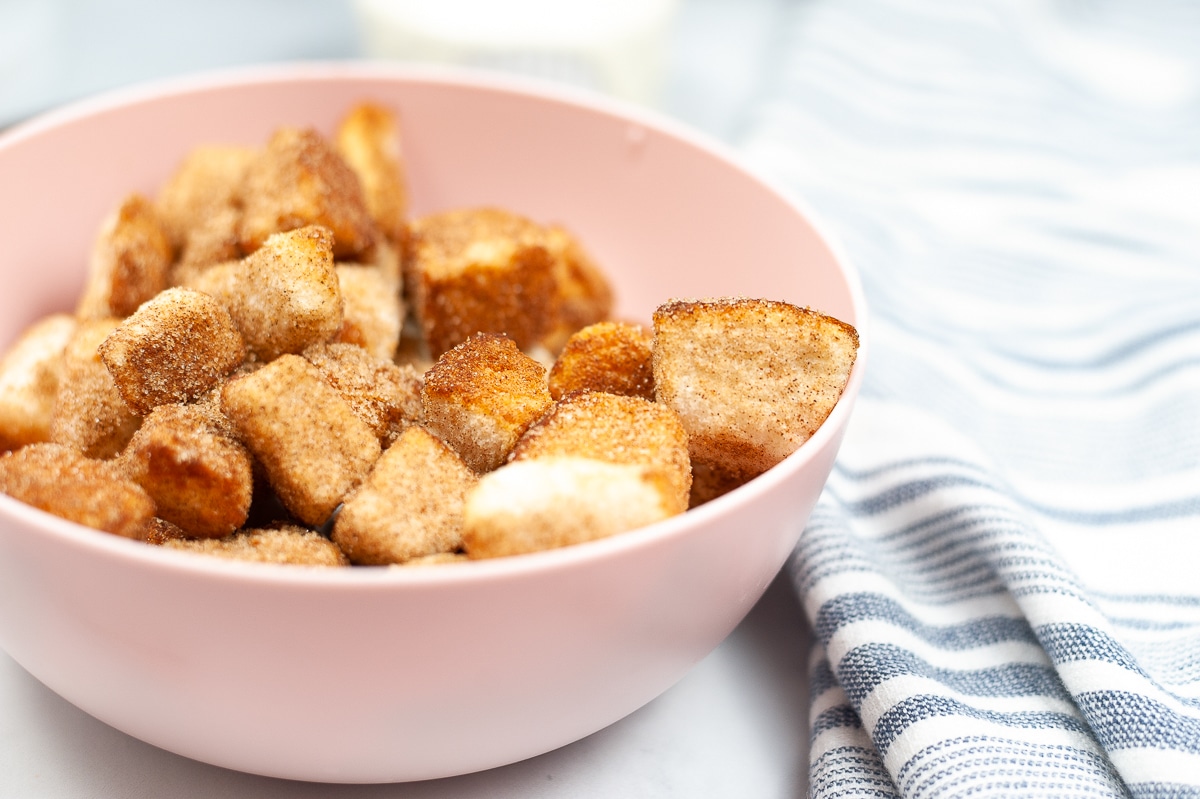 Tips & Tricks
First off, don't forget to preheat your air fryer for at least 5 minutes before adding your churros. This ensures they'll cook evenly and have that perfect crispy outside and soft inside we all love.
Be sure to dip the hot churro bites directly into the cinnamon and sugar mixture right after they come out of the air fryer. This is a crucial moment for the coating to stick properly and deliver that classic churro flavor.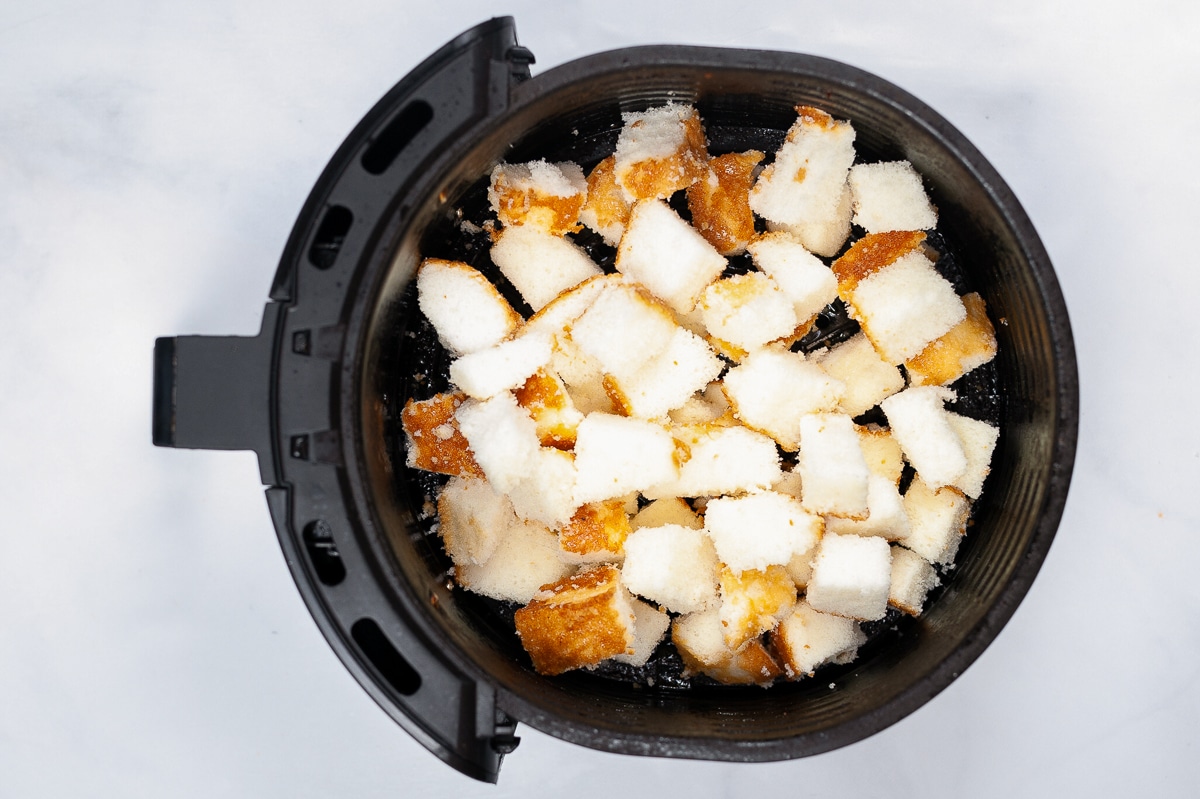 When air frying, keep an eye on the churro bites and don't overcrowd them in the air fryer basket. Give them enough space to cook properly. Remember, even though they're bite-sized, these little guys need room to breathe so they can develop that wonderful crispiness.
This recipe uses store bought angel food cake as a hack to make these homemade churros quick and easy! But if you prefer, you can try your hand at making your own homemade churro dough.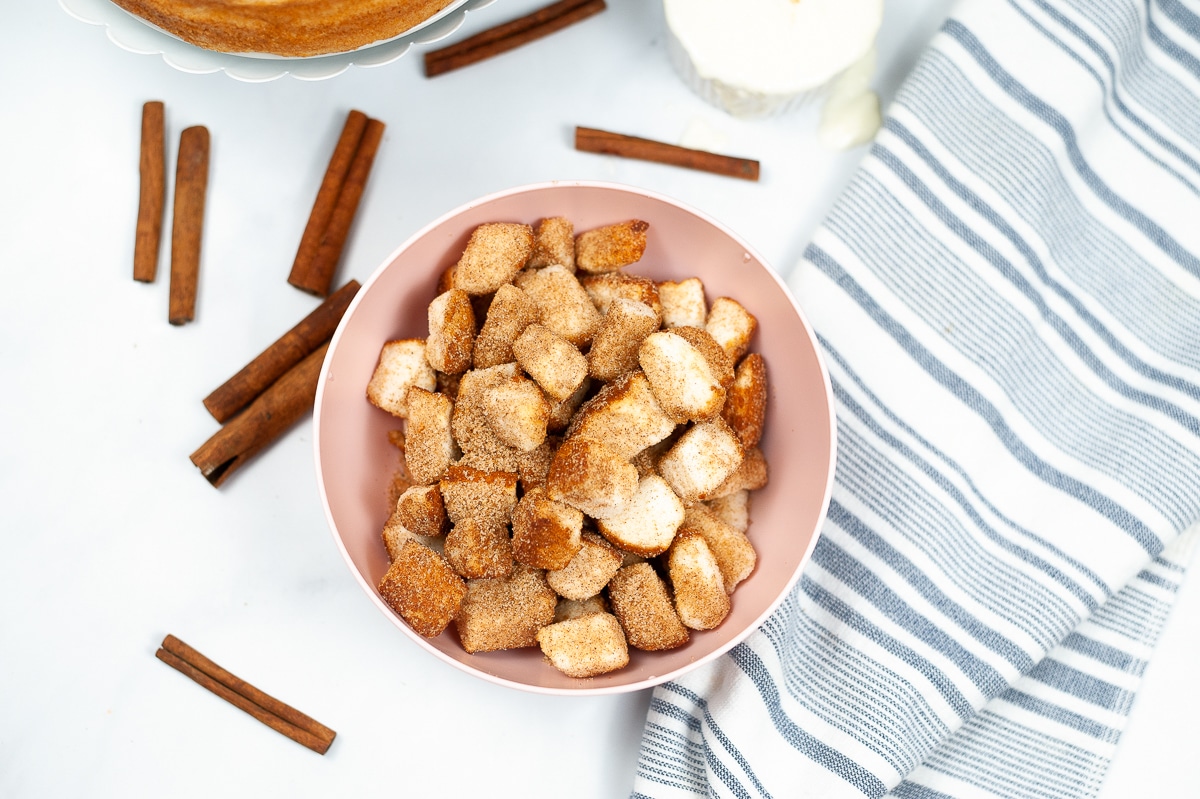 Storing the Churro Bites
If you have leftover churros, they can be stored at room temperature in an airtight container for 2-3 days. I suggest reheating them in the oven or for a few minutes in the air fryer, so the exterior remains crispy.
Any leftover cream cheese dipping sauce should be stored in the refrigerator.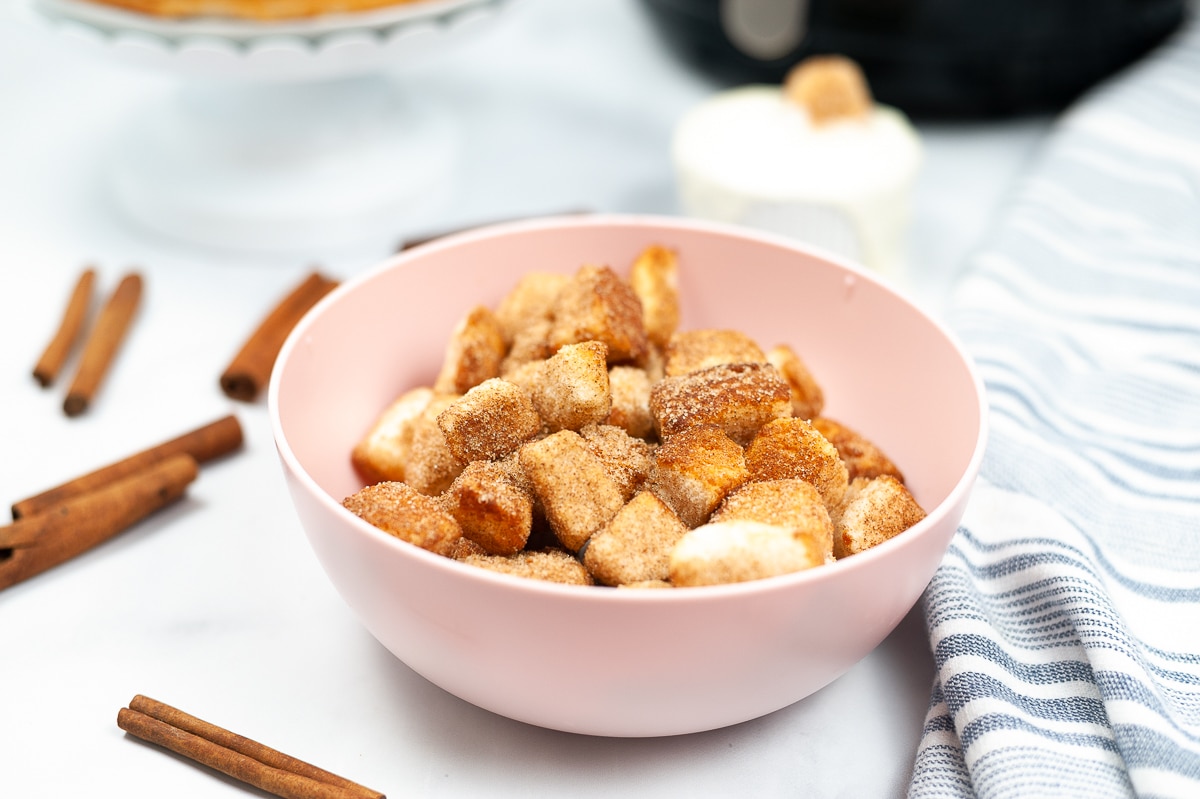 Variations
In my experiments with Air Fryer Churros, I've discovered a few delightful twists to the classic recipe that I'd love to share. These variations are perfect for when you're feeling a little more adventurous or simply want to impress your friends and family.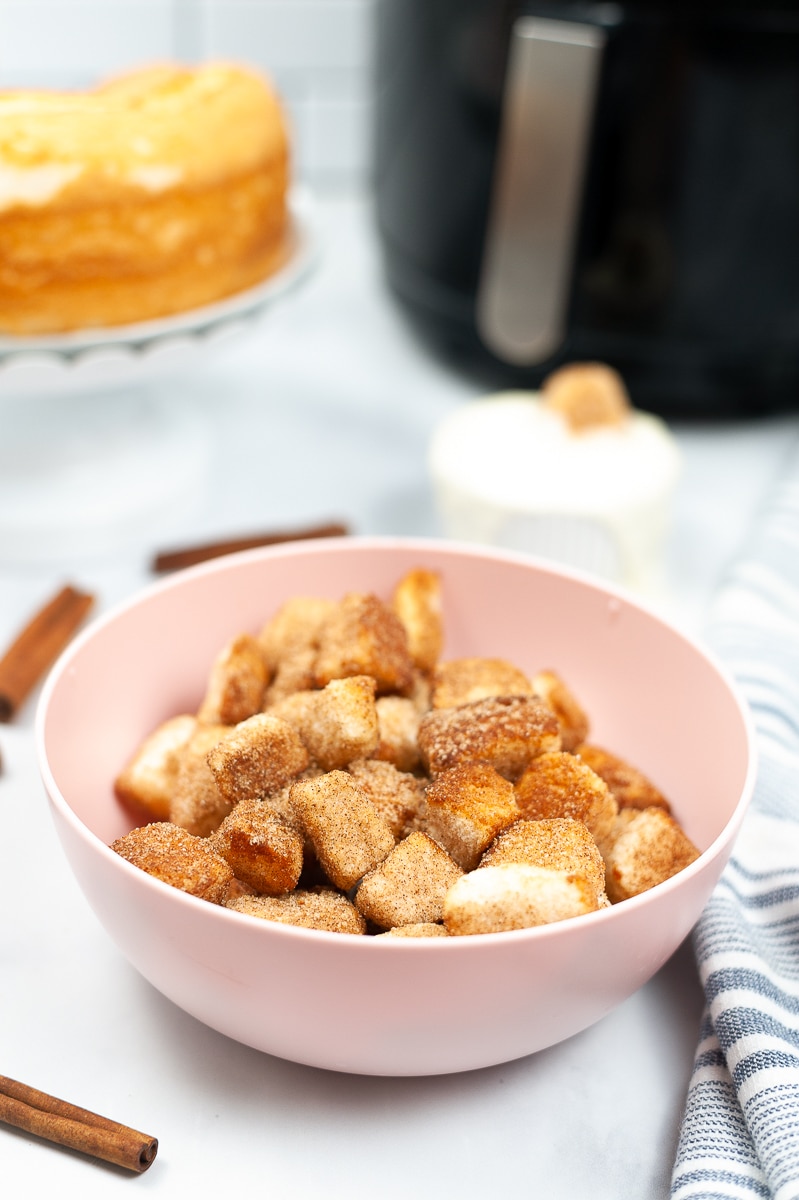 One option is to add some filling to the churros! To do this, you can pipe the desired filling into the center of your cake cubes once they've cooled a bit. I do not recommend adding the filling before air frying, as it tends to leak all over the air fryer. My personal favorite churro fillings are are:
Honey.
Cream cheese
Nutella
Dulce de leche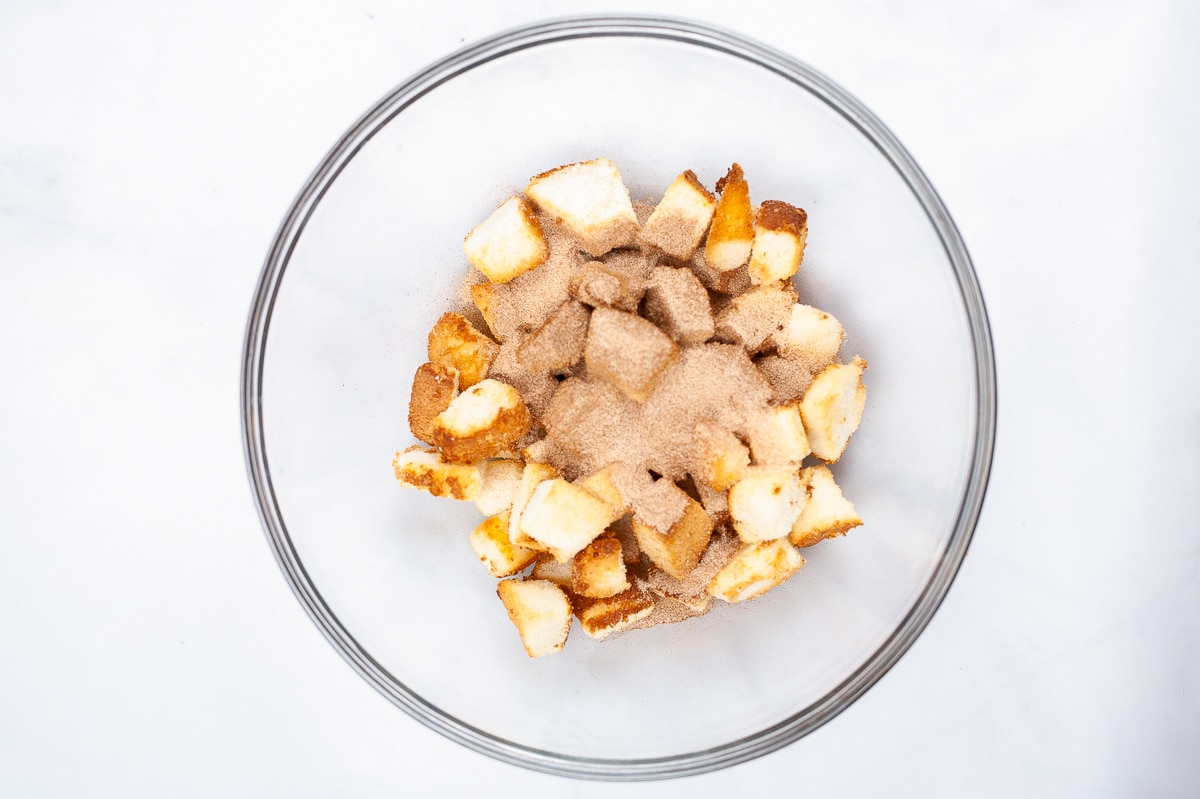 Another way to shake things up is to replace the classic cinnamon-sugar coating with a new flavor! For instance, you could try:
Cardamom and Sugar
Orange zest and Brown Sugar
Cocoa Powder and Cinnamon
Dipping sauces can also add a whole new dimension to your churro-eating experience. Chocolate and caramel are classic options, and I've included a rich cream cheese dipping sauce in the recipe below. But here are some more ideas for churro dipping sauces:
Coffee-infused chocolate sauce.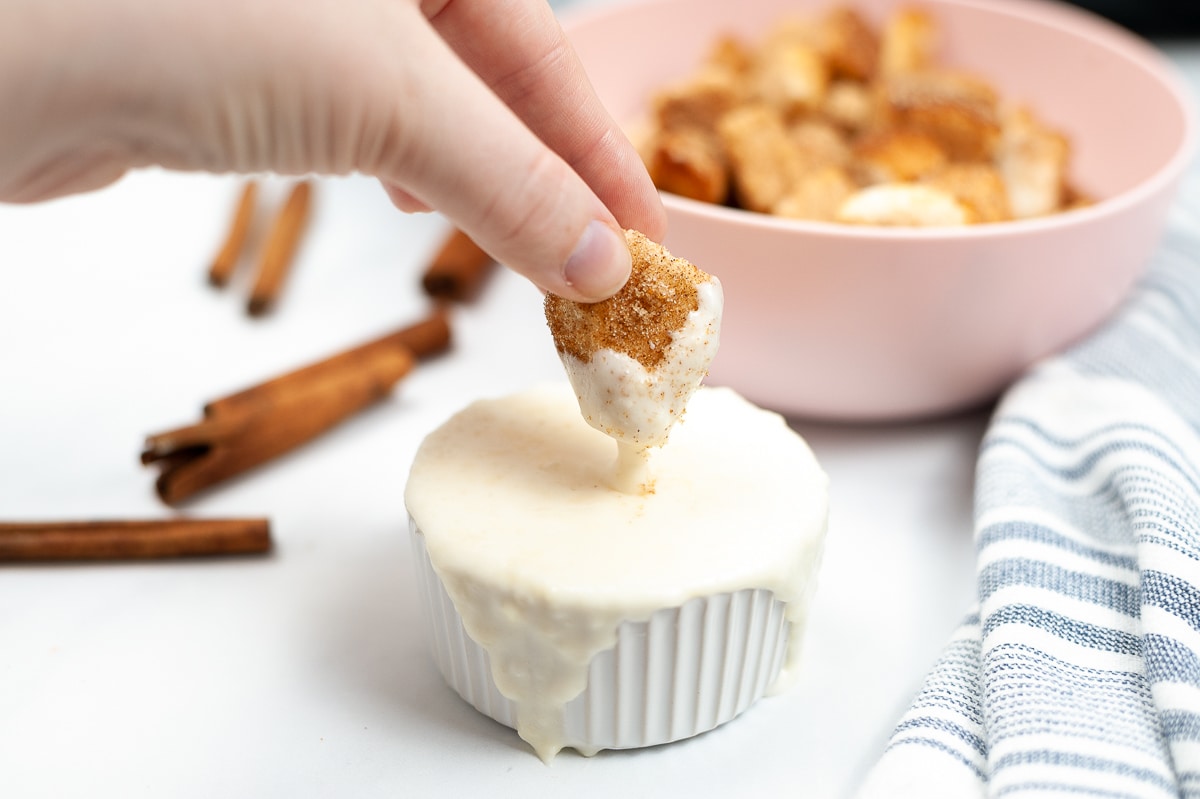 Lastly, the air fryer allows you to get creative with shapes and sizes. While I am partial to the bite-sized pieces, you can always try cutting your dough into different shapes like hearts, stars, or knots. This is especially fun for making kid-friendly treats. Just keep in mind that with different shapes, the cooking time may vary slightly.
So, go ahead and give these variations a try! It's amazing what a few simple changes can do to elevate the humble churro. And remember, it's all about having fun and being creative!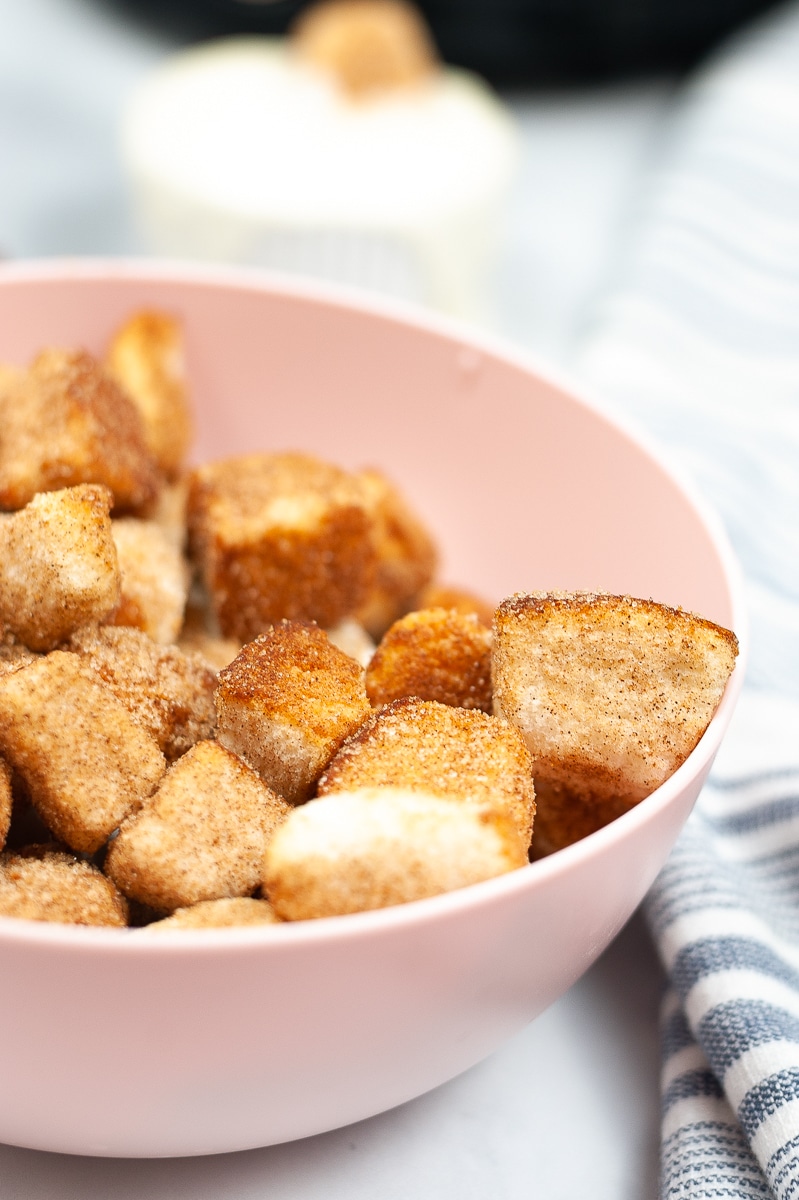 More Tasty Ideas
If you love these Air Fryer Churros, be sure to check out these other delicious ideas: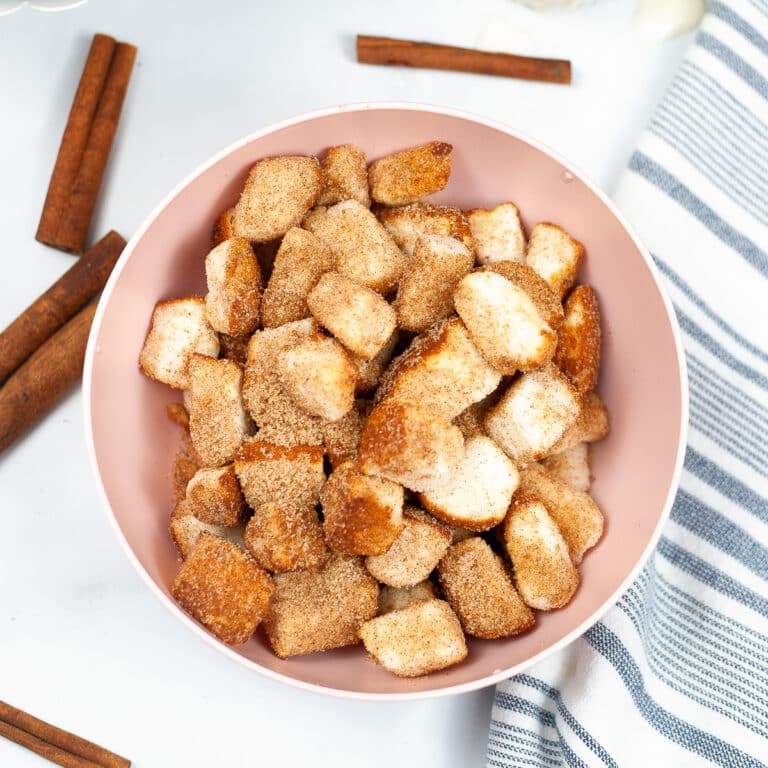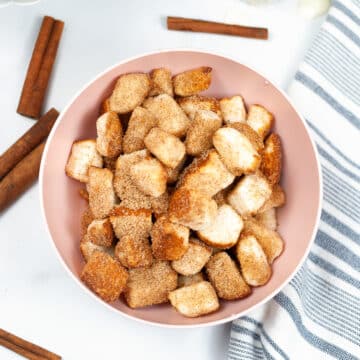 Air Fryer Churros – Bite Sized Dessert!
These Air Fryer Churro Bites are crispy on the outside and pillowy soft on the inside - the perfect way to satisfy your sweet tooth!
Ingredients
Cream cheese dipping sauce:
¼

cup

powdered sugar

¼

cup

cream cheese

softened

¼

cup

milk

1

tablespoon

butter

softened
Instructions
In a small bowl, combine the cinnamon and sugar together and set aside.

Place the cubes of angel food cake in the tray of your air fryer. Spray lightly with cooking oil. Air fry at 350 degrees Fahrenheit for approximately 5 minutes, or until cake cubes are crispy on the outside and golden brown.

Remove the angel food cake cubes from the air fryer and place them into the bowl with the cinnamon sugar mixture. Toss together until the churro bites are coated in the cinnamon sugar.

In a separate mixing bowl, combine the cream cheese, powdered sugar, milk, and butter for the cream cheese dipping sauce. Mix until smooth. For a thicker sauce, add additional sugar. For a thinner sauce, add additional milk.
Notes
This recipe uses roughly half of a store bought angel food cake.
Nutrition
Calories:
347
kcal
Carbohydrates:
66
g
Protein:
5
g
Fat:
8
g
Saturated Fat:
5
g
Polyunsaturated Fat:
0.4
g
Monounsaturated Fat:
2
g
Trans Fat:
0.1
g
Cholesterol:
24
mg
Sodium:
327
mg
Potassium:
127
mg
Fiber:
2
g
Sugar:
49
g
Vitamin A:
315
IU
Vitamin C:
0.2
mg
Calcium:
115
mg
Iron:
0.5
mg