Whip up this Hot Chocolate Charcuterie Board for movie night at home, entertaining guests, or a treat to enjoy at the end of a long day. This charcuterie board is filled with all the things you would love to have with hot chocolate!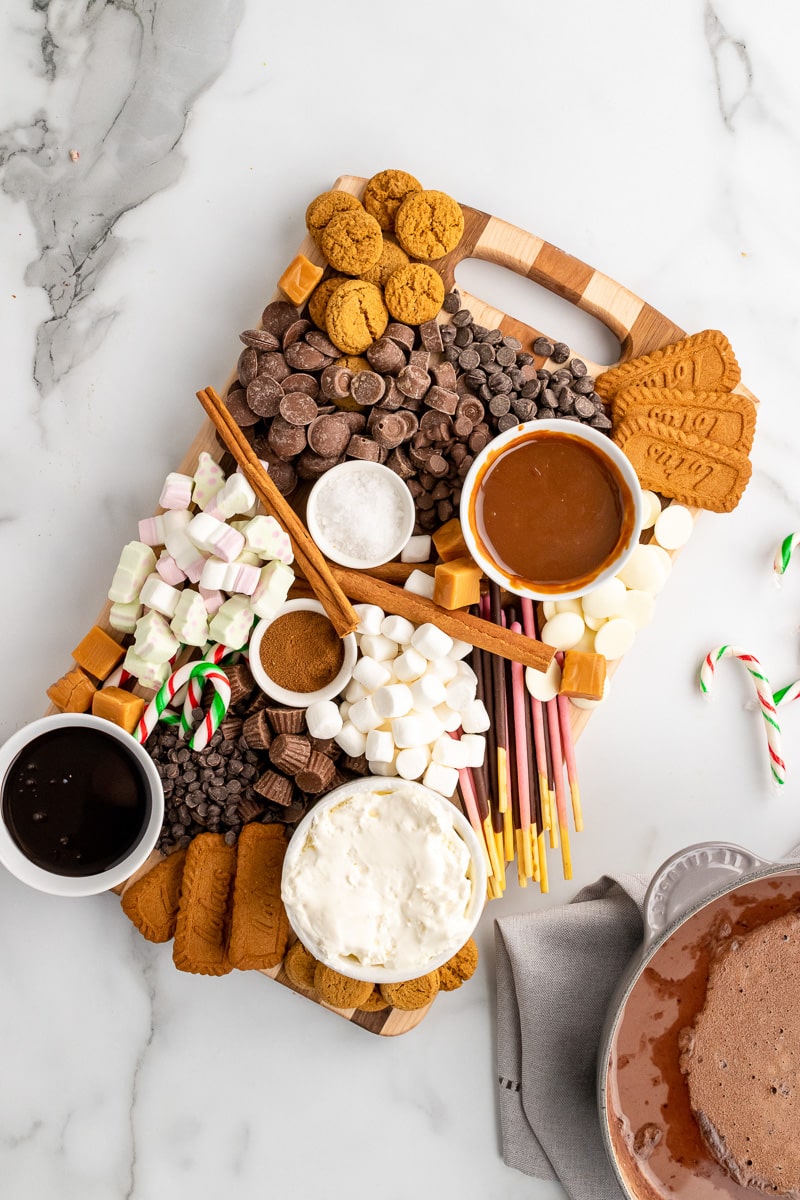 In this Article:
Enjoy assorted chocolates, mini marshmallows, cookies, and more in your own sweet dessert-worthy charcuterie board! Serve your tasty board alongside some homemade hot chocolate or your favorite store brand.
This Hot Chocolate Charcuterie Board is...
This hot chocolate bar will be a hit! Let me share how to make this simple and easy dessert board.
How to Make Hot Chocolate Charcuterie Board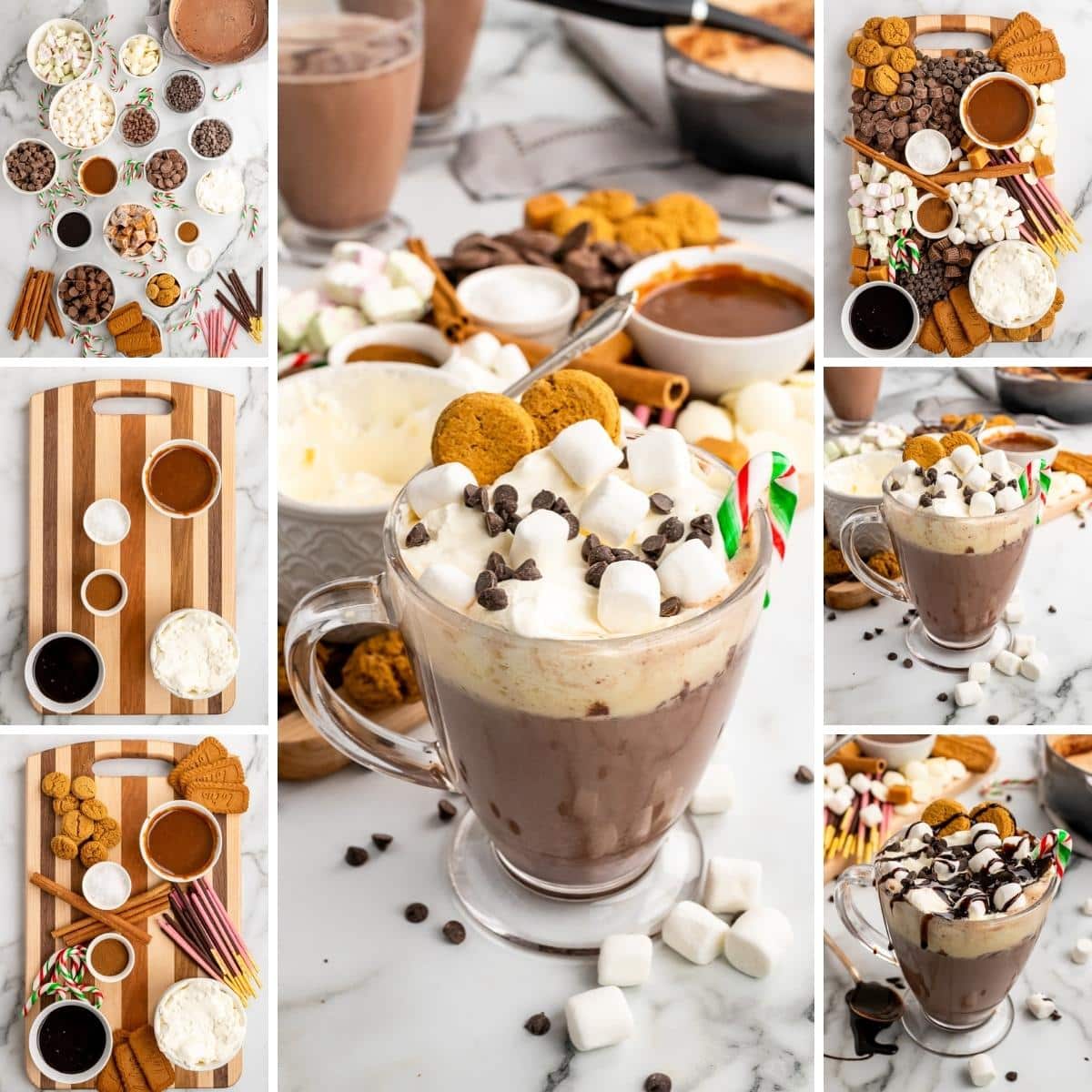 Get out your serving tray, and place all your desired items close by.
Pour sauces like fudge, caramel, etc into bowls.
Place the bowls on your tray.
Place items like cookies and candy canes around the bowls.
Fill in all the gaps using smaller items like candies and chocolates—no bare spots!
Once your entire board is covered in items, it's ready to go!
Full directions for how to make Hot Chocolate Charcuterie Board are in the printable card at the bottom of the post.
Ingredient Ideas for a Hot Chocolate Bar
The key to having a good hot chocolate station is using lots of different items to fill in the board. The more treats the better! You can use anything from candy canes to cinnamon sticks to cookies to marshmallows—and more!
Here are some great hot chocolate topping ideas:
And you can also load up the board with some tasty accompaniments like:
Tips for a Perfect Hot Chocolate Board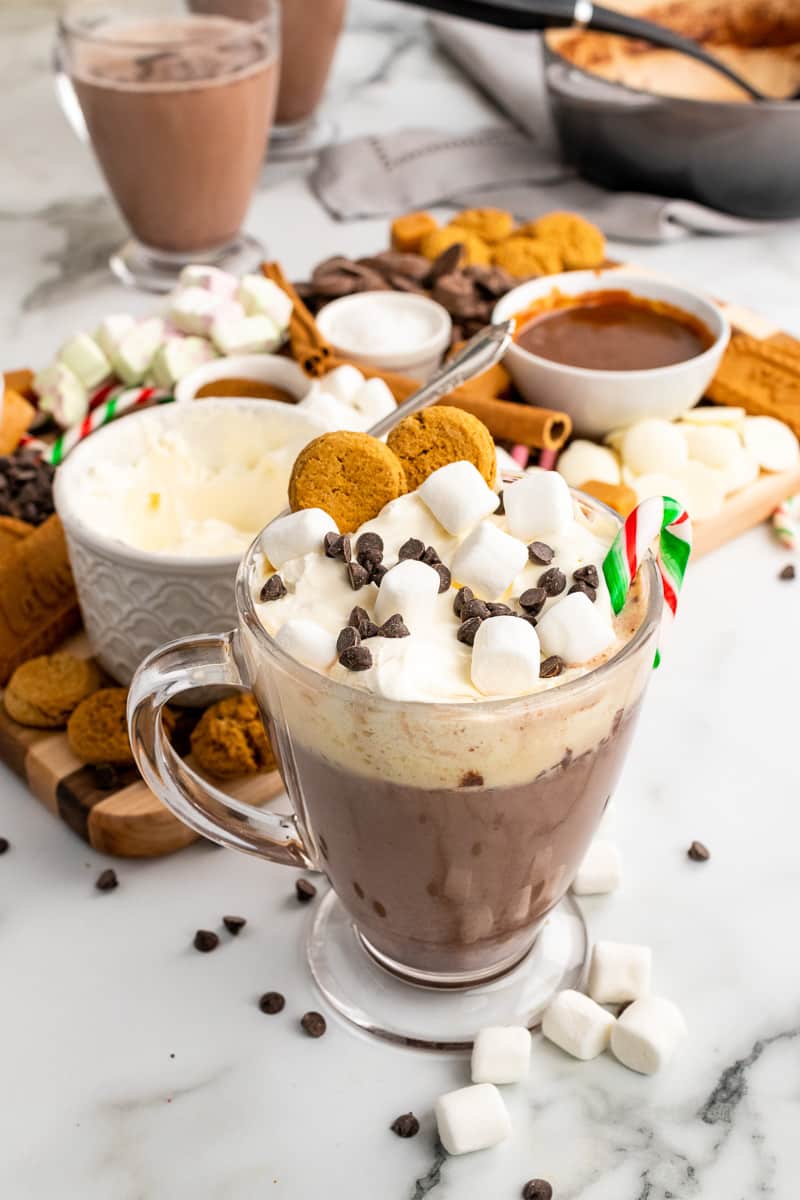 Use Small Serving Bowls
Use small serving dishes to arrange the treats on your hot chocolate board. It will help contain little treats like mini marshmallows and make the tray look more abundant too!
I like to spread the bowls out across my tray so there's a lot of room between for filling in. Simple white bowls like this are a great option.
The Serving Tray
You don't need a super fancy board if you don't have one. In fact, you can even take a cutting board (that's what I did!) or a cookie sheet and fill that with all your toppings and mix-in items!
As long as it can carry all of your items, you can use it as a tray. It'll be covered up by all the goodies anyway!
Fun Variations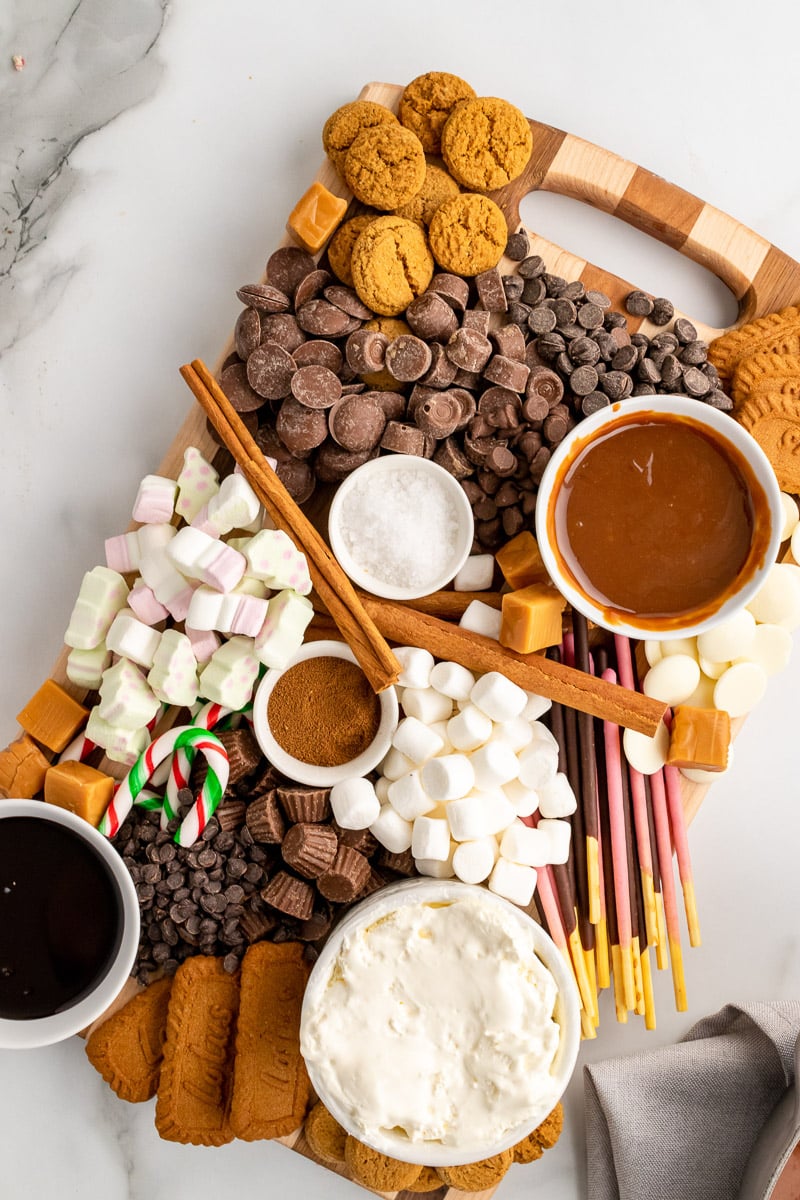 The Best Hot Chocolates
You can serve store bought or homemade hot chocolate with your board. It's totally up to you! You could even have a mix of both.
And regardless of where the hot chocolate comes from, you can switch up the flavors too! Make one batch of white chocolate hot chocolate and another of classic milk chocolate - or go crazy with a fun flavor like gingerbread.
Two of my favorite homemade hot chocolate recipes are this coconut milk hot chocolate and this spiced hot chocolate with nutmeg and cinnamon.
If you're going for store bought hot chocolate, I'm a fan of this Ghirardelli Hot Cocoa.
Pro Tip: You can keep all your hot chocolate warm in mini slow cookers for a fancy holiday-worthy hot chocolate station.
Sugar-Free Options
If needed, you can swap out your items for sugar-free alternatives. Lakanto makes this great sugar free hot chocolate that's sweetened with monkfruit.
Pair them up with refined sugar-free cookies like these anzac biscuits or these cacao nib cookies.
The Coffee Swap
You could also use cappuccino or other fun coffee drinks instead of hot chocolate. This is just as much to decorate with toppings as hot chocolate, but maybe even more appealing for the adults.
Try serving up this Starbucks White Chocolate Mocha or this Peppermint Chocolatte, which is half coffee and half hot chocolate!
Boozy Hot Chocolate
For adults, you could have little bottles of rum, whiskey, or Bailey's sitting on the board for them to add a shot or two into their cups. This is a perfect way to wrap up those holiday cocktail parties!
Hot Chocolate Charcuterie Board FAQs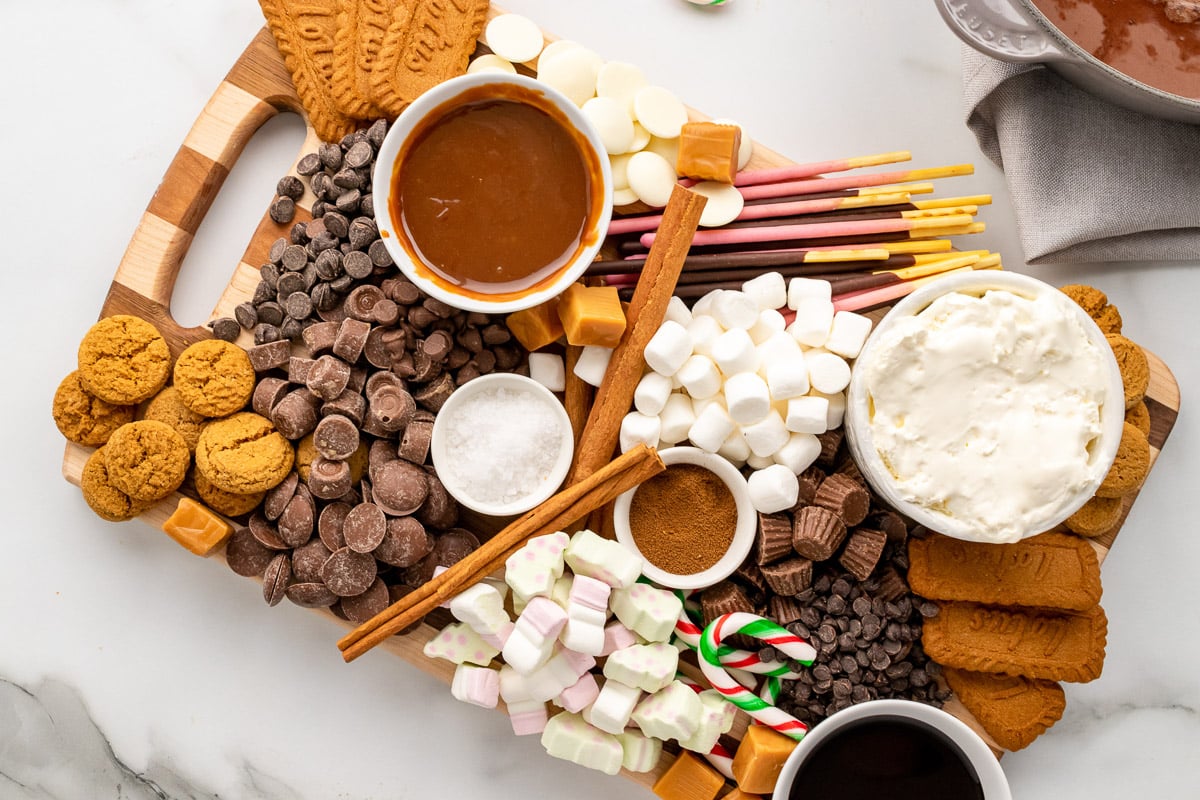 Where can I find supplies for this board?
Head to your local grocery store and look in the candy aisle for potential items for your board. You can also find items at bulk food stores like Sam's Club or Costco, if you're hosting a big party.
There's really no right or wrong for what items to include on your board, so you can easily just stick to whatever hot chocolate add-in favorites that you have on hand, too!
How do I make hot chocolate extra creamy?
Adding steamed milk to your hot cocoa in place of hot water or plain milk will give you an ultra rich hot chocolate. You'll find that adding in chocolate shavings will make for a richer, creamier hot chocolate as well.
Can I make dairy-free hot chocolate?
Try this coconut milk hot chocolate for an alternative dairy-free version, or check out this collection of vegan hot chocolate recipes. If you're going for a plant based hot chocolate board, you can even use these vegan marshmallows!
More Tasty Ideas
If you love this hot chocolate charcuterie board, be sure to check out these other tasty ideas:
Recipe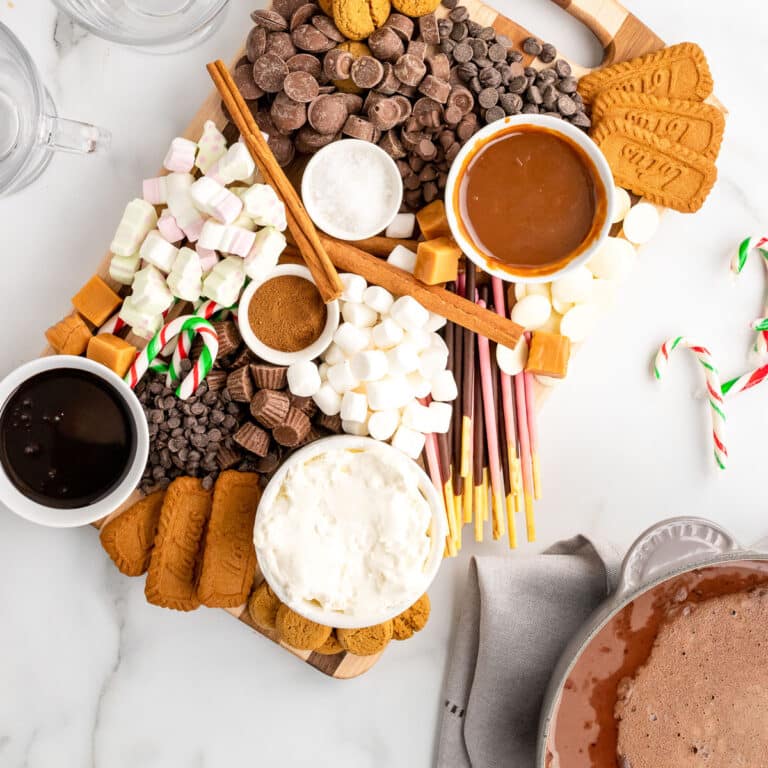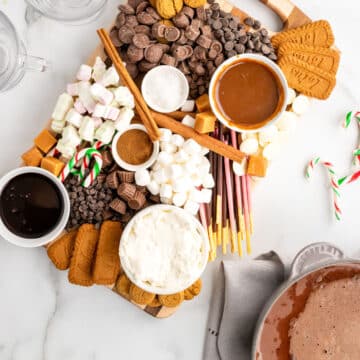 Hot Chocolate Charcuterie Board
Whip up this Hot Chocolate Charcuterie Board for movie night at home, entertaining guests, or a treat to enjoy at the end of a long day!
Equipment
large cutting board

or other serving tray
Instructions
Arranging little bowls of whipped topping, fudge sauce, caramel sauce, espresso powder, and salt on your board.

Add in larger items like cookies, candy canes, cinnamon sticks, and pockys around the bowls.

Fill in the gaps with the smaller chocolates and candies until board looks full.
Notes
The ingredients I used for my board were a good assortment of things to suit many different tastes, but you can use whatever candies/cookies/chocolates you prefer. See the article above for more ideas!
Instead of using hot chocolate, you could just provide steamed milk. Then simply offer either extra melting chocolates or various hot cocoa powders to mix into the milk to make hot chocolate!
Nutrition
Calories:
670
kcal
Carbohydrates:
116
g
Protein:
6
g
Fat:
26
g
Saturated Fat:
14
g
Polyunsaturated Fat:
1
g
Monounsaturated Fat:
6
g
Trans Fat:
1
g
Cholesterol:
6
mg
Sodium:
1569
mg
Potassium:
187
mg
Fiber:
6
g
Sugar:
75
g
Vitamin A:
55
IU
Vitamin C:
1
mg
Calcium:
142
mg
Iron:
3
mg