If you're looking for an easy and delicious dinner recipe, look no further. Easy Bone-In Pork Chops with Mushroom Gravy comes together in just about 30 minutes and is a main dish your whole family will love.
When you think of a mushroom pork chops recipe, what ingredients come to mind?
A lot of people like to make mushroom pork chops with pork chops and a can of cream of mushroom soup. While there's nothing wrong with that recipe, you can't beat mushroom gravy that's cooked from scratch, not from a can.
With homemade mushroom gravy, the flavor is fresh, the mushrooms are hearty and a perfect texture (no rubbery mushrooms here), and the ingredient list isn't full of ingredients like "modified food starch" and "monosodium glutamate (MSG)."
Your gravy, your rules.
And how can you argue with the results?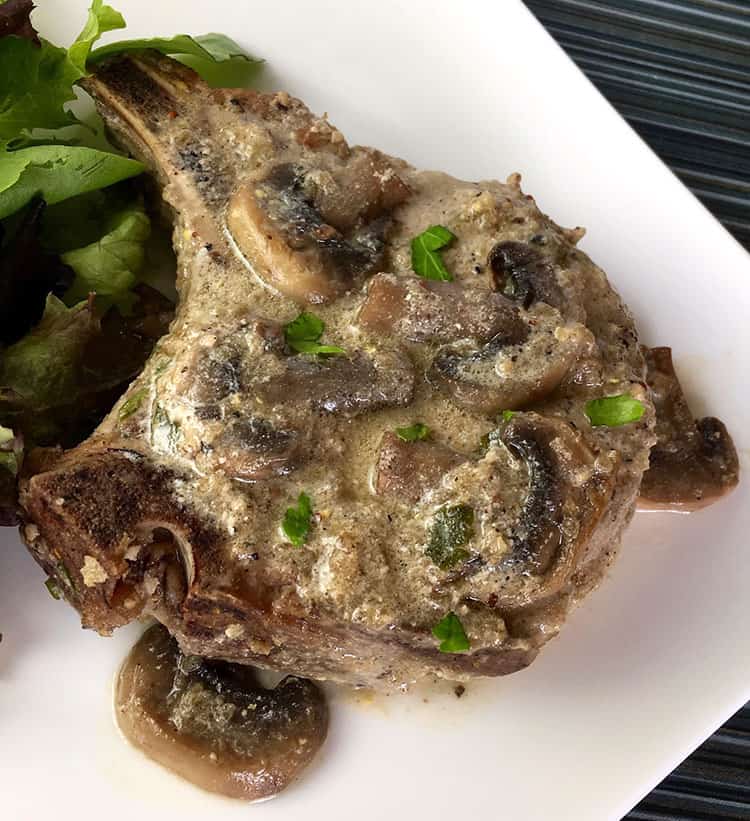 Homemade Quick and Easy Pork Chops with Mushroom Gravy
"Homemade" and "quick and easy" aren't in the same sentence often enough. These pork chops really are quick and easy! They only take about 30 minutes to prepare and cook, and you don't need to be a master chef to get great results. (I'll even let you in on a tip for best results in the next section.)
Here is how to make Easy Bone-In Pork Chops with Mushroom Gravy (further detail in the recipe card at the end of the post):
Brown your pork chops on each side, add mushrooms and cook until they release their juices, add onion and garlic, cook a little longer, deglaze the pan, and then give the pork chops a final cook.
And then the best part: take the pork chops out to rest and create the homemade mushroom gravy in the pan using Greek yogurt, half and half, and fresh parsley. I like to stir in one teaspoon of ground arrowroot to further thicken the gravy and make that oh-so-yummy thick style of gravy that sticks to the meat perfectly.
Your pork chops with mushroom gravy are ready. Yum!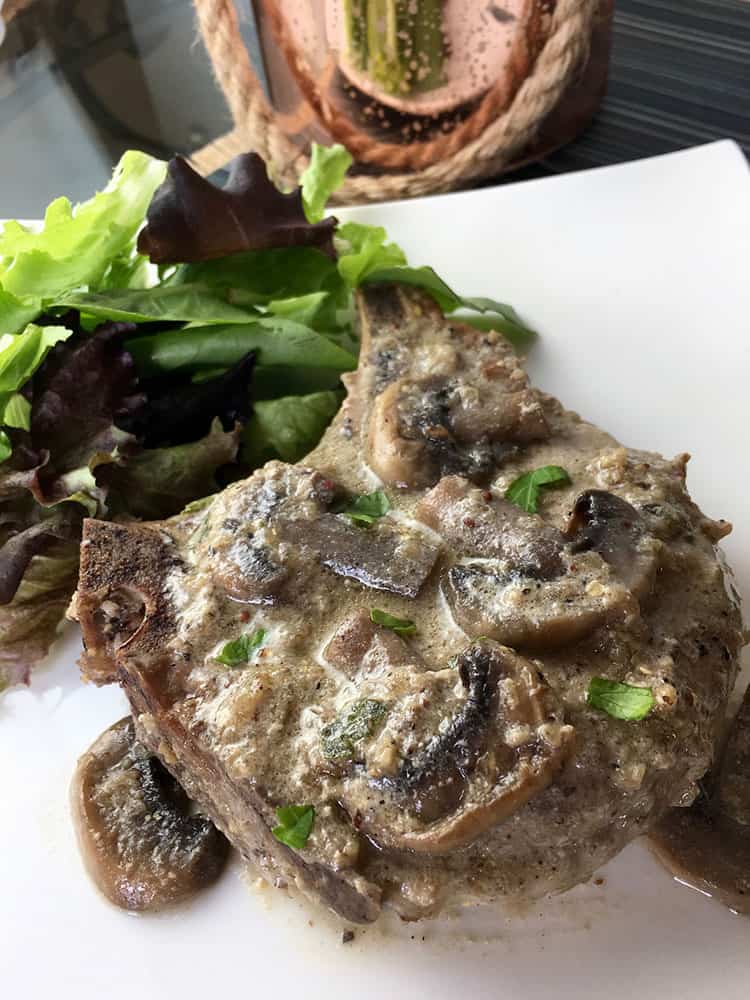 Important: How to Get the Best Results with These Mushroom Pork Chops
This is a critical step!
The pork chops and Greek yogurt in this recipe must be at room temperature. Why?
If you cook chilled pork chops (or any meat), they will take longer to cook, and you won't get as consistent of results.
If you add chilled Greek yogurt (or any dairy product) to a hot sauce, you risk curdling the dairy product.
Needless to say, it's important to let the pork chops and Greek yogurt sit at room temperature for 30 minutes before you begin this recipe.
But with results like this, trust me when I say they're worth the wait...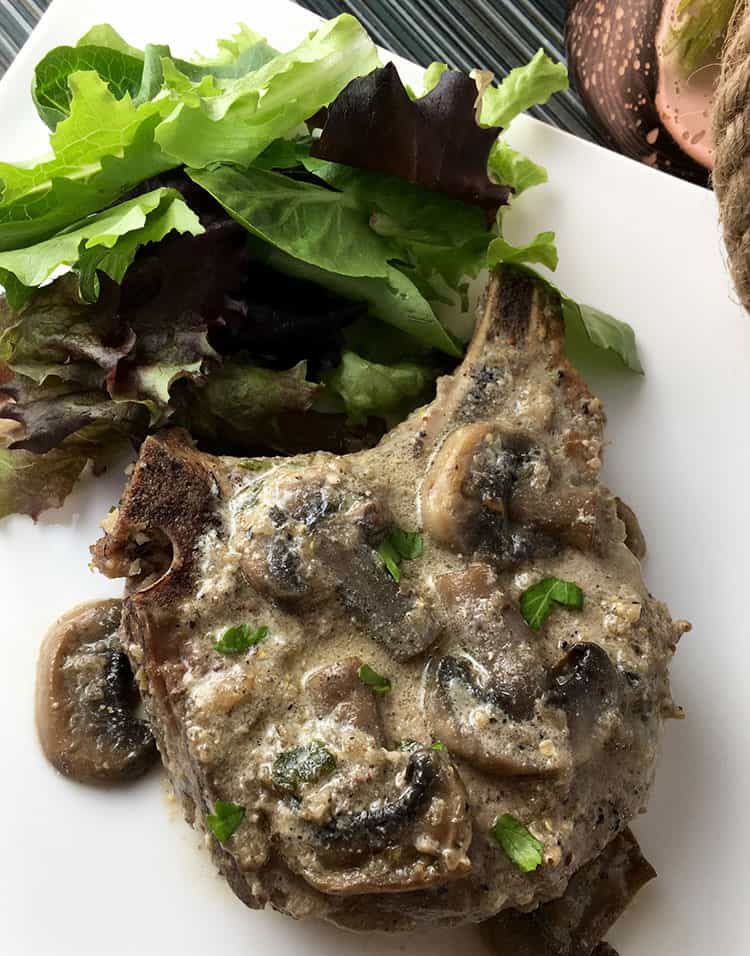 This is a Low Carb Recipe
FYI, if you're following a low carb diet, these mushroom pork chops are fairly low in carbs.

Want More Recipes Like These Easy Bone-In Pork Chops with Mushroom Gravy?
More pork chop recipes? You bet! Here are a few of my favorite pork chop recipes that you might want to try after you're done devouring this one:
Sweet and Spicy Rub Pork Chops
Those tasty pork chop recipes should keep you busy for a while.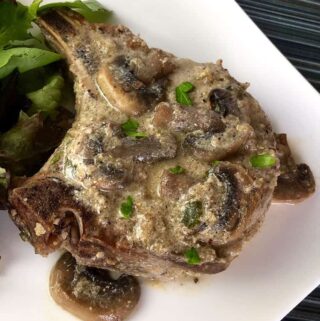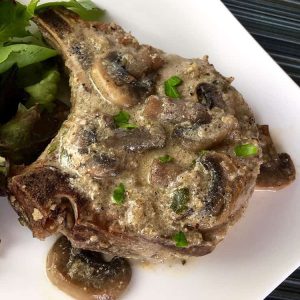 Easy Bone-In Pork Chops with Mushroom Gravy
Enjoy this rich and delicious pork chops & mushroom sauce for dinner any night of the week. Easy meals are perfect for weeknights and this recipe delivers in no time at all.
Ingredients
3

tablespoons

extra virgin olive oil

4

bone-in pork chops

approximately ½" thick, room temperature

Sea salt

to taste

pepper

to taste

8

ounces

white mushrooms

washed and sliced

2

tablespoons

yellow onion

finely minced

2

cloves

garlic

peeled and minced

¾

cup

chicken broth

preferably organic

¼

cup

half and half

room temperature

¼

cup

non-flavored

full-fat Greek yogurt, room temperature

3

tablespoons

fresh parsley

stems removed and leaves finely chopped, divided
Instructions
In a large and sturdy skillet, heat olive oil over medium-high heat

Using salt and pepper to taste, season each side of the pork chops and add them to your hot skillet.

Brown pork chops on each side (approximately 3 to 4 minutes per side).

When the pork chops are browned, remove them from the pan and set them aside. Reduce the burner temperature to medium and then add sliced mushrooms to the pan. Cook the mushrooms, stirring occasionally, until they release their juices, which takes about 6 to 7 minutes.

Add onion and garlic to the pan and cook them, stirring once or twice, for 1 to 2 additional minutes.

Add the chicken broth to the pan to deglaze it, making sure you scrape up the brown bits at the bottom of the pan.

Put the pork chops back in the pan and reduce to low heat. Cover the pan and cook for another 8 to 10 minutes, or until the pork chops are fully cooked through.

Transfer the cooked pork chops to a plate and cover them to keep them warm. (Letting pork chops rest before serving them will lead to a more tender pork chop.)

Next, stir half and half, Greek yogurt, and 2 tablespoons of fresh parsley into the pan sauce and blend. Cook for 1 to 2 minutes until the gravy is warm. If desired, season with additional salt and pepper before removing it from the heat.

Serve the pork chops with mushroom gravy on top. Garnish with additional parsley.

Want thicker gravy? If you prefer thicker gravy, combine 1 teaspoon of arrowroot with some water, and then stir mixture into the pan before returning the pork chops to the pan to finish cooking.
Notes
* The actual cooking time for Easy Bone-In Pork Chops with Mushroom Gravy will depend on the thickness of your chops and their internal temperature when you start to cook them.
Nutrition
Calories:
428
kcal
Carbohydrates:
4
g
Protein:
39
g
Fat:
28
g
Saturated Fat:
8
g
Cholesterol:
123
mg
Sodium:
270
mg
Potassium:
851
mg
Fiber:
1
g
Sugar:
2
g
Vitamin A:
306
IU
Vitamin C:
9
mg
Calcium:
71
mg
Iron:
2
mg