Banana Split Cake is the definition of summer. Chocolate, strawberry, banana, pineapple and tons of whipped topping in every single bite.
If you are a fan of the classic banana split, give this banana split cake recipe a try. A layered banana split cake that literally melts in your mouth.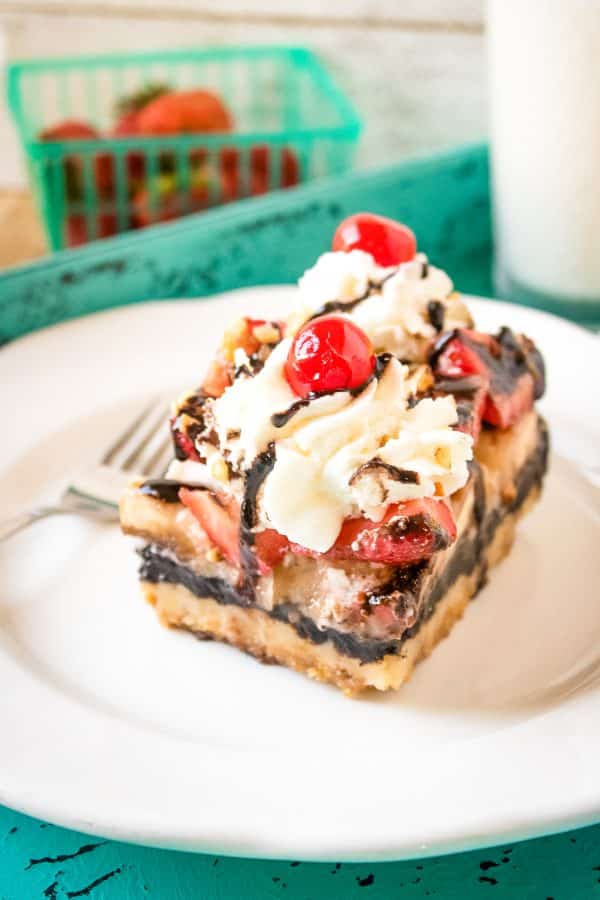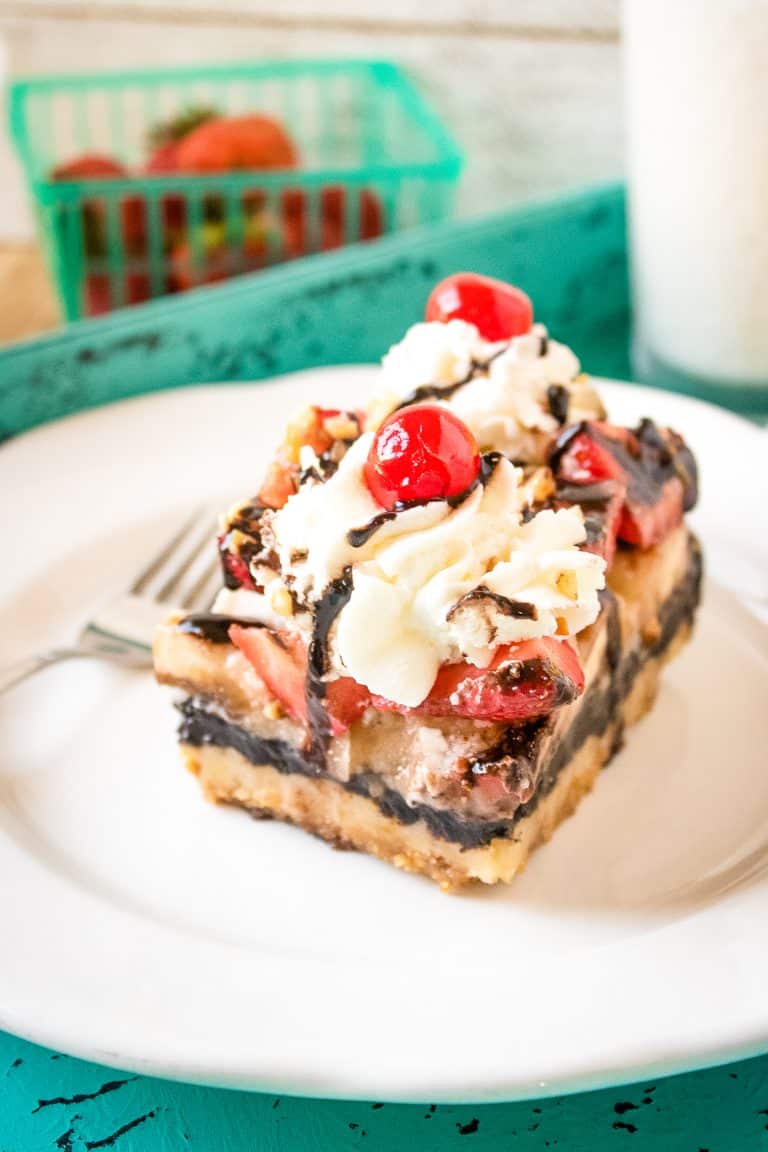 Banana Split Cake
If you are looking for a fun and different dessert to serve up for family or even guest, this recipe hits the spot.
Is This A No Bake Banana Split Cake Recipe
No, you will need to bake this cake. There are layers that you pile on once the cake is cooked, but there are layers that have to be baked.
I know there are a lot of no bake banana split cakes but this one to me stands out from the rest. It's the perfect dessert, but yes...it does require using the oven.
How Many Layers Is This Cake
Four layers are what you will get in this summer-inspired cake recipe. Graham cracker crust, flour crust, Oreo crust, and then your filling!
I love the different layers, it really adds a fun look to this cake but also amps up the flavor.
How to Make Banana Split Cake
Start by preparing your crust with graham cracker layer and press it into a greased pan. You will bake for 10 minutes.
As that is cooking start working on your second layer. Mix it up and then pour on top of your graham cracker layer.
Return to the oven and bake for another 10 minutes with a bump up in the oven temperature.
Once done you will remove from oven and then prepare your Oreo crust. Press down on top of the other two layers.
Then in the recipe card you will see how you assemble the filling and fresh fruit.
Here are more summer desserts
How To Store Banana Cake
You will want to store your cake in the refrigerator. Because of all the fruit layers and topping it has to be stored in the fridge.
Place in an airtight container that has a lid. You will want to eat this cake within 48 hours of making it. The fresh bananas will brown and go bad first in this recipe.
Can I Make This Banana Split Cake Recipe Ahead Of Time
You will want to make this shortly before you plan to serve. You can work on the first three layers and then chill in the fridge the night before you plan to serve.
But as for the toppings those are best to be placed right before you plan to serve. The fruit will release juices which can sog up the cake. So, always prepare shortly before you want to slice and serve.
Can You Freeze Banana Split Cake
Unfortunately no, this cake does not freeze well. You will want to eat up or toss what doesn't get eaten before it goes bad.  
You can half the recipe if you are not serving a big crowd. It is highly addictive, and hard to eat just one slice! 
What Can I Use To Substitute Oreos
You are more than welcome to use Golden Oreos or any sandwich cookie to replace the Oreo layer. I wanted the chocolate Oreos since chocolate is a big part of a banana split.
But if you are not a big fan of Oreos reach for something else. It will, of course, vary the overall flavor but I am sure it will still be a great add-in ingredient.
Whether you make this recipe for Easter, summer cookout, potluck dessert or weeknight dessert. This easy banana split recipe is one of my family's favorites. Dive in and let me know what you think!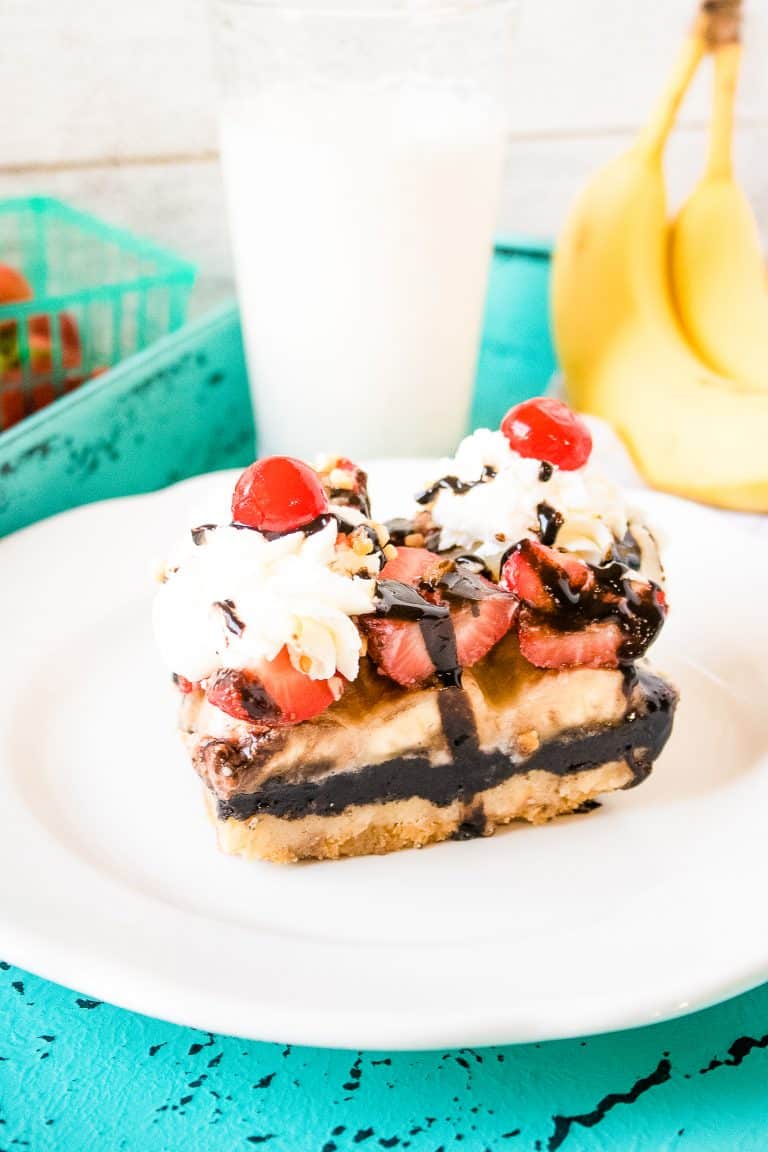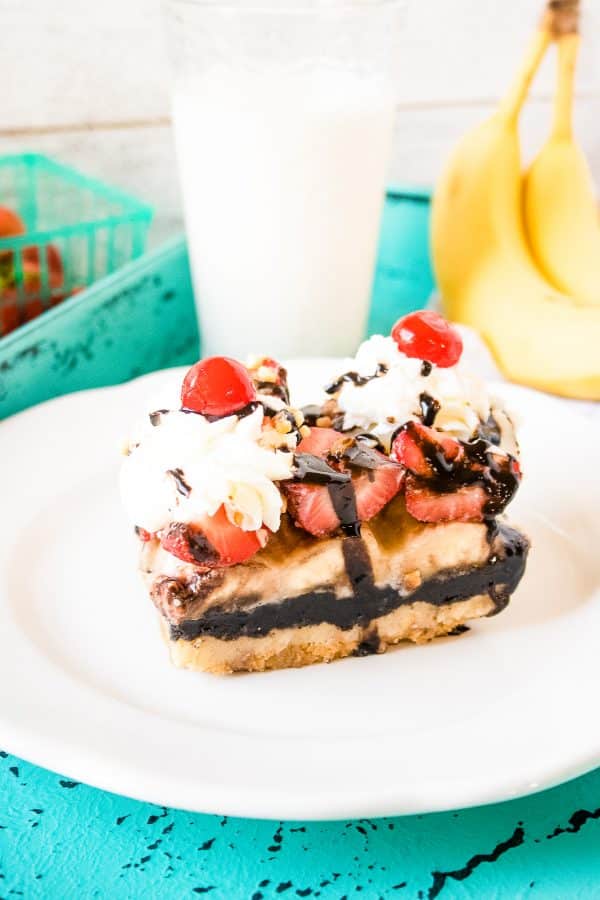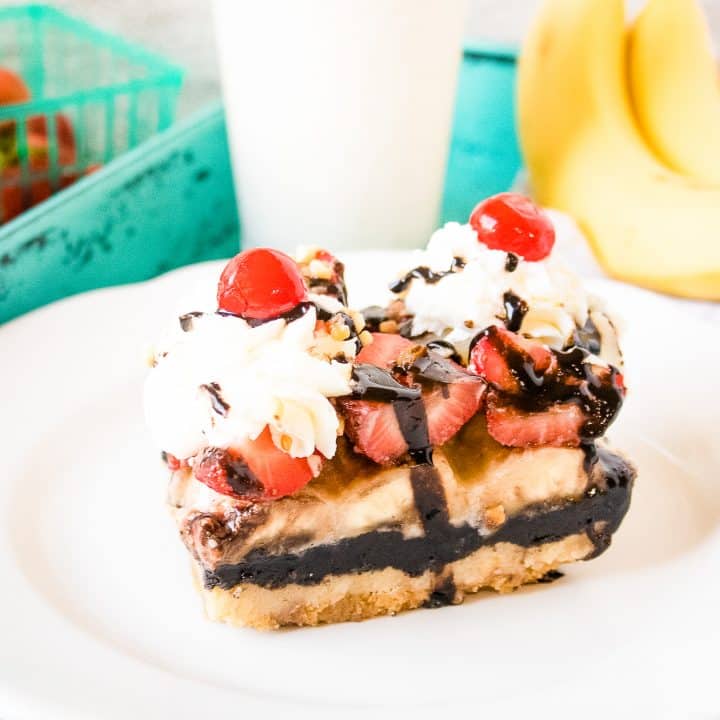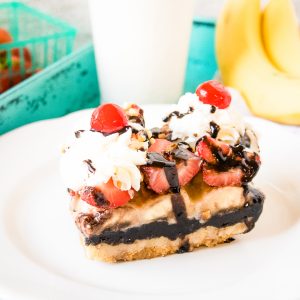 Banana Split Cake
Layered Banana Split Cake has several layers of delightfully decadent sweet flavors. It's topped with strawberries, pineapple and whipped cream.
Ingredients
Instructions
Preheat oven to 350 degrees. Spray 9x13 pan with non-stick cooking spray.

Prepare the first crust, pressing the graham crackers down on the bottom of the pan. Bake for 10 minutes, and allow to cool while mixing the second crust layer. Increase oven temperature to 400 degrees.

Mix ingredients for the next crust in a large mixing bowl. Press this dough onto the first crust. Bake for 10 minutes.

Remove from oven and let cool while preparing the 3rd layer of crust. For this crust, crush the Oreo cookies. A food processor works great for this. Mix together with melted butter and then press the crushed Oreo layer onto the previous layer.    

To make the filling mix the butter, 2 ½ cups powdered sugar, and milk with a handheld mixer. Spread over the top of the crust.    

Add a layer of banana halves, cut side down. Top those with strawberries and pineapple chunks.

Make the whipped cream by adding the heavy cream to a medium-sized mixing bowl. Whip at high speed until the cream is thick. Add ¼ cup powdered sugar and fold in or mix in at low speed until just incorporated throughout.

Top the cake with whipped cream, either by spreading over the top or by using a piping bag to make the whipped topping more decorative.
Nutrition
Serving:
1
g
Calories:
561
kcal
Carbohydrates:
66
g
Protein:
4
g
Fat:
33
g
Saturated Fat:
18
g
Polyunsaturated Fat:
10
g
Cholesterol:
82
mg
Sodium:
137
mg
Fiber:
3
g
Sugar:
40
g