Fluffy and crisp Buttermilk Belgium Waffles are the best way to kick start your mornings. This is the best buttermilk waffles recipe I have made. They bake up light and fluffy each and every time. My tried and true homemade waffle recipe.
While boxed waffle mixes are quick to whip up, they won't compare to the flavor of a homemade waffle batter. This recipe takes seconds to whip up, and before you know it you have fresh waffles ready to serve up your family and friends.
How Do I Make Belgian Waffles?
Belgian waffles are SO easy to make.
There is an easy trick that will change the way your waffles turn out, and have you whipping up fluffy and delicious waffles each and every time you make them. First, mix all the ingredients together EXCEPT the egg whites.

Next, whip the egg whites with a hand-held mixer in a separate bowl and then fold the fluffy egg whites into the waffle batter.
Whipping the egg whites before adding it to the waffle batter results in a fluffy waffle, and that is exactly what you want. If you mix up the batter without whipping the egg whites, your waffle will appear flat and won't form that perfect waffle shape that you want.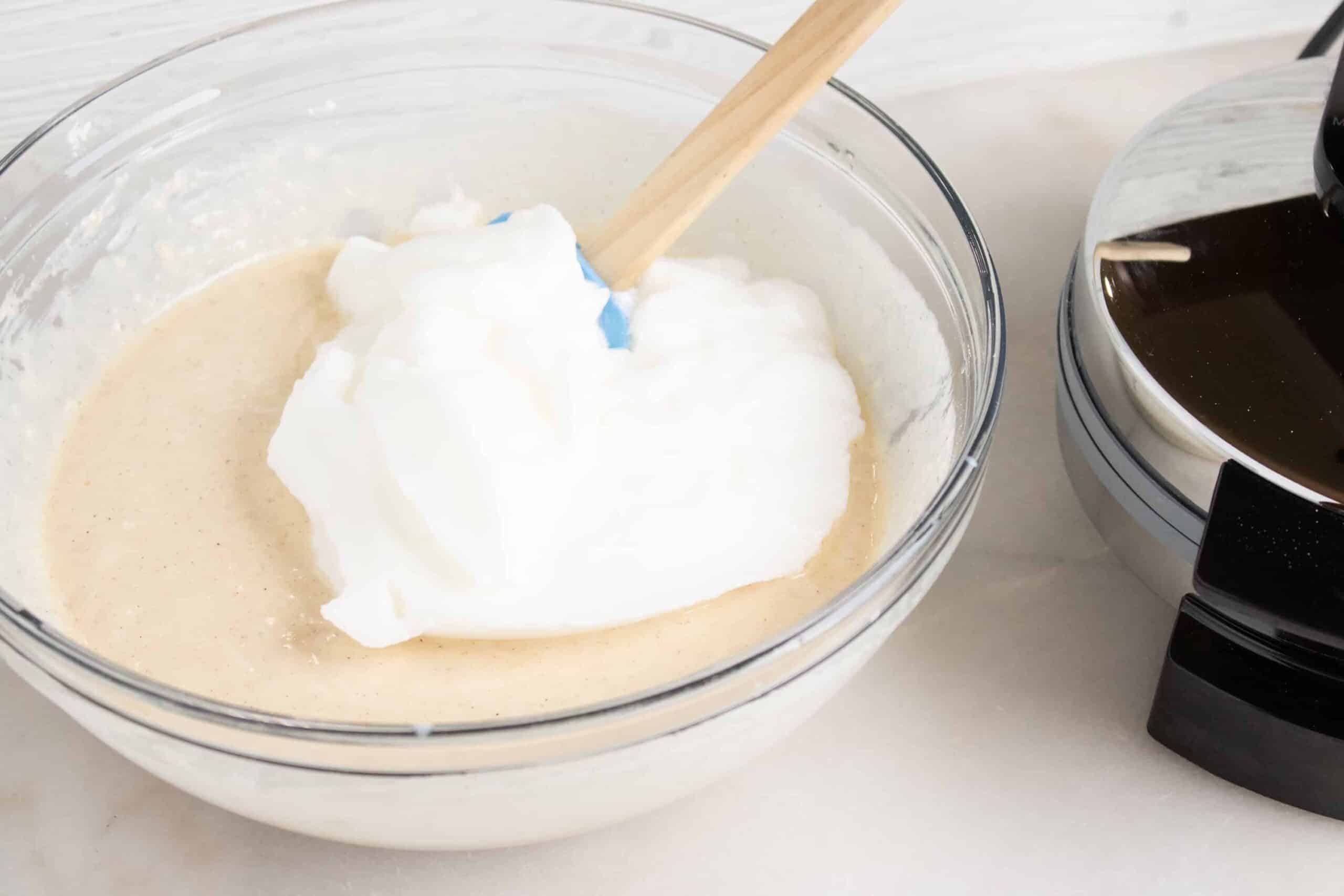 Heat your waffle iron and pour that waffle batter onto the sizzling iron. If you have a nice non-stick waffle iron DO NOT use non-stick cooking spray on your waffle iron. It will cause a build up on the iron that will mess up the non-stick surface.
Seriously, I made over 30 waffles in one day testing recipes and didn't use (or need) non-stick cooking spray for any of them. And, my waffle iron was super easy to clean.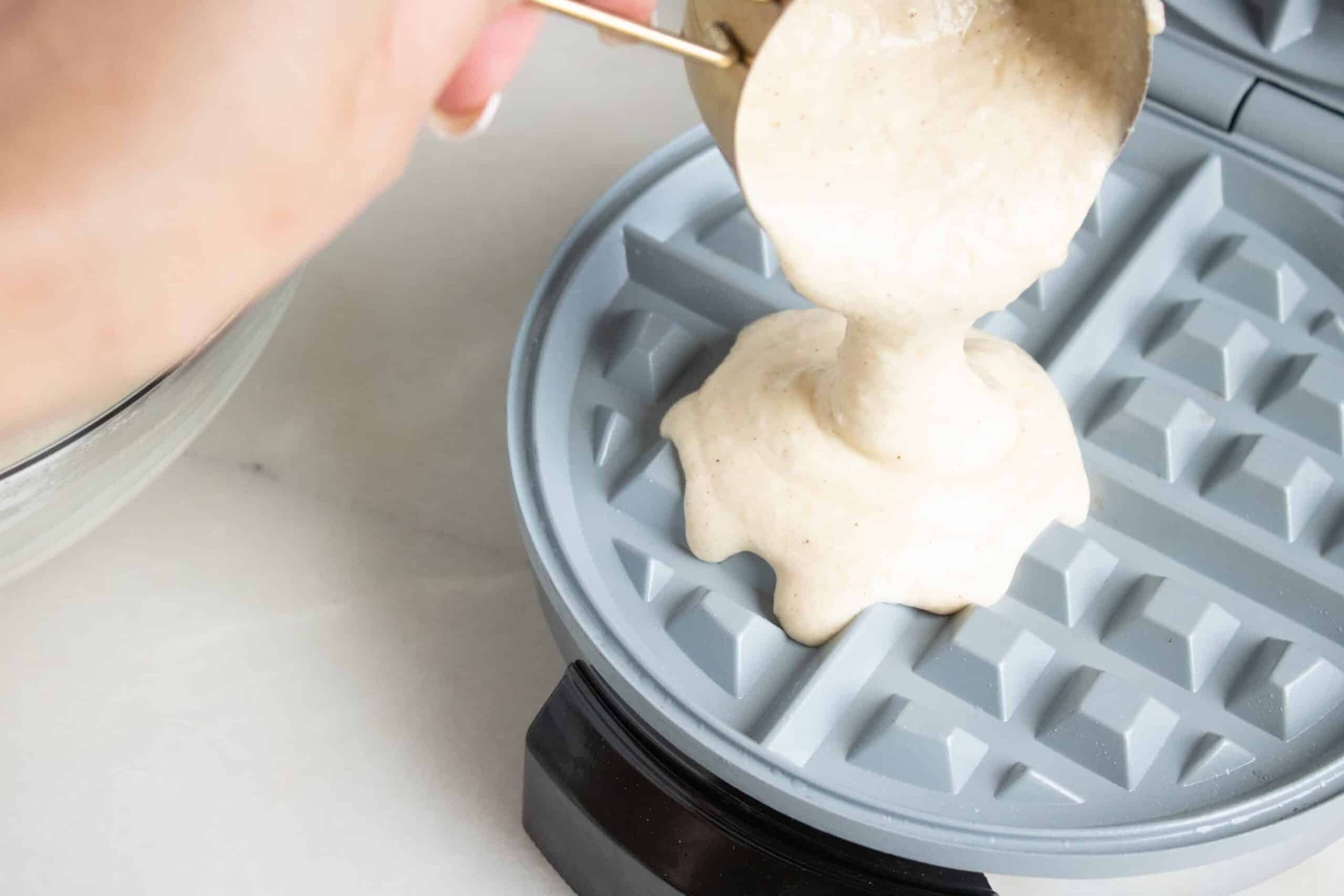 Buttermilk Belgium Waffles
Add on your favorite toppings, a drizzle of syrup and grab that fork and dive in. These are fantastic for making for when guests stay at your house. While it seems like an extravagant breakfast, it takes minutes to prep and toss on the waffle griddle to cook up.
Here Are More Pancake and Waffle Recipes
Carrot Pancakes | These carrot pancakes are a great way to sneak in some veggies while offering a sweet taste similar to a light carrot cake.
Mint Waffles | Unique, tasty, and downright addictive. If you are a fan of chocolate and mint, these mint waffles will be a treat. They are so good they almost act like a dessert.
Paleo Pumpkin Spice Pancakes | Fall is around the corner, and pumpkin spice will be everywhere. This is a fantastic pancake recipe that will give you that fall spice you are dreaming of.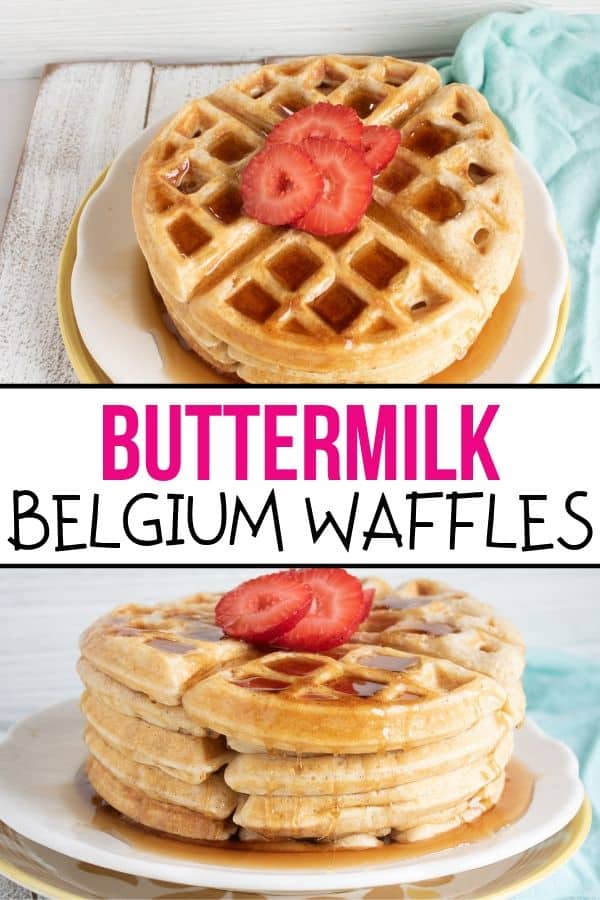 What Makes This The Best Buttermilk Waffle Recipe Ever
Basic Pantry Ingredients Needed
Bakes Up Perfect Every Time
Light And Fluffy
Crisp Edges
Read In No Time
Made From Scratch So No Processed Taste
What Type Of Flour Is Best For Homemade Waffles
I used all-purpose flour for my waffle batter, and it works great. I then add in the baking powder to help offer the waffle a nice rise as they bake up in the waffle maker.
What Is Different About Buttermilk Waffles
The buttermilk reacts with the baking powder and gives the pancakes that light and fluffy texture. They won't be heavy or lay flat. The extra baking powder is key next to the buttermilk.
How Do You Make Homemade Buttermilk
If you happen to not have buttermilk on hand, you can make your own with regular milk and white distilled vinegar. Just take the 1 ¾ cup milk and add in 2 tablespoons of vinegar. Stir it well and then let it sit about five minutes. It will begin to curdle, which is what you want. Then stir again and then mix into your batter.
It won't offer the same thick consistency but it is homemade buttermilk that can be used in a pinch if you don't have store-bought buttermilk on hand. I use this method a lot for my baking and cooking needs.
A good rule of thumb is for every 1 cup of milk, use 1 tablespoon of distilled vinegar. You can't replace the white vinegar with apple cider, it will leave a flavor that you might not want in your waffles.
Topping Ideas For Buttermilk Waffles
A dollop of butter
Syrup
Honey
Peanut butter
Jam or jelly
Whipped cream
Fresh fruit - blueberries, raspberries, strawberries, banana, etc.
Nut butter
Sprinkles
Nuts
Chocolate chips
Truly you could top your waffles any way you would like. Depending on the time of year or what we have on hand, will depend on what I top our waffles with.
Can You Add Fruit To Waffle Batter
Yes. If you want you can stir in ½ cup to ¾ cup of fresh or frozen fruit into your waffle batter. Or even chocolate chips. Fold fruit in and then toss onto a hot waffle maker and cook up. You could even add in a tablespoon of sprinkles if you wanted a birthday style buttermilk waffle.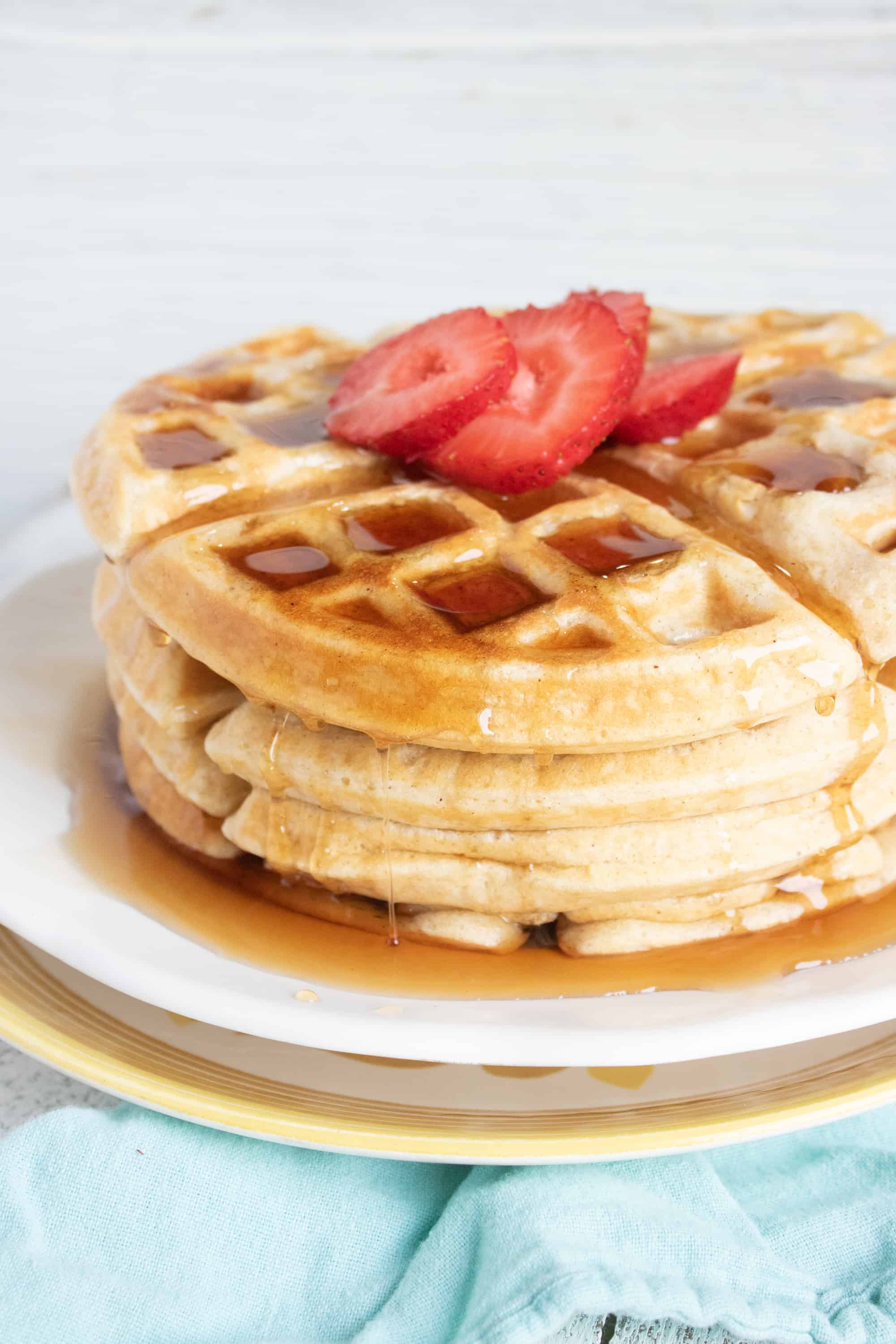 How To Store Leftover Waffles
Let your waffles fully cool off on the counter. Then once they are cool you can place in an airtight container or place in a storage bag, and place in the fridge. Store in the fridge for 3 days, and reheat when you want one. Or if you want, eat your waffle cold. I have done that and they are a tasty treat.
Can You Freeze Homemade Waffles
Absolutely! Do the same as I did with storing leftover waffles. Let them reach room temperature so that it releases some of the moisture. Then lay the waffles out on a cookie sheet, and flash freeze for around 20 minutes. Remove waffles from the freezer and then place in a freezer bag.
You can store waffles in the freezer for up to three months. Thaw in the fridge the night before, or heat them up frozen in the microwave.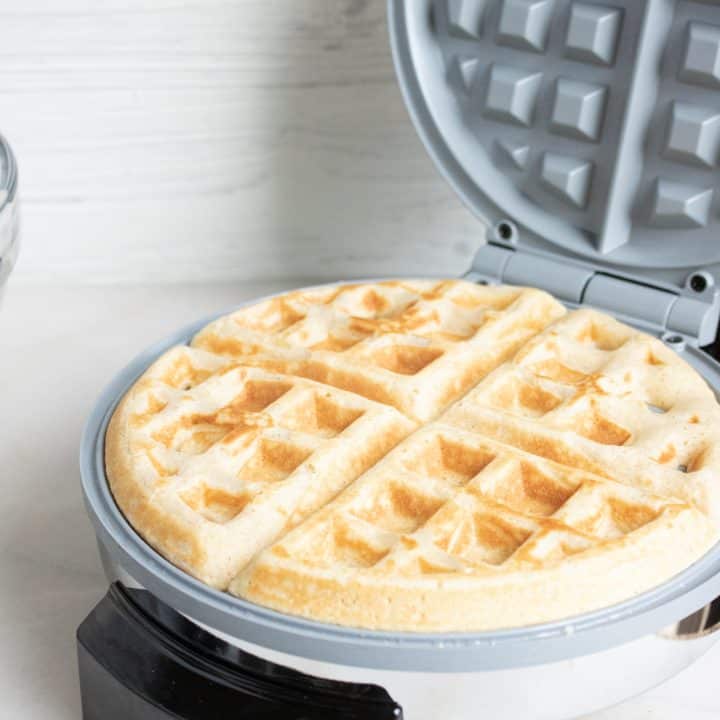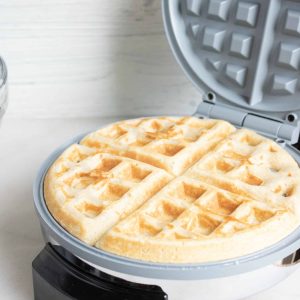 Buttermilk Belgian Waffles
Buttermilk Belgium Waffles are a quick and easy way to kickstart your day in a tasty way. Light and fluffy waffles made in minutes.
Instructions
Using a stand or hand held mixer, beat egg whites until stiff peaks form, adding in sugar towards the end.

Combine remaining ingredients in a separate bowl and stir together, making sure to not over-stir. Fold in the whipped egg whites, until just incorporated.

Cook in a waffle iron according to waffle iron instructions.

Top as desired, with whipped topping, nuts, fruit, berries, syrup, etc.
Nutrition
Serving:
1
g
Calories:
311
kcal
Carbohydrates:
36
g
Protein:
9
g
Fat:
14
g
Saturated Fat:
10
g
Cholesterol:
91
mg
Sodium:
451
mg
Potassium:
177
mg
Fiber:
1
g
Sugar:
8
g
Vitamin A:
251
IU
Calcium:
188
mg
Iron:
2
mg