Lemons can be canned.

Lemons are a fruit that is usually used in the kitchen, but are also used for non-culinary endeavors like cleaning. 

They are rich in vitamin C and low in calories. So aside from being one of the most consumed tropical fruits, this great source of Vitamin C has several health benefits associated with it.  Known for its therapeutic property, lemons help to strengthen the immune system, cleanse the stomach, and are considered a blood purifier which also benefits hair and skin care.
In the kitchen, this yellow fruit is considered magical. Because its fragrant citrus tang transforms a mediocre meal or dessert into a masterpiece.  It is indeed versatile. It has many uses in cooking and are very popular in so many recipes. Hello, Lemon Bars, Perfect Lemonade, and Lemon Lime Float Recipe.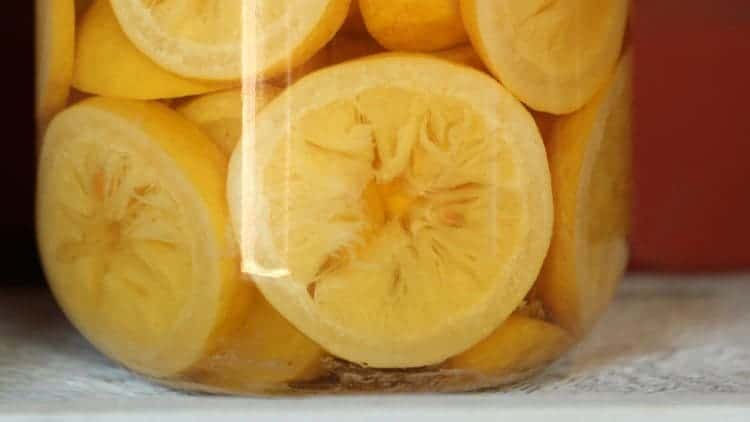 Lemon is commonly served as an incredibly refreshing drink. Its slices or wedges are often added to cold/hot tea or served as a great garnish for salads. They can be squeezed over other raw fruits to add flavor while preventing them from turning brown.
Considering the potential benefits, it's great if we can prolong its life. And we can do that by canning, I bet.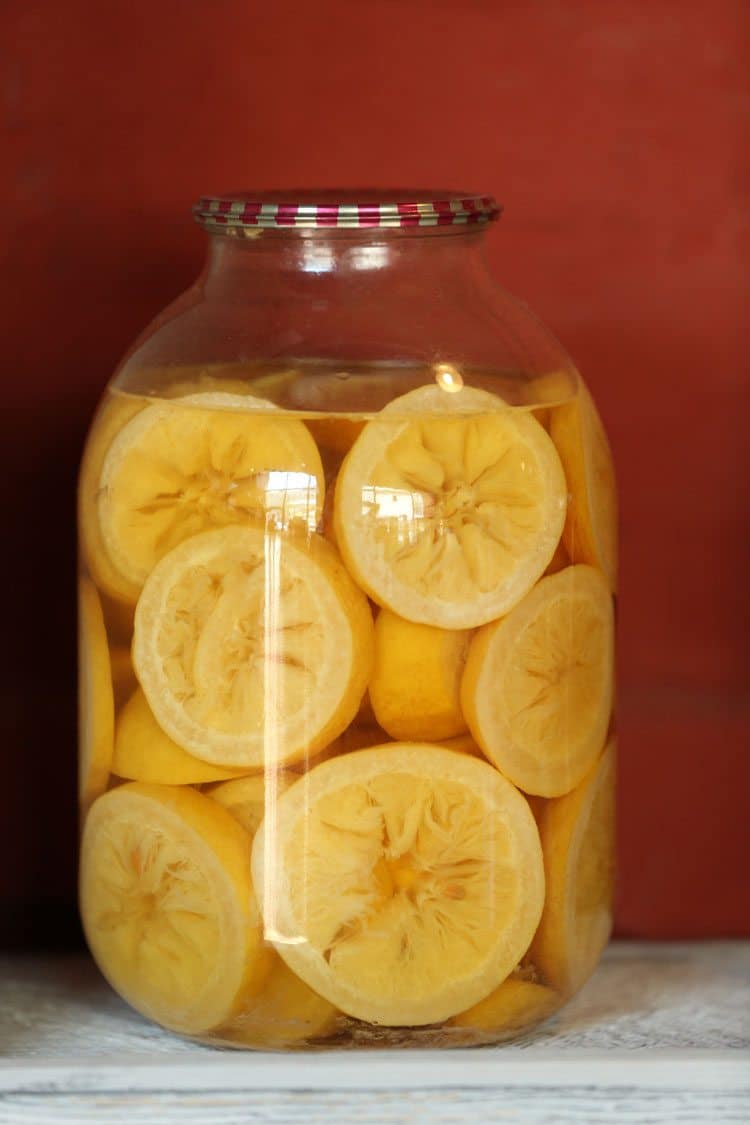 Canned Lemons Recipe and Ingredients
8 lemons (for 3 pint size jars)
2-3 cups sugar
3 pint size glass jars, or you can use a larger jar if you prefer.
Procedure:
Start by washing your jars with soap and water, then fill each jar ⅓ with boiling hot water and swirl it around, then drain and repeat. Or, you can boil the cans in a large pot for 5 minutes or run them through your dish washer. Do the same with the lids.
Wash your lemons thoroughly using a sponge or dish brush, then slice them into rings using a mandolin slicer or half circles.
Place sliced lemons into jar  (about ½ lemon at a time). Cover lemon slices with at least 3 tablespoons sugar.
Repeat layers of lemon and sugar till you get to the top, pressing  down the lemons as you go.
Go on, add more sugar until you get to the top. Cover with the lid and refrigerate. You can also put a nice piece of fabric over the flat lid and screw the top over it for a nicer presentation. The sugar will turn into a syrup as it stands in the fridge.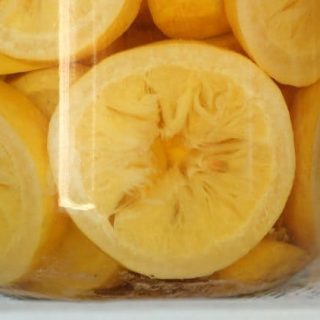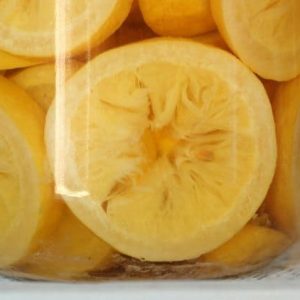 Canned Lemons
Canned Lemons recipe is perfect for preserving lemons to serve up with tea or iced water. Refreshing and an ideal way to make use of an abundance of lemons from your lemon tree.
Instructions
Scrub your lemons and then slice them into thin rings.

Layer the lemons into the jars.

Cover the lemons each lemon layer with about 3 tablespoons of sugar.

Alternate layers of lemons and sugar until filled with lemons compacting them as you go.

Place the lids on the jars and refrigerate.

The sugar turns into a syrup while in the refrigerators.
Makes about 3 pints. Will last in the refrigerator about 1 month.
Nutrition
Calories:
450
kcal
Carbohydrates:
120
g
Protein:
2
g
Fat:
1
g
Saturated Fat:
1
g
Sodium:
5
mg
Potassium:
298
mg
Fiber:
6
g
Sugar:
105
g
Vitamin A:
48
IU
Vitamin C:
114
mg
Calcium:
56
mg
Iron:
1
mg
There you have it! You can now enjoy your canned lemons and have your lemons longer than their ordinary life span.