Looking for the ideal cabin meal?
Chili Corn Chip Casserole is one of those summer vacation meals that memories are made of.  You know the type.  Camp meals, basic one pot meals at the cabin or summer cottage--dinner on the tiny stove in the RV that is too small for more than one person to stand in at a time.
And we're not even going to mention the time, pulling the camper along--way back in the 80s (or was it 1990?) when the minuscule fridge swung open mid-trip and a mess of broken eggs and other fridge refinery and landed on my sister's red sneakers.  All of this happening (of course) while we were driving along.  Needless to say, after we pulled over for the day to set up camp, we were in for a bit of a surprise when we opened up the door to the camper.
I'm sure our mom took the brunt of it, because while I remember the mess, I don't actually remember having any part in cleaning it up.
Yes--the memories that are made while traveling.  Whether cooking, sightseeing, or breaking down on a road trip, these are the little things that add up to the cumulative takeaway of a trip.  And yes, 25+ years later, the image of red shoes with egg-mess on them is something that is ingrained in those vacation pictures in my head.
The takeaway.
This summer, the kids and I spent an amazing week at a lake cabin in Northern Wisconsin.  It was a vacation I will always remember--as I'm sure they will.  My husband was able to join us for a few days, and the kids  each brought a friend to enjoy the trip with.
We were unplugged, in nature, and loving every minute of it.
There is nothing better than having the opportunity to unwind and unplug.  And trust me, unplugging these days is a difficult--and sometimes nearly impossible--thing to do.  It's the world we live in.  And for some of us, it's also the world we work in.
Kids and teens these days are more connected than ever, which is why I was relieved to find out that we didn't have a good WiFi connection at our cabin.  The kids were forced (as was I) to enjoy time away from the internet.  Away from social media.  Away from checking status updates and snap-chatting and being connected to everyone in the world 24/7.
Which was perfect.
It gave us all time to reflect and enjoy the simplistic things in life. The trip gave me time to try some new recipes, take some photographs both of food and nature, and most importantly of all--enjoy time with my family.
This delicious Chili Corn Chip Casserole is comfort food for the soul.  Not only is it delicious, but it warms the body and spirit.  If you're looking for a one-dish meal to serve on a cool camp day, or a new favorite to add to your summer cabin cookbook--this recipe is one you certainly need to try.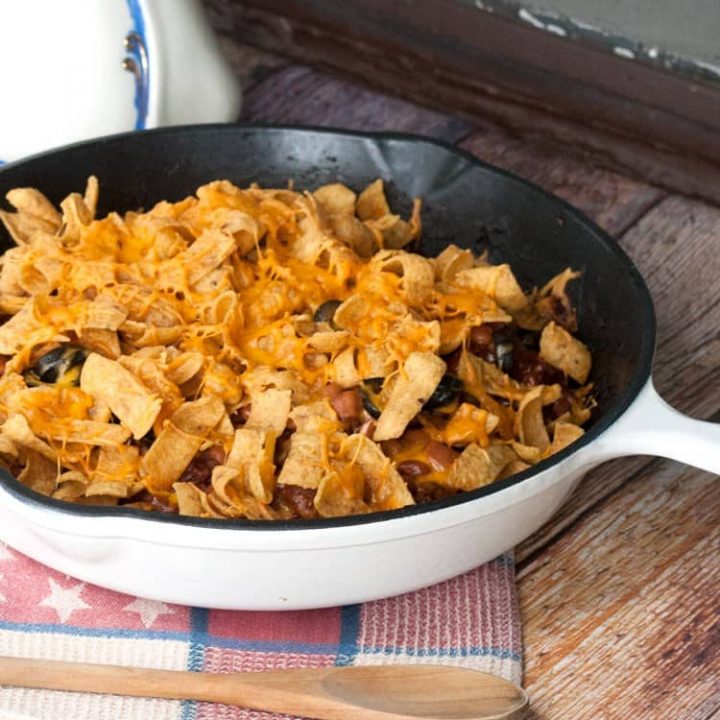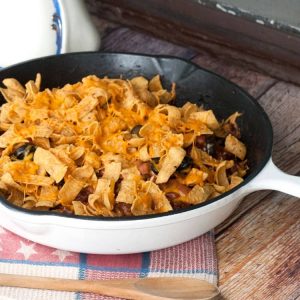 Chili Corn Chip Casserole
This mouthwatering chili corn chip casserole is the perfect dish for dinner parties!
Ingredients
1

pound

ground beef

1

cup

chopped onion

1

package chili seasoning mix

1 6-

ounce

can tomato paste

¾

cup

water

4

cups

corn chips

16

ounce

can pinto beans

1

cup

sliced black olives

2

cups

shredded Cheddar cheese
Instructions
Brown beef in oven-safe skillet. Add in onion, chili seasoning, tomato paste and water. Heat on simmer for 10 minutes.

To use one dish, move ½ of the chili mixture over to the side of pan (or scoop out into a bowl) and add ½ of the corn chips, ½ of the beans and ½ of the olives and cheese on top of the half of the chili mixture left in the pan. Net, top that layer with the remaining ½ of the chili mixture. Add the remaining beans and olives. Top with remaining 2 cups of corn chips, and then the remaining cheese.

Cover with foil.

Bake in a preheated 350-degree oven for 30 minutes. Uncover, and then bake for an additional 10 minutes.
Nutrition
Calories:
1171
kcal
Carbohydrates:
88
g
Protein:
47
g
Fat:
73
g
Saturated Fat:
25
g
Cholesterol:
140
mg
Sodium:
2131
mg
Potassium:
1369
mg
Fiber:
14
g
Sugar:
10
g
Vitamin A:
1578
IU
Vitamin C:
15
mg
Calcium:
670
mg
Iron:
7
mg
Chili Corn Chip Casserole is a one-dish meal that is sure to bring happiness to the table.  Sit around, share in good food and conversation, and relish the ability to take a break with family and friends.
Just breathe.