In this recipe, a delicious white sauce smothers tender pasta and sliced steak. This Easy Steak Alfredo is a fun twist on a classic chicken alfredo dish, perfect for dinner. Though this is a simple and easy dish, it offers an elegant presentation!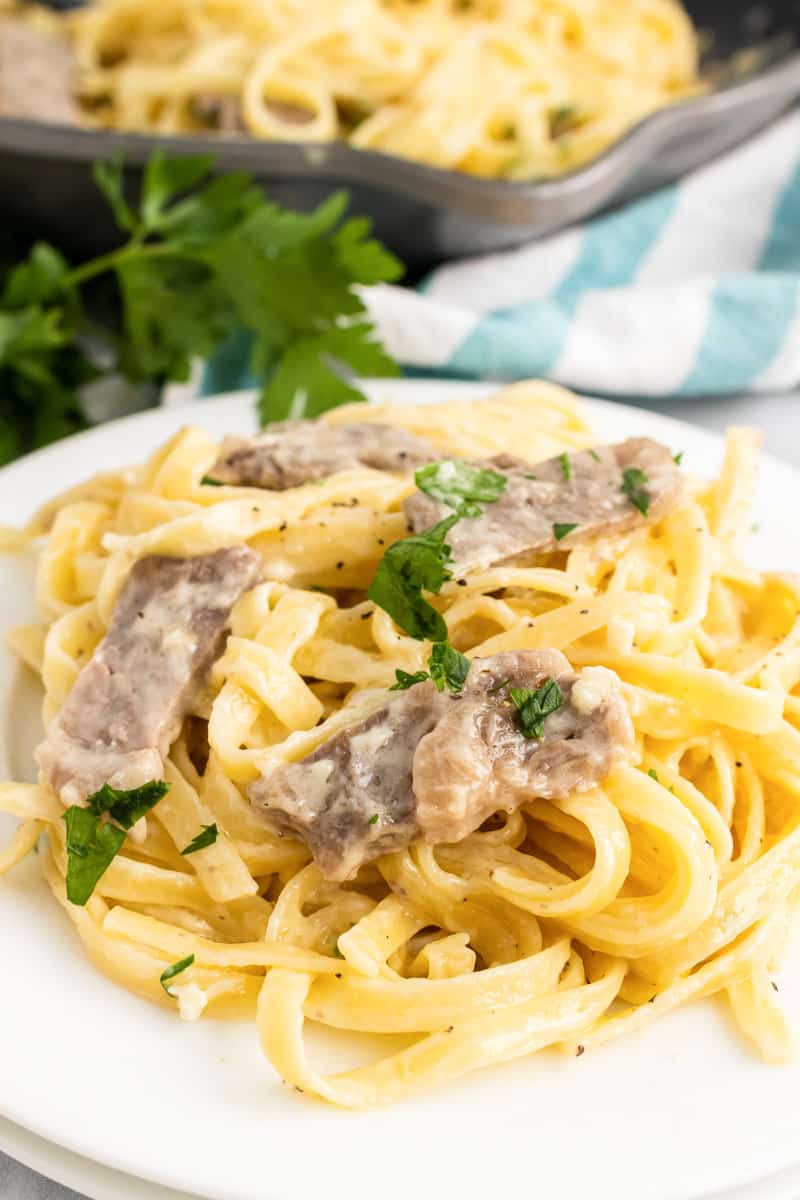 In this Article:
This homemade alfredo recipe is great for the family or even a dinner for two. Pair this dish with a crisp salad and some buttery garlic bread, then dive in!
This Easy Steak Alfredo recipe is...
Made with homemade alfredo sauce
Paired with tender and juicy steak 
Easily made gluten-free with gluten-free noodles 
Easy to make 
Elegant—great for date night at home
Get the latest scoop on all the recipes I'm whipping up in the kitchen by following along with All She Cooks on Facebook, Instagram, and Pinterest. Also, don't forget to join my Facebook Group where you can share your favorite blogger recipes: Easy & Delicious Recipes.
How to Make Easy Steak Alfredo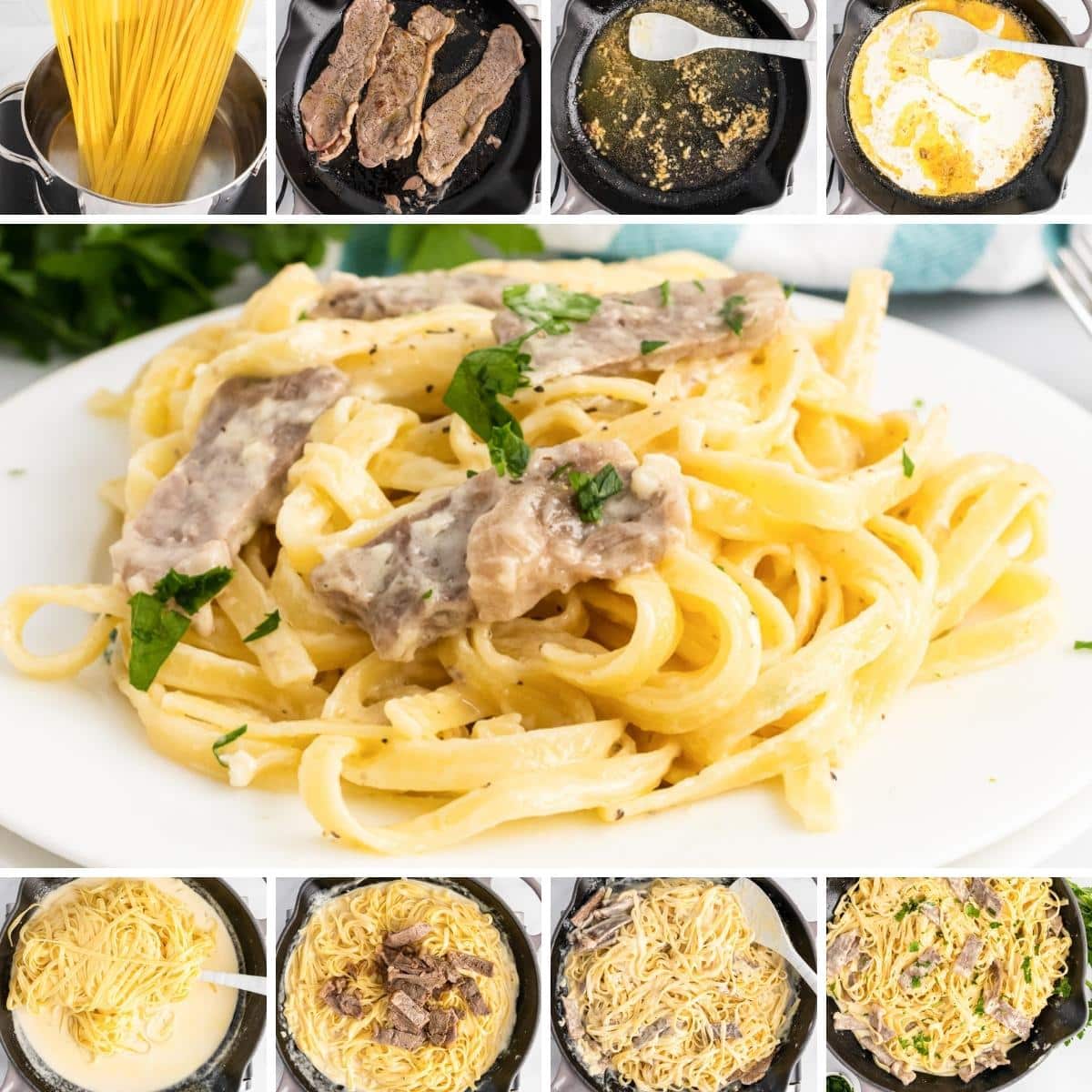 Cook pasta until al dente. Reserve 1 cup of the water. 
In a skillet, heat oil and sear seasoned steaks. 
Once steaks are done, remove from the pan and cover with foil to rest. 
To the empty skillet, add butter and garlic.
Add cream, pasta water, and parmesan. 
Cook to thicken sauce, and add more water if needed. 
Toss in the cooked pasta and steak.
Garnish and serve. 
Full directions for how to make Easy Steak Alfredo are in the printable recipe card below. 
Tips & Tricks for Easy Steak Alfredo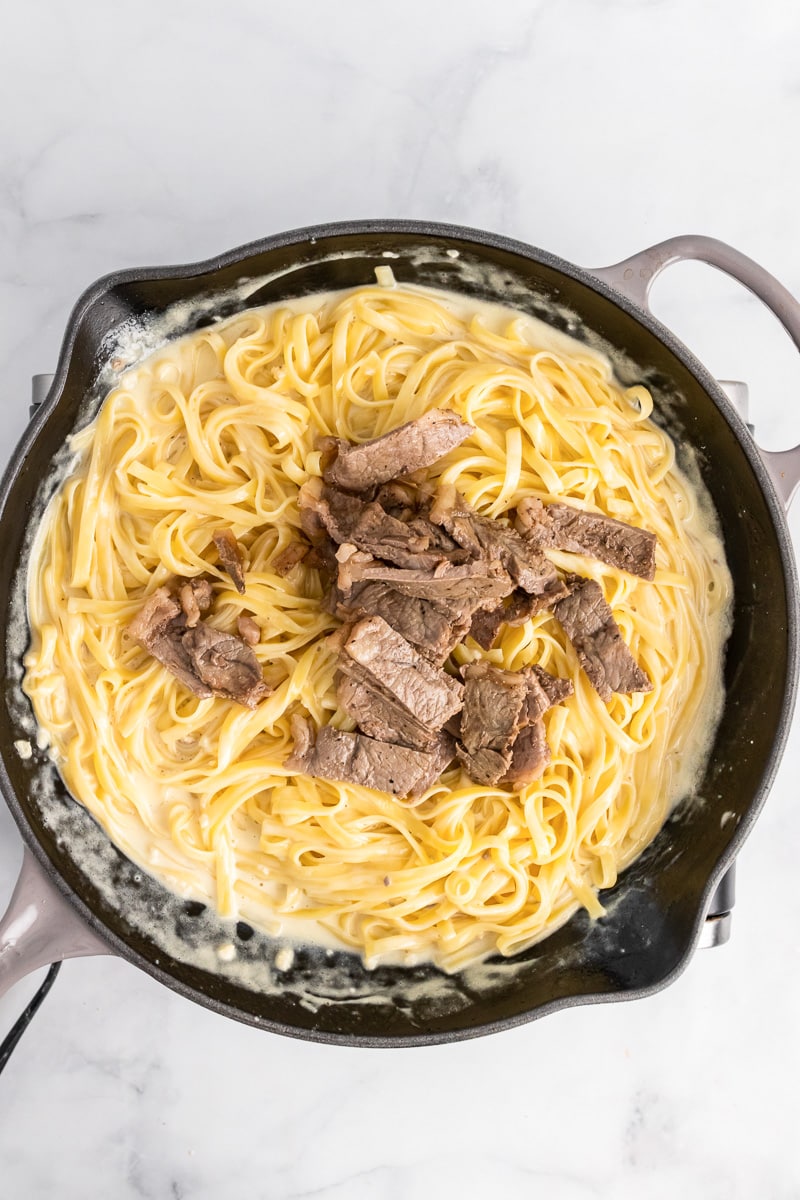 Doneness
Make sure that you cook your pasta al dente. As you toss the pasta into the hot skillet, it may cook a bit more. You don't want your pasta to become mushy, so don't let it become overcooked.
Water
When making the alfredo sauce, you will use pasta water. This water will add flavor and starches to the sauce. These few extra flavors will really make a difference in terms of quality of the sauce!
Variations to Easy Steak Alfredo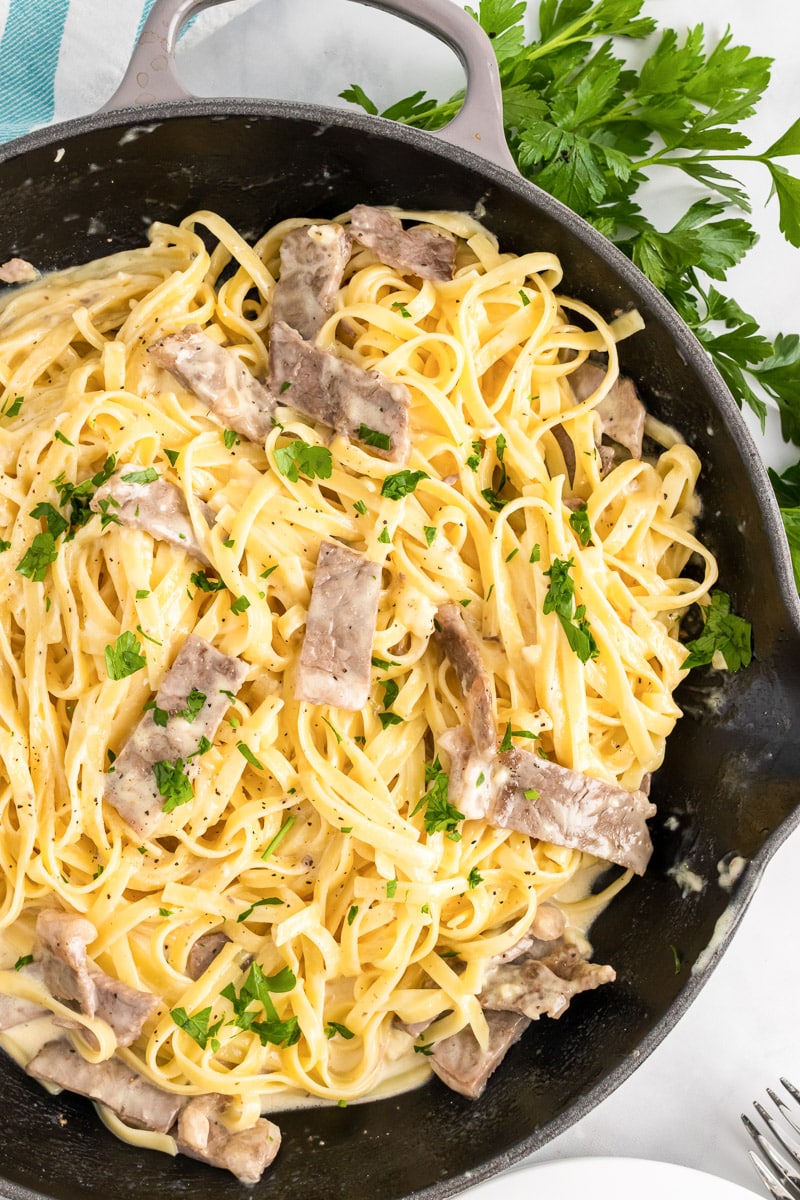 Steak
For this recipe, I used full size steaks that I seared and then sliced. You could also use steak bites. Simply cube up the steak before searing the meat. 
Pasta
I prefer using fettuccine noodles for this recipe, but you are welcome to use any kind of noodles you prefer. You can even use zucchini noodles or spaghetti squash for this recipe! 
Broccoli 
You can even toss in some cooked broccoli at the end of cooking for another layer of flavor to the pasta dish. Just steam or cook your broccoli and then add into the pan to mix and coat in the sauce. 
Easy Steak Alfredo FAQs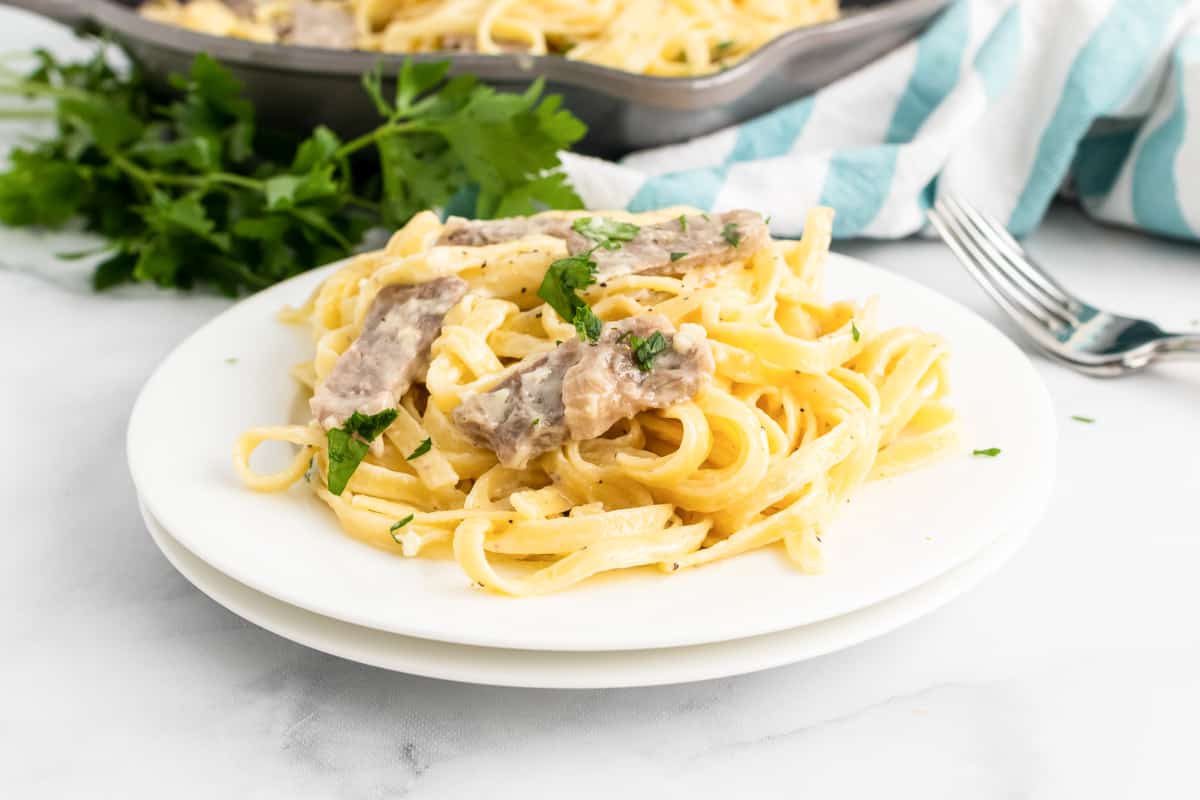 How done should the steaks be? 
Steaks can be undercooked compared to other meats. You can cook your steaks to rare, medium rare, or well done. Just remember that, as you allow your steaks to rest, they may cook a bit more. 
What type of steaks should I use? 
You can use any type of steak you want—from KC strips, New York strips, Ribeyes, etc. The most important thing to consider is that you use a boneless steak or that you remove the bone before you top your pasta. 
How should I store leftovers?
You can store leftovers from this dish in the fridge for 3–4 days. Just know that the pasta will soak up some of the sauce as it sits in the fridge. If you need to, add a little bit of water or heavy cream to the pasta as you mix it up before reheating. 
Recipe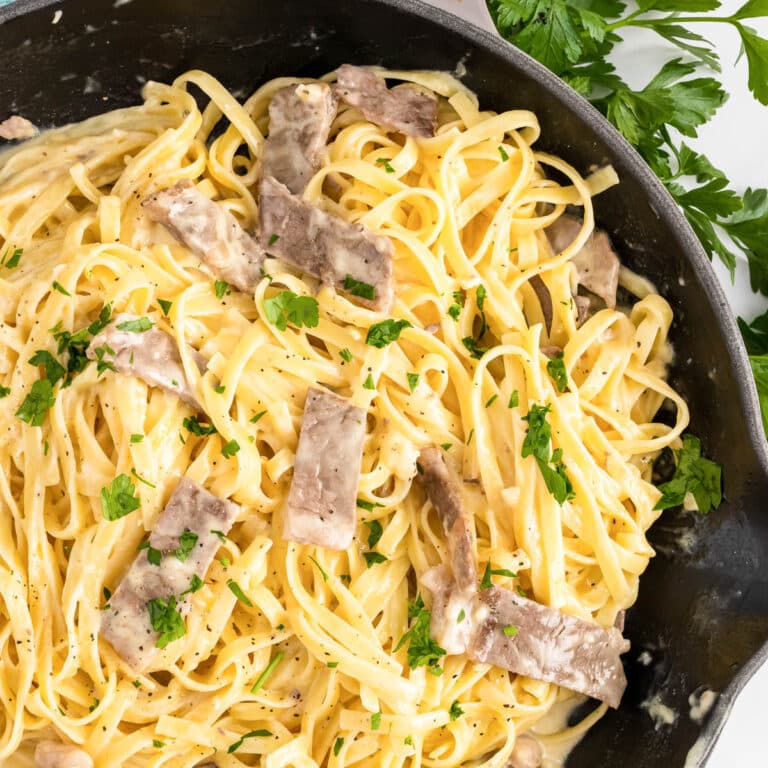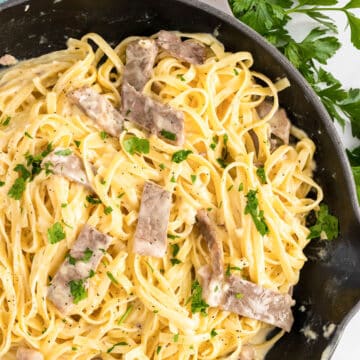 Easy Steak Alfredo
This Easy Steak Alfredo is a fun twist on a classic chicken alfredo dish. Though simple, this dish offers an elegant presentation!
Ingredients
8

oz

fettuccine noodles

1

tbsp

olive oil

2

medium steaks

1

tsp

salt

1

tsp

pepper

¼

cup

butter

3

cloves

garlic

minced

1

cup

heavy cream

1 ½

cups

parmesan cheese

shredded

fresh parsley

for garnish, optional
Instructions
Bring a large pot of salted water to a boil and cook fettuccine noodles until al dente. Check package directions, as cook times vary by brand. Drain pasta, but reserve about 1 cup of cooking water and set aside.

Heat olive oil in a large skillet over medium heat. Season both sides of the steaks with salt and pepper.

Add steaks to skillet and cook 4–5 minutes per side, or until desired doneness is reached. Transfer steaks to a plate and cover with aluminum foil.

In the same skillet, add the butter and garlic and cook for 2–3 minutes.

Then add the cream and ½ cup reserved pasta water.

Add parmesan cheese and bring to a light simmer.

Allow sauce to cook for 5–6 minutes, or until sauce is thickened. Add more pasta water if needed to achieve desired consistency.

Add cooked noodles to pan and toss in alfredo sauce until fully coated.

Slice steak and add to noodles.

Garnish with fresh parsley and serve warm.
Nutrition
Calories:
850
kcal
Carbohydrates:
45
g
Protein:
46
g
Fat:
54
g
Saturated Fat:
28
g
Polyunsaturated Fat:
3
g
Monounsaturated Fat:
20
g
Trans Fat:
1
g
Cholesterol:
225
mg
Sodium:
1292
mg
Potassium:
556
mg
Fiber:
2
g
Sugar:
2
g
Vitamin A:
1247
IU
Vitamin C:
1
mg
Calcium:
534
mg
Iron:
3
mg