Throw together this DIY Pasta Bar for a weeknight dinner or fancy get-together. Build your own pasta station and load it up with fun toppings! This is a fun way to serve up a variety of pasta recipes, so each person can dress their own plate of pasta.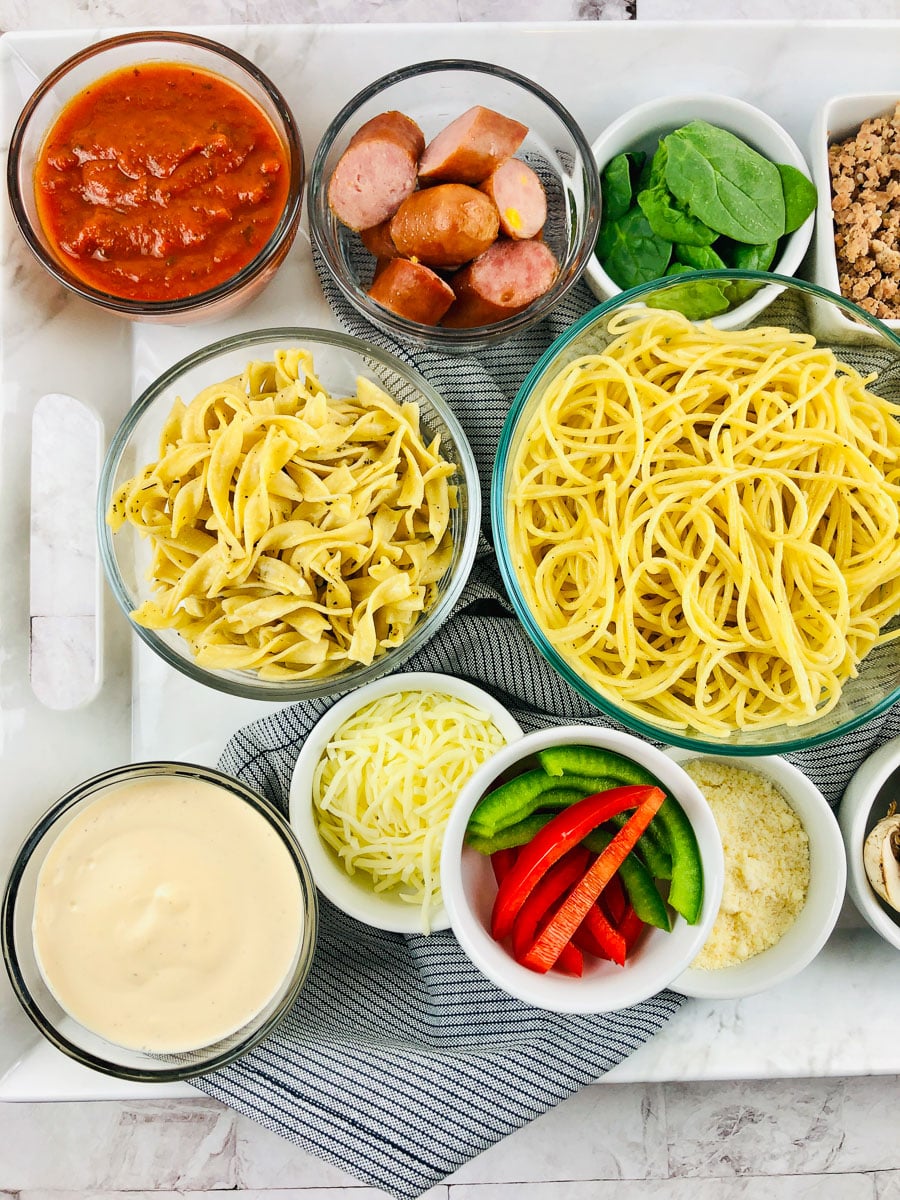 In this Article:
With a pasta bar, you can serve a variety of meats, veggies, cheeses, sauces, and pastas all in one meal! I know it seems like a lot, but trust me—this fun pasta dinner is perfect.
To round out your meal, you can serve your pasta bar alongside some tasty soup or a delicious, refreshing salad. And don't forget a yummy bread on the side!
This DIY Pasta Bar recipe is...
Great for serving guests or family
Easily made gluten-free (use gluten-free pasta)
A fun party food
Versatile
How to Make DIY Pasta Bar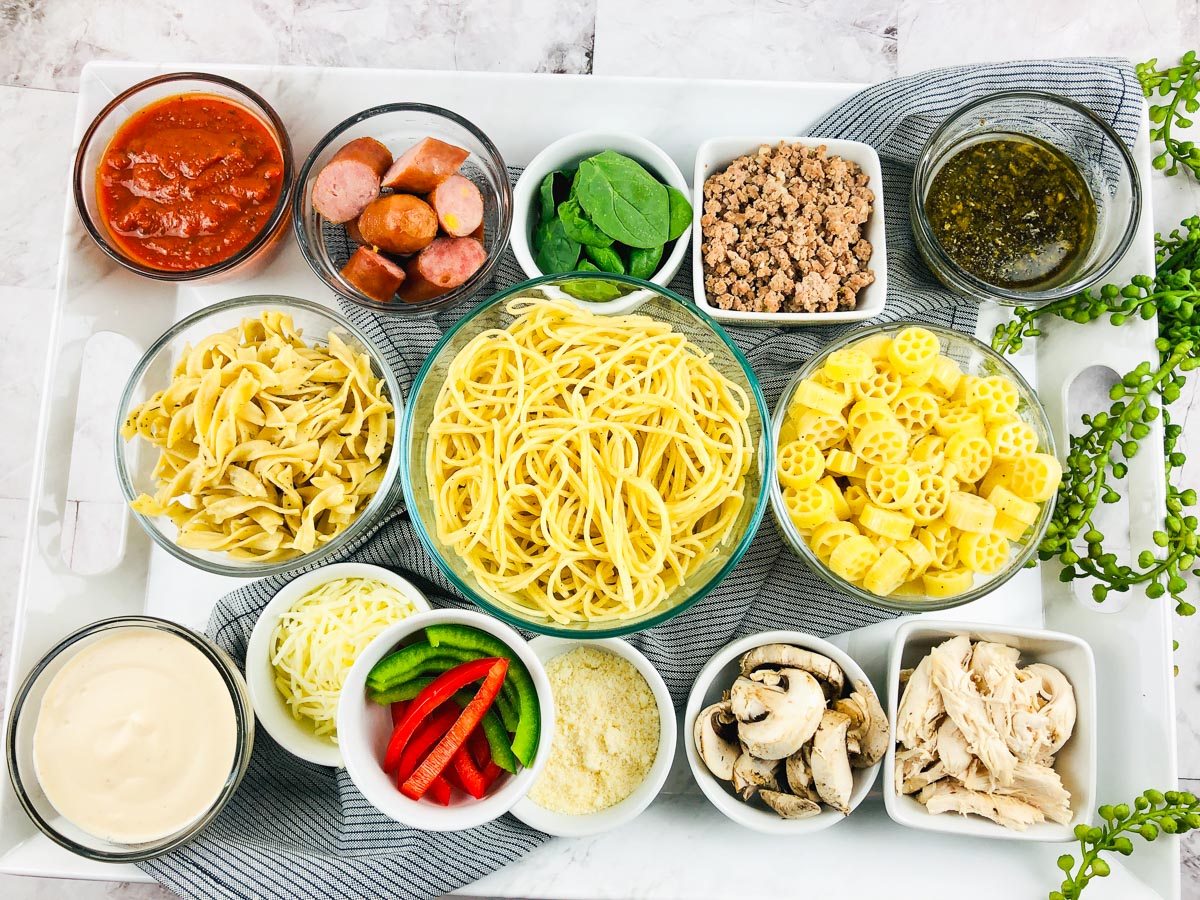 Cook your pastas. Toss each variety in oil and place in their own bowls.
Place varieties of sauces, cheeses, meats, and veggies in their own bowls.
Place all the bowls on a table or bar. Let each person serve themselves.
That's it - instant pasta party!
Tips & Tricks for a DIY Pasta Bar
Pasta
Make sure to cook your pasta as directed on the package - they all have slightly different directions. When your pasta is cooked al dente, remove from heat, drain, and lightly toss the pasta in olive oil. This will prevent the cooked pasta from sticking together.
To maximize the fun at your pasta bar, serve up a variety of pasta shapes so everyone can choose their favorite or mix-and-match!
Sauces
For my pasta bar, I used a variety of sauces: pesto, marinara, a simple meat sauce, creamy alfredo, etc. You'll want to have at least 2-3 choices on the pasta bar.
If you want to get fancy, you can use mini slow cookers or roasters to keep your sauces warm on the buffet. I find that warm sauces taste better, but you could always just serve your sauces at room temperature too.
If you want to make your own homemade pasta sauces, check out these sauce recipes:
Prep Tips
If you are running short on time, you can prep the veggies and meats in advance. You can choose whether you want to serve them warm or cold for maximum convenience.
If you want to cook your veggies, wait until the day you are serving the pasta bar so they taste fresh. You can prep your veggies ahead of time by cutting them up and gathering any seasonings beforehand.
Variations to DIY Pasta Bar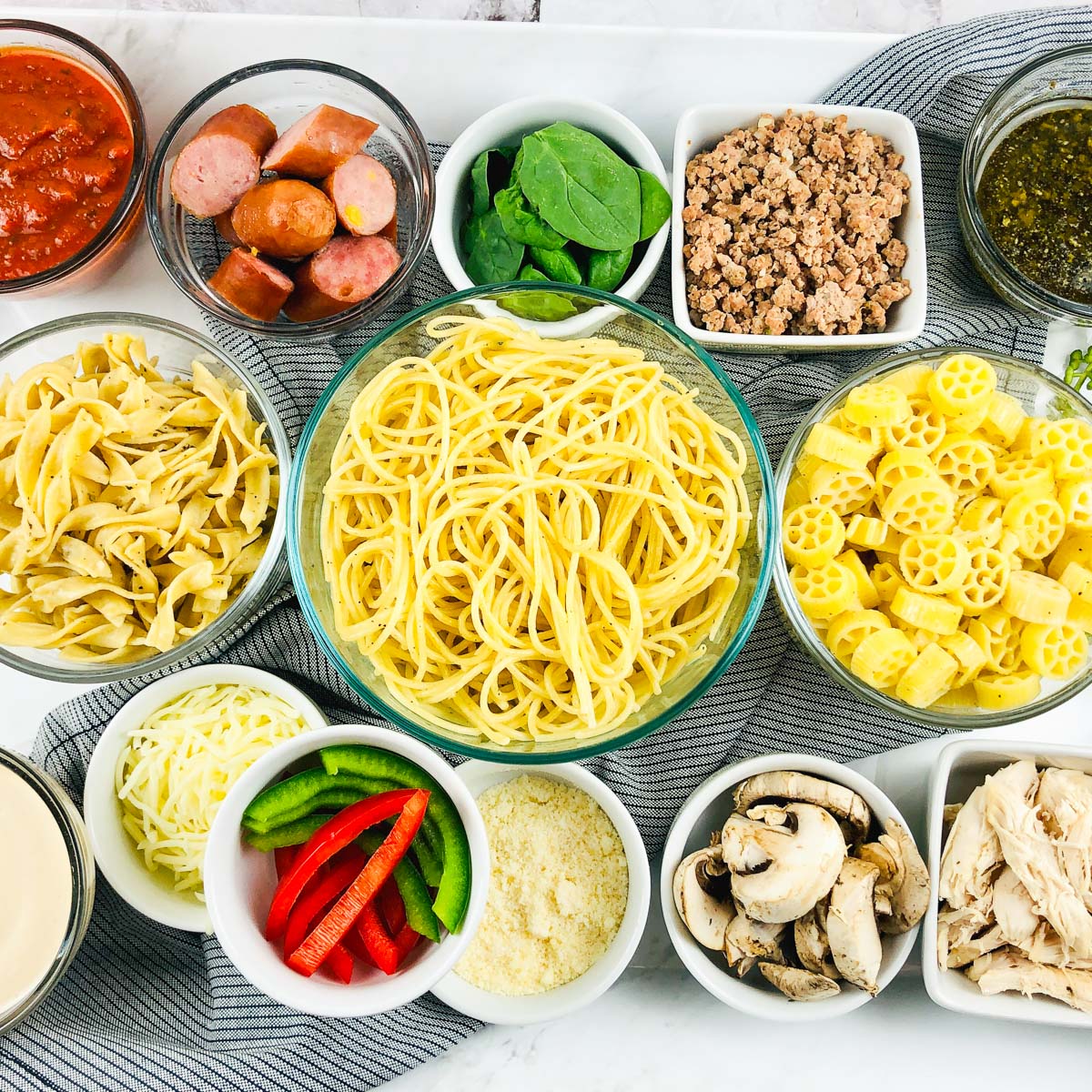 Gluten-Free Pasta
If you can't have gluten, just cook up some gluten-free noodles for your pasta bar. This is a simple swap! Just cook your gluten-free noodles as directed on the package. I'm a fan of these Banza Chickpea Pastas!
Low-Carb Option
Want a pasta bar but without all the carbs? Consider offering your guests spaghetti squash and zoodles (zucchini noodles) as the pasta in the pasta bar.
Veggie noodles are not only healthier, but also often more flavorful and unique than traditional pasta! They're also gluten-free.
Learn all about zoodles over here!
DIY Pasta Bar FAQs
What is a pasta bar?
A pasta bar is like a pasta buffet with lots of toppings to choose from. It's a creative way to ensure each person can enjoy a pasta dish that he or she loves!
Leave all the items spread out in dishes and let each person assemble their own plate of pasta.
What should I serve with a pasta bar?
Breadsticks and salad are always great options to pair with pasta. I love serving both, but you could choose one or the other, whip up some garlic bread, or try something completely different!
More Tasty Ideas
If you love this DIY pasta bar, check out these other delicious ideas too:
Recipe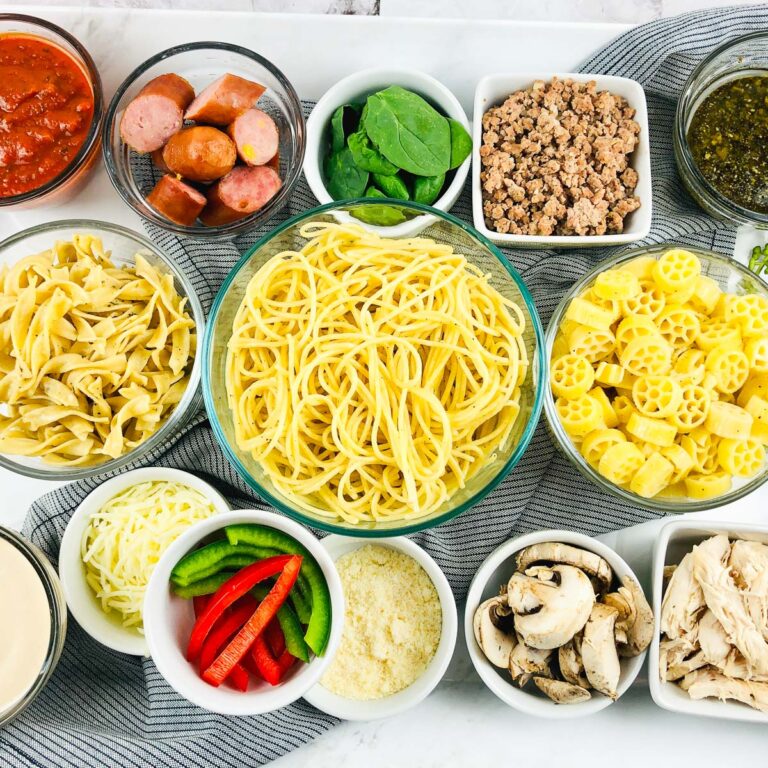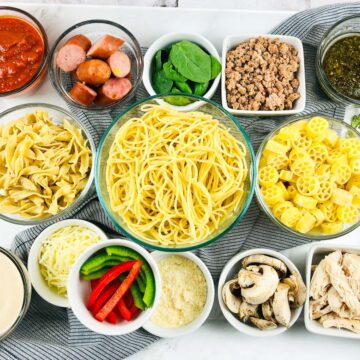 DIY Pasta Bar
Throw together this DIY Pasta Bar for a weeknight dinner or fancy get-together. Build your own pasta station with fun toppings!
Ingredients
variety of pasta types

cooked and tossed in olive oil

variety of pasta sauces

such as pesto, cheese, marinara, alfredo, etc.; warmed

variety of cheeses

parmesan, cheddar, mozzarella, etc.

variety of meats

beef with onions, sausage, shredded chicken; cooked

variety of vegetables

spinach, mushrooms, bell peppers, broccoli; steamed or raw
Adjust the amounts to suit the number of guests and personal preferences.
Instructions
Place all prepared ingredients in separate bowls. Set bowls in the middle of the table, on an island or bar, or on a serving tray.

Provide each family member or guest with a plate and silverware. Then allow them to create and enjoy their own perfect, personalized pasta bowls!
Nutrition