I have to tell you that in our all-time favorite Baked Spaghetti recipe ground beef is the star. It's the key ingredient that contributes the flavor that pulls everything together. Without it, we'd be lost. Unless we were vegetarians, and then we'd find something else to make this recipe pop.
But...
In our Baked Spaghetti Recipe ground beef rules the roost.
I'm always looking for meals that are easy to make on weeknights, when like many other families, we are just plain busy. And, I like cooking from scratch (or almost from scratch) as much as possible. If you're wondering what cooking from scratch is then you've come to the right place.
Cooking from scratch beginners can take pride in knowing they are not alone. There is a growing number of consumers who want to know where their food comes from, and that means from scratch cooking. There are tons of cooking scratch recipes and cookbooks that offer great inspiration to the new cook.
We like to cook up a lot of recipes from scratch, especially when we're not trying to save time. Some of our favorites are Poor Man's Soup, Zuppa Toscana, and Homemade Pizza Dough.
Scratch Cooking Definition
Cooking from scratch basically means that you are using whole ingredients in the recipes you cook. When scratch cooking, the ideal goal is to avoid highly processed foods.
That's why recipes like this one that have primarily whole ingredients are a great starting point for consumers interested in moving toward diet consisting of less processed food. It's not completely from scratch, unless you want to make homemade cream of mushroom soup and homemade pasta--but you get the drift. With this easy oven Baked Spaghetti, we're cooking with good ingredients that offer nutrients we need, without all the additives. Win.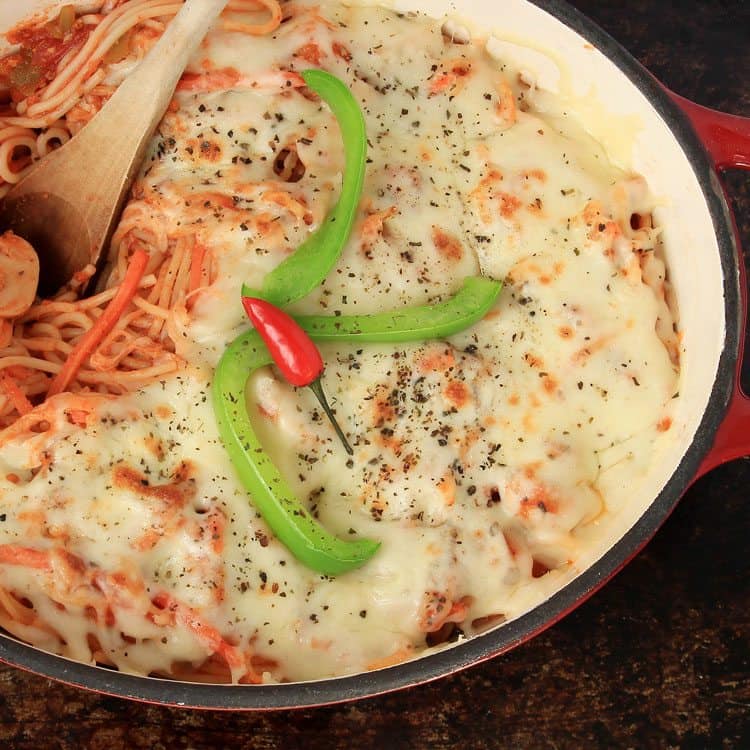 Best Baked Spaghetti Casserole Recipe

(Recipe Below!!)
Bar none. This is simply the best Baked Spaghetti Casserole recipe that I have ever had.
I was first introduced to it a couple years ago when my husband was deployed. Picture Wisconsin, a frozen blanket of ice and snow, and me slipping on ice and falling down hard on my driveway. Right onto my arm, which of course I used to catch myself. Well, thankfully I didn't break anything, but I sure was in pain for a bit. And trying to maneuver around with my arm in a sling was a bit more complicated that I'd imagine it would be.
Thankfully, we've made some GREAT friends, and besides all the emotional support that was offered to our family during that deployment, one of my dear friends sent her husband to deliver food to us. My introduction to the best Baked Spaghetti Casserole recipe via the two HUGE platefuls that I devoured that night. And I don't say devoured with any sarcasm at all. Picture spaghetti being inhaled by a vacuum. (Okay--now that my friends, was sarcasm.)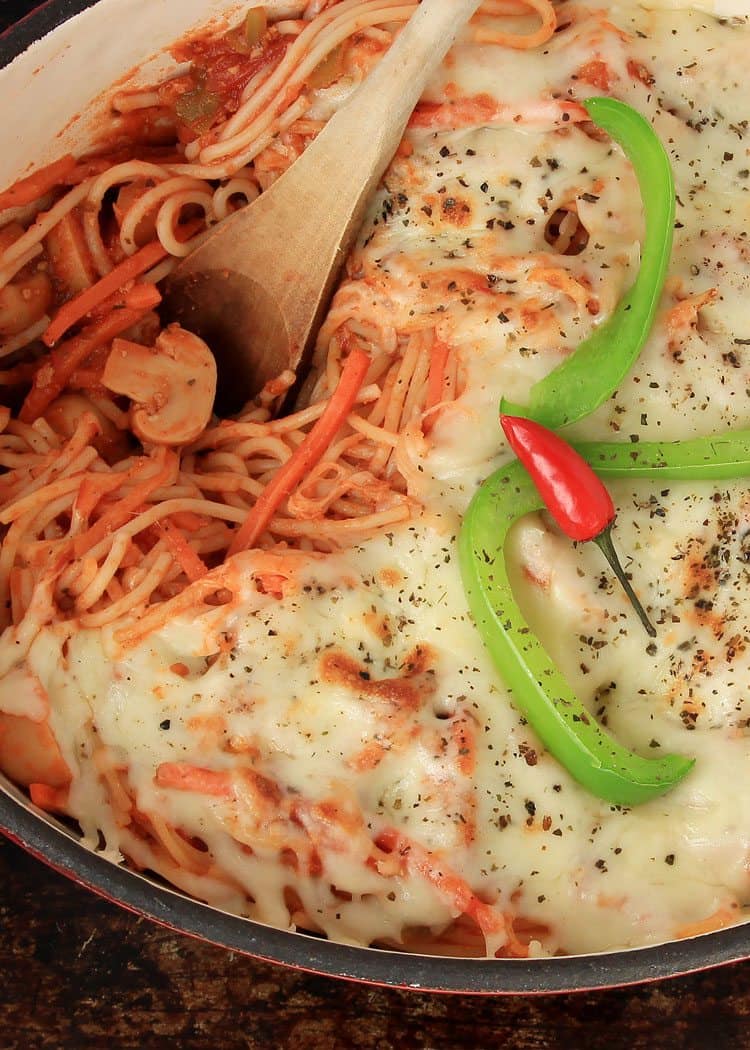 Freezer Cooking and Freezer Meal Containers
As I mention over and over again--we lead a busy life, just like many of you do. Working all day and then coming up with weeknight dinner ideas families can enjoy (much less have time to cook) isn't always easy. In fact, it can be extremely difficult.
That's why once in a while I like to sit back and think about weeknight dinners busy moms (and dads) can make ahead of time. Freezer cooking pre-planned isn't difficult at all. There is a process to go through: planning, purchasing ingredients, food prep, cooking, and storage. But, if you make a list and have your freezer cooking planning done in advance, you'll be in good shape and enjoy many easy weeknight meals as a result. There are many freezer cooking cookbooks that have delicious recipe options to choose from.
BPA Free Freezer Containers
You'll also want to make sure that you have the right freezer meal containers before you start cooking. BPA free freezer containers are all the rage, and will good reason. Thankfully, BPA free containers seem to be most of what is available these days.
There are many containers to choose from, including basic aluminum that you can purchase at any grocery outlet. Once I use up the few I have on hand, I'll be purchasing reusable freezer storage containers.
Baked Spaghetti Casserole Can Be Frozen!
Friends, I've tried it myself and I can truly rave to you that Baked Spaghetti Casserole is a Freezer Meal like none other. Get me a shovel, because it's just as good the second time!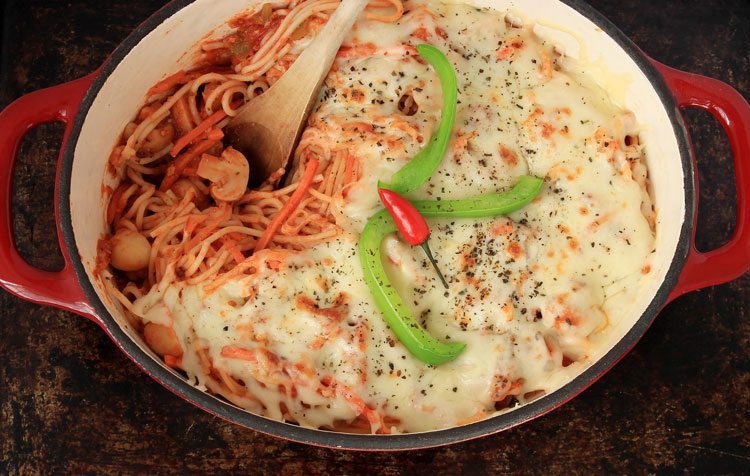 And the third. I tripled this recipe when I made it and made 3 delicious Baked Spaghetti Casseroles--one for dinner and two for the freezer. You know what, knowing I had those meals to look forward to was relieving on busy days when I knew I wouldn't have time to be mixing up ingredients. With make-ahead meals like these, its easy to defrost, and then pop them in the oven to reheat.
Our Baked Spaghetti Casserole reheats (thawed out) at 350 degrees for about 30 minutes, give or take depending on the depth of the dish you froze it in. And of course, if you didn't freeze it in an oven safe container- make sure you put it in one before baking.
Also- if freezing in a glass container DO NOT preheat the oven. Place cold dish (thawed) in the oven and then turn on the oven. You don't want glass splattering everywhere or exploding. Trust me--learned that life lesson when I was living in my first apartment with my sister fresh out of high school at 17. Talk about scary!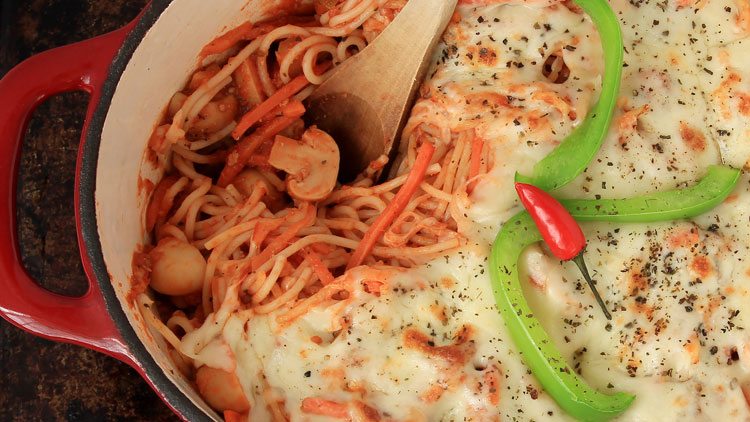 Where Can I Buy Chest Freezer for Freezer Cooking Storage?
So, you've decided that you're going to do a bit of freezer cooking. Kudos to you!
If you're going to cook just a few freezer meals and aren't planning on storing a lot at a time, then the freezer you have will probably work fine. However, if you're planning to go all out and do the monthly cooking thing, you'll want to start looking at the best chest freezer, buy one and then have plenty of room for storage.
You'll likely also want to consider chest freezer storage baskets, which will help keep things organized.
Luckily, fairly inexpensive chest freezers are easy to come by. We use ours all the time, and if you're doing a lot of freezer cooking, or buying food on sale, you'll certainly use yours too.
Best Baked Spaghetti Recipe Ground Beef
Like I said before, this Baked Spaghetti Recipe with Ground Beef is the best I've ever had. It is so flavorful and our whole family liked it. That's always a success story in a house with those occasional picky eaters.
This twist on a classic spaghetti recipe is new enough to deserve its own title. It's not just spaghetti after all.
Enjoy!
Recipe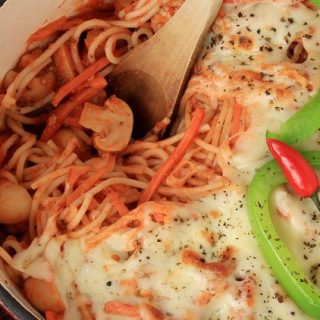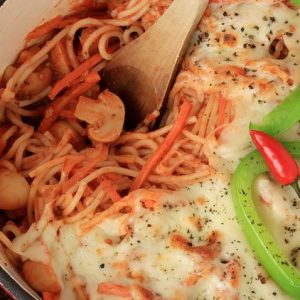 Baked Spaghetti Recipe Ground Beef
This easy baked spaghetti recipe is delicious. Double it and put one in the freezer for later.
Ingredients
1

cup

chopped onion

1

cup

chopped green pepper

1

tablespoon

butter or margarine

1

28 oz. can tomatoes with liquid, cut up (I usually get the whole tomatoes in a can and cut up)

1

4 oz. can mushroom stems & pieces (drained)

1

can ripe olives cut up

2

teaspoon

dried oregano

1

pound

ground beef

browned & drained

1

12 ounce box spaghetti (cooked and drained)

2

cups

shredded cheddar cheese

1

can cream of mushroom soup

½

cup

water

½

cup

grated Parmesan cheese
Instructions
Cook spaghetti according to package instructions.

In large skillet, saute' onion and green peppers in butter until tender. Add tomatoes, mushrooms, olives and oregano. Add ground beef. Simmer uncovered for 10 minutes. Place half of the spaghetti in a greased 9 x 13 baking dish. Top with half of the vegetable/meat mixture. Top with 1 cup Cheddar cheese. Repeat layers. Mix soup with water until smooth and pour over casserole. Sprinkle with Parmesan cheese. Bake uncovered at 350 for 30 to 35 minutes or until heated through.
Nutrition
Calories:
315
kcal
Carbohydrates:
5
g
Protein:
20
g
Fat:
24
g
Saturated Fat:
12
g
Cholesterol:
75
mg
Sodium:
337
mg
Potassium:
301
mg
Fiber:
1
g
Sugar:
2
g
Vitamin A:
605
IU
Vitamin C:
19
mg
Calcium:
299
mg
Iron:
2
mg