This tasty savory bread pudding makes the perfect addition to a Thanksgiving Dinner or other fall holiday celebration!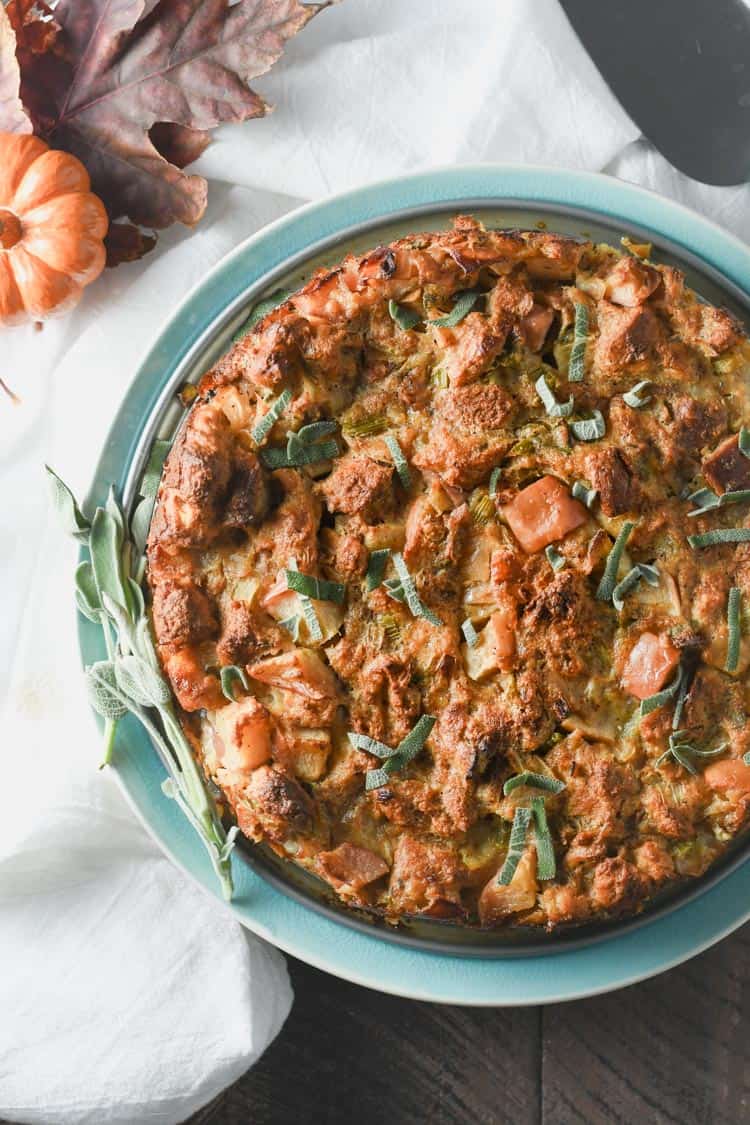 Herb Apple Bread Pudding
I came across a recipe for stuffing made in a spring-form pan on Country Living and thought, what a great way to use a pan that rarely gets used.
While this recipe is loosely based on that one,  I decided to go with a dish that has a more bread pudding-like texture.
I like the creamy on the inside crunchy on the outside texture that this dish gets from baking in the smaller pan.  Because you can remove it from the pan for serving it also gives you some visual interest on your holiday buffet.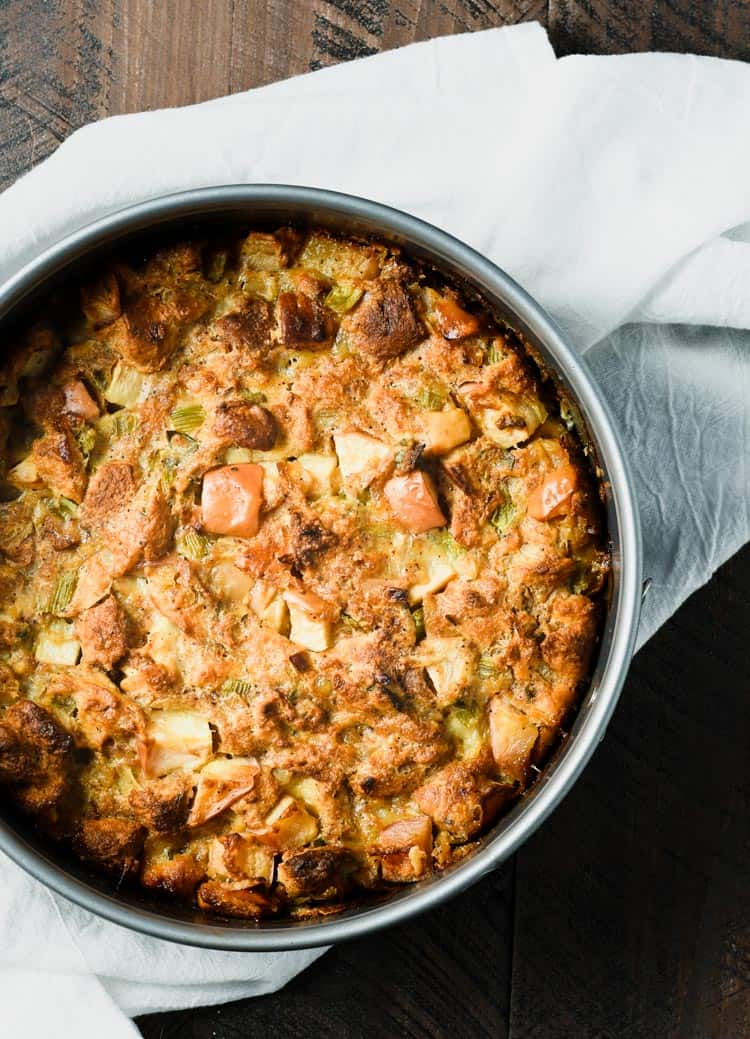 Thanksgiving Side Dish Recipes
When cooking for a big occasion like Thanksgiving I try to keep a number of the dishes relatively simple and with smaller quantities.
This cuts down on prep time, lets you serve a wider variety of dishes and gives your guests the opportunity to taste a number of different things without making it necessary for you to make massive quantities of each dish!
This dish contains a lot of traditional Thanksgiving stuffing flavors in the form of apples, celery and sage, but then gets it's unique texture from the addition of the egg and cream mixture that turns it into a savory bread pudding.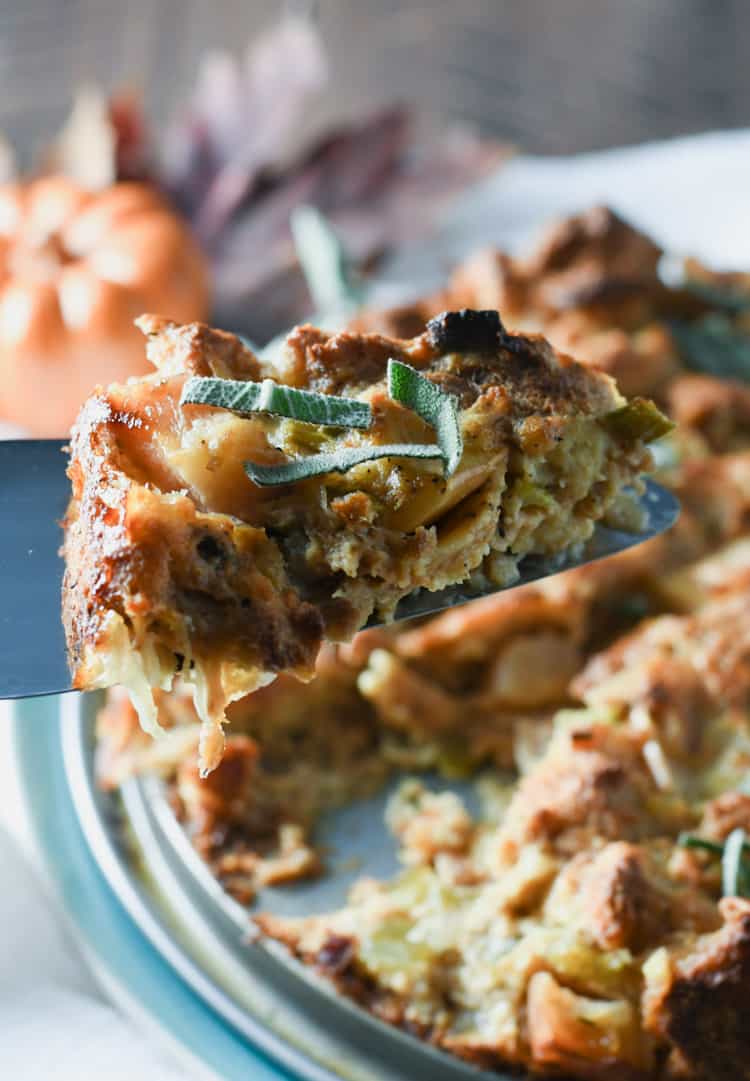 You'll notice this recipe only takes about 12 minutes of prep time with the total hands-on time coming in at about 20 minutes, which gives you plenty of time for additional cooking during your Thanksgiving meal prep!
If you are looking for some other Thanksgiving side dishes check out this great homemade Cranberry Sauce or this Sweet Potato Casserole.
Enjoy the holidays!!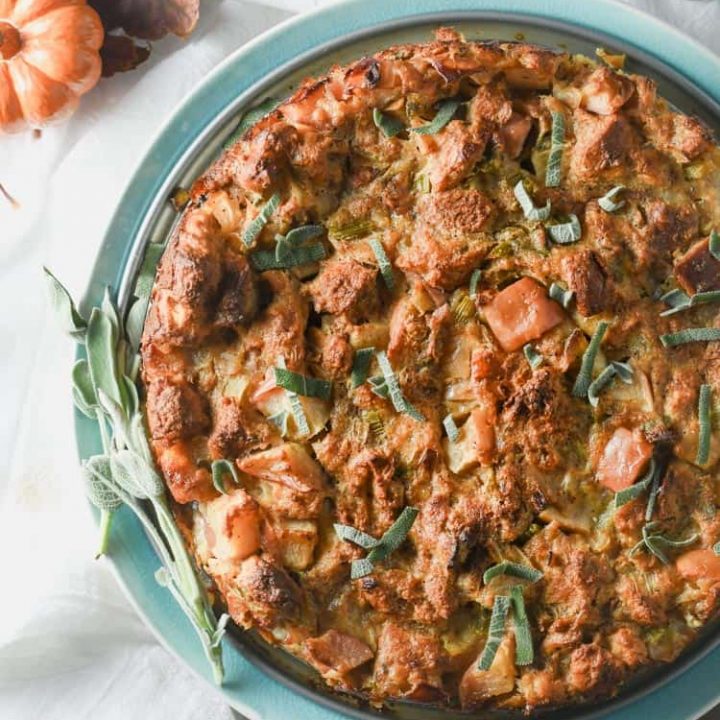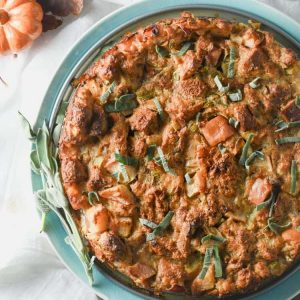 Herb Apple Bread Pudding
Enjoy this herb apple bread pudding!
Ingredients
6

cups

brioche bread cubes

2

tbsp

butter

½

cup

diced celery

1

cup

chopped yellow onion

1 ½

cups

chopped gala or other apple

1

cup

vegetable broth

2

eggs

¼

cup

heavy cream

½

tsp

ground pepper

¼

tsp

salt

½

tsp

dried thyme

2

tbsp

chopped fresh sage

plus more for garnish if desired
Instructions
Preheat oven to 375°F.  Place the bread cubes on a large rimmed baking sheet and bake for 10 minutes.  Remove from oven and let cool when done.

While the bread cubes are baking melt the butter in a medium skillet over medium heat.  Add the onion and celery, sauté for 6 minutes, stirring frequently  Add the apples and cook for an additional 3 minutes.  Remove from heat.

In a large mixing bowl, whisk the eggs, broth, cream, salt, pepper and thyme together.  Stir in the bread cubes and continue mixing until almost all of the liquid is absorbed.  Add the apple mixture and the sage; stir to combine.

Spray a 9" springform pan with cooking spray.  Add the mixture to the pan and spread into an even layer.  Bake at 375° for 40 - 45 minutes, until the top is golden brown and the edges are crispy.

Remove from oven and let cool for 5 minutes.  Run a knife around the edge of the pan to loosen the pudding and then release the springform pan.  Carefully remove the bread pudding from the pan.   To serve you can either leave the pudding on the bottom of the springform pan or carefully slide the entire thing onto a serving dish then cut into slices.
Notes
While this recipe is designed to make 8 servings you can easily slice the pudding prior to serving and create 12 - 16 small pieces for a buffet or larger group.
Nutrition
Calories:
830
kcal
Carbohydrates:
88
g
Protein:
22
g
Fat:
45
g
Saturated Fat:
25
g
Cholesterol:
355
mg
Sodium:
1030
mg
Potassium:
103
mg
Fiber:
1
g
Sugar:
4
g
Vitamin A:
1793
IU
Vitamin C:
3
mg
Calcium:
135
mg
Iron:
2
mg