This delicious Ombre Cake is an excellent way to celebrate St. Patrick's Day. The beauty and flavor of this cake make it a wonderful layer cake recipe to use for your festivities this year.
The multiple layers of different shades of green food coloring cake give this homemade cake an added touch for your green desserts on St. Patrick's Day.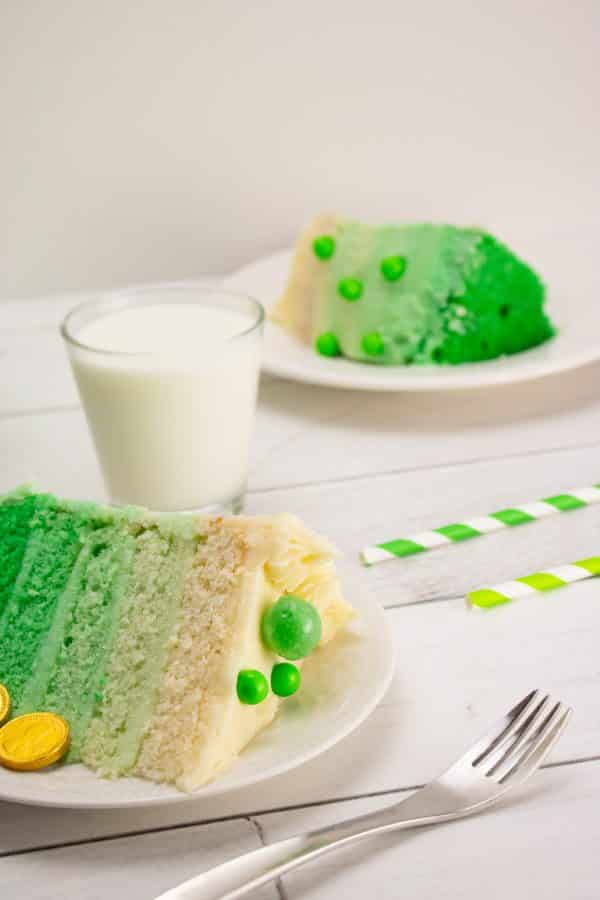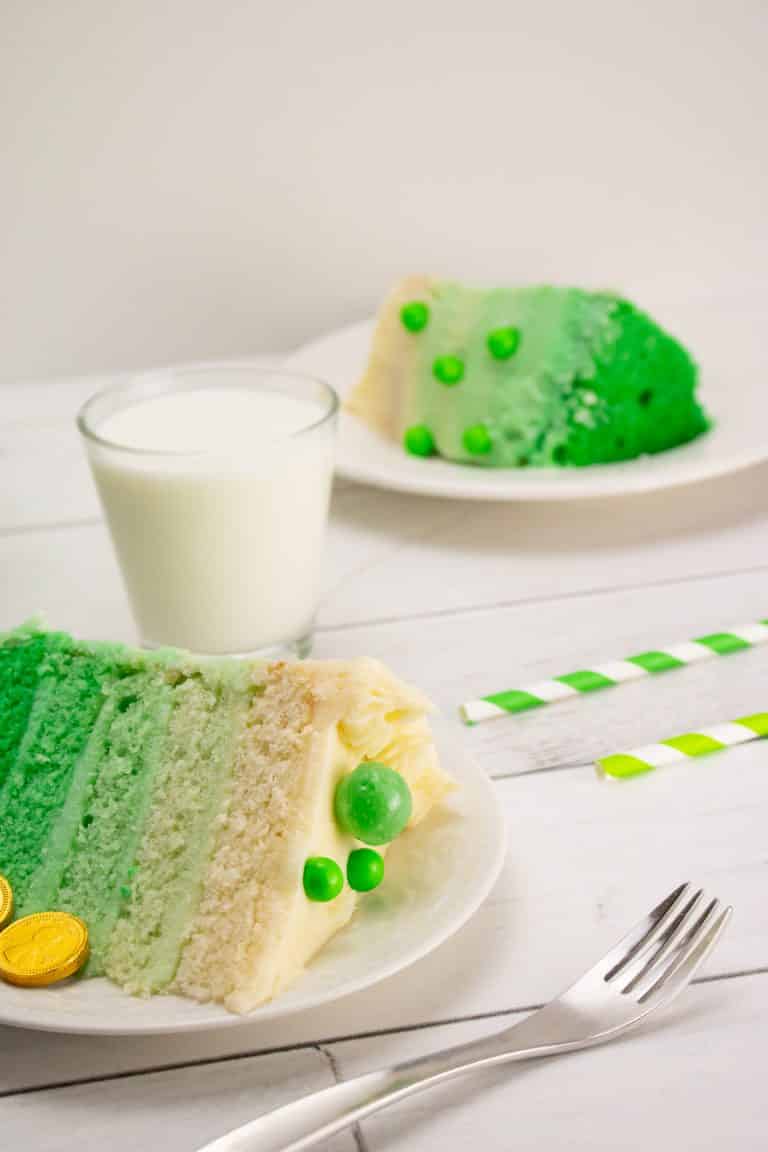 Making a layer cake recipe is easier than you may think. This Green Ombre Cake will take about 48 minutes to make.
You'll need a half-hour for preparation and approximately 18 minutes of cook time to make this layer cake recipe.
What is an Ombre Cake?
Ombre Cake is a delicious dessert that features frosting and cake mix in colors that go from light to dark or dark to light. For this ombre cake, I'm using various shades of green in celebration of St. Patrick's Day.
This green Ombre Cake features layers of green cake as well as layers of Ombre Green Cake Icing.
How do you make Ombre Cake Icing?
For this homemade Ombre Cake, you'll be making Ombre Frosting. I used butter, powdered sugar, vanilla, milk, and green food coloring. You'll cream the butter until it's perfectly smooth and add the powdered sugar mixing again until smooth.
Next, you'll add in the vanilla and slowly mix the milk into your Buttercream Ombre Cake Icing until your homemade frosting has become the right consistency.
To make the Ombre Frosting, you'll divide frosting into five separate bowls and mix the green food coloring as instruction for multiple shades of green.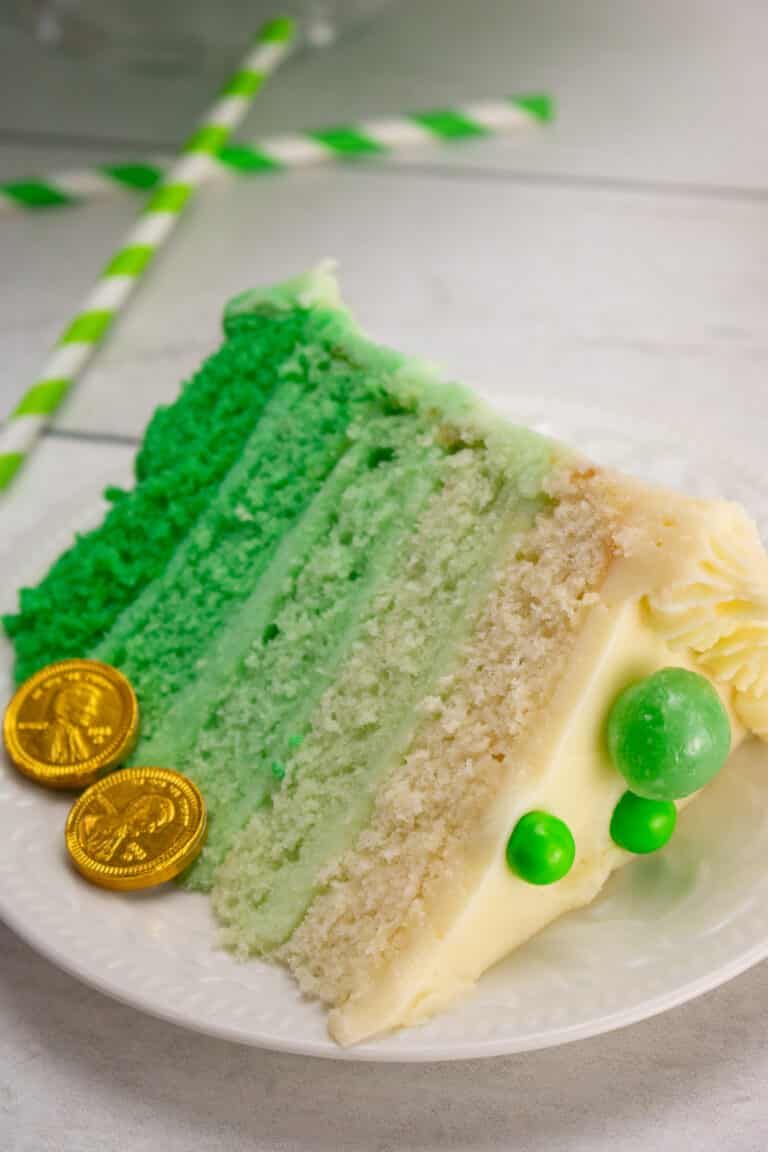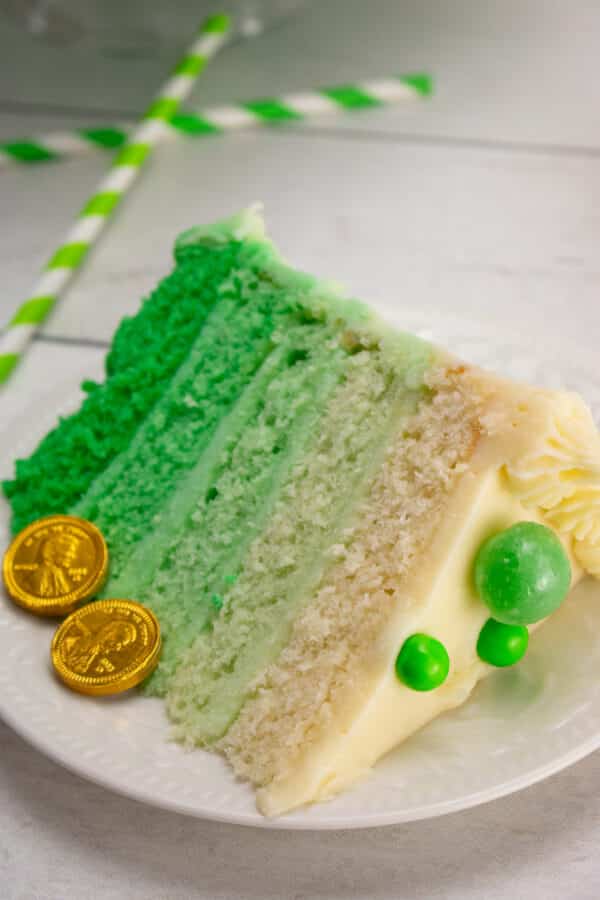 What do you put between cake layers?
For this 5-Layer Cake, you'll be putting homemade buttercream frosting in between cake layers. Simply make the frosting and frost the cake according to my instructions below.
I'll show you how to make an Ombre Cake with icing in between cake layers.
The process may look intimidating but once you've made your first Ombre Cake you'll be ready to make more festive cakes during the year.
This colorful dessert idea is an excellent option to serve for dessert at family gatherings or provide your family with a fun treat any time of the year.
You Might Enjoy These Desserts for St. Patrick's Day
Why is the color green important on St Patrick's Day?
Since the symbol of Ireland is a shamrock it makes sense that green is important on St. Patrick's Day, an Irish holiday.
While there are mixed stories about why the color green is important on St. Patrick's Day, I read something about an Irish legend that said wearing green on this Irish holiday makes you invisible to leprechauns.
The fun thing about St. Patrick's Day is that you don't have to be Irish to enjoy this green fueled holiday.
Whether you're Irish or not, you'll surely enjoy every moist bite of this green cake with your friends and family in celebration of St. Patrick's Day.
Cake Making Supplies
Stand Mixer or Hand-held Mixer- This makes it SO much faster to whip the topping. Like I said above, it can be done without a mixer, but make sure you have a strong arm and patience. I have a KitchenAid Pro Mixer that I've had for 12+ years and love it!
Round Cake Storage and Carrier- Having a pan with lid and carrier makes it easier for storage. No more having to deal with plastic wrap that gets messy and twisted up.
8-inch Parchment Rounds- No more dealing with cake sticking to the bottom of the pan!
Cake Leveler- This tool is a must if you want to make layered cakes. It allows you to evenly remove the rounded part of the cake top and make perfectly level layers.
Cake Server- A good cake server makes a world of difference. It makes it so much easier to lift the dessert lasagna out of the pan in nice and even slices.
Cake Decorating Set- Making a pretty cake is reasonably easy when you use the tools in this decorating set. With a little practice, you will be decorating cakes like a pro in no time.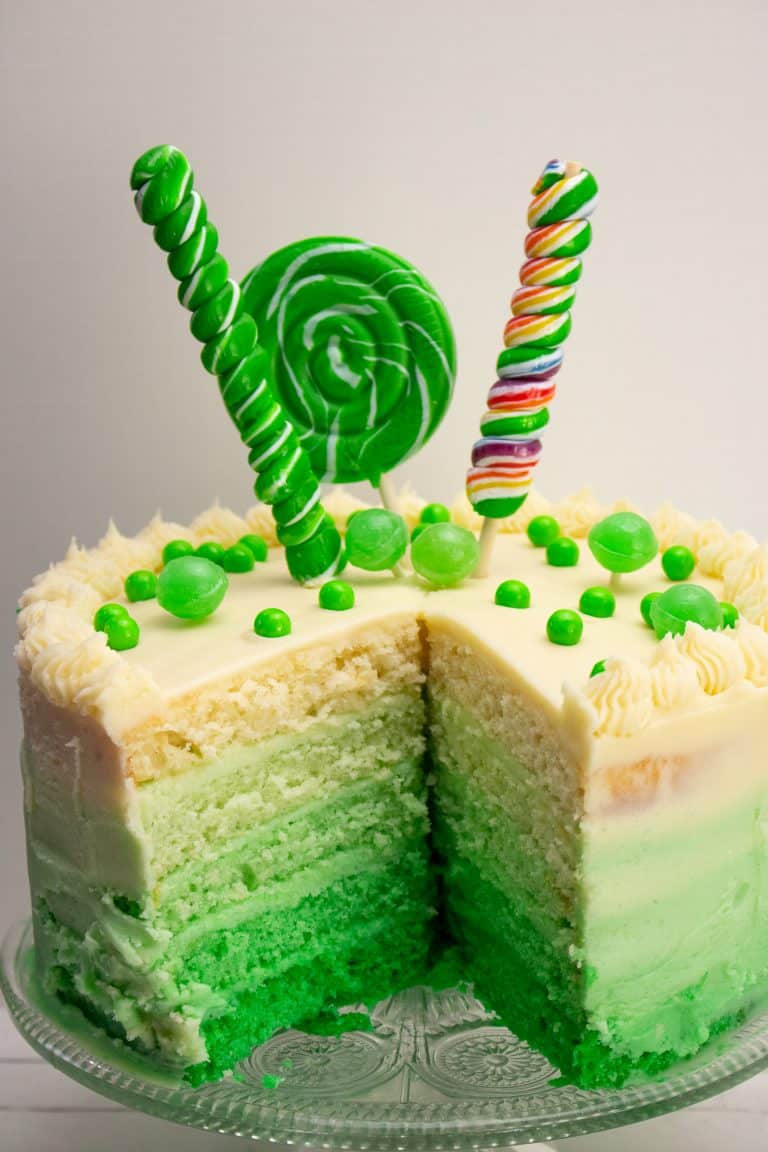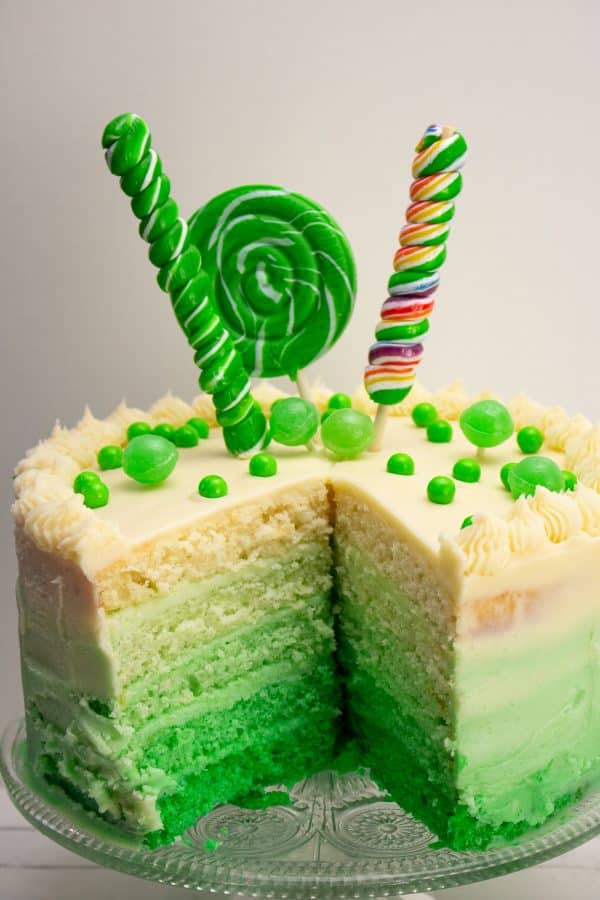 How to Make an Ombre Cake
There are multiple steps to make this cake. As you can see on my recipe card below I've featured the list of ingredients for the cake and the frosting.
Follow along with my step by step tutorial to make the best green cake as a special treat on St. Patrick's Day.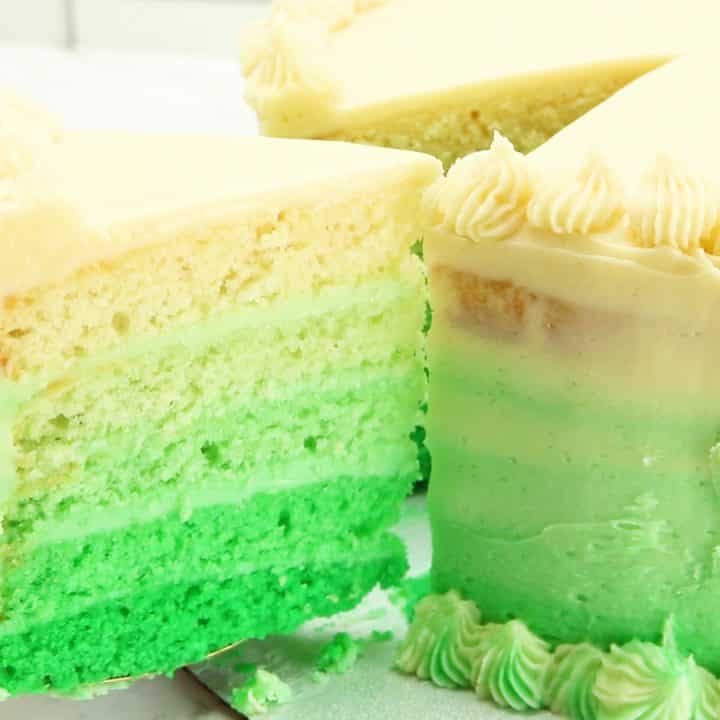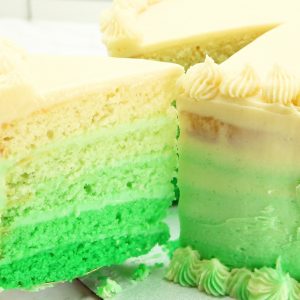 Ombre Cake 5 Layer Cake Recipe
Learn how to make an ombre cake with this easy to follow recipe for a green ombre cake with ombre frosting.
Equipment
5 - 8" round cake pans

stand mixer
Ingredients
Buttercream Frosting
2

cup

unsalted butter

room temperature

8

cups

powdered sugar

sifted

4

teaspoons

vanilla

½

cup

milk

Green food coloring
Instructions
Preheat oven to 350 degrees. 

Cream butter, shortening and sugar. Add in the egg whites and vanilla and mix until smooth. 

Mix flour, baking powder, and salt. Add in the milk and blend until smooth.

Divide batter between 5 bowls. Add drops of green food coloring into 4 of the bowls to make varying shades of green.

Prepare five 8-inch round cake pans by spraying with non-stick cooking spray and lining the bottom with a parchment paper round. Divide the cake batter evenly between the pans.

Bake in 350-degree oven for 18-22 minutes, or until a toothpick inserted in the middle comes out clean.

Remove from the oven and let cool completely.

To make the frosting, cream the butter until perfectly smooth. Add the powdered sugar and mix again until smooth.

Add in the vanilla and then slowly add in the milk while mixing to reach desired consistency.

Divide the frosting between 5 bowls. Add green food coloring to 4 of them, making shades of green similar to the cake batter.

Level the top of each cake layer by slicing the rounded portion of the cake off. A cake leveler works best. 

Starting with the darkest green cake, put the cake top side down on a cake plate. Add a thin layer of the darkest shade of green frosting to the cake. Top with the second layer (next darkest shade), again with the leveled top side down. Top that with the corresponding frosting shade. Repeat this with the remaining cake layers.

Pipe frosting around the outside of each cake layer, leaving a broad line of frosting. When all the cake layers have frosting piped along the outside, use a frosting scraper and blend the ombre frosting together as you level the frosting.
Nutrition
Serving:
1
g
Calories:
1211
kcal
Carbohydrates:
169
g
Protein:
10
g
Fat:
57
g
Saturated Fat:
31
g
Cholesterol:
116
mg
Sodium:
333
mg
Potassium:
165
mg
Fiber:
1
g
Sugar:
131
g
Vitamin A:
1366
IU
Calcium:
156
mg
Iron:
2
mg