These extra large, jumbo Snickerdoodle cookies are the ultimate sweet treat. Soft, fluffy, and coated in cinnamon sugar goodness!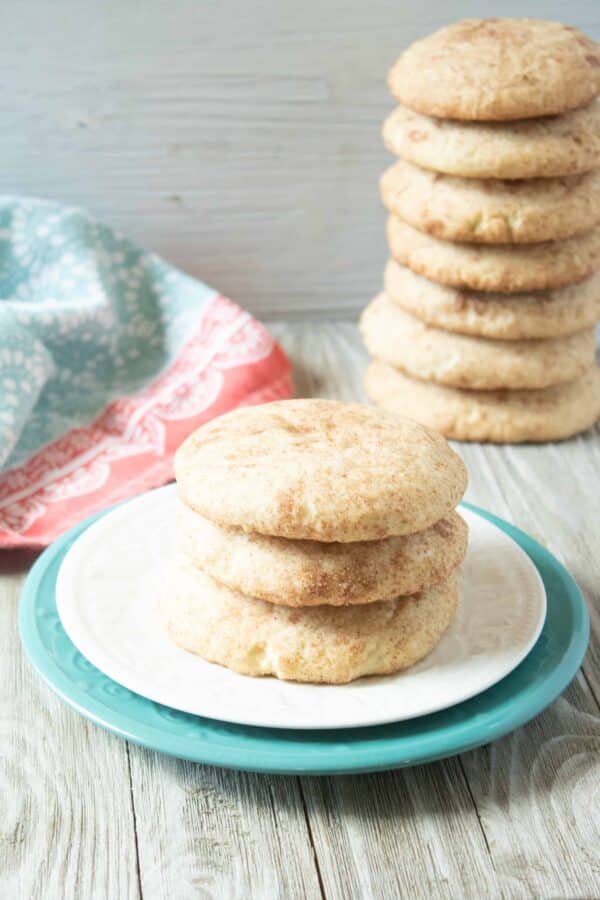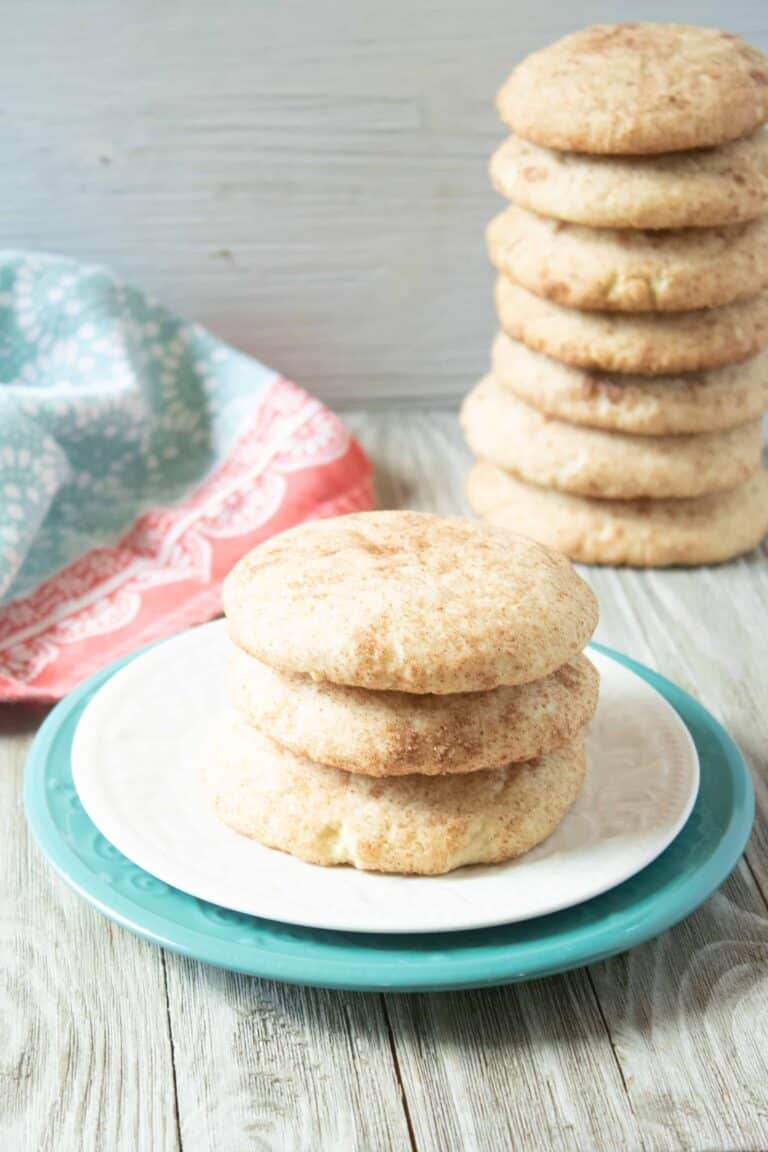 In this Article:
Snickerdoodle cookies have to be the most classic cookie recipe of all time. They're a year round staple at our house, but especially popular at the holidays. (Check out all our holiday cookie recipes here.)
There are many variations of the classic snickerdoodle out there, but first let's talk about the basics.
What is a snickerdoodle cookie?
Snickerdoodles are a simple cookie that is soft and cake-like on the inside, and coated with cinnamon and sugar.
Snickerdoodles are first rolled into dough balls. Then, the balls are rolled through a mixture of cinnamon and sugar before being baked.
Snickerdoodles are a really fun cookie to make. Rolling them in the cinnamon sugar topping is a real hands on experience, making this a great recipe to bake with kids!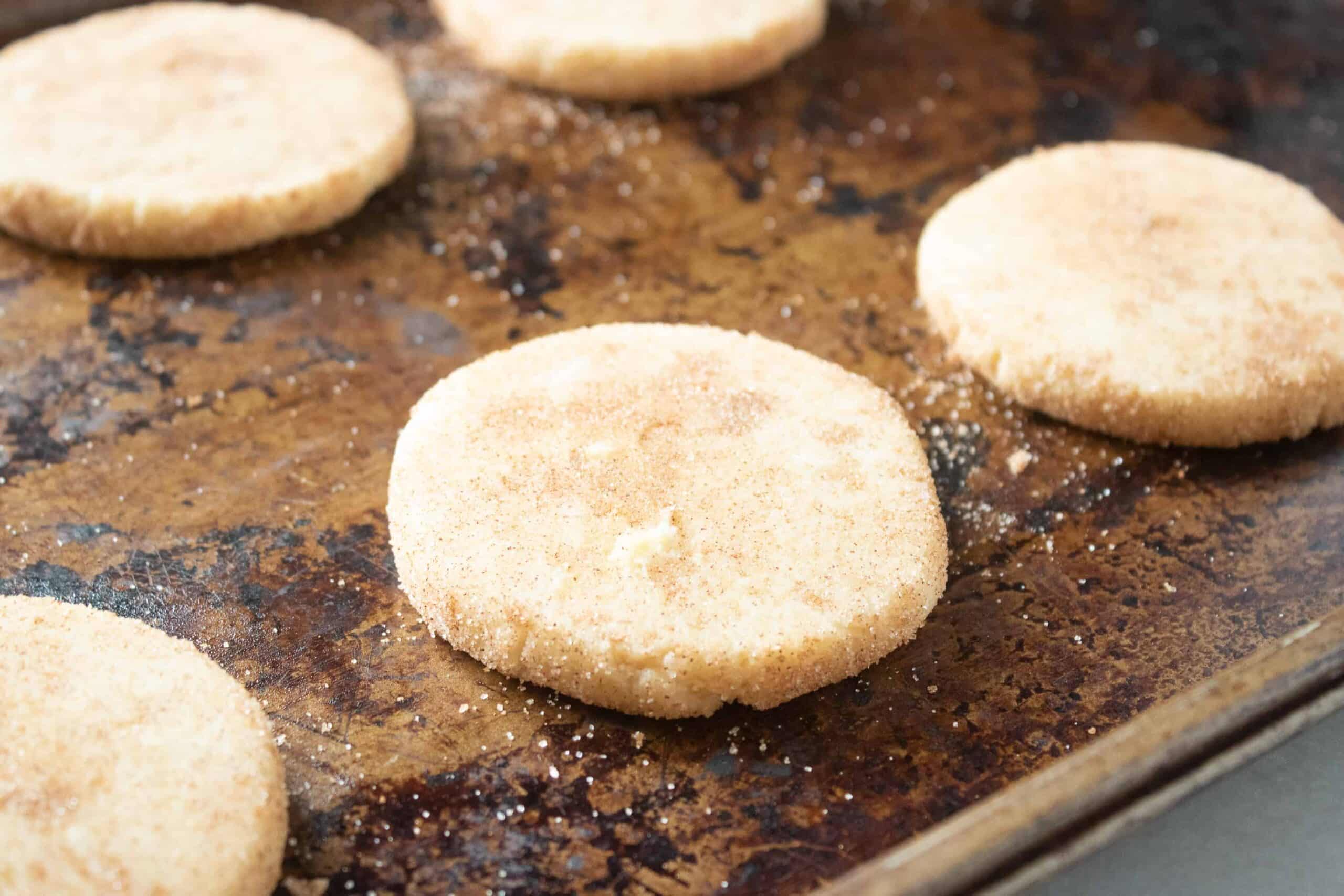 How do you make snickerdoodles?
The basic steps for baking a snickerdoodle are:
Cream the butter (softened to room temperature) and granulated sugar. Add in the other wet ingredients. In a large bowl, mix the dry ingredients - flour, cream of tartar, baking soda, and salt in a large bowl. Then, combine the wet and dry ingredients.
After the ingredients are mixed together, it is time to make dough balls. For traditional cookies, use a 1-inch scoop as a measuring tool to make dough balls. For our Jumbo Snickerdoodles, use a 2-inch scoop.
Scoop the dough with the cookie dough scoop, and transfer the dough into your hand. Roll the dough into a smooth ball. Then coat the ball with a sugar and cinnamon mixture.
Finally, the cookie dough balls can be placed onto a cookie sheet with parchment paper. For a round and puffy cookie, leave the ball as is.
Bake the cookies, and be sure to not over-bake them. 8-10 minutes is all these cookies need to be baked to perfection.
Take them out of the oven and after a couple of minutes, transfer them to a wire rack. Wait until the cookie batch cools completely before storing them in an airtight container.
(Detailed instructions and measurements can be found in the printable recipe card below.)
A Few Tips!
Brown sugar can be substituted for granulated sugar for a slightly different (but equally delicious) version of snickerdoodles.
Using a cookie scoop is by far the easiest way to roll cookie dough. For these jumbo sized snickerdoodle cookies, I used a 2 inch cookie scoop.
Be sure to line your baking sheet with parchment paper or a silicone baking mat, to avoid your cookies sticking to the pan.
For a flatter (but still puffy) cookie like the ones in the picture, gently flatten the cookies with the bottom of a glass. This helps them spread out more, but they will still puff up and have a lot of volume to them.!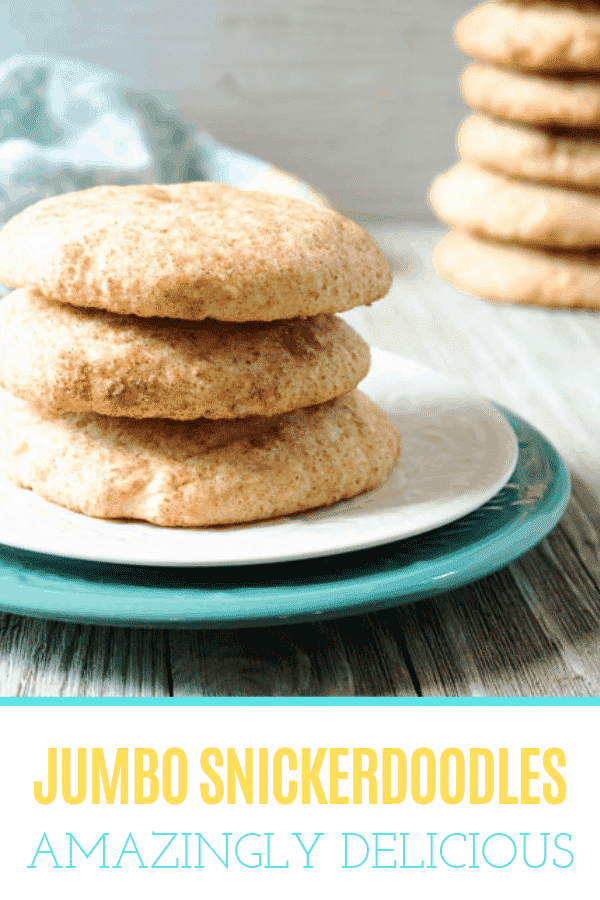 FAQs
Why are my snickerdoodle cookies flat?
There are several factors that can contribute to a flat cookie. But I've found that the most common cause is over-beating the butter. Soften the butter on the counter before using, and it should be very easy to mix with the sugar. The butter and sugar doesn't need to be mixed for longer than a minute if the butter is softened properly.
Cooking at too low of a temperature could also cause cookies to spread more, resulting in less fluffy cookies.
The temperature of the dough is another thing that can contribute to cookies turning out flat. If the dough has been chilled, it won't spread out as much.
This is why you will sometimes see cookie recipes that say to chill the dough prior to baking. I didn't find it necessary for these snickerdoodles, but you can certainly ty chilling the dough if you find your cookies too flat.
How do you bake snickerdoodles that stay soft?
The trick to keeping any cookie soft is to not over-bake them. Take the cookies out of the oven at the time listed on the recipe directions, and check on them frequently.
To prevent your snickerdoodles from over-baking, make sure to bake them at 375 degrees for no more than 8-10 minutes.
Take the cookies out of the oven and let them sit on the cookie tray for 3-5 minutes. The cookies will continue to firm up while cooling.
Transfer them to a wire rack and allow them to sit for another 30 minutes to cool completely before storing them.
Can you freeze snickerdoodle cookies?
Yes, you can freeze cookies. In fact, freezing cookies is a good way to do holiday baking ahead of time. Cookies can be frozen for 3-4 months.
For best results, allow the cookies to cool completely before freezing. Store them in containers that are specifically meant for freezer storage.
You can also freeze cookie dough (unbaked) for up to three months. The ideal way to store cookie dough in the freezer is to roll the dough into a log. You would then wrap the log of cookie dough in a couple layers plastic wrap. Place the dough in a freezer safe plastic bag and zip to seal it.
However, you can also use a portion-sized freezer container that is specifically made for freezing cookie dough. The silicone container makes it easy to pop out dough for the number of cookies you want to make.
Can you make snickerdoodles without cream of tartar?
Cream of tartar combines with the baking powder and acts as a leavening agent, helping you get nice fluffy cookies.
If you don't have cream of tartar in your baking cabinet, you can leave out the cream of tartar and baking soda and replace them with two teaspoons of baking powder instead.
Baking powder actually contains a combination of cream of tartar, baking soda, and cornstarch.
Do snickerdoodles have nuts?
The traditional snickerdoodle cookie does not have any nuts. However, there are many variations out there. I've seen "snickerdoodle" type cookies with everything from almonds to chocolate chips inside, so feel free to experiment!
Do snickerdoodles have peanut butter?
Traditional snickerdoodles do not have peanut butter in them. But there are some fun variations out there that include it - like these cookies from Paula Deen.
How can you decorate snickerdoodle cookies?
Normally, snickerdoodles are simply "decorated" with their delicious cinnamon sugar coating.
But if you're looking for something more festive, you can certainly frost the cookies. Also, you can roll the cookies in colored sugar or sprinkles, which is a great way to make colorful cookies for the holidays.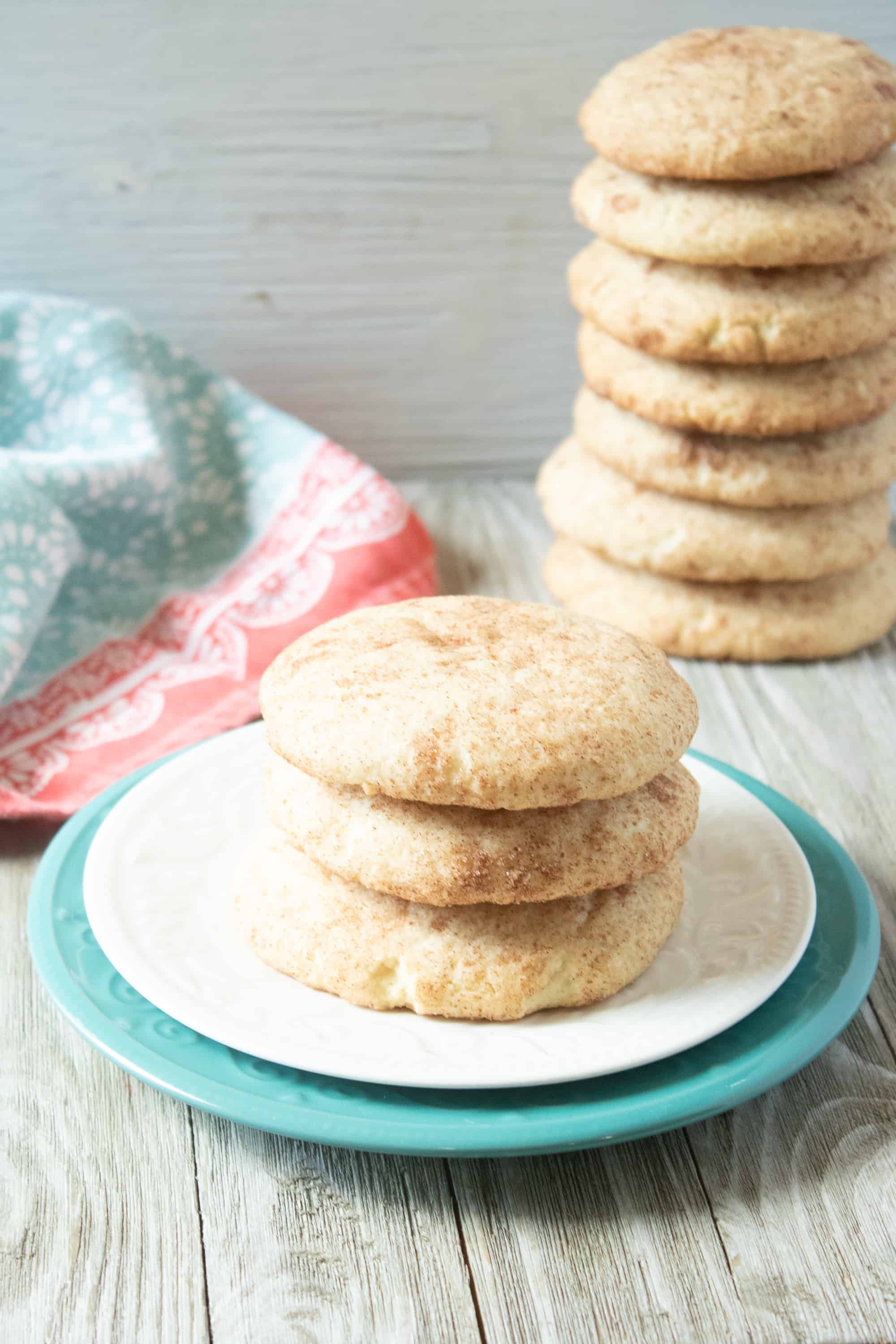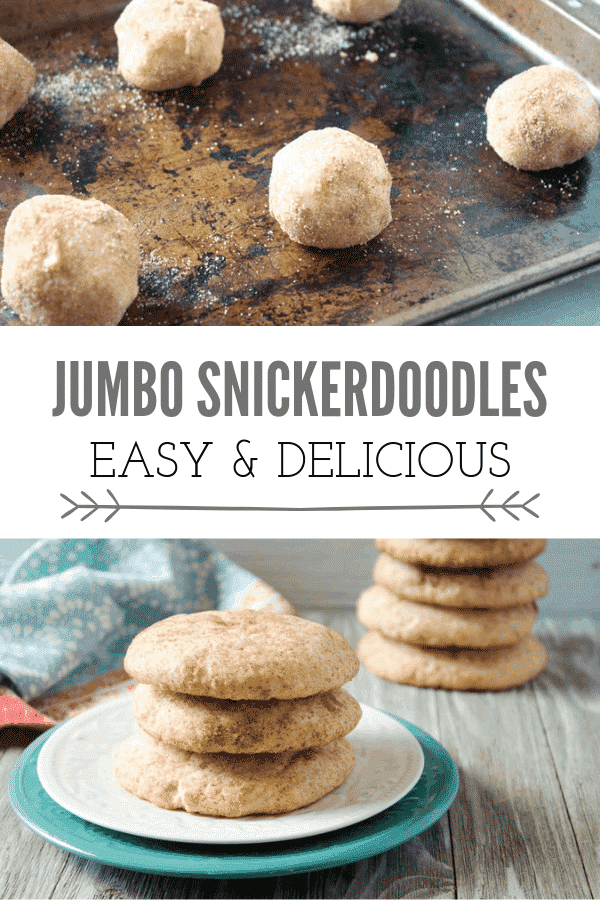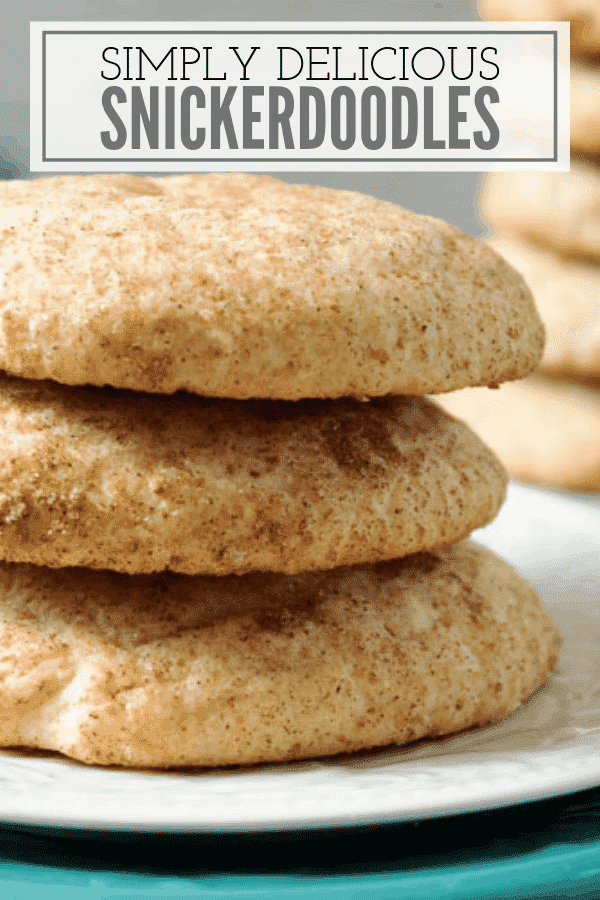 More cookie recipes you might enjoy
If you love these giant snickerdoodle cookies, be sure to check out these other delicious treats.
Recipe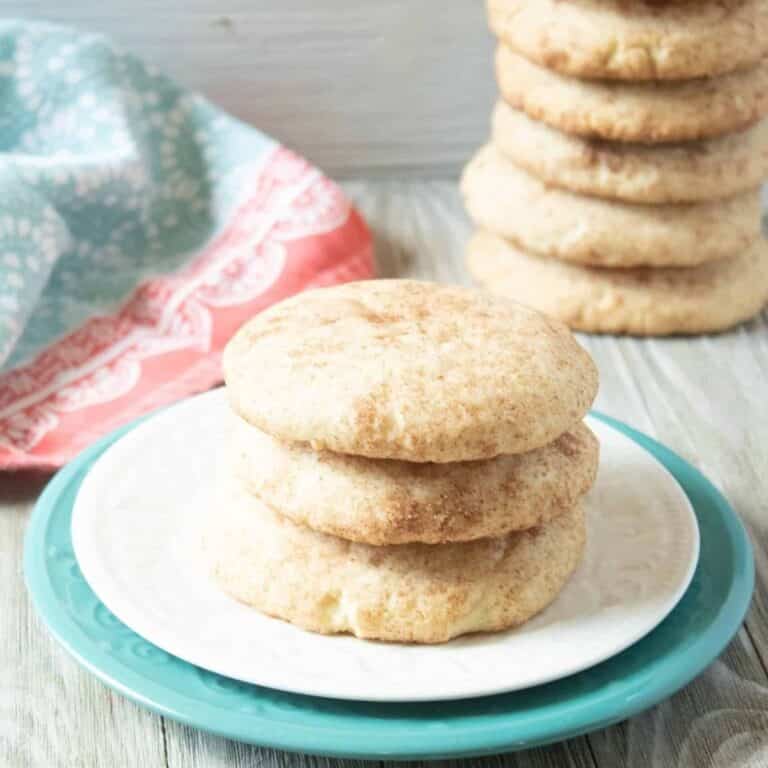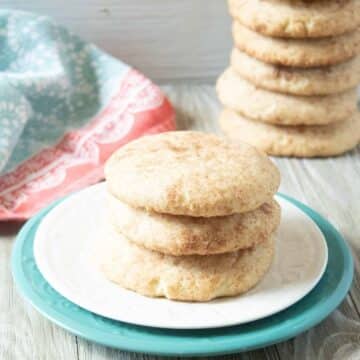 Mama's Jumbo Snickerdoodle Cookies Recipe
These extra large, jumbo Snickerdoodle cookies are the ultimate sweet treat. Soft, fluffy, and coated in cinnamon sugar goodness!
Instructions
Preheat oven to 375 and line baking sheets with parchment paper or a silicone baking mat.

Combine 1 ½ cups sugar and butter in a mixing bowl. Cream the butter and sugar together using a mixer or by hand, just until it is light and fluffy. Do not overbeat. One the mixture is nice and smooth, add the eggs and vanilla. Beat or mix again until just smooth.

In a separate bowl, mix together the flour, salt, baking soda, and cream of tartar. Slowly stir the dry ingredients into the butter/sugar mixture until cookie dough is smooth and well mixed.

Mix together the sugar and cinnamon for the coating, either in a bowl or on a plate. I like to do this on a plate and then roll the cookie dough balls through it.

Now for the fun part! Roll batter into 2-inch size balls. Recipe will make about 18 jumbo cookies. Once you have rolled out all of the dough into balls, you are ready to roll the dough in the sugar mixture.

Place the cookies on prepared cookie sheets. Bake for 8-10 minutes. Cool before serving or storing.
Nutrition
Serving:
1
g
Calories:
248
kcal
Carbohydrates:
35
g
Protein:
3
g
Fat:
11
g
Saturated Fat:
2
g
Cholesterol:
18
mg
Sodium:
222
mg
Potassium:
48
mg
Fiber:
1
g
Sugar:
19
g
Vitamin A:
477
IU
Calcium:
12
mg
Iron:
1
mg