How to Make the Best Snickerdoodle Cookies Recipe
Snickerdoodle cookies have to be the most classic cookie recipe ever. A soft and delicious cookie, snickerdoodles are a cookie that can be enjoyed year round. There are many variations of the cookie, but first, lets talk about the basics.
What is a snickerdoodle cookie?
If you haven't had a snickerdoodle cookie, you are missing out. Snickerdoodles are a simple cookie that is soft with a cake-like inside. It's wrapped in a blanket of cinnamon and sugar.
Snickerdoodles are a fun cookie to make because making them involves playing with food. It is a good cookie recipe to bake with kids because of this hand's on experience.
Snickerdoodles are first rolled into dough balls. Then, the balls are rolled through a mixture of cinnamon and sugar before being baked.
Can you make snickerdoodles without cream of tartar?
Cream of tartar provides a tangy flavor. The cookies are soft and chewy on the inside of the snickerdoodle. If you don't have cream of tartar in your baking cabinet, you can substitute it. Instead, you can leave out the cream of tartar and baking soda and replace them with two teaspoons of baking powder.
Since cream of tartar helps to activate baking soda, the two are often used together in baking. In fact, baking powder is made from a combination of cream of tartar, baking soda, and cornstarch.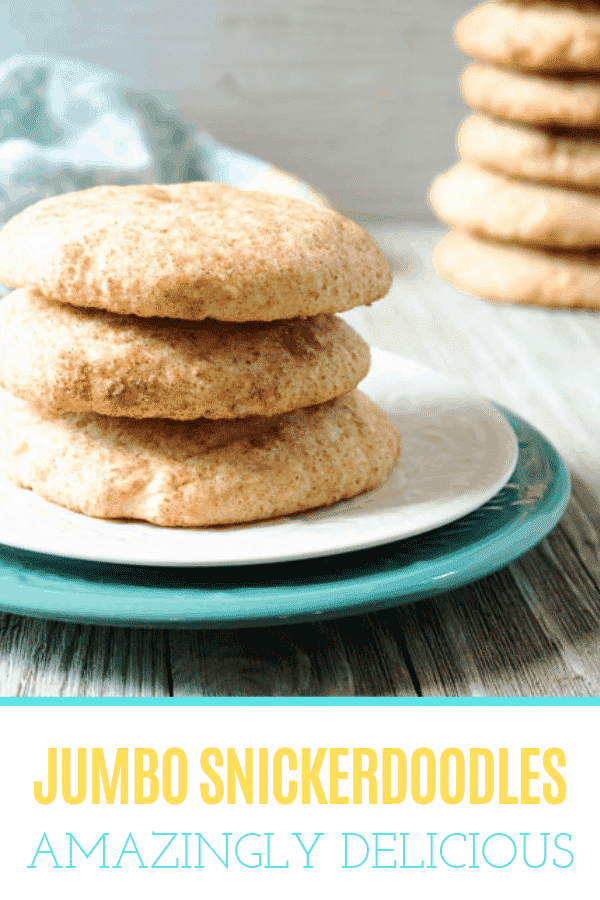 Why are my snickerdoodle cookies flat?
There are several factors that can contribute to a flat cookie. The main cause is over-beating the butter. Soften the butter on the counter and then it should be easy to mix with the sugar. The butter and sugar doesn't need to be mixed for longer than a minute if the butter is soft.
Cooking at too low of a temperature could also cause cookies to spread.
The temperature of the dough is another thing that can contribute to cookies turning out flat. If the dough has been chilled, it won't spread out as much. This is why you will often see cookie recipes that say to chill the dough prior to baking.
How do you make snickerdoodles?
Snickerdoodles are an easy cookie recipe to make. Keep in mind prep time for forming dough balls.
First, preheat the oven to the temperature listed in the recipe. This gives the oven plenty of time to warm up while you mix up the ingredients.
The basic steps for baking a snickerdoodle recipe are:
Cream the butter (softened to room temperature) and granulated sugar. Add in the other wet ingredients. In a large bowl, mix the flour, cream of tartar, baking soda, and salt in a large bowl. Then, combine the wet and dry ingredients.
Brown sugar can be substituted for granulated sugar for a different version of snickerdoodles.
After the ingredients are mixed together, it is time to make dough balls. For traditional cookies, use a 1-inch scoop as a measuring tool to make dough balls. For our Jumbo Snickerdoodles, use a 2-inch scoop.
Scoop the dough with the cookie dough scoop, and transfer the dough into your hand. Roll the dough into a smooth ball. Then coat the ball with a sugar and cinnamon mixture.
Finally, the cookie dough balls can be placed onto a cookie sheet with parchment paper. For a round and puffy cookie, leave the ball as is.
For a flatter puffy cookie like I made, flatten the cookies with the bottom of a glass. This helps them spread out, but they will still puff up and have a lot of volume to them. This is the method used in our cookies.
Bake the cookies, and be sure to not over-bake them. 8-10 minutes is all these cookies need to be baked to perfection.
Take them out of the oven and after a couple of minutes, transfer them to a wire rack. Wait until the cookie batch cools completely before storing them in an airtight container.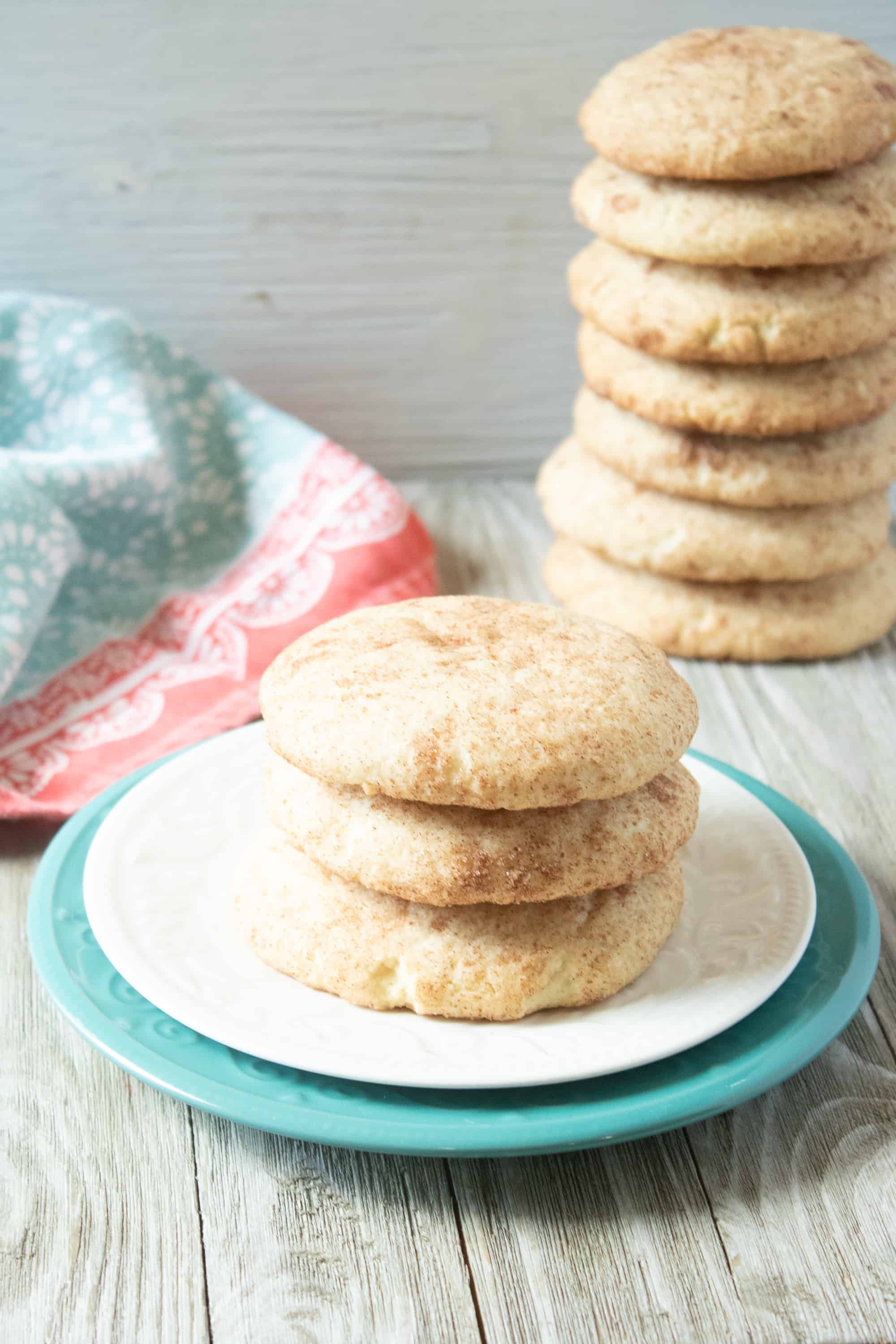 Do snickerdoodles have nuts?
The traditional recipe for this type of cookie does not involve adding nuts to it. However, there are many different kinds of snickerdoodle cookie recipes out there, and some of them might have nuts.
You can always omit nuts from a recipe if it is due to an allergy or taste issue.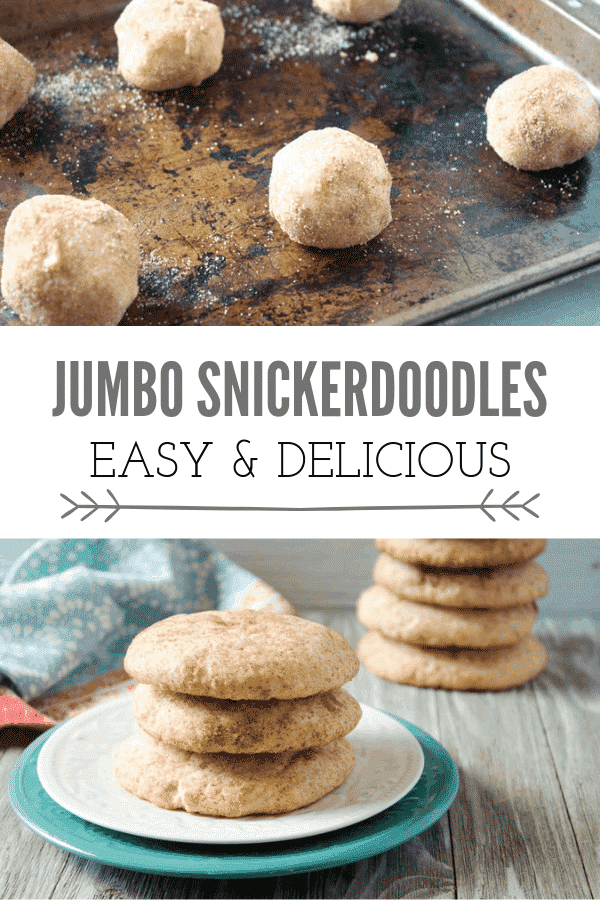 How to bake snickerdoodles that stay soft
The trick to baking any cookie to stay soft is to not over-bake them. Take the cookies out of the oven at the time listed on the recipe directions.
To prevent your snickerdoodles from over-baking, make sure to bake them at 375 degrees for no more than 8-10 minutes.
Take the cookies out of the oven and let them sit on the cookie tray for 3-5 minutes. The cookies will continue to firm up while cooling.
Transfer them to a wire rack and allow them to sit for another 30 minutes to cool completely before storing them.
Variations of snickerdoodles
Chocolate Snickerdoodle | A cookie with a fluffy center that is full of chocolaty goodness.
Stuffed Snickerdoodle | This can either be a cookie with a filling or a sandwich cookie. The filling is typically cream cheese based, but can be many flavors.
Peanut Butter Snickerdoodles | The simple addition of peanut butter gives a nice flavor twist to this cookie and is always a winner.
Snickerdoodle Bars | Skip rolling dough balls and press the cookie batter into a baking pan lined with parchment paper. Sprinkle with a mixture of cinnamon and sugar.
Snickerdoodle Crepes | This is the perfect sweet breakfast treat. It's a basic crepe recipe dressed up with the classic cinnamon and sugar that snickerdoodle cookies are known for.
Pumpkin Snickerdoodles | You can't go wrong adding pumpkin to just about any cookie recipe. In this cookie variation, add ½ cup to ¾ pumpkin to the recipe and mix in the typical pumpkin pie spices.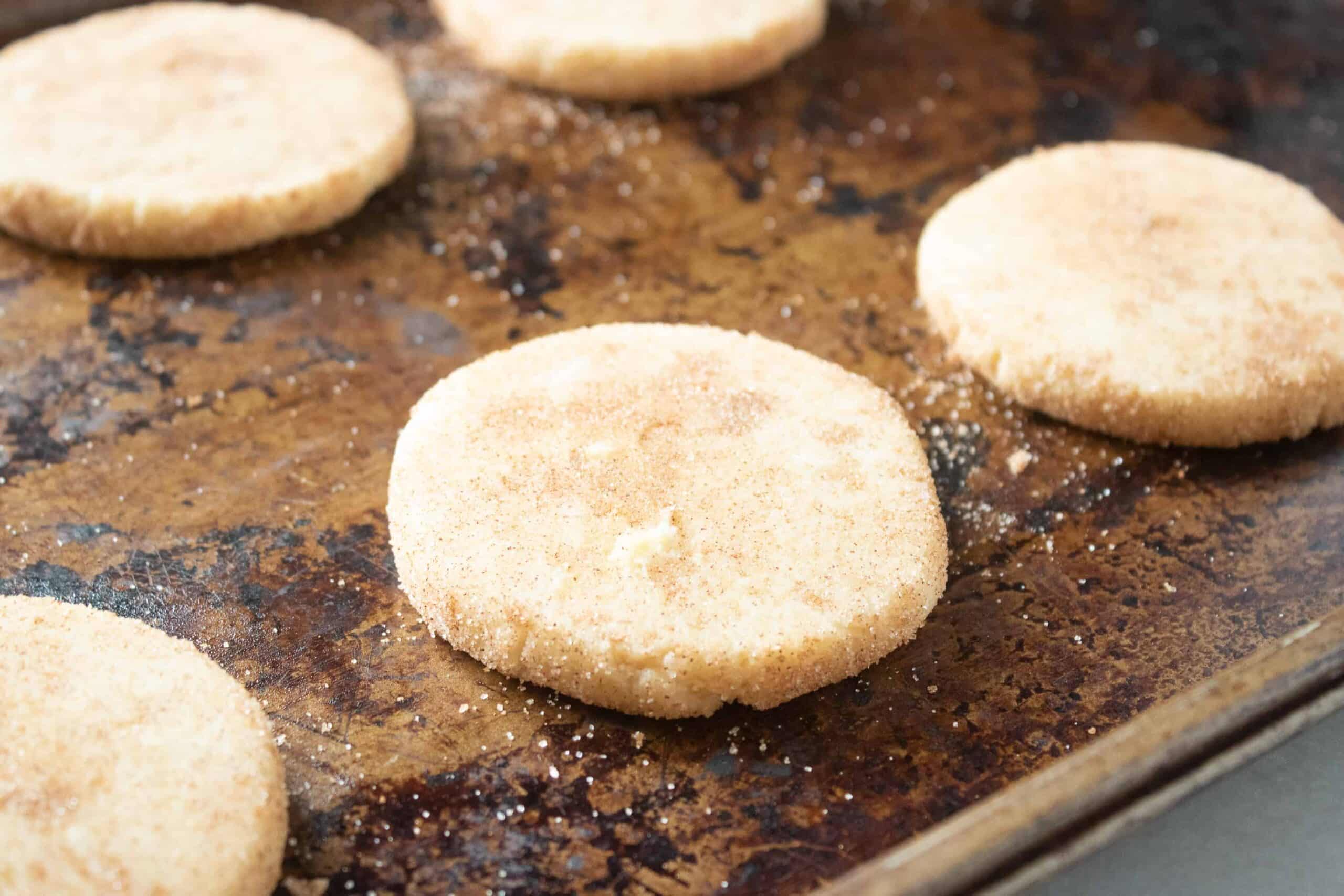 Do snickerdoodles have peanut butter?
Traditional snickerdoodles do not have peanut butter in them. Basic cookie recipes can be adjusted to add different flavors.
So, while the cookie isn't known for having peanut butter in it, you can definitely make peanut butter snickerdoodles. You could even make them with a peanut butter cream cheese filling, or chocolate cookies with a peanut butter filling.
There are so many ways you could vary this recipe.
Can you freeze snickerdoodle cookies?
Yes, you can freeze cookies. In fact, freezing cookies is a good way to do holiday baking ahead of time. Cookies can be frozen for 3-4 months.
For best results, allow the cookies to cool completely before freezing. Store them in containers that are specifically meant for freezer storage.
You can also freeze cookie dough for up to three months. The ideal way to store cookie dough in the freezer is to roll the dough into a log. You would then wrap the log of cookie dough in a couple layers plastic wrap. Place the dough in a freezer safe plastic bag and zip to seal it.
However, you can also use a portion-sized freezer container that is specifically made for freezing cookie dough. The silicone container makes it easy to pop out dough for the number of cookies you want to make.
How to decorate snickerdoodle cookies
The question here is whether to stick with the classic decorating style or go with something bolder. Normally, snickerdoodles are decorated with a mixture of cinnamon and sugar.
While not common, you can certainly frost the cookies. Also, you can roll the cookies in sugar sprinkles. That can work really well during the holidays if you want to have colorful cookies.
Another way to decorate these cookies is to roll them in confetti sprinkles. This results in a gorgeous cookie that is perfect for showcasing at birthday parties or other celebrations.
Be careful to not over-bake cookies when adding sprinkles because they will burn.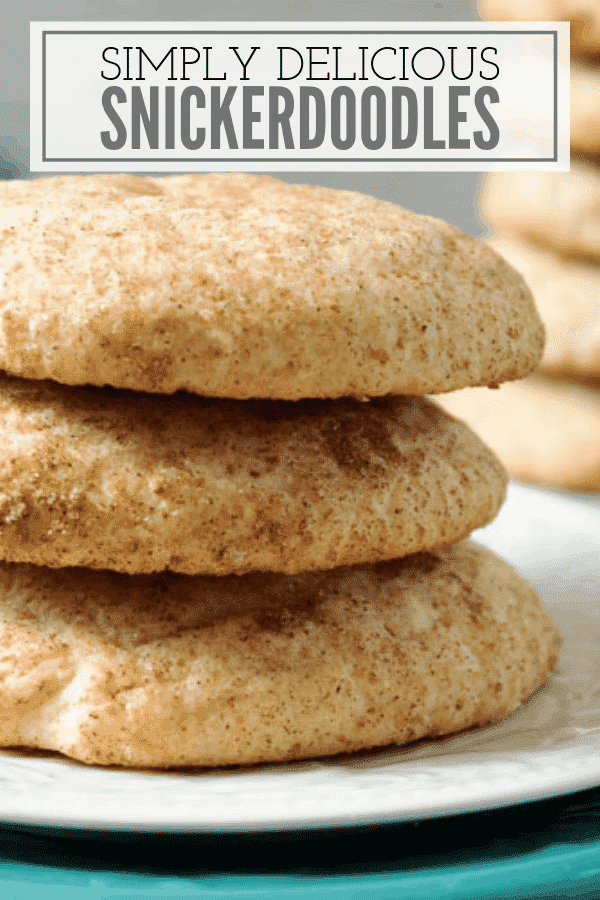 More cookie recipes you might enjoy
Pumpkin Chocolate Chip Cookies | If you're a fan of either pumpkin spice or chocolate chips, you will absolutely love this combination of flavors.
No Bake Chocolate Oatmeal Cookies | Skip preheating the oven because there is no need to bake these easy cookies. With ingredients like chocolate, peanut butter and oatmeal, they are delicious.
Caramel Stuffed Salted Pretzel Cookies | Brown sugar, caramel, and pretzels are simple ingredients. The combination of flavors and textures is amazing.
Essential tools for baking Jumbo Snickerdoodles
Wondering what do you need to make snickerdoodles? Always make sure you have the tools you need before you start making a recipe. Baking cookies is pretty straightforward. Baking doesn't require a ton of extra tools, but here are a few that will making baking easier.
Parchment paper rectangles or Silpat baking mat | I love saving time with cleanup using both of these. Putting a sheet of parchment paper or a baking mat on the cookie sheet before baking takes just a second.
Cookie scoop set | These scoops are such handy tools to have. I use them for portioning cookies, making meatballs, and even scooping ice cream. This set comes with three sizes, which make it great for working with a variety of recipes.
Portioned freezer containers for cookie dough | This is an item I am ordering as I type this post. My husband and daughter are always buying slice and bake cookies when the craving for a freshly baked cookie hits.
The portioned freezer container is similar to an ice cube tray in theory, but you fill each portion with cookie dough. When you are ready for some cookies, simply pop the dough out of the portion. It's made with flexible silicone so it is easy to release the frozen dough.
Sugar Sprinkles | Dress up your cookies with sprinkles. It's an easy way to brighten the day.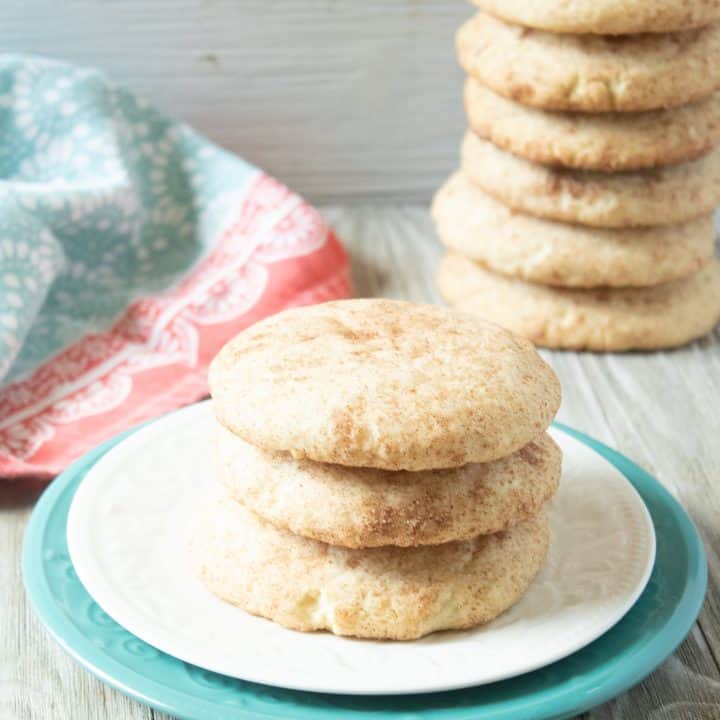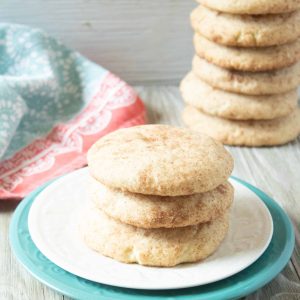 Mama's Jumbo Snickerdoodle Cookies Recipe
Our jumbo snickerdoodles are a copy-cat recipe of bakery snickerdoodle cookies. They are large circles of perfection: soft on the inside and coated with cinnamon and sugar.
Ingredients
1 ½

cups

sugar

1

cups

softened butter

2

eggs

2

teaspoons

vanilla

3

cups

all-purpose flour

½

teaspoon

salt

½

teaspoon

baking soda

½

teaspoon

cream of tartar

3

tablespoons

sugar

2

teaspoons

cinnamon
Instructions
Preheat oven to 375 and lightly spray cookie sheets with cooking spray.

In a separate bowl, mix together dry ingredients. Slowly stir those into the butter mixture until cookie dough is well mixed.

Mix together the 3 tablespoons sugar and cinnamon for the topping either in a bowl or on a plate. I like to do this on a plate and then roll the cookie dough balls through it.

Now for the fun part! Roll batter into 2-inch size balls. Recipe will make about 18 jumbo cookies. Once you have rolled out all of the dough into balls, you are ready to roll the dough in the sugar mixture.

Place the cookies on cookie sheets. If you are using 

baking stones

, do not spray with cooking spray. Then, when your cookie sheets are loaded, place the Snickerdoodles in the oven for 8-10 minutes.
Nutrition
Serving:
1
g
Calories:
248
kcal
Carbohydrates:
35
g
Protein:
3
g
Fat:
11
g
Saturated Fat:
2
g
Cholesterol:
18
mg
Sodium:
222
mg
Potassium:
48
mg
Fiber:
1
g
Sugar:
19
g
Vitamin A:
477
IU
Calcium:
12
mg
Iron:
1
mg