Skip the frozen pancakes on a stick and learn how to make my homemade pancake and sausage on a stick. A delicious sausage link that is dredged in pancake mix and deep fried to golden perfection. Whip up these pancakes on a stick for breakfast, brunch or even a snack option.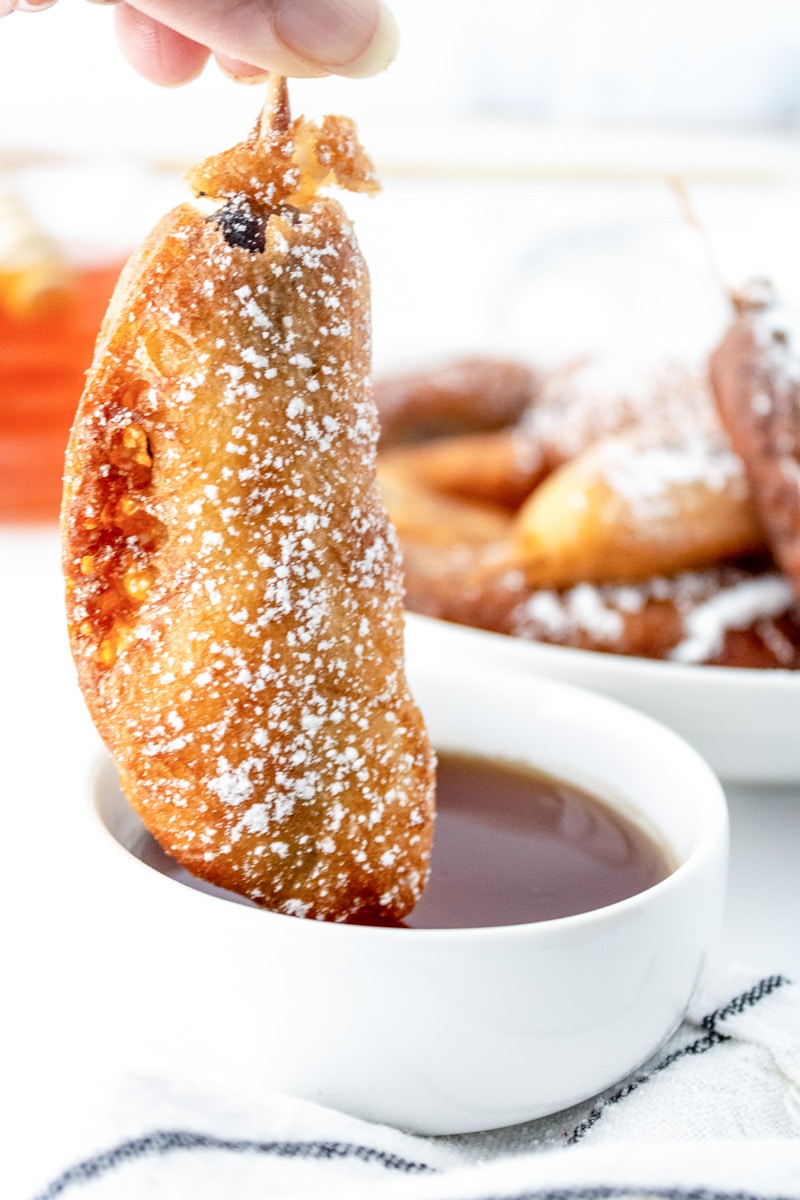 I have a few more great breakfast options if you are interested. These cinnamon sugar cruffins are a sweet start to your morning. Or want to plan ahead? Try this overnight breakfast casserole for another idea.
Why make this pancake and sausage on a stick recipe:
Easy everyday ingredients
Kid approved and family friendly
Made from scratch
Freezer friendly
Delicious and a fun way to eat pancakes
How to make pancakes on a stick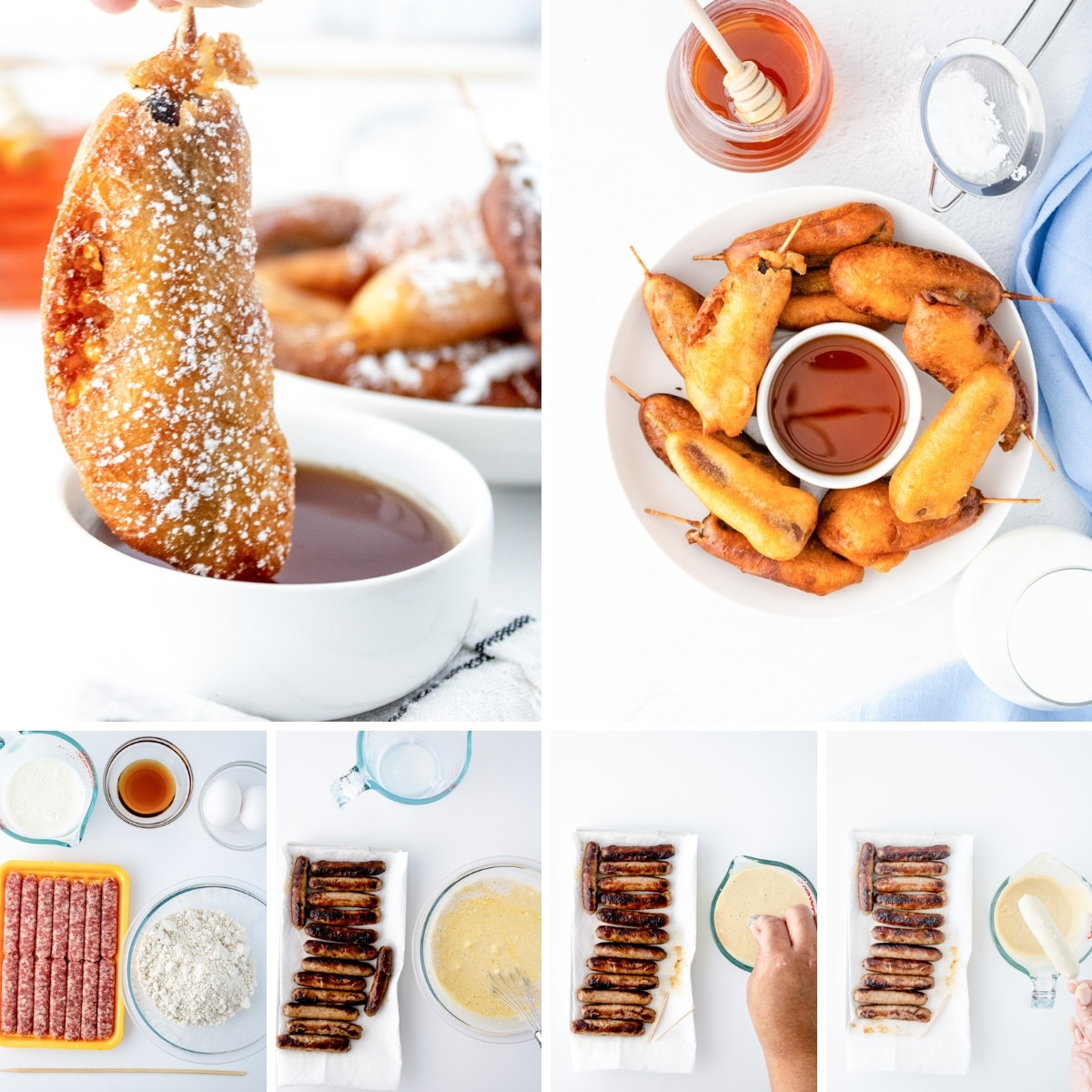 Full steps with measurements are in the bottom of the post in the recipe card. This is a quick walk through.
Make sure the sausage links are cooked completely.
Heat vegetable oil in a shallow pan.
Mix pancake batter and maple syrup until it's thick like oatmeal. Insert a toothpick or skewer into the sausage links.
Check if the oil is hot enough by putting a wooden spoon handle in it.
Dip the sausages in the thick batter and put them in the pan. Turn them over within 2 seconds to keep their shape.
Cook each side for 2-3 minutes. Don't try to cook all of them at once, 2-3 at a time is good.
Serve the sausage pancakes warm with syrup, honey, or powdered sugar.
Tools for Pancakes and Sausage on Sticks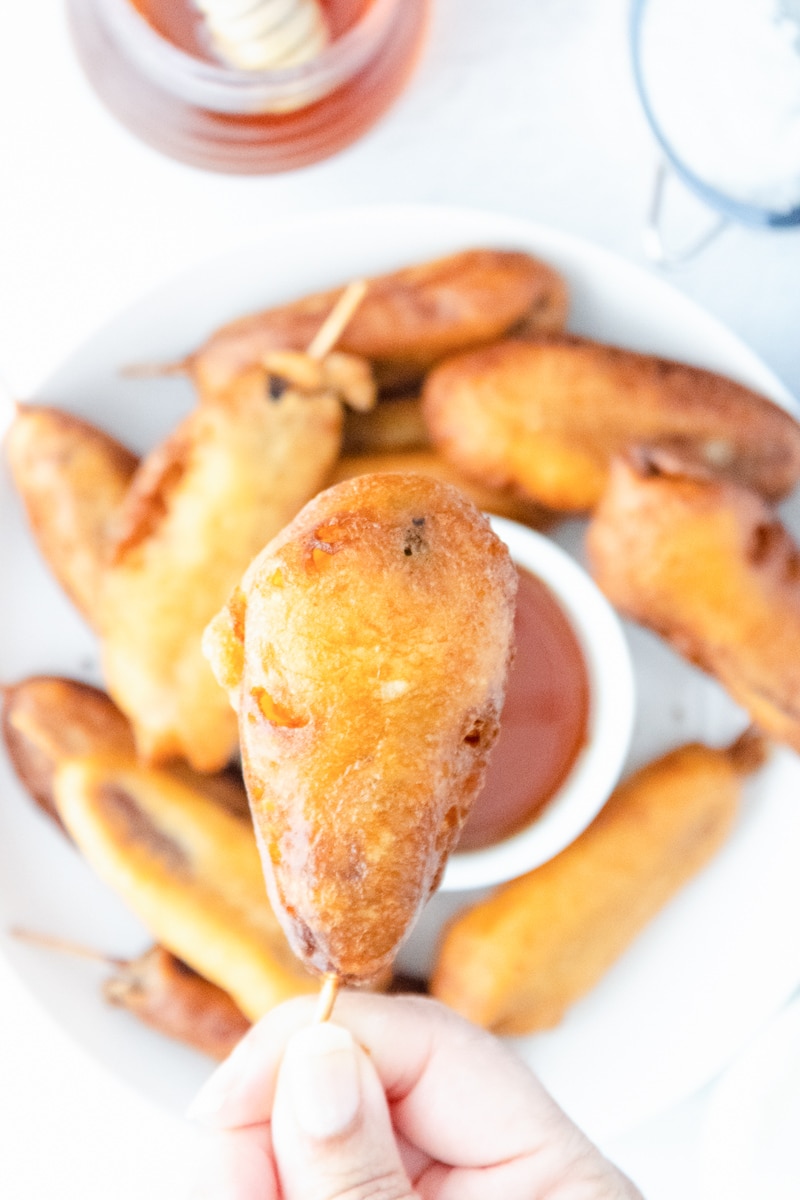 Skewers or toothpicks
These will be used to insert into the pancake batter and make the pancake on a stick. I find that skewers are a better size. You can use wooden skewers, just soak in water for 10 minutes to prevent them burning up.
Griddle or frying pan
To cook the pancakes on a stick. A heavy duty pan is key so it heats the oil properly. Cheaper pans can heat unevenly and cause areas of the pancake to burn.
Tips For Success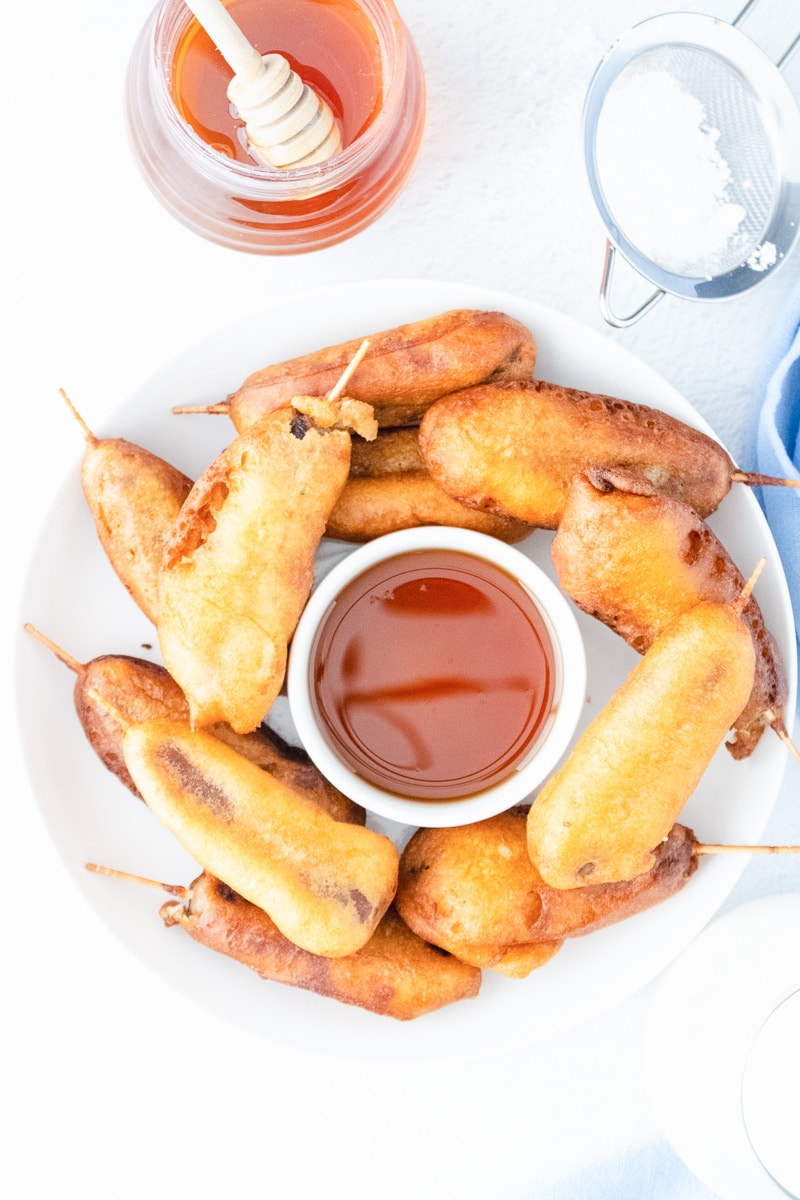 Batter
Make sure the pancake batter is nice and thick. It is going to have an oatmeal consistency, as it is needed to be thicker to stick to the sausage. Just follow the directions when making.
Sausage
The sausage needs to be fully cooked as it fries for a short time and won't cook while on the stick. So once it is done place on a skewer once it cools a bit.
Paper Towel Lined Plate
Once the pancakes are done place on a paper towel lined plate. Let the excess oil drip off a bit so that it isn't as greasy. Then serve warm.
Oil
You need to use a peanut oil, canola, or vegetable oil. It needs a higher smoke threshold since you are frying the pancakes. Otherwise, you will create a smoky mess in your home if you use an oil like olive oil.
Pancake and Sausage on a Stick Variation to Recipe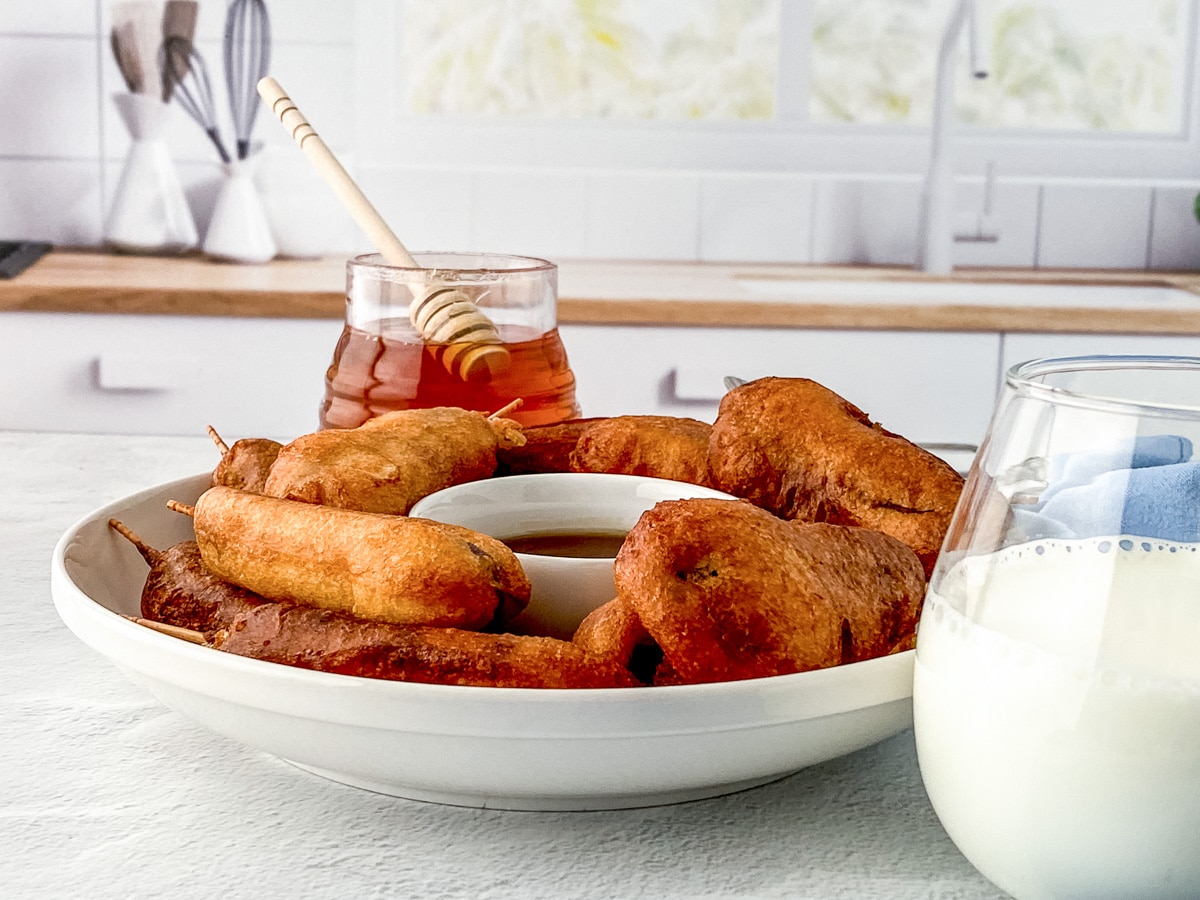 Bacon
Instead you can do bacon instead of sausage. This is a bit harder so you will kind of twirl the bacon strips around the skewer to mimic a sausage link. That way the pancake has something to hold on to. I would do a few slices of bacon to ensure it will stick.
Pancake Mix
You can use homemade pancake mix or a different brand if you want. I just used Bisquick but feel free to swap it out to whatever you want.
Try my funfetti pancakes for a sweet pancake idea!
Toppings
Toppings are endless from whipped cream, have fresh fruit on the side, drizzle on chocolate or caramel sauce. You can serve up your pancakes any way you want. Even with some peanut butter and jelly spread on the pancake would be delicious.
Pancakes on a Stick FAQs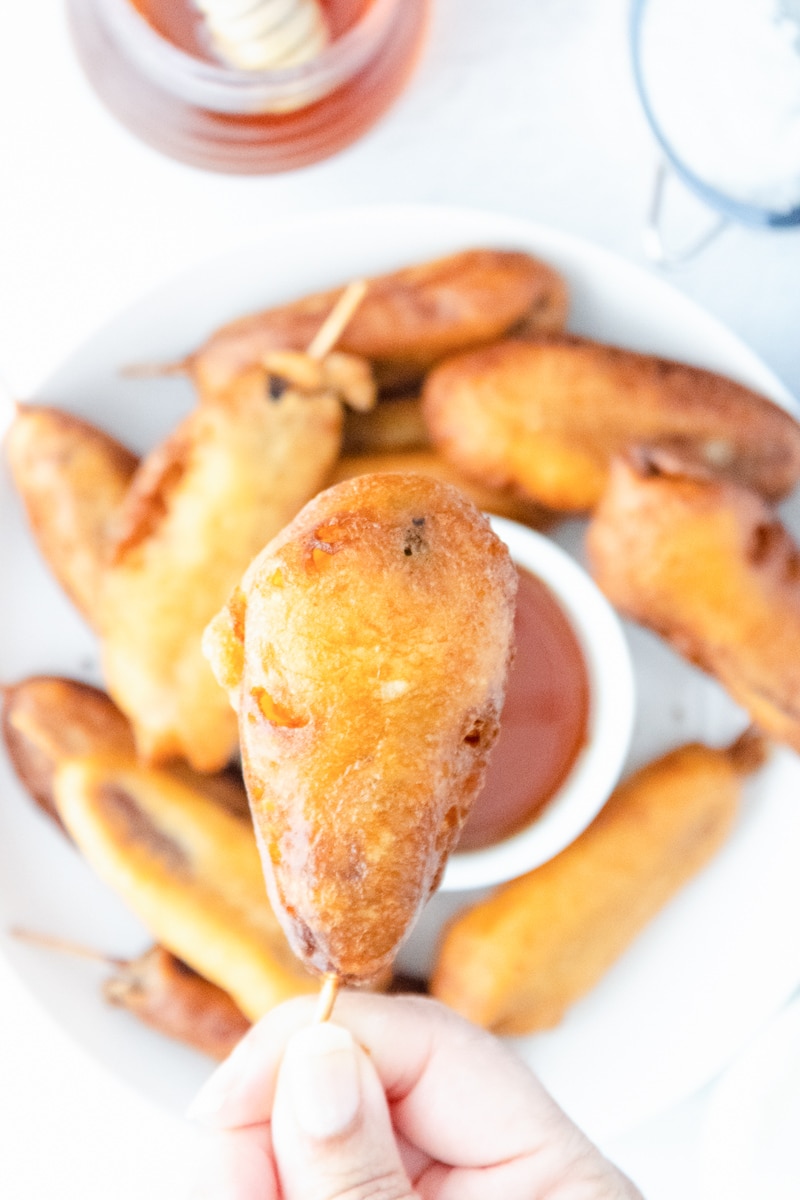 Can you freeze pancakes on a stick?
Yes, you can freeze pancakes on a stick by wrapping them individually in plastic wrap and placing them in a freezer bag. To reheat, microwave for 30 seconds to 1 minute or until heated through.
What are pancakes on a stick?
Pancakes on a stick are a fun and easy-to-make breakfast food where pancake batter is poured over a skewer or toothpick, cooked on a griddle or frying pan, and served on the stick with syrup, fruit, or other toppings.
Can you make pancakes on a stick without skewers or toothpicks?
Yes, you can use chopsticks, popsicle sticks, or even straws as an alternative to skewers or toothpicks for making pancakes on a stick.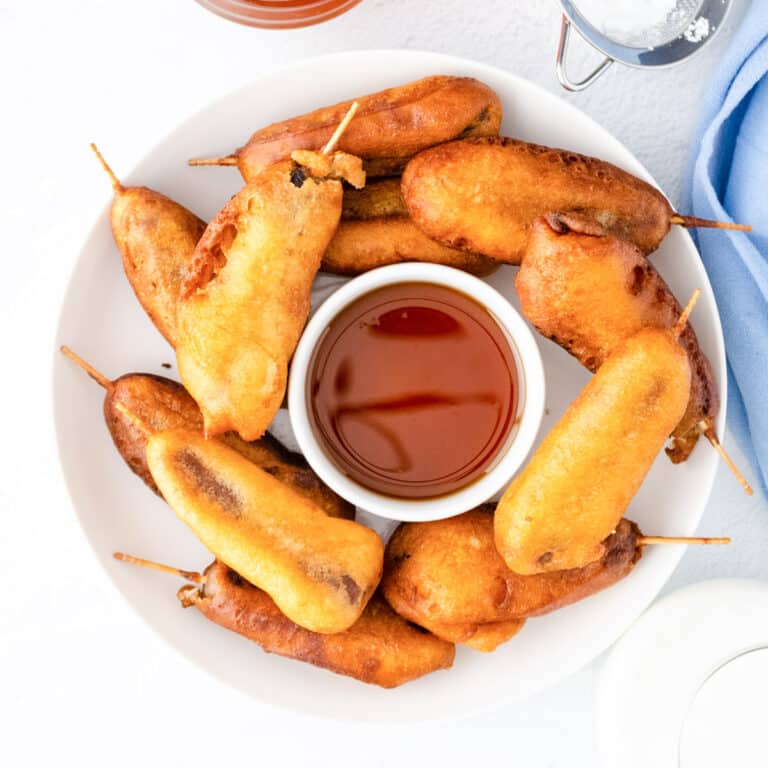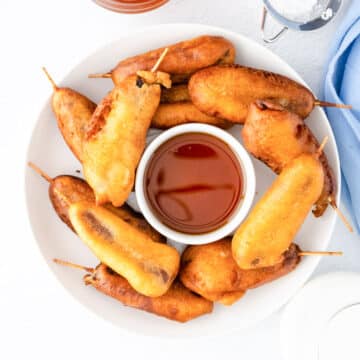 Pancake and Sausage on a Stick
Learn how to make my homemade pancake and sausage on a stick, a delicious sausage link dredged in pancake mix and deep fried to golden perfection.
Equipment
Frying Pan or Deep Fryer

Tall cup or 2 cup measuring cup

Toothpicks or skewers
Instructions
Cook the sausage links completely through. In a clean pan heat vegetable oil in a pan shallow enough for the links to be submerged

Mix together pancake batter and maple syrup. It should be the thickness of oatmeal, not regular pancake batter

Position the tooth pick or skewer into the links

Test the oil to see If its hot enough by placing the handle of a wooden spoon into the oil, if it bubbles its ready.

Dip the sausage into the batter, it should be thick and stick to the sausage

Place it into the pan and almost immediately turn it over. Turn it within 2 second to keep the shape from going flat. Cook on each side for 2-3 mins.

They cook quickly, however I do not advice trying to dip and cook them all at once. 2-3 in the pan at a time is enough to ensure you don't overcook them.

Serve warm with syrup, honey or powered sugar.
Notes
You can use ANY pancake mix, the batter just needs to be THICK.
Nutrition
Calories:
85
kcal
Carbohydrates:
11
g
Protein:
3
g
Fat:
3
g
Saturated Fat:
1
g
Polyunsaturated Fat:
1
g
Monounsaturated Fat:
1
g
Trans Fat:
0.01
g
Cholesterol:
42
mg
Sodium:
139
mg
Potassium:
84
mg
Fiber:
0.4
g
Sugar:
4
g
Vitamin A:
107
IU
Vitamin C:
0.1
mg
Calcium:
71
mg
Iron:
0.4
mg