This Pumpkin Lasagna is one of my favorite easy pumpkin desserts for fall. It's packed with flavor from layers of pumpkin, gingersnaps, and a whipped cream cheese topping.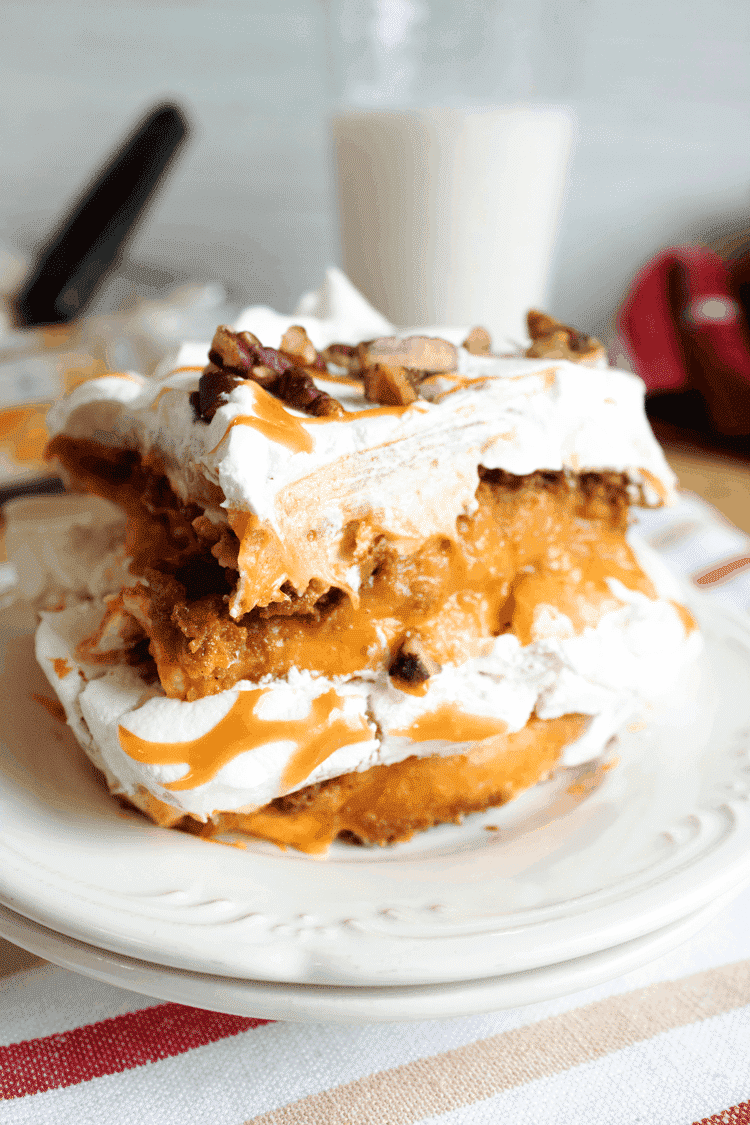 In this Article:
I am a big pumpkin fan, and I am always looking for easy no-bake desserts too. So this no-bake pumpkin lasagna is really up my alley.
I love that this dessert lasagnas comes together so fast, with absolutely no baking required. That makes it perfect for entertaining, when you need a quick dessert that you can toss in the fridge and have ready when you are.
In fact.. this would be an awesome Thanksgiving dessert!
If you love the concept of dessert lasagna, make sure you check out this no-bake chocolate lasagna and this red, white, and blue lasagna too.
Tips & FAQs
Can I Make This Pumpkin Lasagna In Advance?
Yes. You will want to make this dessert lasagna at least four hours in advance to give it time to set up well before serving. You can even make this up to 24 hours in advance. Just wrap it tightly and store in the fridge. Then when ready, slice and serve.
When I'm making dessert lasagna in advance, I love to use this baking dish that comes with a lid. This makes it easy to toss back into the fridge, and comes in handy whenever I'm bringing a dessert to a friend's house too.
What Is The Crust Made of For This Pumpkin Lasagna?
I used gingersnap cookies (this brand to be exact!). I love the spicy flavor next to the creamy pumpkin and whipped cream.
Now, if you are not a fan of gingersnaps you can swap them for Golden Oreos or a pre-made graham cracker crumb crust (you would just assemble inside the premade crust instead of a baking dish).
For this recipe, you can either leave the cookies whole and line them up on the bottom of the pan, or use a food processor to make crumbs.
If making a crumb crust, add a little bit of melted butter into the crumbs while they are still in the food processor. Mix together until the crumbs stick together. Then pat down into the bottom of your pan.
Can I Use Homemade Pumpkin Puree For This Lasagna?
Absolutely. If you make your own pumpkin puree, definitely use that. Just be sure you strain it really good to get rid of any excess liquid. You will want it to be the same consistency as store-bought pumpkin puree.
If you don't want to use homemade pumpkin puree, store-bought canned pumpkin puree works just as well. Just ensure that the can says pumpkin puree, and not pumpkin pie mix. They are two different things.
I personally use this pumpkin puree for all my pumpkin desserts!
Can I Use Pumpkin Pie Spice In Place of the Spices?
Yes. The spices I use in the recipe are similar to a store-bought pumpkin pie spice. If you prefer, you can replace the spices in the recipe with 1-2 teaspoons of pumpkin spice mix instead.
How Long Will Pumpkin Dessert Lasaga Last In Fridge?
You can expect your lasagna to last up to 4-5 days in a covered baking dish. With each day you might find the lasagna layers to separate a little bit.
It is best to be eaten within the first three days of making it.
Do I Need A Stand Mixer To Make This Dessert Lasagna?
No, you don't! If you don't have a hand mixer or even stand mixer, reach for a whisk and a medium bowl. It will take more time to whip up the whipped topping layer, but it can be done without a mixer.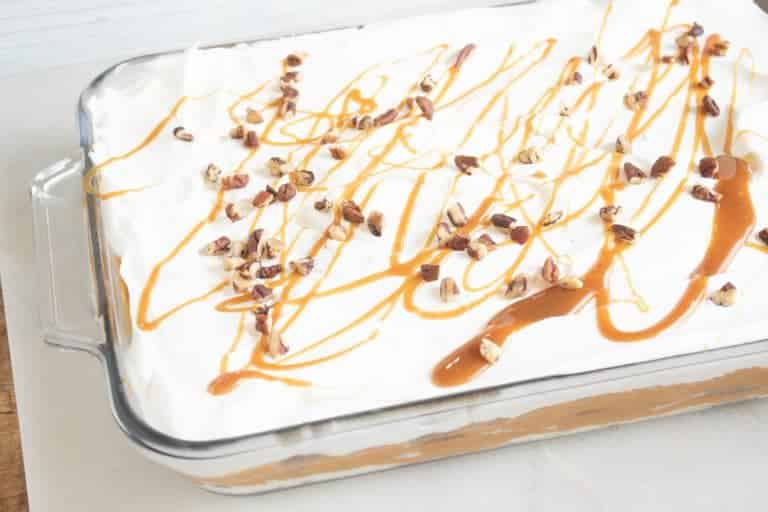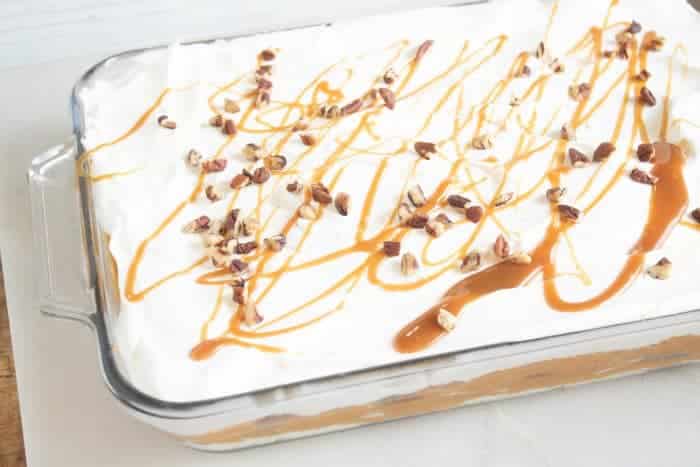 Helpful Equipment
Stand Mixer or Hand-held Mixer- This makes it SO much faster to whip the topping. Like I said above, it can be done without a mixer, but make sure you have a strong arm and patience. I have a KitchenAid Mixer that I've had for 12+ years and love it!
9x13 Pan with Lid and Carrier- Having a pan with lid and carrier makes it easier for storage. No more having to deal with plastic wrap that gets messy and twisted up.
Food Processor- For this recipe, you can keep the gingersnaps whole for the bottom layer, or you can use a food processor to make crumbs. Either way is delicious. I use my food processor to make crust for dessert lasagnas and cheesecakes.
Cake Server- A good cake server makes a world of difference. It makes it so much easier to lift the dessert lasagna out of the pan in nice and even slices.
How to Make Pumpkin Dessert Lasagna
It will only take about 15 minutes from start to finish to make Pumpkin Dessert Lasagna!
First, you want to work on whipping up your whipped topping. You will mix your cream cheese with powdered sugar, and heavy cream and blend. Once it is nice and thick, set aside.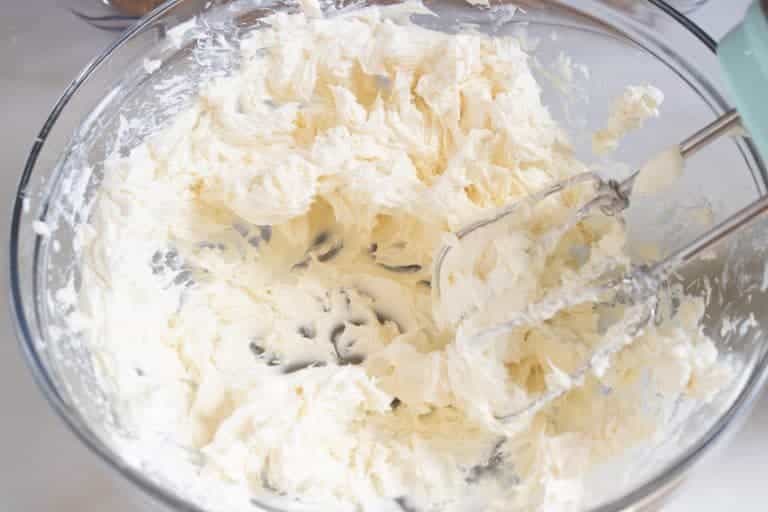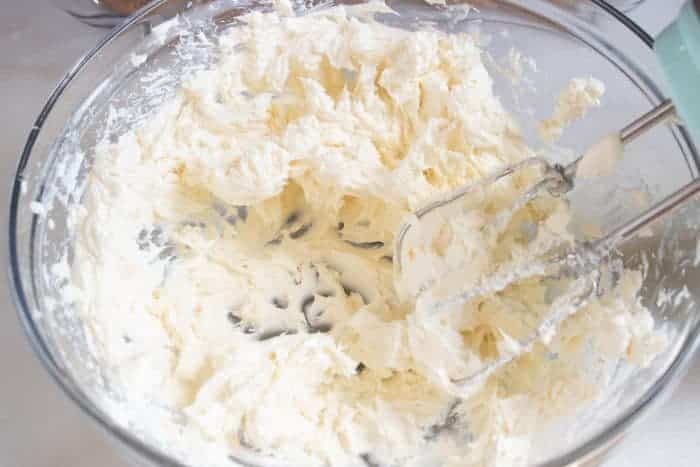 Then in another bowl add your vanilla pudding mix, milk, pumpkin and spices. Blend until all mixed through.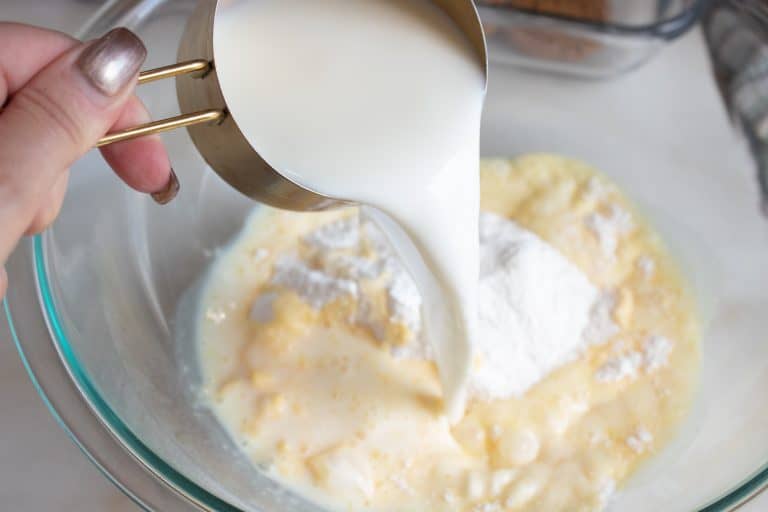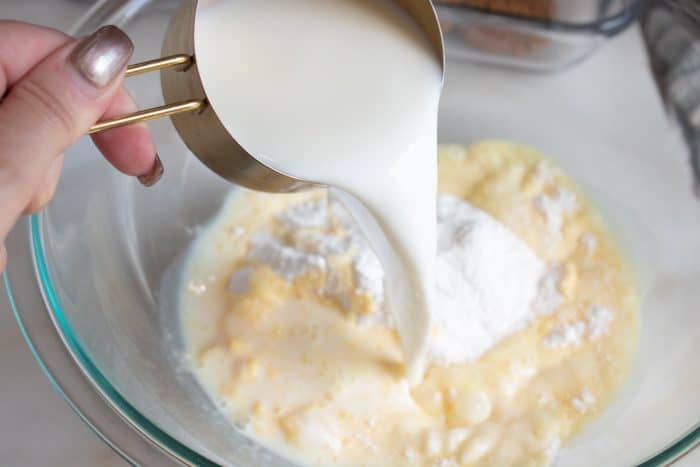 Then, you will start to layer your dessert. Start with gingersnaps on the bottom, and then pumpkin mixture, and whipped topping mix.
All the instructions are in the recipe at the bottom of the post, to walk you through each step fully.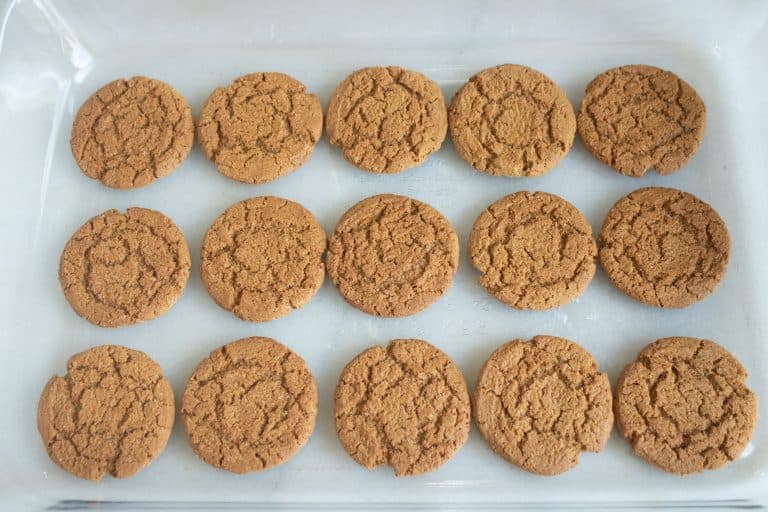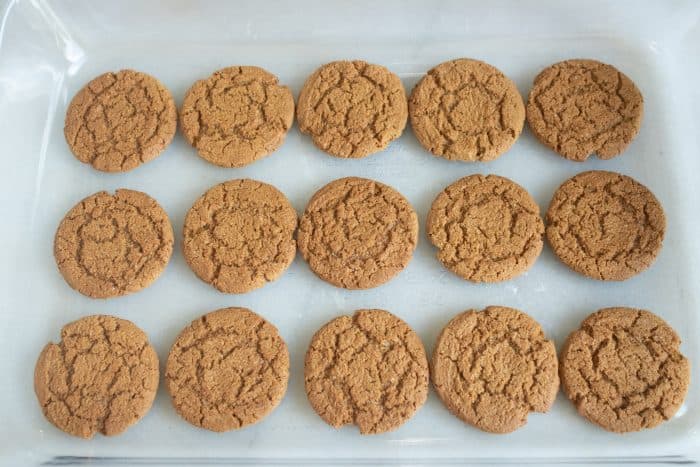 Pumpkin Lasagna Toppings
You can leave the top of your dessert lasagna plain or dress it up with one of these toppings.
A drizzle of caramel sauce
Brown sugar
Vanilla ice cream
Pecans or even slivered almonds
Curls or shavings of white chocolate or chocolate chips
Dusting of cocoa powder
More Tasty Recipes
If you love this pumpkin lasagna, be sure to check out these other delicious recipes:
Recipe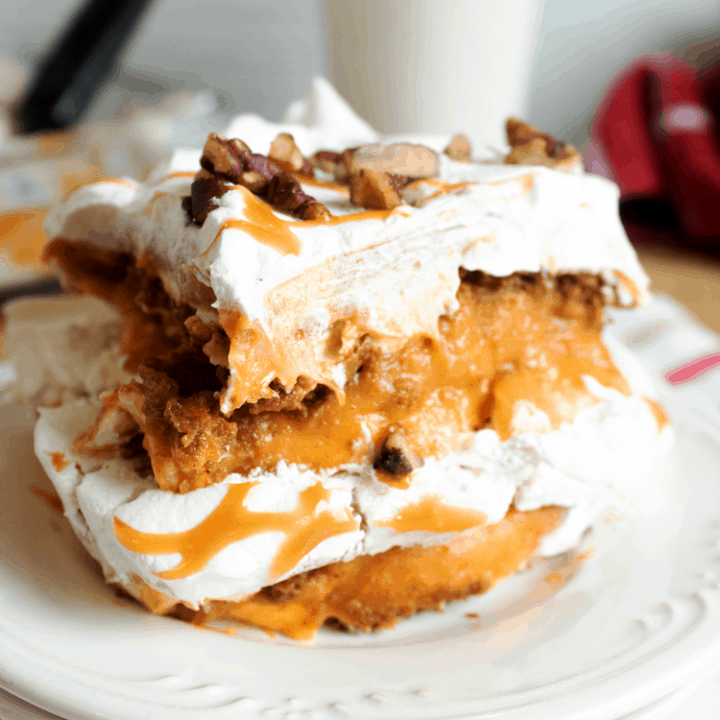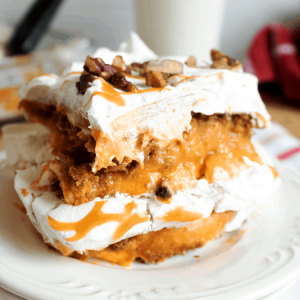 No-Bake Pumpkin Lasagna
This Pumpkin Lasagna is one of my favorite easy pumpkin desserts for fall. It's packed with flavor from layers of pumpkin, gingersnaps, and a whipped cream cheese topping.
Instructions
In a medium-sized mixing bowl, beat cream cheese in the mixer until smooth. Add in powdered sugar and heavy cream and mix until well blended.

In a large mixing bowl, mix the packs of vanilla pudding with milk, pumpkin, and spices.

To construct the dessert lasagna, start with a layer of gingersnaps on the bottom of a 9x13 pan. Add a layer of cheesecake filling on top of that, using half of the cheesecake mixture.

Top the cheesecake layer with half of the pumpkin/pudding mixture, and then top that with another layer of gingersnaps.

Complete the layering with the second layer of both the cheesecake layer and the pumpkin pudding layer.

Decorate the top of the dessert with a drizzle of caramel sauce and a sprinkling of pecan pieces.

Chill for 4 hours or overnight before serving.
Notes
You can use cookie crumb crust instead of the gingersnaps. Simply process the cookies in a food processor and add in a small amount of melted butter and pulse a couple times to combine ingredients. Then press down on the bottom of the pan, and for the second cookie layer, sprinkle over the top.
Nutrition
Serving:
1
g
Calories:
325
kcal
Carbohydrates:
30
g
Protein:
5
g
Fat:
21
g
Saturated Fat:
11
g
Polyunsaturated Fat:
2
g
Monounsaturated Fat:
7
g
Cholesterol:
49
mg
Sodium:
252
mg
Potassium:
258
mg
Fiber:
2
g
Sugar:
13
g
Vitamin A:
4788
IU
Vitamin C:
1
mg
Calcium:
106
mg
Iron:
2
mg