This rainbow jello is so fun, and each bite is bursting with fruity flavor. Make this rainbow layered jello when you need a tasty finger-dessert that both kids and adults will enjoy.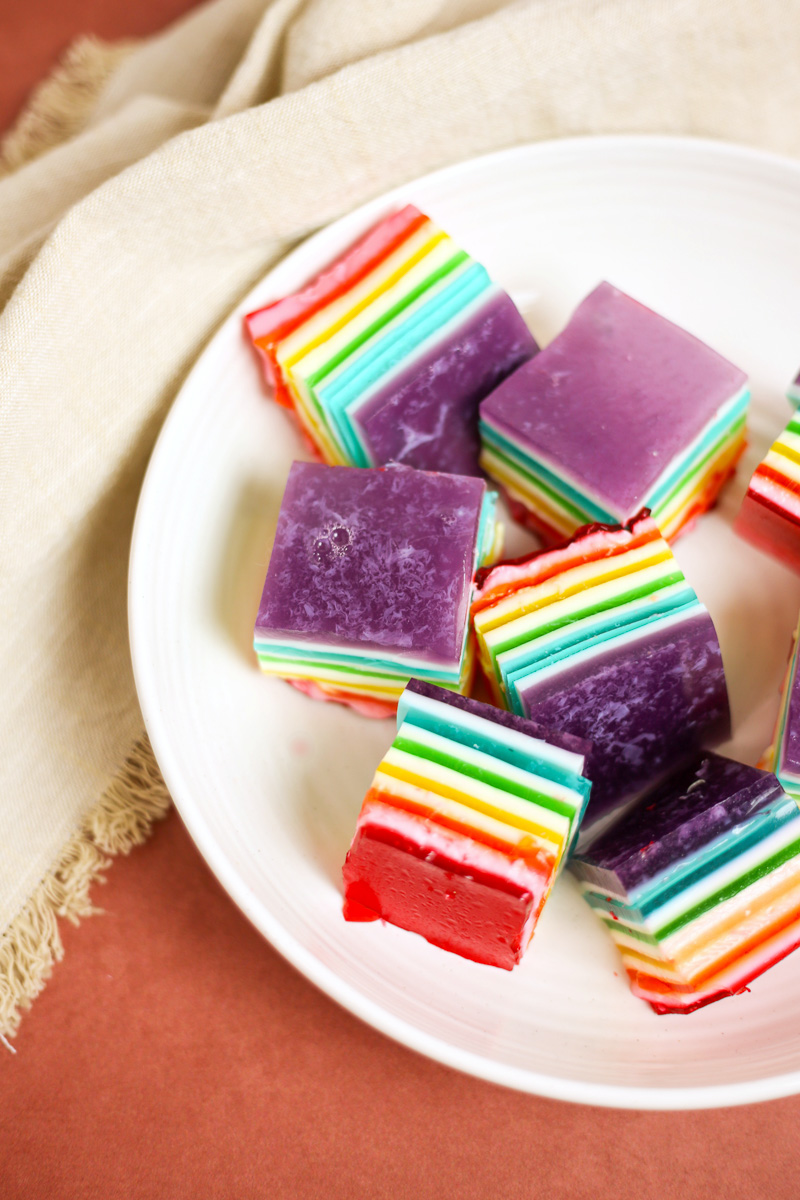 If you are not sure how to make rainbow jello, let me help. This recipe is crazy simple, and you will love the clean layers of colors in this jello recipe.
Are you a jello fan? You might also want to try this summery Lemon Lime Poke Cake or whip up some of this Orange Fluff Salad. Looking for a vegan option? Be extra classy by making this Blood Orange Vegan Jelly with Toasted Almond Sorbet.
Why you will love this Rainbow Jello...
Layers of color
Delicious fruit flavor
Perfectly sweet
Slices easily
Great finger-dessert
Affordable to make
Gluten-free
Vegetarian
How to Make Rainbow Jello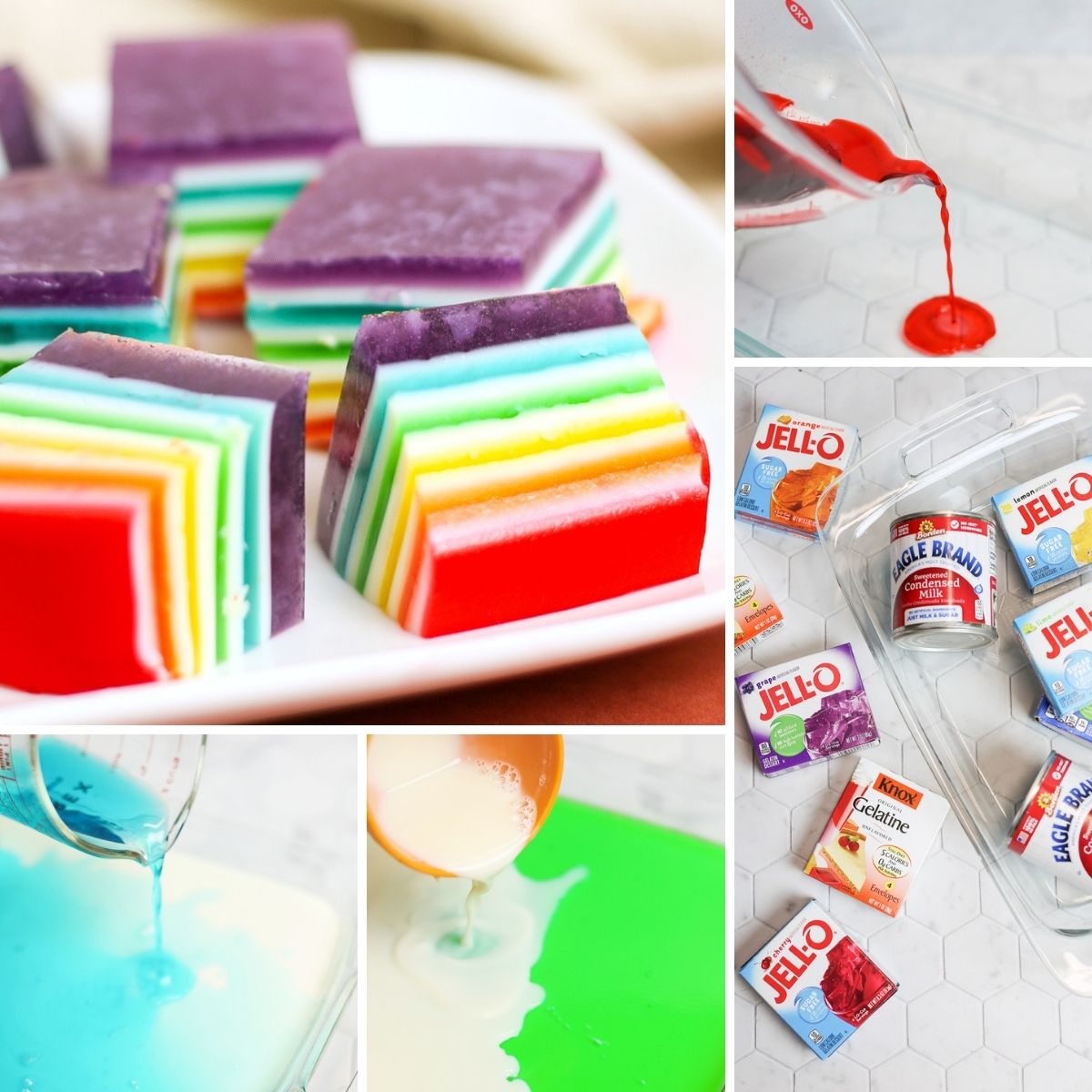 Start by taking 1 teaspoon of your unflavored gelatin and a packet of jello and mix with boiling water. Dissolve the gelatin first, then add jello.
Pour the jello into the pan, and refrigerate for 30 minutes.
Next, you will repeat again with the unflavored gelatin, but mix with the condensed milk.
Pour a cup of the milk mixture onto the first layer of jello, then refrigerate.
Repeat the process with each color of jello followed by a layer of the condensed milk.
Once all the layers are complete, refrigerate until the layered jello is completely set.
Slice and serve.
Tips and Tricks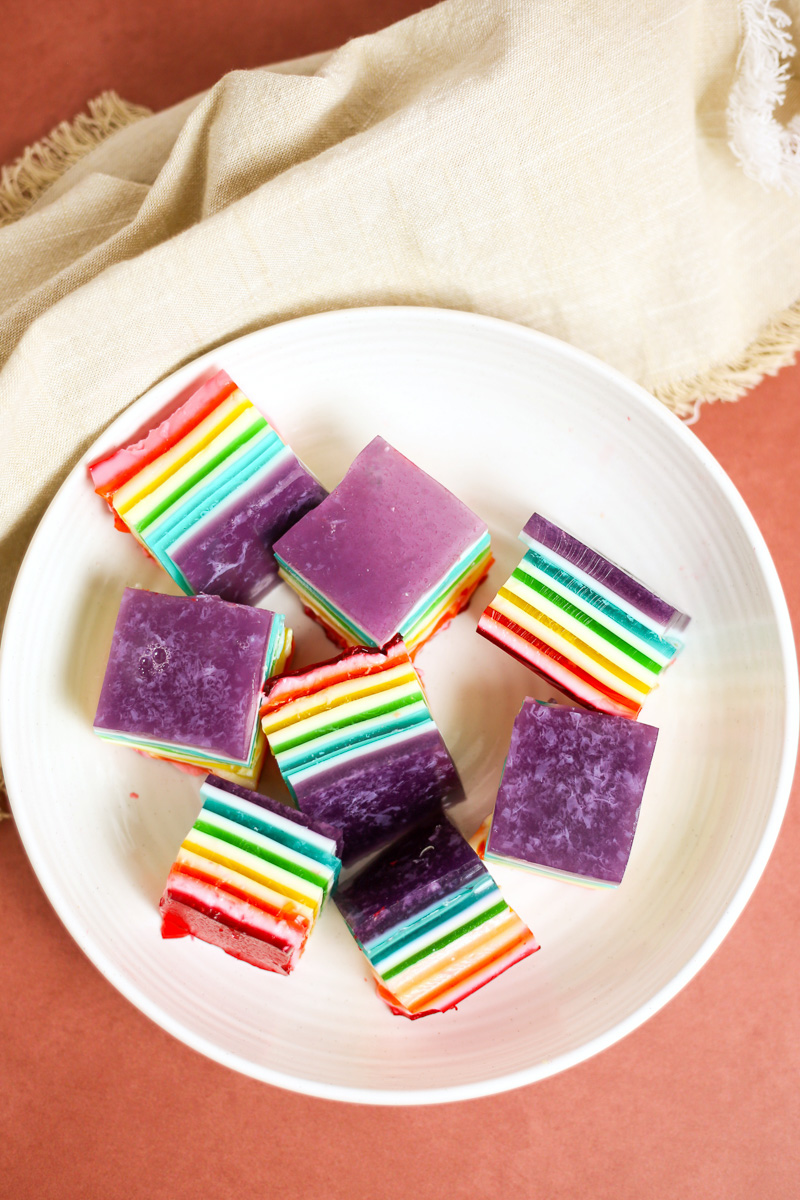 Allow Each Layer Of Jello To Set Up
When following this recipe, make sure of one thing: don't skip the 30-minute set up between each layer. If you do skip the setting time (or just don't wait long enough), your colors will run together, and you won't get the defined layers.
Make The Sweetened Condensed Milk Layer
You will need to make two batches of the gelatin and sweetened condensed milk mixture. Don't mix it up all at once because it will begin to set up as it sits.
Take the time to follow the recipe exactly to ensure you get smooth and clean lines.
Cut The Jello
Want those clean lines? Use a sharp knife or unflavored dental floss to cut lines into only the very top of the jello. Then remove the whole jello from the pan, and use those guidelines you cut earlier to help you cut clean lines now.
Variations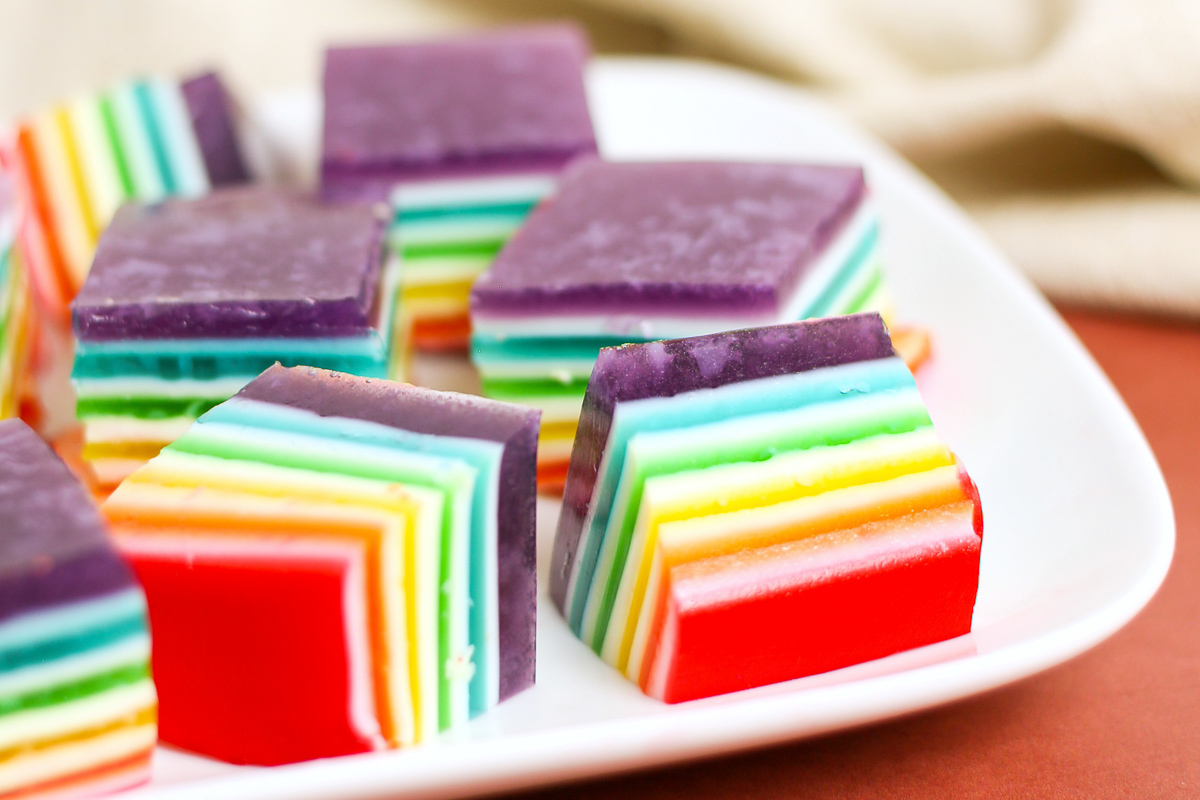 Holiday-Themed Dessert
Consider changing up the colors of the jello layers to fit a holiday theme. Do pink and red for Valentine's Day or green and red for Christmas.
You can essentially make your jello dessert any colors you want. Just remember, the flavors will all be mixed together when you eat it.
Skip the Sweetened Condensed Milk Layer
If you do not want the sweetened condensed milk layer, leave it out. You will still want to set up the jello for each layer of color, just as you would if you were keeping the milk layers.
Note that if you skip the milk layers, the layers of color in the jello will not be as defined as they would be with the white breaking them up. But feel free to go without the sweetened condensed milk layers if you prefer.
Rainbow Jello FAQs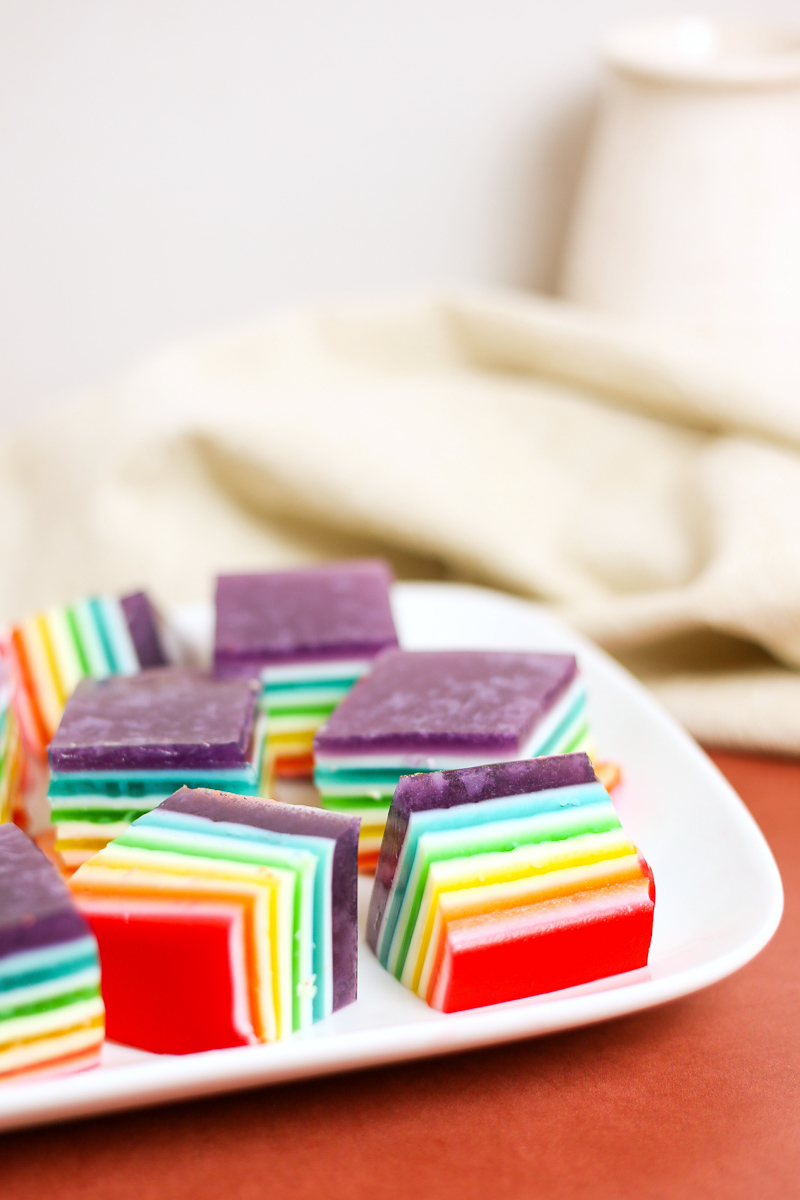 Is making layered jello hard?
Making layered jello is not hard, but it does take some time. You have to allow each layer to set up before pouring in the next one. But it's worth it!—in the end, you have a stunning jello to slice and serve up for parties, holidays, etc.
Do you need to refrigerate jello?
Yes, jello is best when refrigerated. It can stay set up for a bit at room temperature, but you will find it begins to break down the longer it is out of the fridge. Jello will also spoil faster if you do not refrigerate it.
How long does this layered jello last?
This jello will store for up to a week in an airtight container in the refrigerator. I like to eat it within the first 3-4 days. I find that the sooner you eat the jello, the better its texture and flavor will be.
Recipe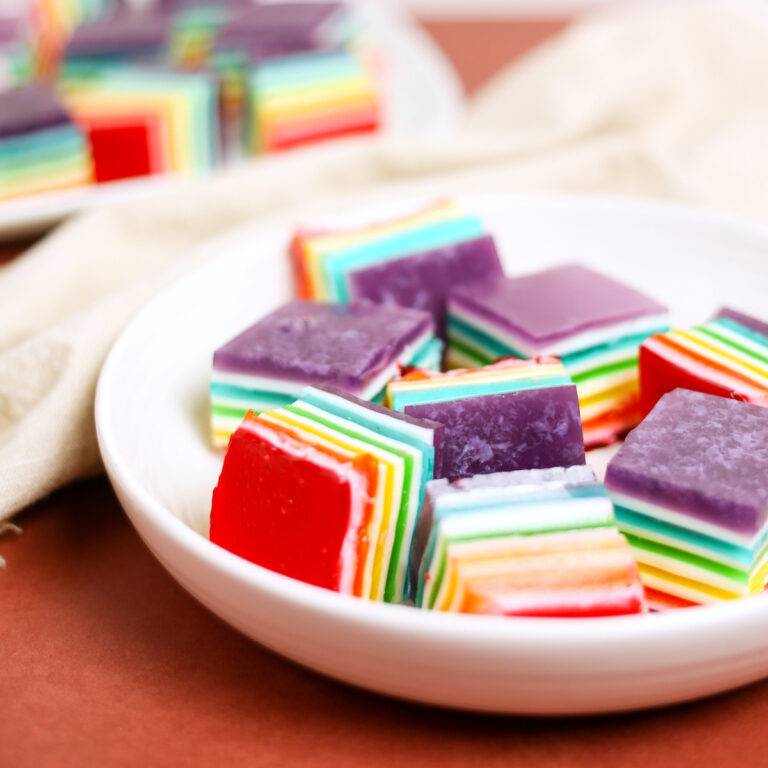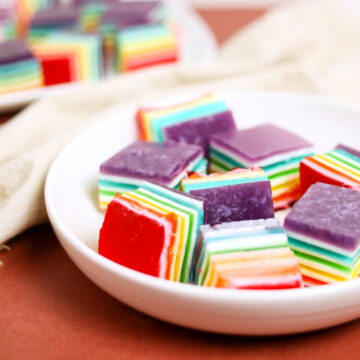 Rainbow Jello Squares
This rainbow jello is so fun, and each bite is bursting with fruity flavor. Make this rainbow layered jello when you need a tasty finger-dessert that both kids and adults will enjoy.
Ingredients
6

boxes

Jello

red, orange, yellow, green, blue, purple

6

packets

unflavored gelatin

2

cans

sweetened condensed milk

8

cups

boiling water
Instructions
Spray a 9x13 dish with nonstick cooking spray.

Dissolve half of a packet (1 tsp) of unflavored gelatin and a packet of Jello in boiling water. Dissolve the unflavored gelatin first, then add the Jello.

Pour the Jello mixture into the bottom of a 9x13 dish and refrigerate for 30 minutes to set.

Mix a packet (2 tsp) of unflavored gelatin to one cup of boiling water and dissolve. Add a can of condensed milk to the gelatin mixture and let it cool while Jello is setting in the refrigerator.

Pour one cup of condensed milk mixture and make sure it covers the Jello layer completely. Cool for 30 minutes in the refrigerator on a level surface.

Make a second batch of colored Jello and gelatin and let cool while the creamy layer is setting.

Pour the next Jello layer over the creamy layer, and cool for 30 minutes on a level surface in the refrigerator. Repeat until all layers of Jello and milk are set.
Notes
You will have to make a second batch of the condensed milk mixture halfway through. When the last layer of Jello is poured on top, allow the whole dessert to cool in the refrigerator for at least an hour.
Nutrition
Calories:
38
kcal
Carbohydrates:
6
g
Protein:
6
g
Fat:
1
g
Saturated Fat:
1
g
Cholesterol:
1
mg
Sodium:
161
mg
Potassium:
9
mg
Fiber:
1
g
Sugar:
1
g
Vitamin A:
5
IU
Vitamin C:
1
mg
Calcium:
66
mg
Iron:
1
mg