Fall has got to be my favorite time of year. I love seeing the leaves change colors and fall off the trees.
It's also the only time of year that you can rake up a huge pile of leaves just to jump in them and see them go flying again. It's a time of pumpkin spice everything, warming soups and cozy nights in.
But my absolute favorite thing to do in fall is carve pumpkins!
In my house it was a family event. We would go to the corn maze and pumpkin patch on a quest for the perfect pumpkin. As a girl I remember looking for one that spoke to me.
I always preferred the imperfect pumpkins; ones with huge warts or lopsided.  I found the odd ones always make the best canvases for carving. No matter the shape, a long handle was always a must.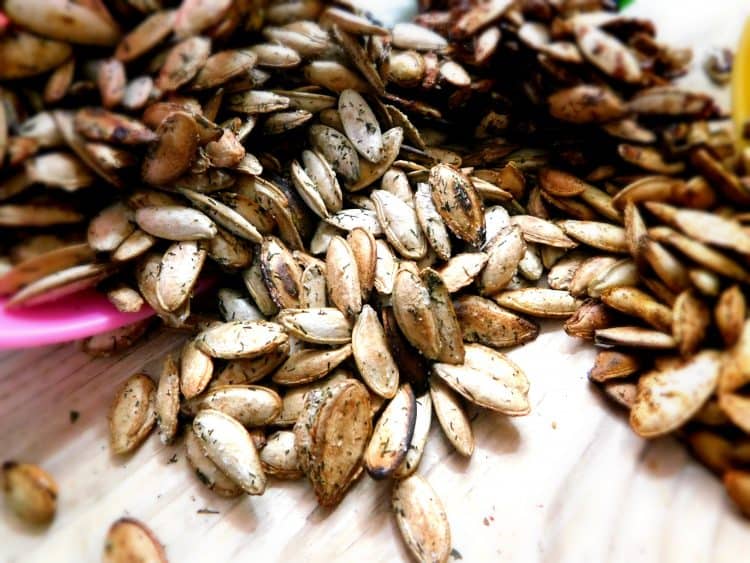 After finding my bright orange, marvelous beauty my family and I would lay them all out on the kitchen table and the operation would begin.
With the right tools I was an expert at dissecting the squash and transforming it into the most beautiful jack-o-lantern. The pumpkin was my patient and I the surgeon.
First start with the pumpkin's head.
I'd slice around the step as if I was opening a skull; it had to be just perfect or the whole surgery would be jeopardized.
Then my (and I'm sure every kid's) favorite part—scooping out the guts!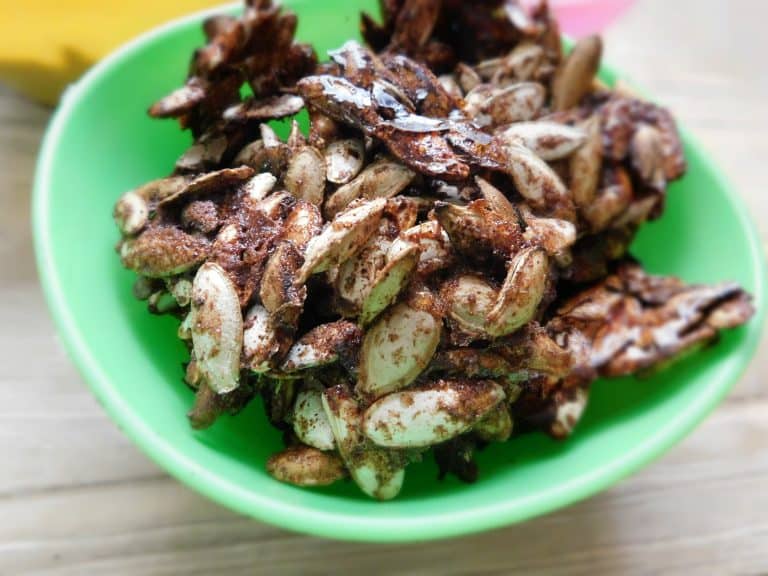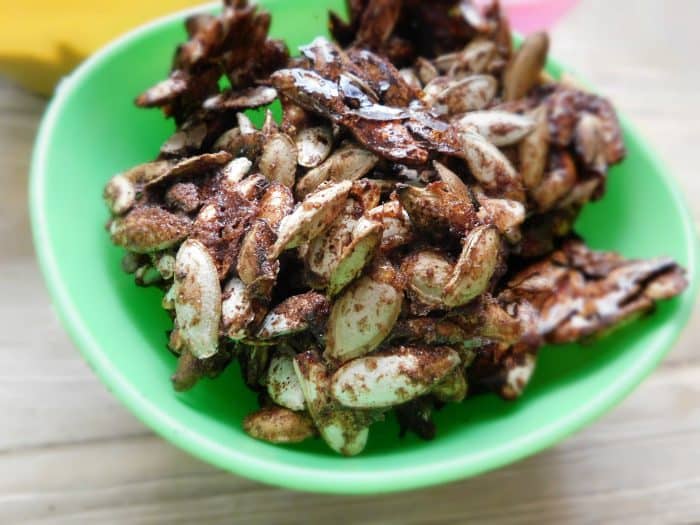 My mom was sure that we always had plenty of newspaper and a huge bowl in the middle of the table.
At the end of the surgery the bowl would be completely filled with the aftermath of the nights surgeries. My brother and I would squish the pumpkin leftovers between our fingers and have a competition to see who's 'patient' had the most seeds.
It was slimy, gooey, sticky. This is what I lived for as a child
Roasted pumpkin seeds were such a delicacy in my house since we pretty much could only eat them one week out of the year.
After the family ate them all, they were gone until we took another trip to the pumpkin patch.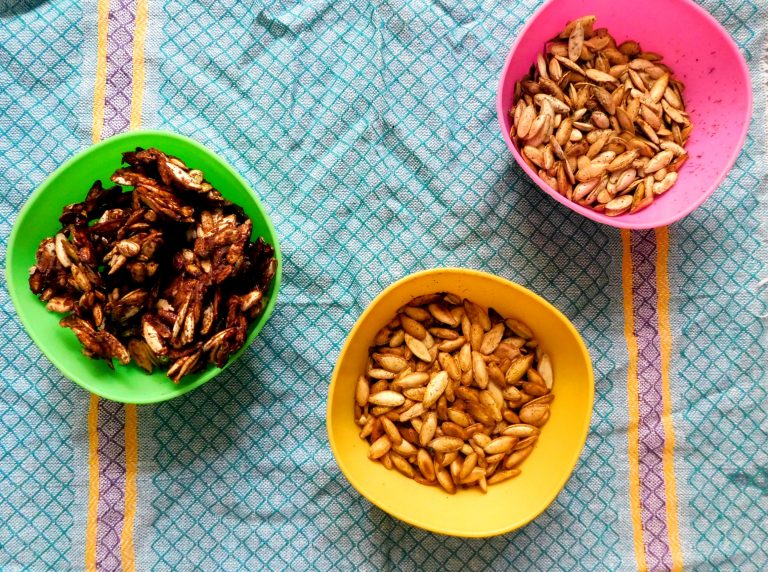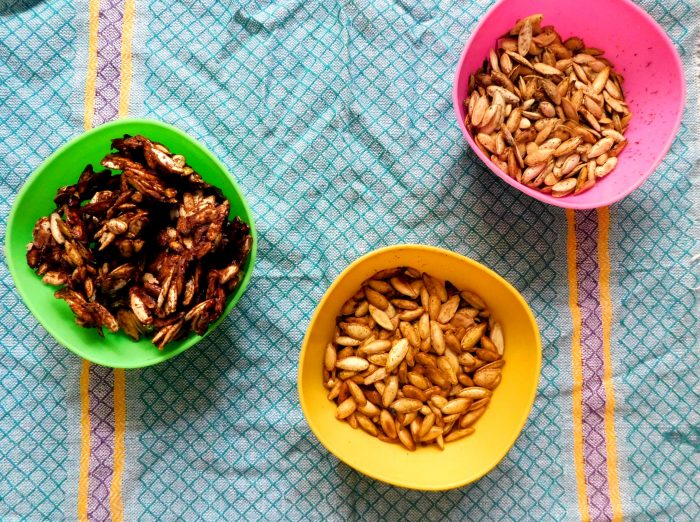 Since we had such a small window of when we could eat pumpkin seeds as a family, it was such an important decision of how they were going to be seasoned.
Salty? Sweet? Classic favors? Try something new?
After however many falls together carving pumpkins with my family, we've definitely done our fair share of experimenting with flavor combos.
I've narrowed down my favorites to these three recipes. See below.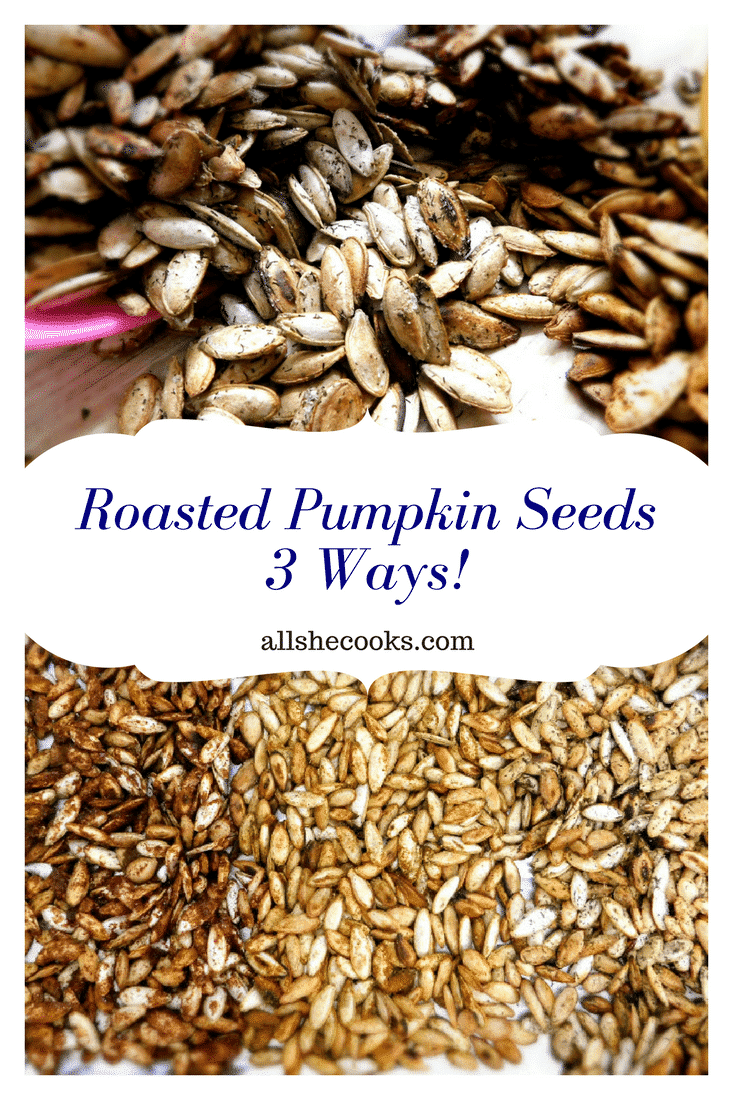 Roasted Pumpkin Seeds 3 Ways!
Maple Pumpkin Spice
½ tbs pumpkin spice
1 tbs maple syrup
1 tbs brown sugar
Indian Spiced
½ tsp garam marsala
¼ tsp ginger powder
¼ tsp garlic powder
¼ tsp tumeric
salt to taste
Dill and Vinegar
1 tbs oil
1 tbs white vinegar
1 tbs dill
1 tsp salt
Directions
In a large bowl, mix seeds with desired seasonings. Then spread on a lined baking sheet and bake in 275 degree oven for 30-45 minutes (or until the seeds look golden brown), stirring every 15-20 minutes. Enjoy!