This is the Best Texas Chili ever. It's also a Weight Watchers Chili favorite.
That's because it has lean meat in it and all kinds of good-for-you ingredients. The multitude of yummy (and fresh) ingredients in chili has always been one of the things that draws me to this dish.
When we're talking about classic Weight Watchers recipes, we'd be remiss if we didn't mention the ultimate Healthy Meatloaf recipe...not to mention the hands down favorite Taco Soup. Not only is it a fan favorite, it is also one of those recipes that can be made time and time again without second thoughts or regrets.
It's just good. Good for you and good flavor that exemplifies everything we expect in the seasonings we cook with.
If you prefer a Vegetarian Weight Watchers Chili, have at in and amp this recipe up into a Weight Watchers Garden Vegetable Soup dream. It's really simple to do by omitting the meat and adding in a few of your favorite garden veggies. We love a bit of zucchini and yellow squash in ours.
If you're feeling spicy, you could always kick up your spices a notch when making our favorite Taco Soup and use our DIY Taco Seasoning. Or...try our DIY Chili Seasoning in place of the seasonings called for in our Weight Watchers Chili.
Any way you play it--seasonings are the spice of life and the key ingredient that makes a meal memorable. Don't forget them.
And when you garnish with a bit of cilantro, well--that not only makes your meal more presentable, but it also adds a bit to the dish that you won't soon forget.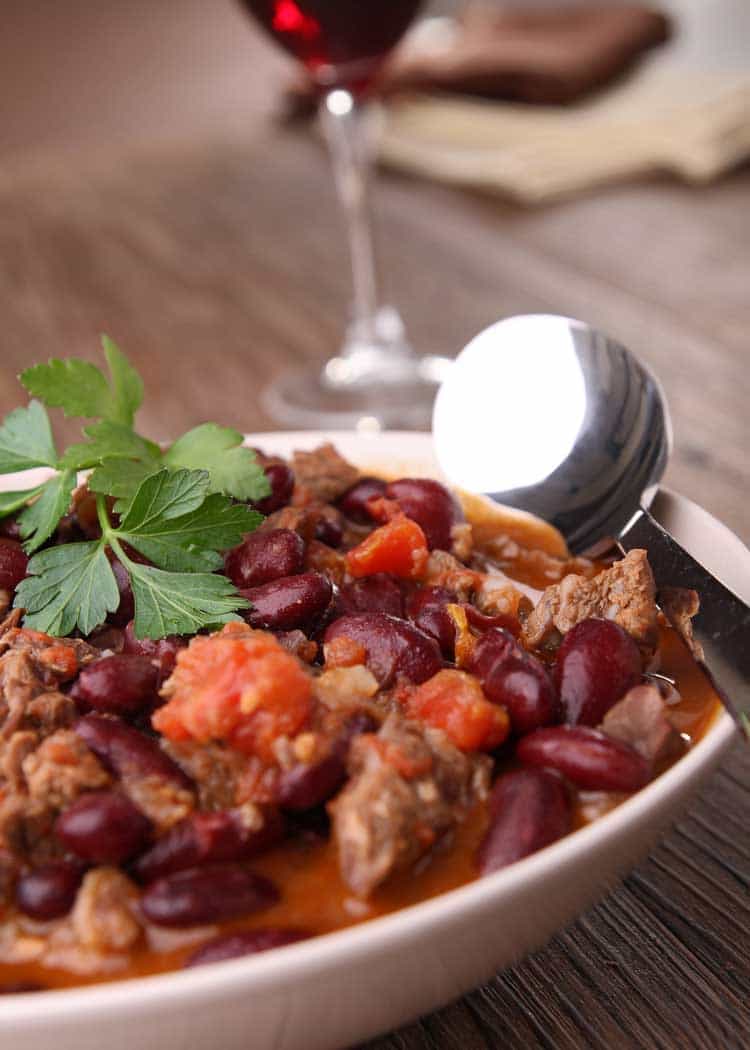 Here are Some of Our Best Slow Cooker Recipes
We're doing a 30-Day Slow Cooking Challenge. Here is a list of the recipes we're cooking up. Let me know if you try one of them by leaving a comment on that recipe post and rating the recipe!
There are several types of recipes that we are making during the challenge, from chicken slow cooker recipes, beef recipes, and even vegetarian recipes.
We love chili around here. It's one of those meals that you can leave to simmer on the stove or slow cooker all day long, and take a bowlful here and there.
Living in the Midwest--well, chili is the perfect solution to every cold day we have.
Whether we're snowed in--which rarely happens because snowplows run like clockwork--or we're digging in deep and braving negative numbers, you can bet we're keeping warm with bowls full of well seasoned chili.
It's something to look forward to.
Get the latest scoop on all the recipes I'm whipping up in the kitchen by following along with All She Cooks on Facebook, Instagram, and Pinterest. Also, don't forget to join my Facebook Group where you can share your favorite blogger recipes: Easy & Delicious Recipes.
Have you tried this recipe? Don't forget to Rate This Recipe below. While you're at it, share a picture on Instagram with #allshecooks so we can see how your recipe turned out!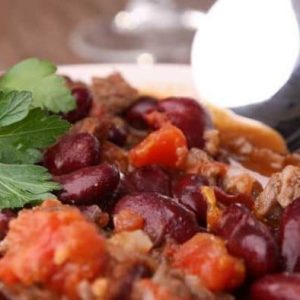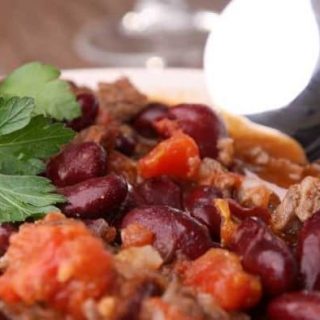 Weight Watchers Chili
Weight Watchers Chili Recipe is a healthy chili recipe that is an easy dinner recipe and a nice slow cooker meal. Put this in the crock pot for an easy dinner solution. Best chili recipe.
Ingredients
1

pound

lean ground beef

browned and grease drained

1

tablespoon

olive oil

2

cups

chopped onions

1

cup

celery

finely chopped

3

garlic cloves

chopped or pressed

2

cups

diced canned tomatoes

reserve liquid

2

cups

tomato sauce

12

ounce

canned red kidney beans

rinsed and drained

12

ounce

canned pinto beans

rinsed and drained

3

bay leaves

3

whole allspice

1

tablespoon

chili powder

1

teaspoon

dried oregano

½

teaspoon

ground black pepper

¼

teaspoon

ground cumin

¼

teaspoon

ground red pepper
Instructions
Brown the ground beef in skillet. Drain the grease, and add the beef to the slow cooker.

In medium nonstick skillet, heat oil, add onions, celery, and garlic; cook over medium heat until softened, about 2 minutes. Transfer to your slow cooker.

Place vegetables and remaining ingredients in slow-cooker; stir to combine.

Cook on low setting 4 hours.
Nutrition
Calories:
423
kcal
Carbohydrates:
48
g
Protein:
37
g
Fat:
11
g
Saturated Fat:
3
g
Cholesterol:
70
mg
Sodium:
1391
mg
Potassium:
1710
mg
Fiber:
14
g
Sugar:
15
g
Vitamin A:
1429
IU
Vitamin C:
28
mg
Calcium:
175
mg
Iron:
8
mg
Get More Weight Watchers Recipes
Weight Watchers Chili | Get a lower calorie chili that gives the classic comfort food flavor you love, with less guilt.
Weight Watchers Meatballs| Can you say lower fat meatballs? Switch up the meat you grab for in the grocery store!
Weight Watchers Taco Soup | Load this soup up with tons of veggies for even more of a health kick.
Weight Watchers Garlic Mashed Potatoes | There's just something about garlic. And if you love garlic, you're going to adore this recipe.
Weight Watchers Banana Bread | This is a fun take on banana and pumpkin bread, and combines two of our favorites.
Weight Watchers Hash Brown Casserole | One of my very favorites. This is a serious comfort food meal.
Weight Watchers Key Lime Bars | If you like dessert, these simple and delicious bars will be a treat.
Weight Watchers Peach Cobbler | This cobbler is so amazing! Feel free to swap out the peaches for other fruits or berries.
Weight Watchers Chicken Pot Pie | A meal like no other. You simply can't have chicken pot pie without feeling savoring each and every bite.
Weight Watchers Pumpkin Pie | One of our most popular recipes-- yes, you can have pumpkin pie on a Weight Watchers diet!
Weight Watchers Mac and Cheese | For the love of mac & cheese recipes! Calling all cheese lovers, this one's for you. It's a quick and easy solution for all your mac and cheese cravings.
Weight Watchers 1 point Brownies | Who says you can't have a brownie on a diet? We say you can!
Weight Watchers Cheese Biscuits | If you like Red Lobster biscuits, you'll get the general idea of these delicious treats.
Weight Watchers Deli Crab Salad | This salad makes a great lunch or dinner. 
Weight Watchers Cheese Lasagna | Pasta on a diet? Yes, please! And cheese on top of that?
Weight Watchers Meatloaf | This is one of my very favorite meatloaf recipes. I love that I can mix up a tasty lower-calorie meatloaf.
Weight Watcher Chicken Teriyaki | If you love chicken teriyaki, this recipe is for you. Hands down, one of the best low-cal chicken recipes I've had.