Want to know how to make a delicious dessert?  You've come to the right place.  How about the Best Carrot Cake Worldwide?
I'm all for cooking healthy food, but some of the best desserts combine a little from both worlds.  Now, I can't begin to attest that carrot cake is healthy.  But it can't be BAD with all those good ingredients in it, right?  Help me out here!
Best Carrot Cake Worldwide
Melt In Your Mouth are the best words to describe this Carrot Cake creation.  This has the best of everything: carrots, dates, walnuts, and yes… even applesauce.  Oh, and did I forget to mention that I love to top it with an out of this world White Chocolate Rum Ganache or Cream Cheese frosting?
We had this for dessert last night after I had my husband fix up an Easy Enchilada Casserole for the second time in a week, because I knew my kids would gobble that right up.  What I didn't count on… my husband and daughter both eating two large slices of this heavenly carrot cake!  I hope you'll enjoy it just as much as we did.
Melt In Your Mouth Carrot Cake
This is one of those types of cake that you'll be tempted to eat for breakfast, lunch and dinner.  It's so moist and enjoyable. You'll certainly want to savor each and every last bite.
Be very careful not to gobble down this masterpiece, AND if you're bringing this to a gathering–you might want to make sure to bring a few copies of the recipes. Friends and family are always asking for this recipe.
Have your cake and eat it too with our delicious Melt in Your Mouth Carrot Cake!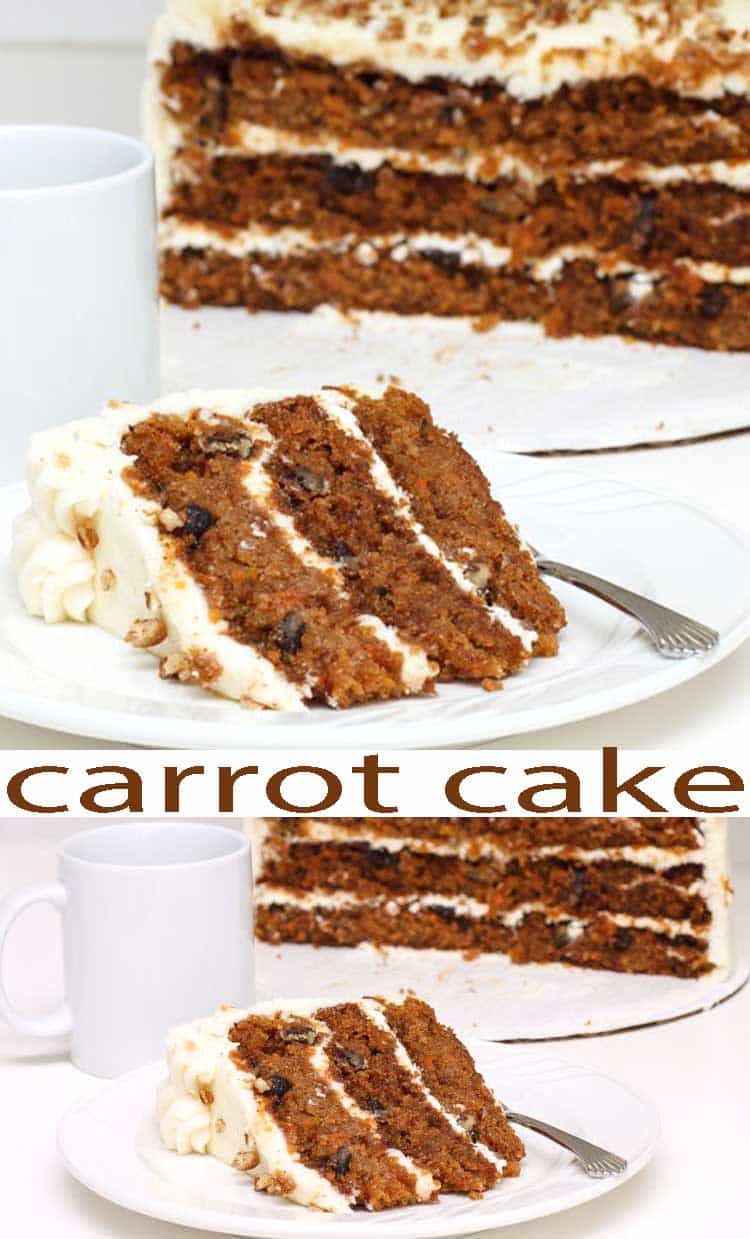 Print
Melt in Your Mouth Carrot Cake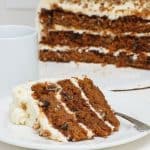 Carrot Cake is good food, and this is the Best Carrot Cake Worldwide. More good for you ingredients and an easy cake recipe for homemade cake fun.
Ingredients
3 cups flour
1 cup sugar (3/4 if you want it a little less sweet)
1 teaspoon baking powder
1 teaspoon baking soda
1 tablespoon cinnamon
1 1/2 cups vegetable oil
2 eggs
1 1/2 cups applesauce
2 cups carrots (peels and grated)
3/4 cup chopped dates
1 cup chopped walnuts
White Chocolate Rum Ganache Glaze (recipe here) or Cream Cheese Frosting (recipe here)
Instructions
Preheat oven to 350 degrees. Combine dry ingredients. In a separate bowl, mix together oil, eggs, and applesauce until well blended. Slowly pour in the dry ingredients and stir until just mixed and lump free. Add in the carrots, dates and walnuts and stir until evenly dispersed.
Grease a bunt pan and pour in cake batter, making sure that it is spread out evenly.
Bake for 50-55 minutes, or until an inserted toothpick comes out clean. Remove from bunt pan carefully by covering with a plate and turning it over. Lift the pan up slowly to make sure the cake is not sticking to the pan.
The following two tabs change content below.
Latest posts by Jessica McCoy (see all)