Derby pie is a chocolate lovers dream. Kentucky Derby Pie is one pie recipe you want to add to your menu plan this holiday season.
Derby pie is similar to a chocolate pecan pie recipe. You have that gooey center that is loaded with sweet chocolate flavor in every bite. Tender pie crust, and add a dollop of whipped cream for good measure.
Derby Pie
A southern tradition that can be popular no matter where you live. If you have never tried a Kentucky derby pie, I highly recommend giving it a try.
What Is Kentucky Derby Pie
A Kentucky derby pie is a chocolate pie with a creamy base, that is laced with pecans (or some use walnuts). A classic pie that of course originated from the Kentucky area.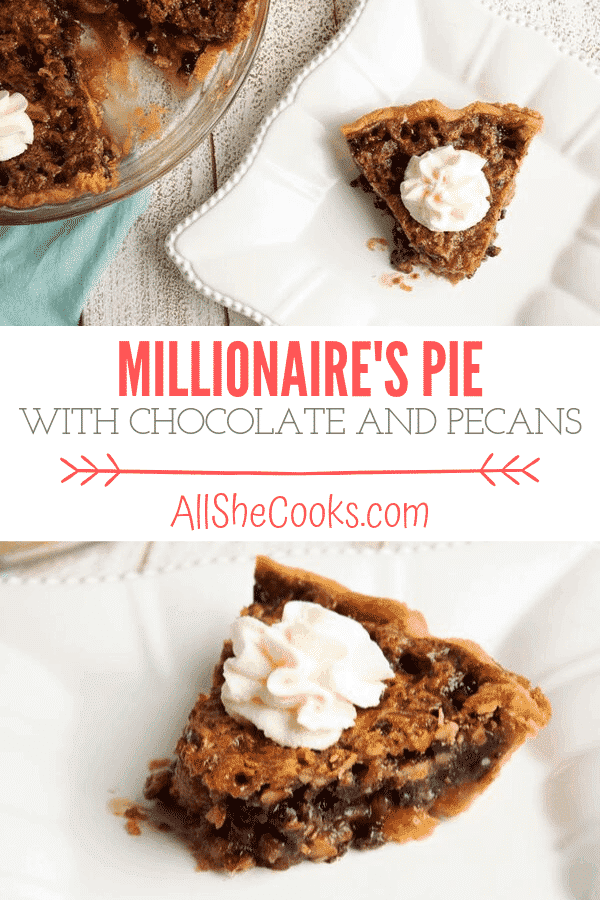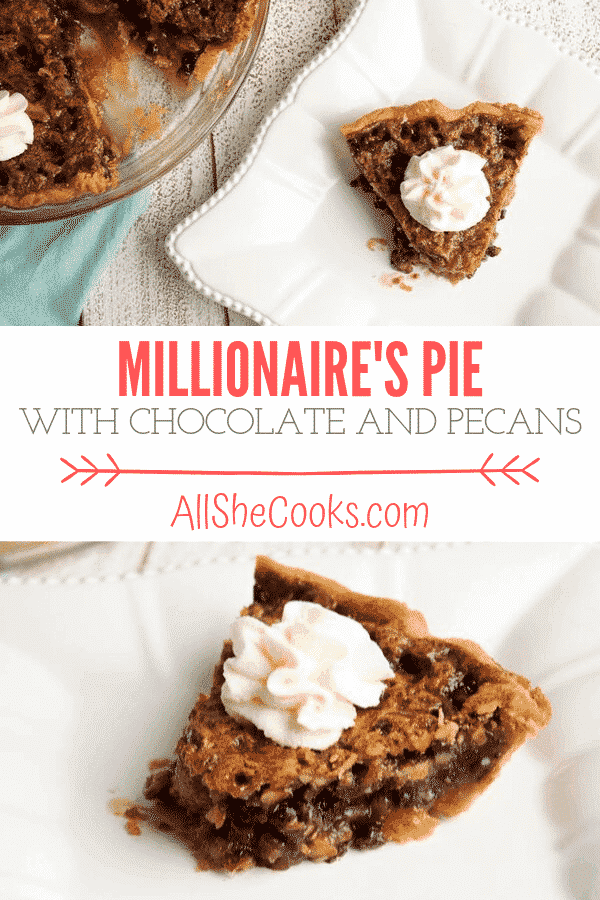 Do You Serve Derby Pie Hot Or Cold
Either! Some people love a chilled derby pie, as the filling sets up even more. And of course, others like it warm, topped with ice cream. I love it either way, just as long as I get my pie fix I don't mind cold or hot.
Can I Make This Derby Pie In Advance
Yes, you are more than welcome to make this pie 24 hours in advance. If you want to serve it warm, then simply wrap in aluminum foil and place in oven at 350 degrees. Then cook for 15-20 minutes or until it is warm.
How To Make Derby Pie
Start by preheating your oven. Then roll out your pie crust into your pie pan. I used a 9 inch pan for this recipe. I spray my pan with cooking spray to prevent any sticking.
Then in a bowl add your butter and sugar and cream.
Then slowly add in your flour. Now in a separate bowl you will beat your eggs and then add in the syrup and vanilla.
Fold in your nuts, and chocolate chips. Pour into your pie pan, and bake for 45 minutes to an hour, or until pie is finished baking.
How To Know When Derby Pie Is Done
When you remove the pie you will find it offers a slight jiggle in the center of the pie. Otherwise it will show that is is really set up otherwise. Since this is a custard style pie, it will not fully not jiggle like other pies.
How To Prevent Pie Crust From Over Cooking
Simply cover the pie crust with aluminum foil or buy a pie crust cover that you place on top and bake in the oven. Then about 15 minutes before your is done, remove the aluminum foil or cover and allow it to get a golden color.
No more dry pie crust with this handy tip!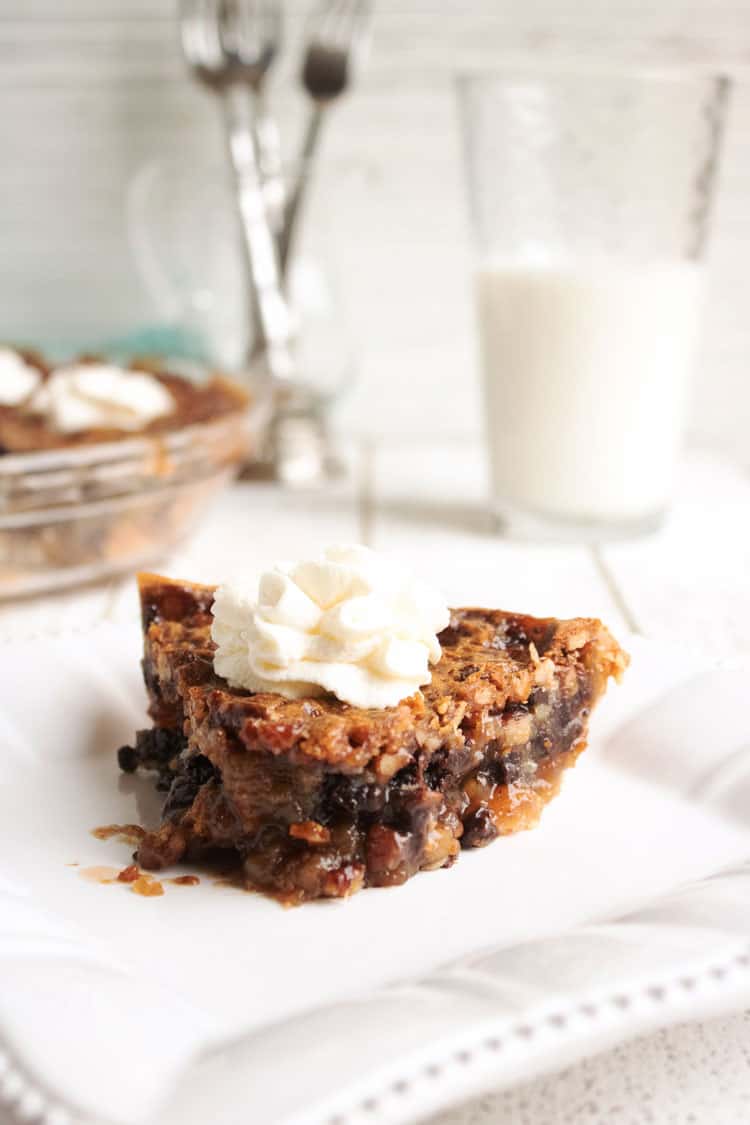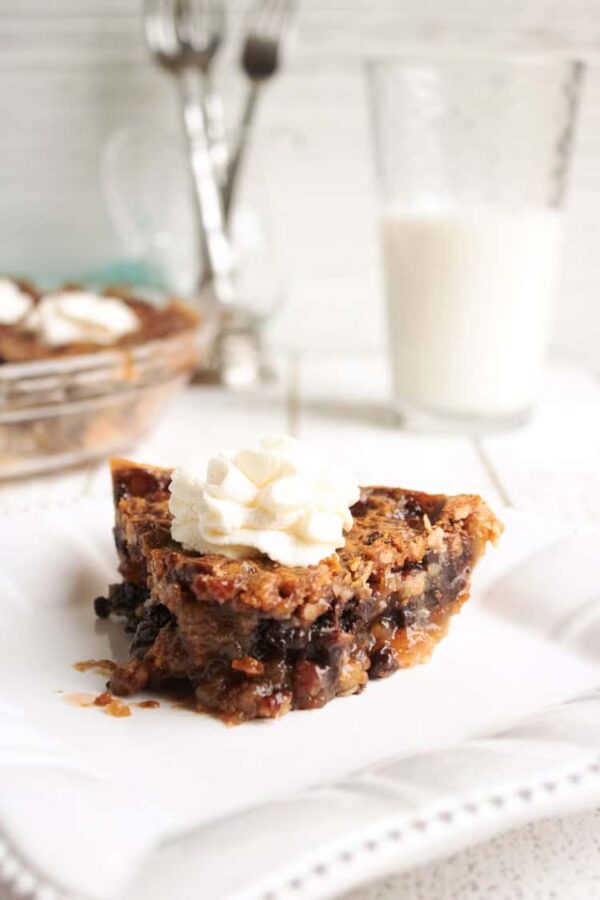 How To Store Derby Pie
This pie needs to be stored in the fridge. You can allow it to cool down and then cover it with aluminum foil or place in an airtight container. Store up to five days in the fridge. Always use your best judgment in terms of quality of pie and if you feel it has gone bad or not.
Looking for More Holiday Pie Recipes
Chocolate Pie with Meringue | Here is a silky smooth chocolate pie that has been topped with fluffy meringue. A classic pie you got to try.
Pumpkin Pie Meringue | Whip up this classic pumpkin pie that is topped with meringue. This adds so much flavor to the pie.
Caramel Apple Crumble Pie | If you love a crumble pie this caramel apple will be a delight. The caramel adds so much flavor to this pie.
Can I Substitute Walnuts for Pecans
Absolutely! If you are not a fan of pecans or don't have any on hand, reach for walnuts instead. This will work just as good and taste delicious. We are pecan fans in our home, so it worked great using them.
Can You Freeze This Kentucky Derby Pie
I have not tried freezing this pie, so I can't fully say if it will freeze and thaw properly. It could vary in the texture it has, so if you do try it, I suggest freezing one slice to see how it holds up, and then if it is successful you know without ruining a whole pie if it doesn't.
Supplies for Making and Decorating the Best Pies
Stand Mixer or Hand-held Mixer- This makes it SO much faster to whip the topping. Like I said above, it can be done without a mixer, but make sure you have a strong arm and patience. I have a KitchenAid Pro Mixer that I've had for 12+ years and love it!
Round Cake Storage and Carrier- Having a pan with lid and carrier makes it easier for storage. No more having to deal with plastic wrap that gets messy and twisted up.
8-inch Parchment Rounds- No more dealing with cake sticking to the bottom of the pan!
Cake Leveler- This tool is a must if you want to make layered cakes. It allows you to evenly remove the rounded part of the cake top and make perfectly level layers.
Cake Server- A good cake server makes a world of difference. It makes it so much easier to lift the dessert lasagna out of the pan in nice and even slices.
Cake Decorating Set- Making a pretty cake is reasonably easy when you use the tools in this decorating set. With a little practice, you will be decorating cakes like a pro in no time.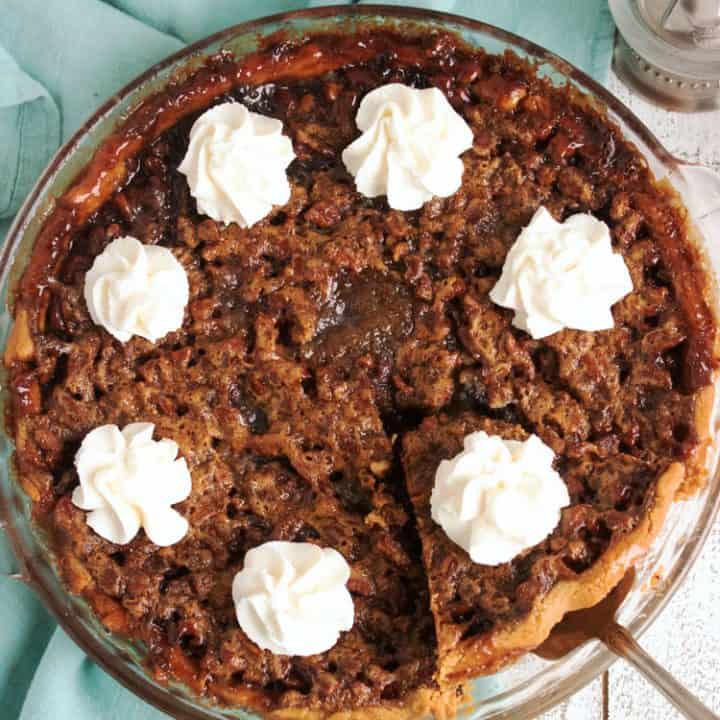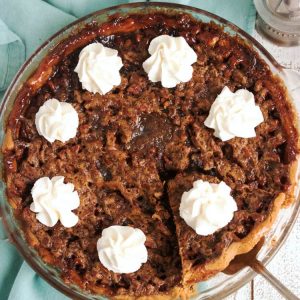 Derby Pie Recipe
This rich and decadent pie is the perfect dessert to add to your holiday menu. This pie will be the start of your dessert table show!
Instructions
Preheat oven to 350 degrees. Spray 9-inch pie pan with non-stick cooking spray. 

In a medium-sized mixing bowl, cream butter and sugar. Add in flour.  

In a separate bowl, beat the eggs and then mix in the syrup and vanilla. Fold in the nuts and chocolate chips and then pour into a 9-inch deep dish pie shell. 

Bake for 45 minutes to an hour.  
Notes
Bake time is between 45 minutes and 1 hour. Keep an eye on the pie after this time and check for done-ness. Center will be mostly firm when finished baking.
Nutrition
Serving:
1
g
Calories:
729
kcal
Carbohydrates:
95
g
Protein:
6
g
Fat:
40
g
Saturated Fat:
16
g
Polyunsaturated Fat:
22
g
Cholesterol:
77
mg
Sodium:
228
mg
Fiber:
4
g
Sugar:
72
g
Let me know how you like this derby pie.