This pecan meringue pie is like two desserts in one! Classic pecan pie is baked in a flaky pie crust and topped with homemade meringue. Yum.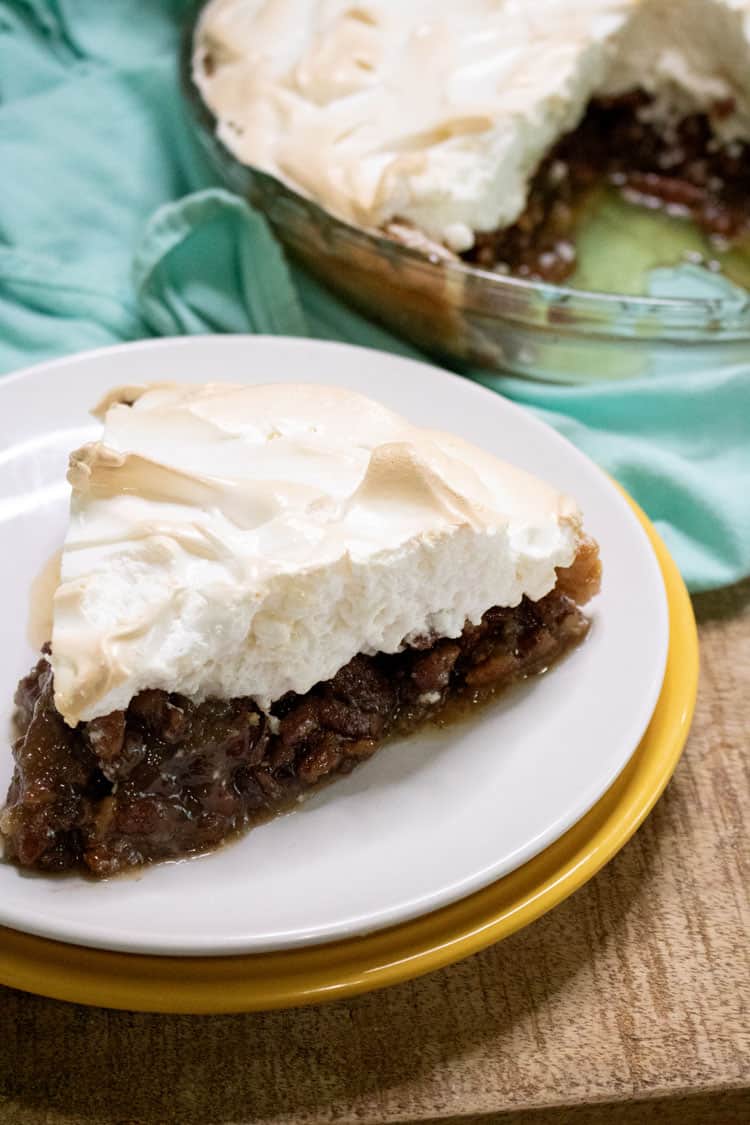 I love a good pecan pie. But, sometimes I get bored with eating the same desserts during the holidays. That's why I whipped up this new recipe. Old fashioned pecan pie has an added layer of fluffy meringue baked on top.
This Pecan Meringue Pie is going to transform your holiday celebrations!
Slice and serve and watch your friends and families eyes light up with excitement. The swirls and peaks of the meringue are gorgeous on top of this pie - perfect for Thanksgiving or Christmas dessert.
Try my Pumpkin Meringue Pie as well to add a fun twist to your classic pumpkin pie recipe this year.
How To Make A Pecan Meringue Pie
I used a homemade crust that is so buttery, light and flaky. It pairs nicely with the pecan pie filling and meringue.
After you have your crust made, you will begin to work on the pecan pie filling. If you are using pre-made pie crust, just get it ready and set to the side.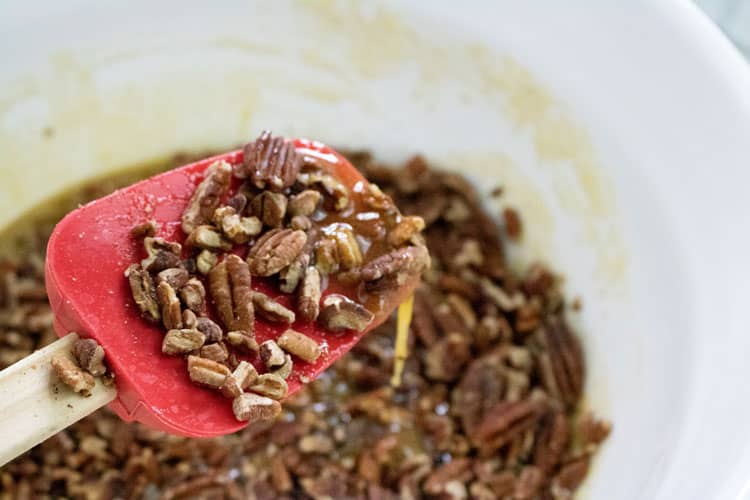 Mix your corn syrup, eggs, sugar and vanilla in a bowl, and add in butter and pecans. Give a good stir and pour the mixture into the pie dish. You start baking this for around 55 minutes. When it gets close to the 55-minute mark, begin making your meringue.
To make meringue you want to mix all your ingredients in a stand mixer until it forms stiff peaks. Once it is ready and you remove the pie from the oven, spread over pie, and place back in the oven for an additional 15 minutes.
(See the printable recipe card below for detailed instructions and measurements.)
Tips & FAQs
Can I Use A Pre-Made Crust For Pecan Pie?
Absolutely. Not a fan of making a homemade crust? I don't blame you! If you want to, just grab your favorite pie crust whether frozen or refrigerated and toss it into a pie pan. Either works, and it is all about what you prefer to do.
Should Pecan Pie Be Served Warm?
Because of the meringue, it is best to serve this pie cold. Once it cools down from the oven you will want to refrigerate it for 4 hours or so.
But, I will say I have eaten it warm and it was delicious too. So for best presentation serve cold, but if you can't resist, go ahead and steal a few bites fresh from the oven.
How To Store Pecan Meringue Pie
This pie needs to be stored in the refrigerator. Meringue is delicate, so if you leave it out to room temperature it will go bad rather fast.
So place your pie in a container that covers it, or place aluminum foil over the top. Then store in the fridge for up to 4 days. Anything after that, use your best judgment.
Pro Tips For Making Meringue
Meringue can be finicky for some to get the right consistency. One thing I have found to set me up for success is using room temperature eggs.
This allows the eggs to reach a higher volume and whip up a lot faster to that stiff peak.
So, make sure to set your eggs out when you start working on your pie, and then by the time you need to whip up the meringue they will be room temperature or pretty close.
What Do Stiff Peaks In Meringue Look Like?
Another thing is to make sure you get that stiff peak form when beating the meringue mixture. You can tell if it is a stiff peak when you turn your mixer off, and lift out the beater and the meringue makes a peak on the beater.
How Long Does It Take To Get Stiff Peaks?
You want to ensure the sugar is dissolved and then after that, you will find it takes around five minutes or so depending on the speed of your mixer to reach the form of that stiff peak.
Looking for more Fall Recipes?
If you love this Pecan Meringue Pie, be sure to check out these other tasty recipes:
Recipe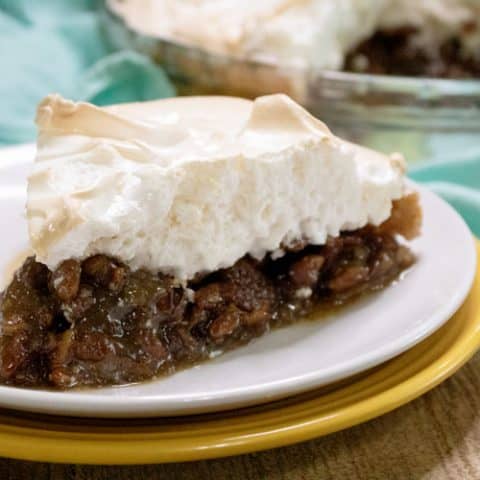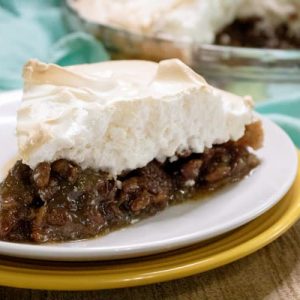 Pecan Meringue Pie
With custardy delight filling and mouth watering meringue, this Pecan Pie with Meringue will have you coming back for seconds.
Ingredients
Crust
2 ½

cups

all-purpose flour

plus extra for rolling out crust

1

cup

unsalted butter

1

teaspoon

salt

1

teaspoon

sugar

6-8

tablespoons

water
Instructions
To make the crust: pulse flour, sugar and salt in a food processor and pulse to mix together. Add in the butter, cut into small chunks, and pulse until the butter is no larger than pea size. Add water in a little at a time and pulse. Remove the dough from the food processor and knead together, forming two 4-5 inch disc shape with the dough. Pat dough out into two 4-5 inch circles. Wrap each piece of dough in plastic wrap and refrigerate for an hour or overnight.

When you're ready to make the pie, preheat oven to 350 degrees Fahrenheit.

Roll out one of the pie crusts. Line pie dish with one of the pie crusts. Save the second crust for another recipe!

Mix the corn syrup, eggs, sugar, and vanilla. Add in the melted butter and pecans and stir.

Pour pecan filling into crust in the pie dish.

Whip up the meringue by mixing all ingredients until stiff peaks form. Spread over the pie, sealing the edges to the pie crust. Bake for an additional 15 minutes.
Nutrition
Serving:
1
g
Calories:
657
kcal
Carbohydrates:
87
g
Protein:
8
g
Fat:
33
g
Saturated Fat:
14
g
Cholesterol:
98
mg
Sodium:
333
mg
Potassium:
246
mg
Fiber:
2
g
Sugar:
61
g
Vitamin A:
747
IU
Vitamin C:
1
mg
Calcium:
34
mg
Iron:
2
mg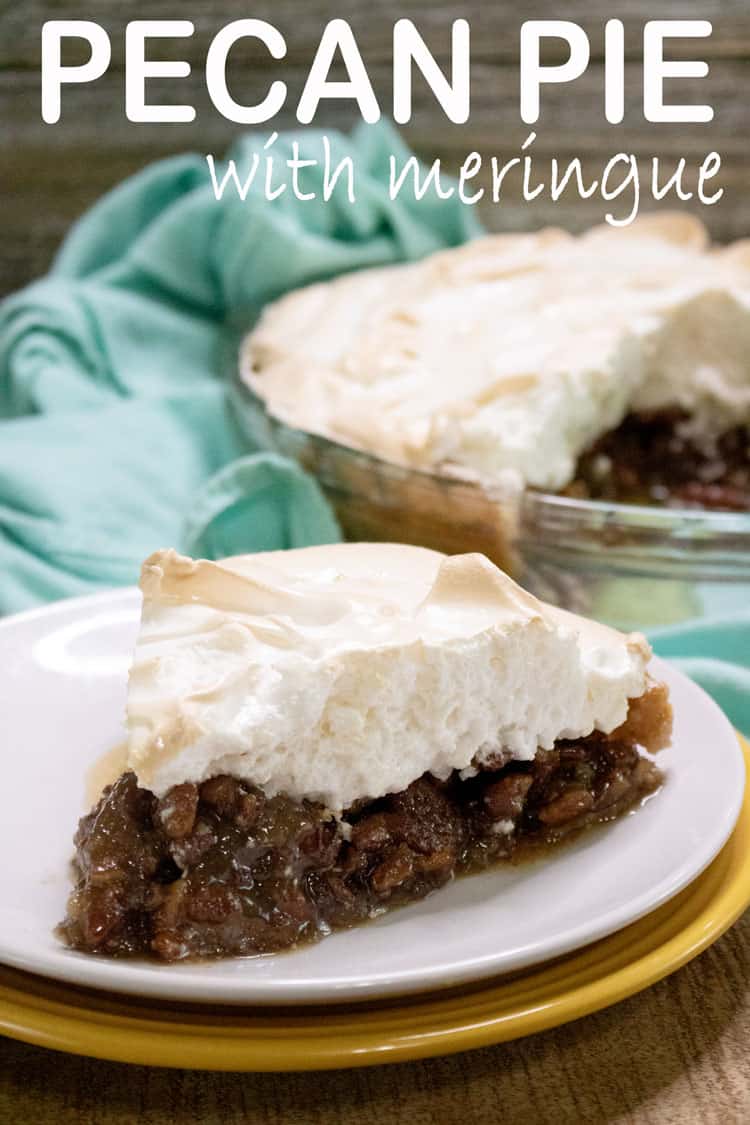 This recipe is one I have made over and over again, and it is always a success and hit with the crowd. Best of all, it looks like a million bucks but is so simple to make.
Have you ever tried Pecan Pie with Meringue before?