If you are looking for a flavor packed no bake dessert you have to try this no bake key lime pie recipe. It is a tasty summer dessert to whip up without turning on your oven. This is a pecan coconut crust, and a creamy key lime pie filling.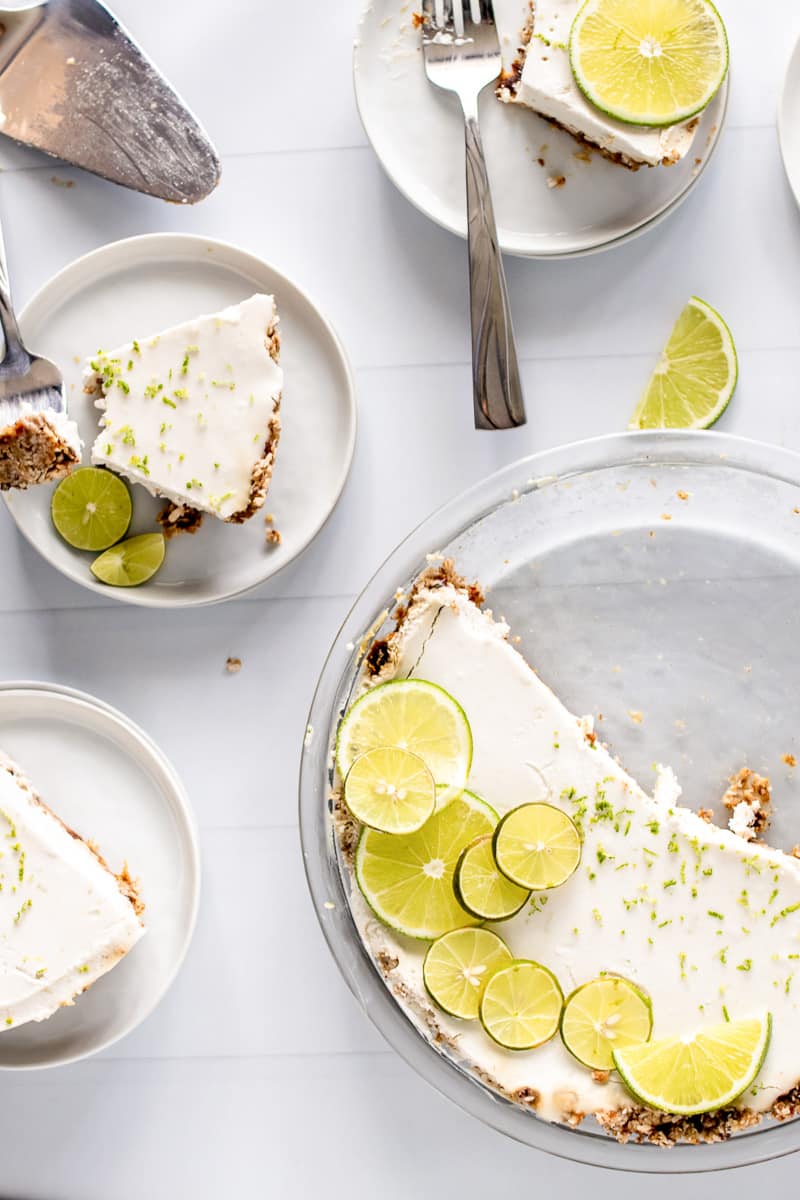 It takes under 30 minutes to assemble this citrus pie, that is homemade down to the crust. Also, make sure to try out these Weight Watchers Key Lime Pie Bars. Or if you want more refreshing summer recipes, I have a nice selection to try out.
With summer in full swing this is a great dessert for a summer cookout, family gathering, or any potluck dessert. Give this easy dessert a try.
This No Bake Key Lime Pie Recipe Is...
Gluten Free
Dairy Free
Vegetarian
Vegan
No Bake Pie
How to Make Key Lime Pie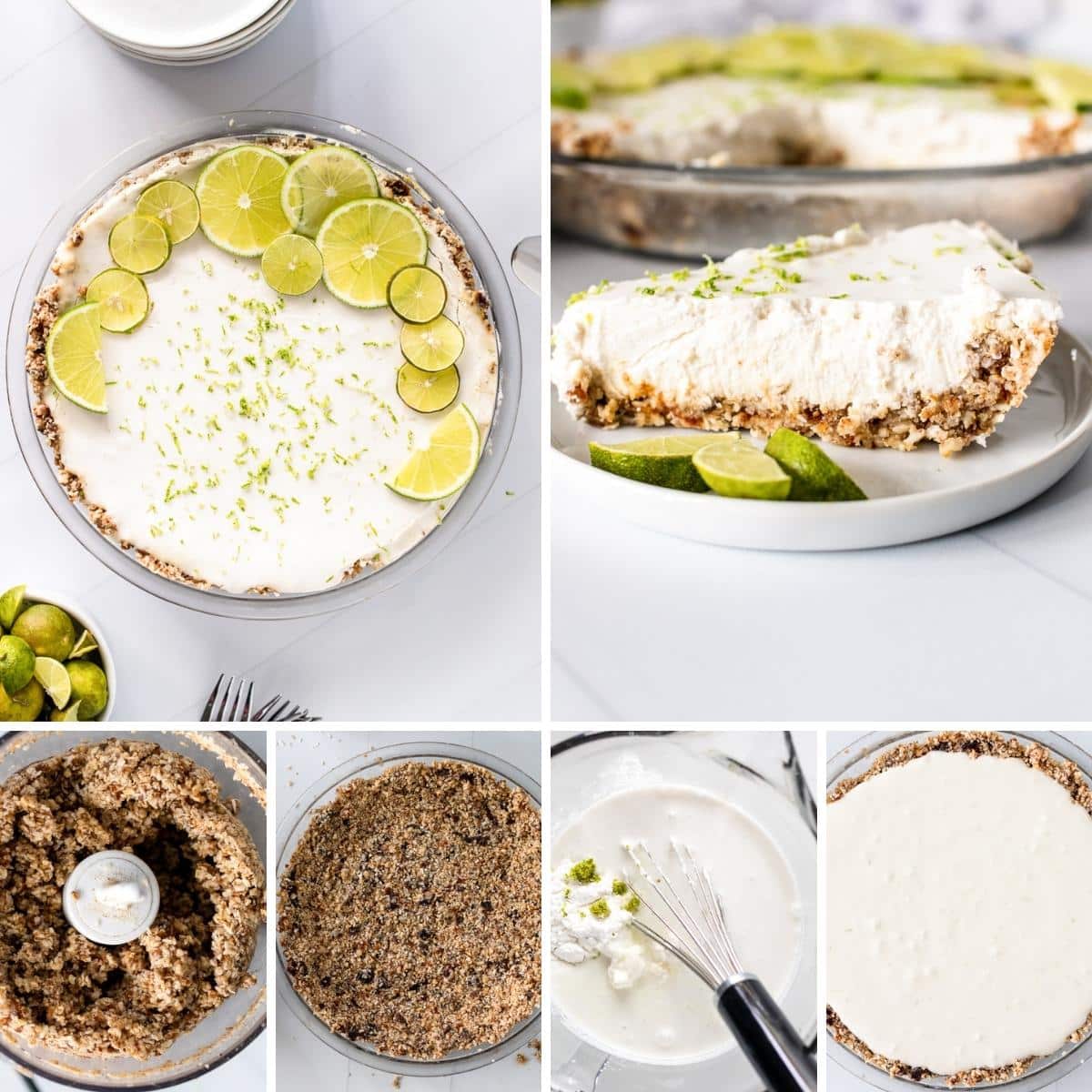 Learn how to make key lime pie with the full directions featured at the bottom of the post. Here is a quick walk through on how this no bake pie is made.
The first step is to make up the crust. Blend ingredients in food processor and then press tightly into pie pan. Place in fridge to set up.
In a mixing bowl add in your pie filling ingredients and mix until smooth and creamy.
Pour into the pie dish, and refrigerate to set up.
Garnish with slices of lime and lime zest.
Helpful Tips for Making No Bake Key Lime Pie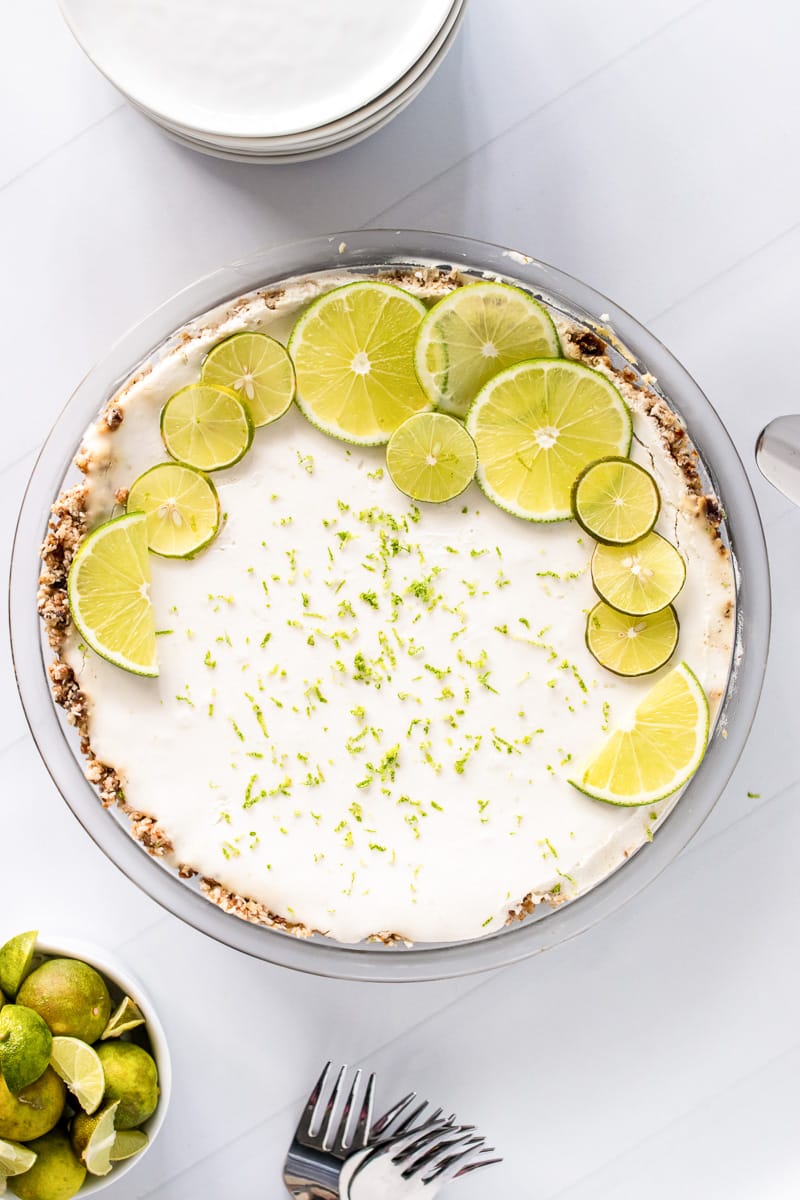 Food Processor
To get your crust a nice and crumbly texture just pulse to get the right texture. Or you can place ingredients in a bag and use a rolling pin to crush ingredients as well.
Setting Up The Pie
Make sure to allow the pie to set up, or when you slice into the pie it will fall apart. Just cover and refrigerate for 4-6 hours.
Variations to No Bake Key Lime Pie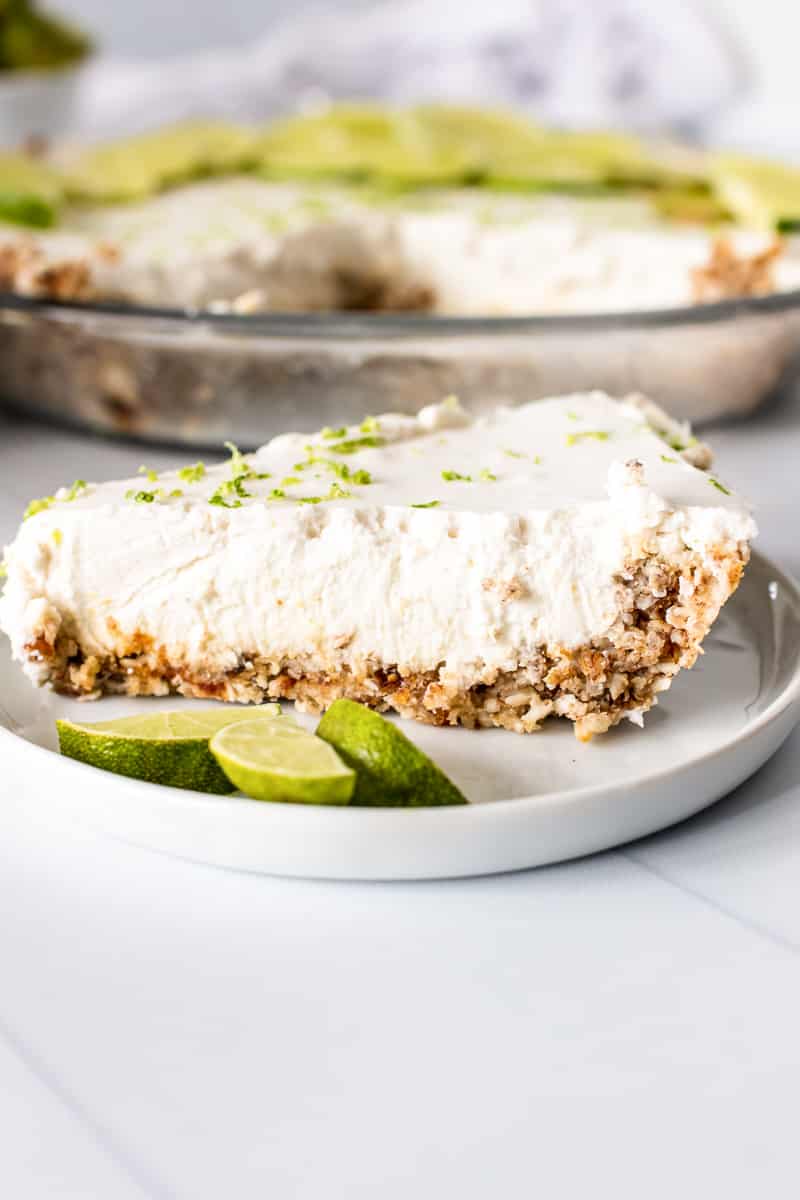 Graham Cracker Crust
You are more than welcome to use a graham cracker crust. So if you want to make a homemade graham cracker crust, or buy one at the store.
Whipped Cream
You are welcome to garnish the top of the pie with some whipped cream. You can pipe whipped cream around the edge of the pie to give an even creamier texture. There are dairy free whipped cream recipes you can make or buy if you prefer.
Pie Crust
Consider trying out vanilla wafers or even Golden Oreos. This could be a delicious dessert twist that would compliment the pie filling the same.
No Bake Key Lime Pie FAQs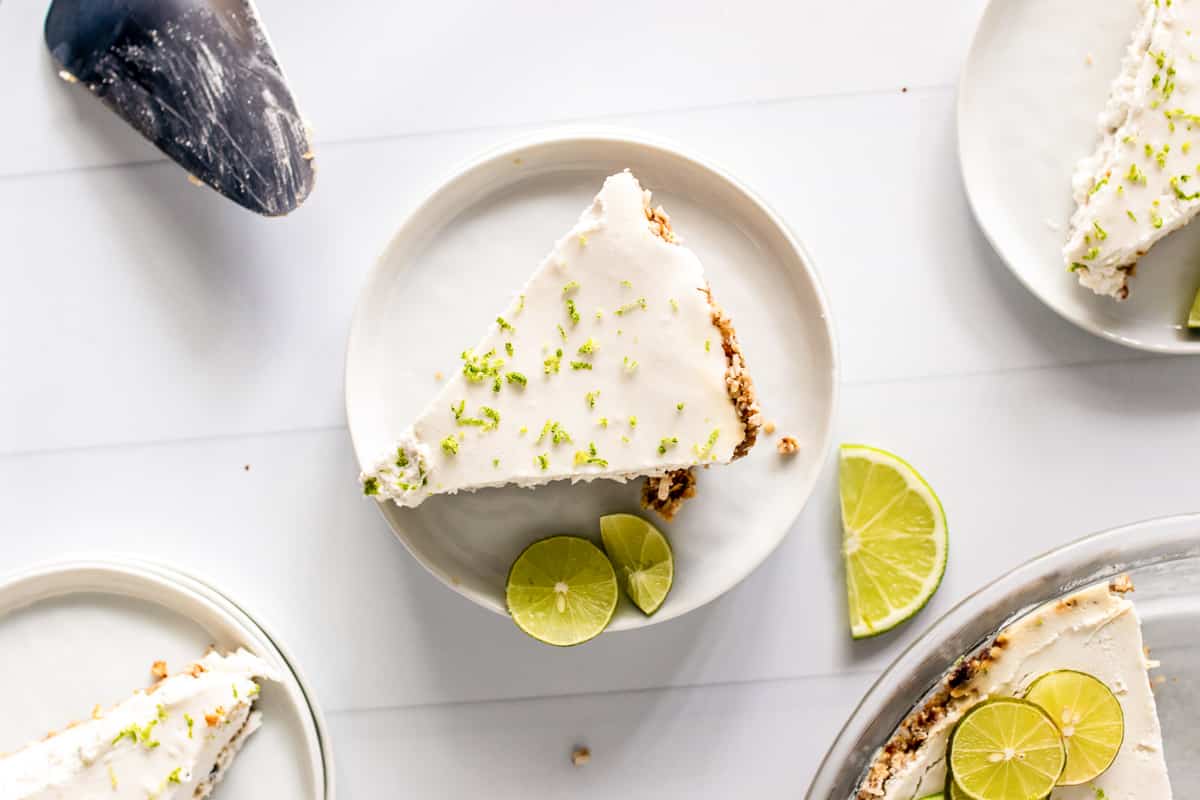 How to store this no bake key lime pie?
You can cover and store your pie in the fridge for up to a week. This pie is best eaten within the first few days of being made.
Can you freeze this pie?
Yes, you can freeze this pie for 2-3 months. Just cover tightly and place in a freezer approved container. Then thaw in the fridge overnight to allow the pie to slowly thaw.
Do I have to use key limes?
No you do not have to use key limes for this recipe. You will find that key limes have a bolder lime flavor, but you can easily use classic limes if you would prefer.
Why does my Key lime pie taste bitte
You will find that sometimes key limes can offer a bitter flavor. So depending on your limes it can give you a bit of a bitter component instead of tart.
Recipe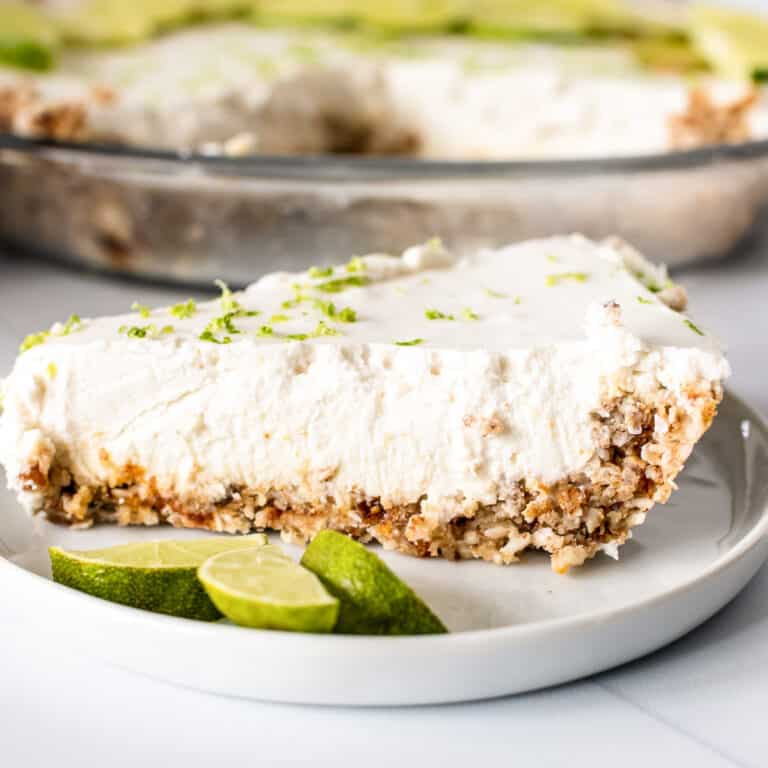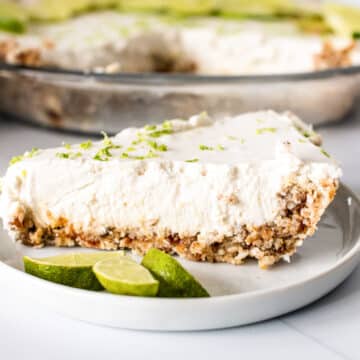 No Bake Key Lime Pie
This easy No Bake Key Lime Pie is the perfect summer dessert! It's sweet and tangy, deliciously creamy, and you don't even have to turn on your oven.
Ingredients
For the crust (or use a store bough prepared crust of your choice):
For the key lime filling:
Optional Garnishes:
Extra lime zest and lime slices
Instructions
For the crust (if using homemade crust):
Grease a 9 inch pie plate with a small amount of coconut oil and set aside.

In a food processor, pulse the pecans. Then add the coconut flakes and oatmeal. Process until mixture is just a bit crumbly.

Add the dates and coconut oil. Blend until the mixture sticks together.

Press the crust mixture into the bottom of a 9 inch pie plate. Place the crust in the fridge while you prepare the filling.
For the filling:
In a mixing bowl, combine the coconut cream, coconut milk, maple syrup, lime juice, cornstarch, lime zest, and vanilla until smooth.

Pour the filling into the prepared pie crust, and refrigerate for at least 4 hours (or leave overnight) to set.

Garnish the pie with slices of lime and lime zest, if desired.
Notes
If you prefer, you can use the key lime filling with a store bought prepared pie crust of your choice. It works well with a graham cracker crust. Any ready to eat crust is fine.
Nutrition
Calories:
560
kcal
Carbohydrates:
37
g
Protein:
6
g
Fat:
47
g
Saturated Fat:
34
g
Polyunsaturated Fat:
3
g
Monounsaturated Fat:
7
g
Sodium:
15
mg
Potassium:
550
mg
Fiber:
6
g
Sugar:
21
g
Vitamin A:
13
IU
Vitamin C:
5
mg
Calcium:
50
mg
Iron:
4
mg