This post has been sponsored by Crystal Farms® Cheese. All opinions are our own.
I've always been fond of finger sandwiches. All these cute little one-two bite size morsels can be easily munched on over a small plate or even a napkin. And ribbon sandwiches. Well, they are SO appealing for a party menu or even a fun addition to a school lunch.
Best Sandwich Ideas
While I wouldn't typically recommend gourmet sandwiches for a school lunch box, I have to make an exception with our Deviled Egg Ribbon Sandwiches. When you're talking about a pretty simple egg sandwich recipe that has been amplified just a tad to a fun new level, it's easy to see where these sandwiches could find their place into a lunch box.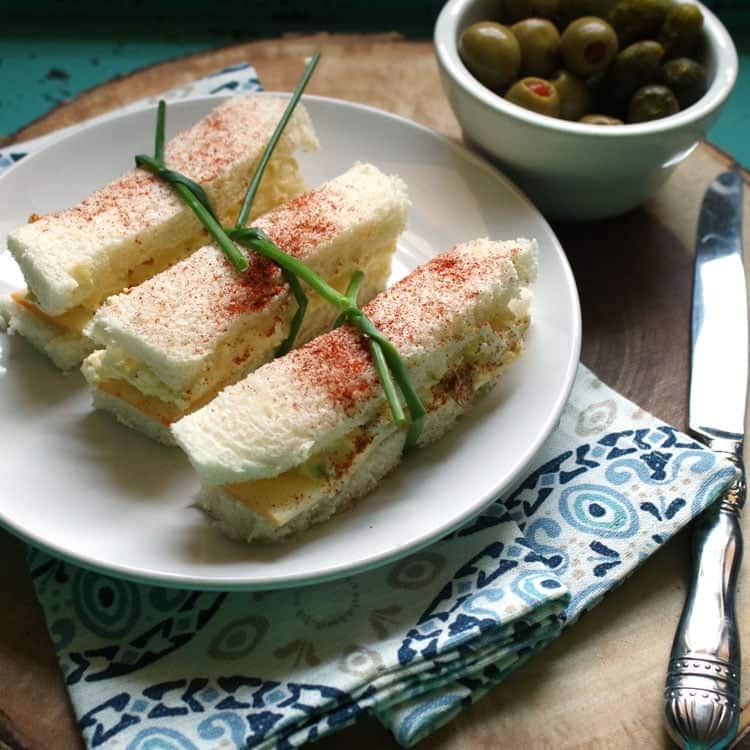 Simple Sandwiches for Lunchtime Fun.
The ingredients that set our fun tea party sandwiches apart from an ordinary egg salad sandwich are a couple of things: paprika and Crystal Farms® Cheese Muenster Cheese. Yum!
And, who can help but notice that these tasty sandwiches are also pleasantly remiss of crust?
If you're like many parents whose children despise indulging in a good ole sandwich crust, cutting the crusts of these our tasty Deviled Egg Ribbon Sandwiches will be second nature to you.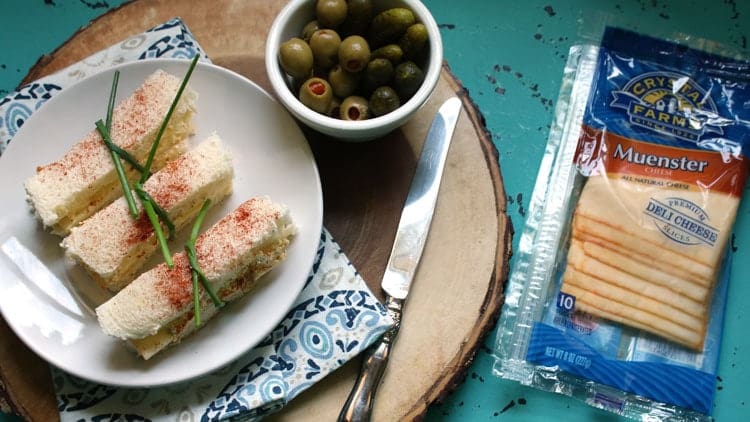 Do You Know How to Make Boiled Eggs?
This recipe is SO easy to make. Seriously, the most difficult part of the whole process is making hard boiled eggs...which we've already mastered.
If you need a refresher course on how to make hard boiled eggs, I wrote another blog post about the easiest way to make boiled eggs. It is definitely worth the read if you are not already a pro. I'm talking about PERFECTLY boiled eggs EVERY time. And easy to boot!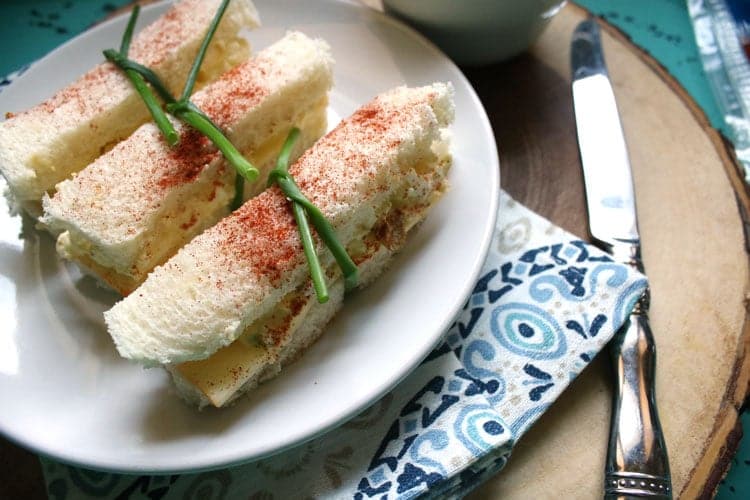 Try These Sandwich Recipes on for Size!
I love coming up with new sandwich recipes. The best part about it is all the taste testing!
From our Heirloom Tomato Gourmet Grilled Cheese Sandwich to our Caprese Sandwich Recipe or even our Best Scrumptious Summer Chicken Salad Sandwiches ...we love putting our own twist on lunchtime favorites.
That's why making a yummy tasting and gorgeously presented deviled egg sandwich was PERFECT!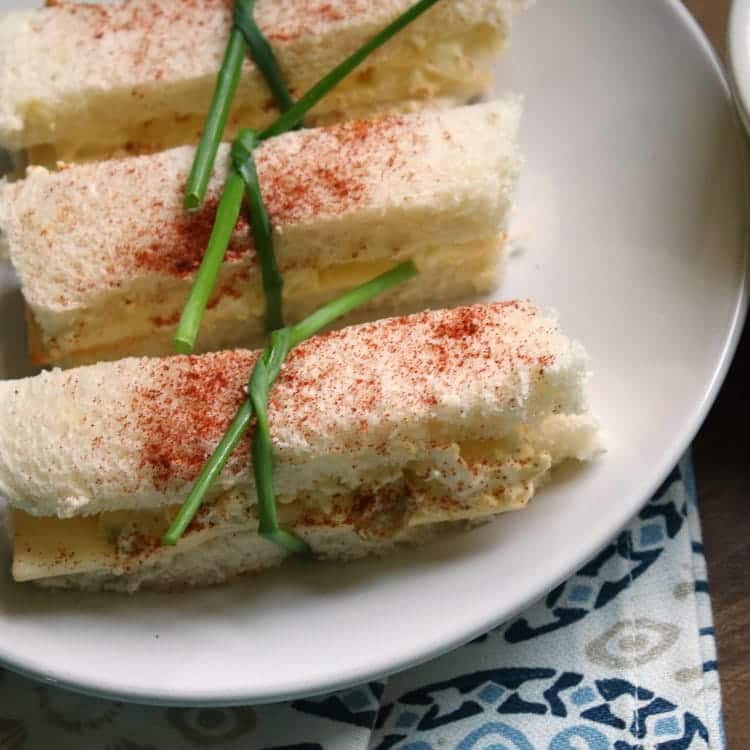 The secret ingredient in our fabulously presentable ribbon sandwiches is of course Muenster Cheese from Crystal Farms® Cheese.
I love using products from Crystal Farms® Cheese in our recipes because they are natural product with few preservatives, not to mention a rich source of calcium. I started using Crystal Farms® Cheese a lot when I was making a lot of gluten free recipes for my daughter, who was on a gluten-free diet for about 6 months.
Believe me, finding a brand you can trust that is gluten-free and lactose tolerant when you need to meet those dietary restrictions is golden.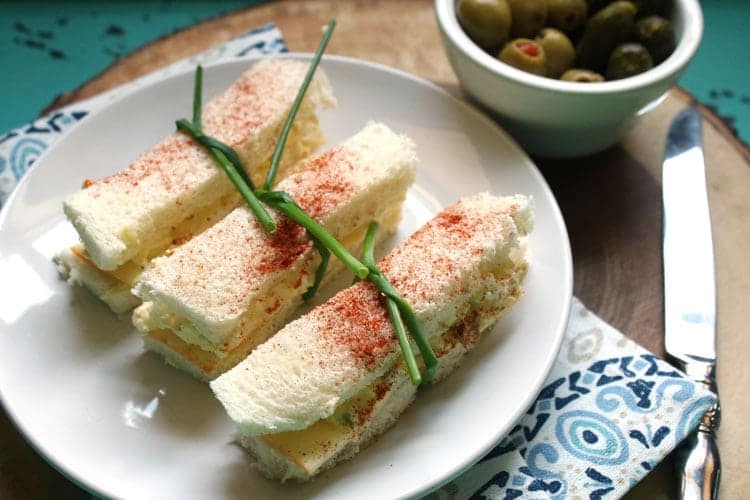 You can find more great lunch recipes and ideas when you follow Crystal Farms® Cheese on Facebook and Pinterest.
I can't wait to see what amazing ideas I discover next for tasty lunch recipes. I'm always looking for lunch food ideas that are perfect for fitting in a lunchbox but would work just as good served up at home.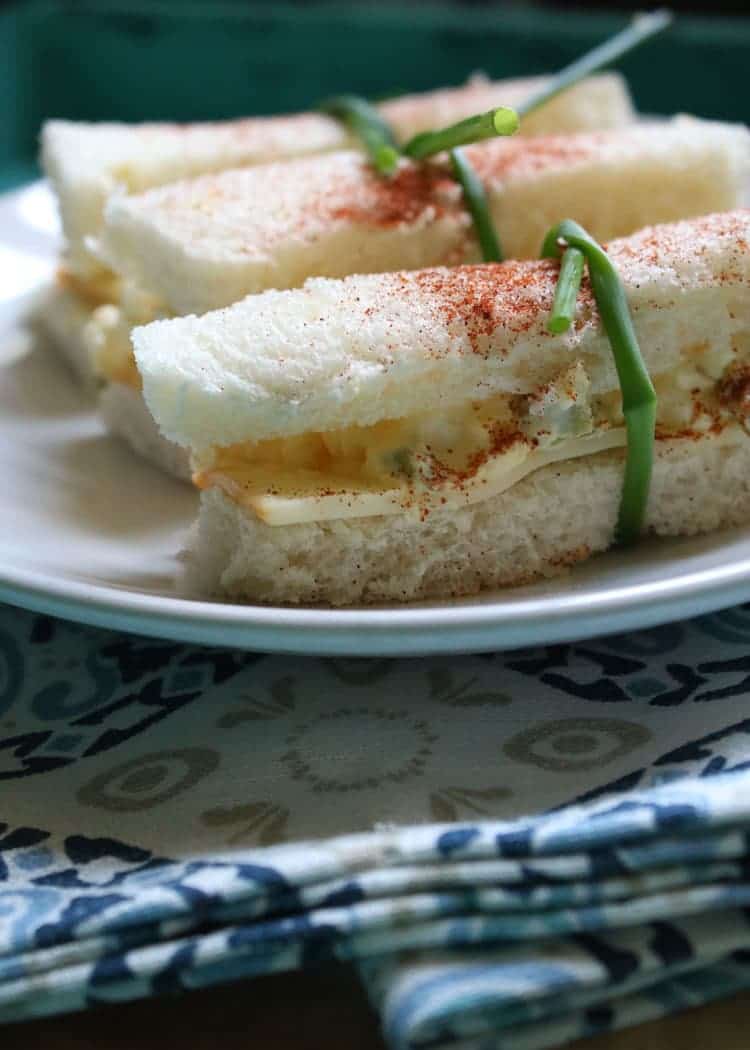 Enter to Win Our GIVEAWAY!
Comment on this post and tell us what else you'd pack in a picnic lunch alongside our tasty Deviled Egg Ribbon Sandwiches, and you'll be entered in a giveaway sponsored by Crystal Farms® Cheese to win a Barebones Path Finder Cooler, valued at $60! It is SO stylish, if I don't say so. I could totally see myself using this sweet cooler.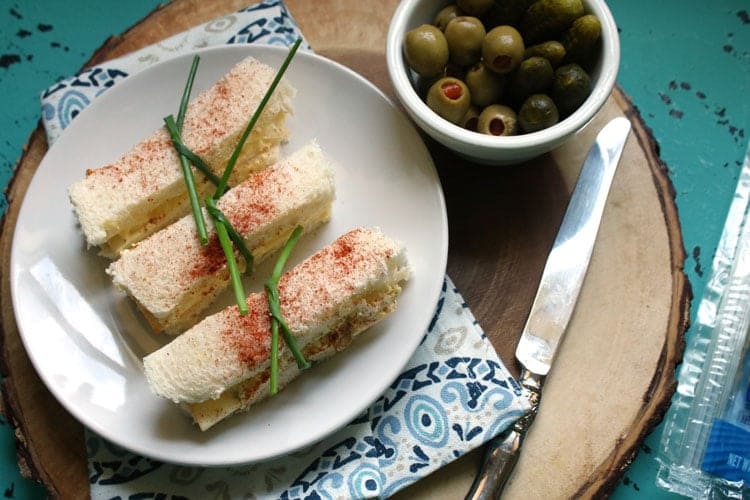 Recipe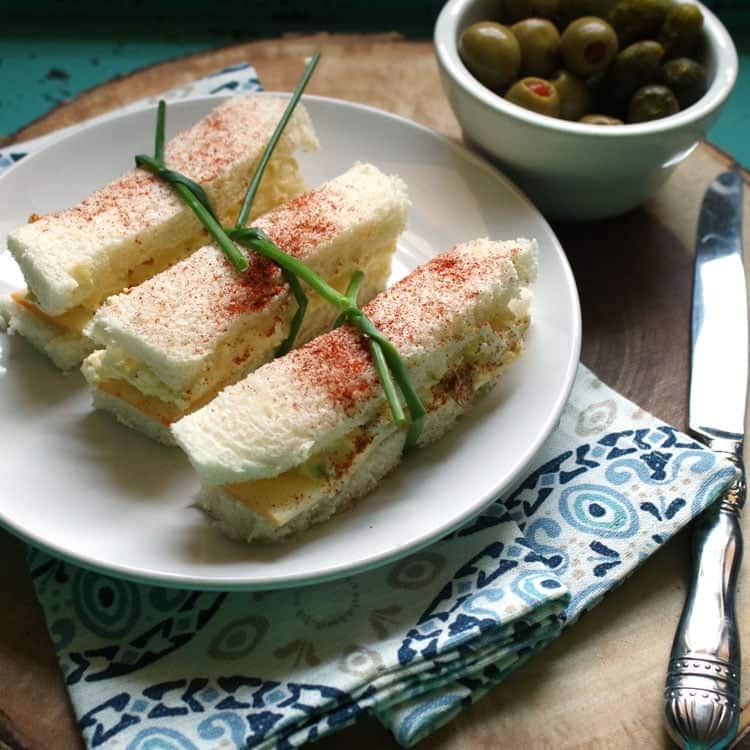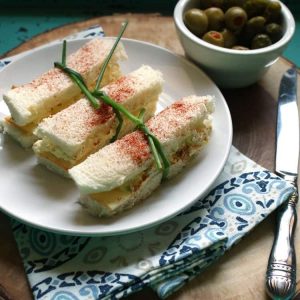 Deviled Egg Ribbon Sandwiches - Easy Finger Sandwich Recipe
Deviled Egg Ribbon Sandwiches and a fun way to enjoy egg salad sandwiches made into fancy finger sandwiches. You will love the addition of cheese!
Ingredients
8-10

pieces

of bread

2 slices makes 2 ribbon sandwiches

Crystal Farms® Muenster Cheese

6

hard-boiled eggs

3-4

tablespoons

mayonnaise

1-2

dill pickles

diced

chives

to garnish

salt

to taste

pepper

to taste

paprika

to sprinkle over sandwiches
Instructions
In a bowl, break hard boiled eggs into small pieces with a fork. Add in mayonnaise, diced pickle, and salt and pepper.

Lay half of the bread slices out on cutting board. Top with Crystal Farms® Muenster Cheese slice and egg salad. Cover with second piece of bread.

Carefully slice crust off of bread. Slice each sandwich in half, which will make a thin ribbon sandwich.

For flare, garnish each sandwich gently tie a chive around each sandwich and lightly sprinkle with a dash of paprika.
Nutrition
Calories:
149
kcal
Carbohydrates:
3
g
Protein:
10
g
Fat:
10
g
Saturated Fat:
3
g
Cholesterol:
281
mg
Sodium:
324
mg
Potassium:
109
mg
Fiber:
1
g
Sugar:
2
g
Vitamin A:
420
IU
Calcium:
47
mg
Iron:
1
mg