Glazed carrots are one of the easiest side dishes you can make. Roasted or grilled carrots are always welcome in our book. I find these two methods of cooking carrots really bring out natural flavors. Learn how to make roasted carrots with this recipe!
Sweet and savory is what this glazed carrot will bring your tastebuds. I have an indoor grill so I can grill or roast these carrots any time of year. Don't box these glazed carrots into just the holiday season, they pair with so many main dishes.
Glazed Carrots
I will share how to make roasted carrots, and you will be amazed at how easy and tasty this side dish can be.
Do You Use Light or Dark Brown Sugar for Glazed Carrots
You can use either light or dark brown sugar for this glazed carrot recipe. Either one will work, at giving you that caramel color and sweetness you will want for the recipe.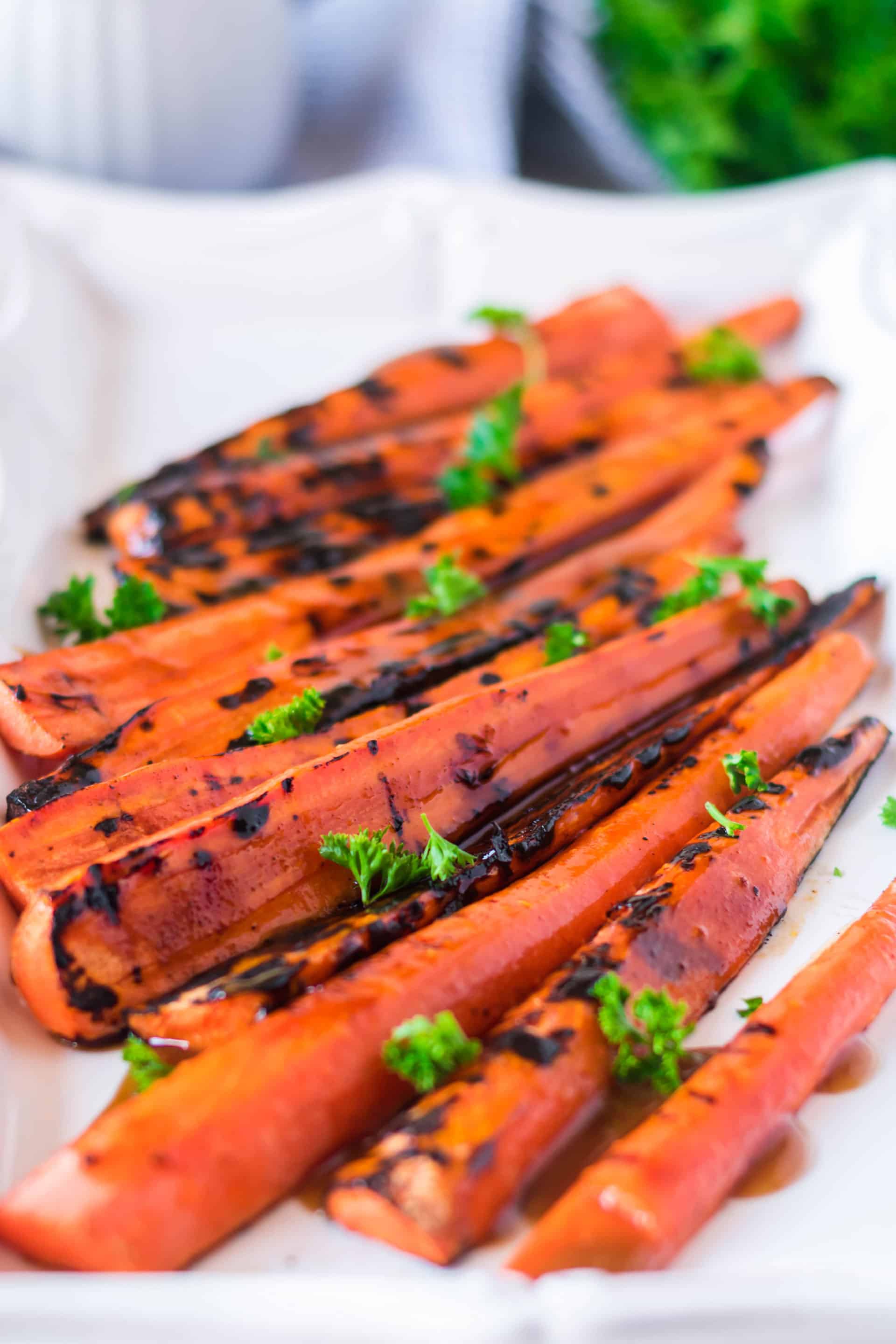 Do You Peel The Carrots Before You Grill Or Roast Them
Yes. I peel my carrots and then cut them lengthwise in half. It will help to speed up the cooking time and allow more areas of the carrot to get grilled and then brushed with the glaze.
The same thing goes for roasting them in the oven. You will help to speed up the cooking time of the carrots.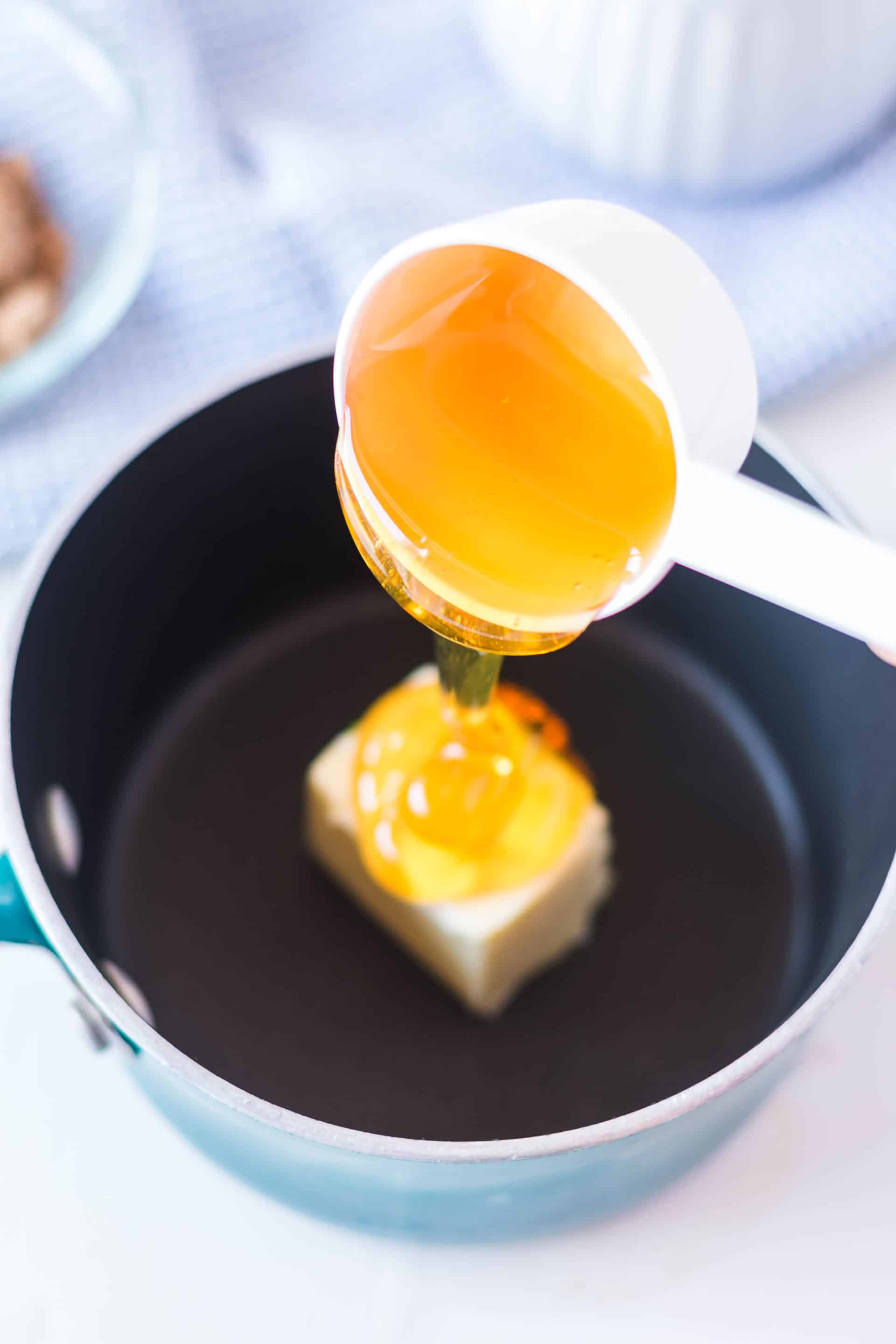 Can I Swap The Honey In The Glazed Carrot Recipe
If you want you could try swapping with real maple syrup if you are not a fan of honey. It will give you that same texture and sweetness. Just make sure it is real maple syrup or I don't think it will heat up properly and carry over the right amount of sweetness.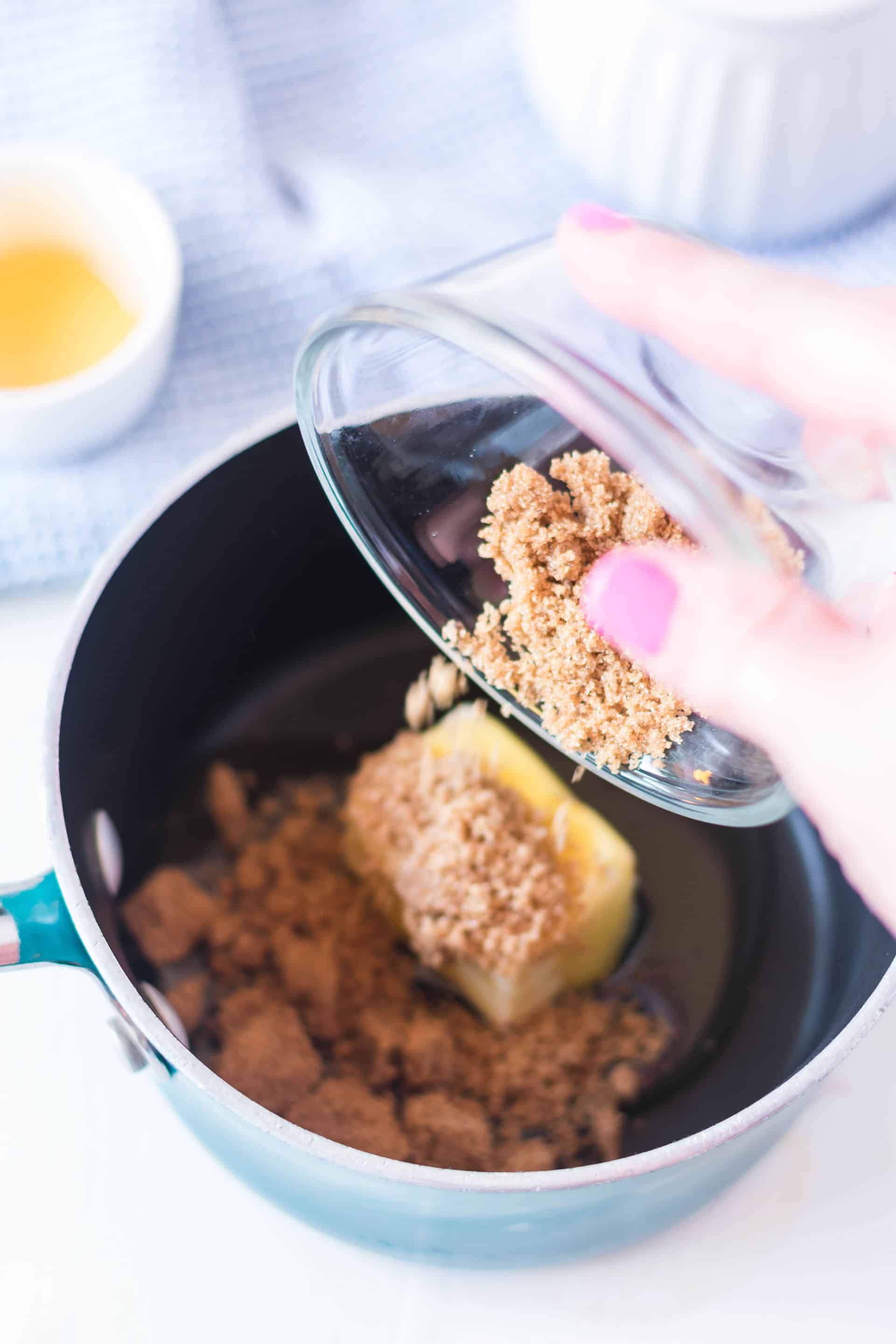 Why Do You Cook The Glaze For Carrots
You want to cook the glaze for the carrots because it needs to melt down the sugar. If you don't you will have crunchy granules of sugar in every bite. Plus it really brings the flavors together for an incredible flavor.
What Main Dishes Pair Well With Glazed Carrots
Grilled Bacon-Wrapped Stuffed Chicken Breasts | This wrapped and stuffed chicken is incredible. I love adding roasted vegetables to the side, as it helps make the dish less heavy.
Meatloaf | If you want the best meatloaf in the world, try this recipe! You can even make this recipe ahead of time to prep for meals later on down the line.
Spinach and Goat Cheese Pork Tenderloin | Pork and carrots work well together. This pork loin is incredible and I love that it is stuffed with cheese and spinach.
Can I Make This Glazed Carrot Recipe With Baby Carrots
If you roast them in the oven, you can use baby carrots. Otherwise, your carrots could fall through the grill grates rather easily. Carrots will roll around easily when you turn them, so having full-size carrots is best for the grill version.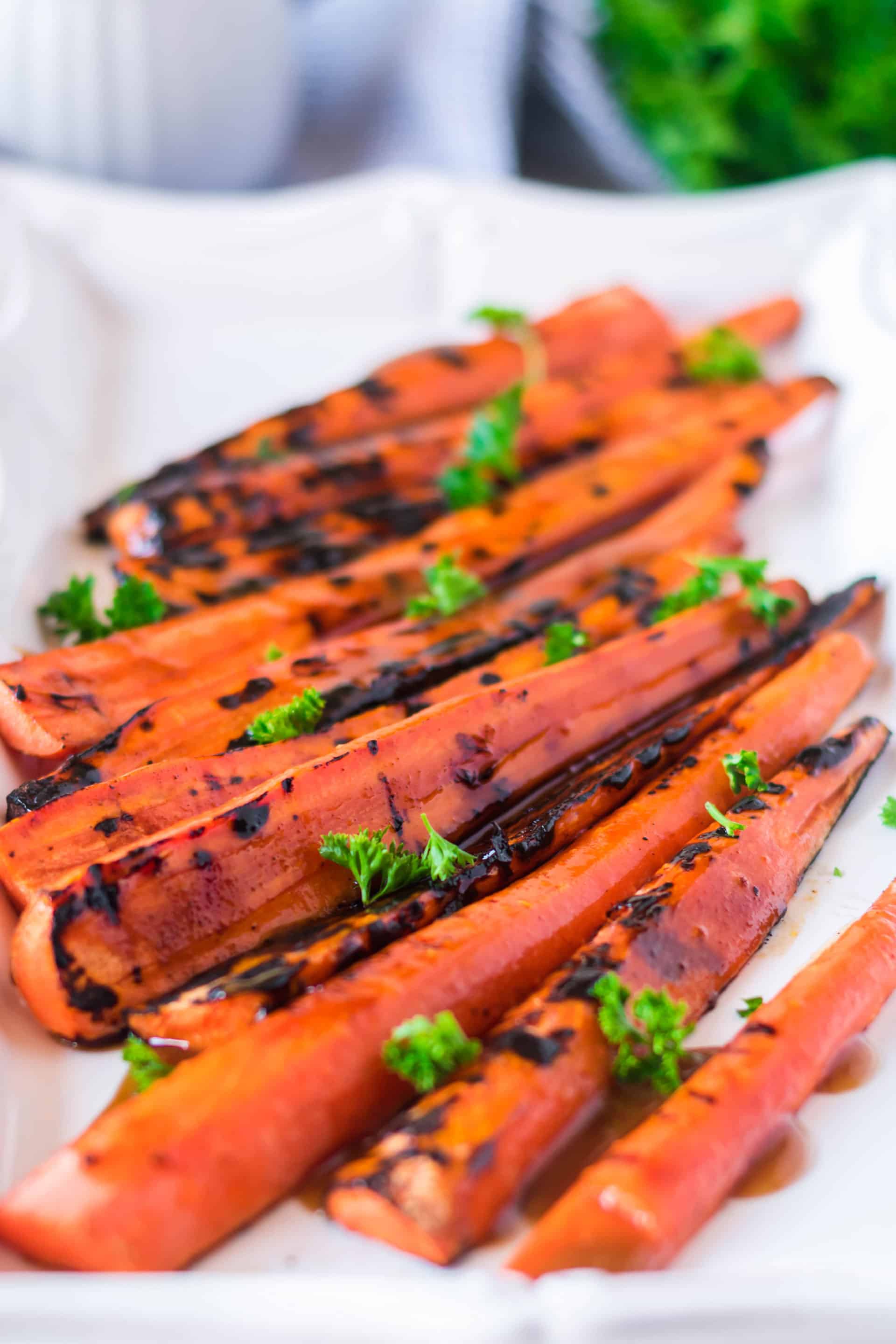 Do You Have To Blanch The Carrots Before Grilling
No. This recipe doesn't require that extra step. You will cook your carrots a bit longer, but it will add in those beautiful grill marks and get your carrots nice and tender.
Same for roasting in the oven, no need to blanch first. The carrots will get tender as the roast in the oven.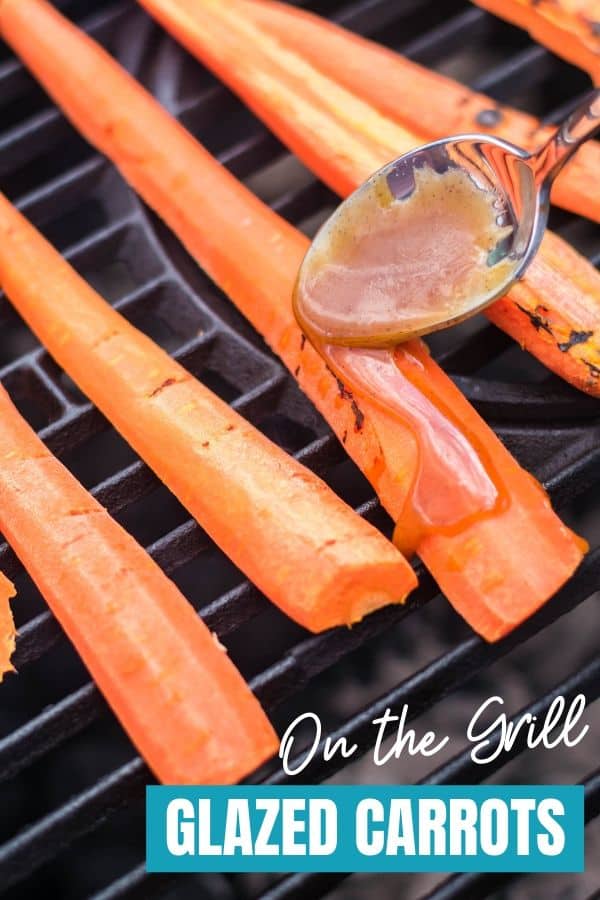 If I Roast These Carrots When Do I Add Glaze
If you roast the carrots in the oven, you will add the glaze at the end of the cooking time. Once you pull it out of the oven, then brush with the glaze.
How To Store Leftover Carrots
You will want them to cool down a bit and then transfer them into an airtight container. Store in the fridge for 2-3 days. They will get softer in texture as they sit in the fridge.
Best Way To Reheat Brown Sugar Glazed Carrots
You can warm up in the microwave for a quick reheat or opt to warm them up in the oven. If you do the oven lay them flat on a baking sheet and heat until they are warmed through. I find the oven offers a slightly better-reheated texture than the microwave. You just have to watch that the glaze doesn't burn if you do the oven option.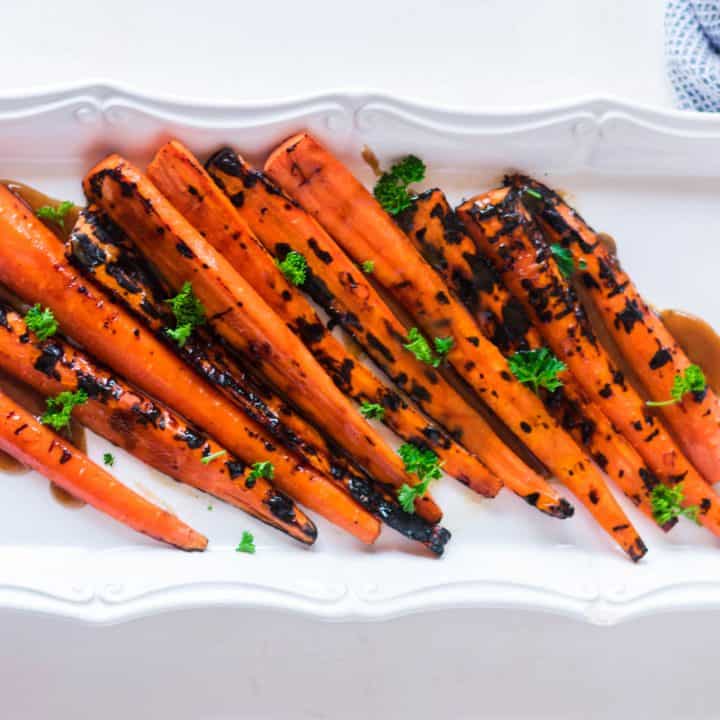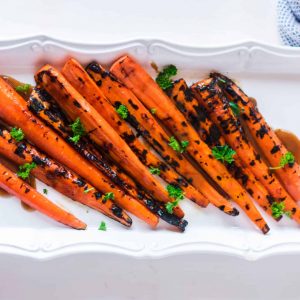 Glazed Carrots
Glazed Carrots are a side dish you can enjoy year round. Although this recipe is designed to be used on the grill, it can be easily adapted to making roasted carrots in the oven.
Instructions
Prepare the carrots by washing, peeling, then cut the carrots in half lengthwise.

Prepare the glaze for the carrots by adding the butter, honey, brown sugar, and cinnamon into a small saucepan and bring to a boil. Remove from stove and set aside.

Add the carrots to the grill. The carrots should take around 15-20 minutes on the grill, until they are fork tender.

Once the carrots are cooked through, using a spoon or food safe brush, brush the carrots with the glaze on both sides. Remove carrots from grill.

Plate the carrots and enjoy!
Nutrition
Serving:
1
g
Calories:
70
kcal
Carbohydrates:
15
g
Protein:
2
g
Fat:
1
g
Saturated Fat:
1
g
Cholesterol:
1
mg
Sodium:
117
mg
Potassium:
503
mg
Fiber:
4
g
Sugar:
8
g
Vitamin A:
25495
IU
Vitamin C:
9
mg
Calcium:
63
mg
Iron:
1
mg