Our easy Banana Cream pie recipe is one of my favorite dessert recipes. It's made completely from scratch, following a simple process.
How to Make Banana Cream Pie from Scratch
First, blind bake pie crust using the pie crust recipe below. Read below for instructions on how to blind bake a pie crust. I prefer to use pie weights, but when those aren't available, you can also use dry beans to weight the crust down.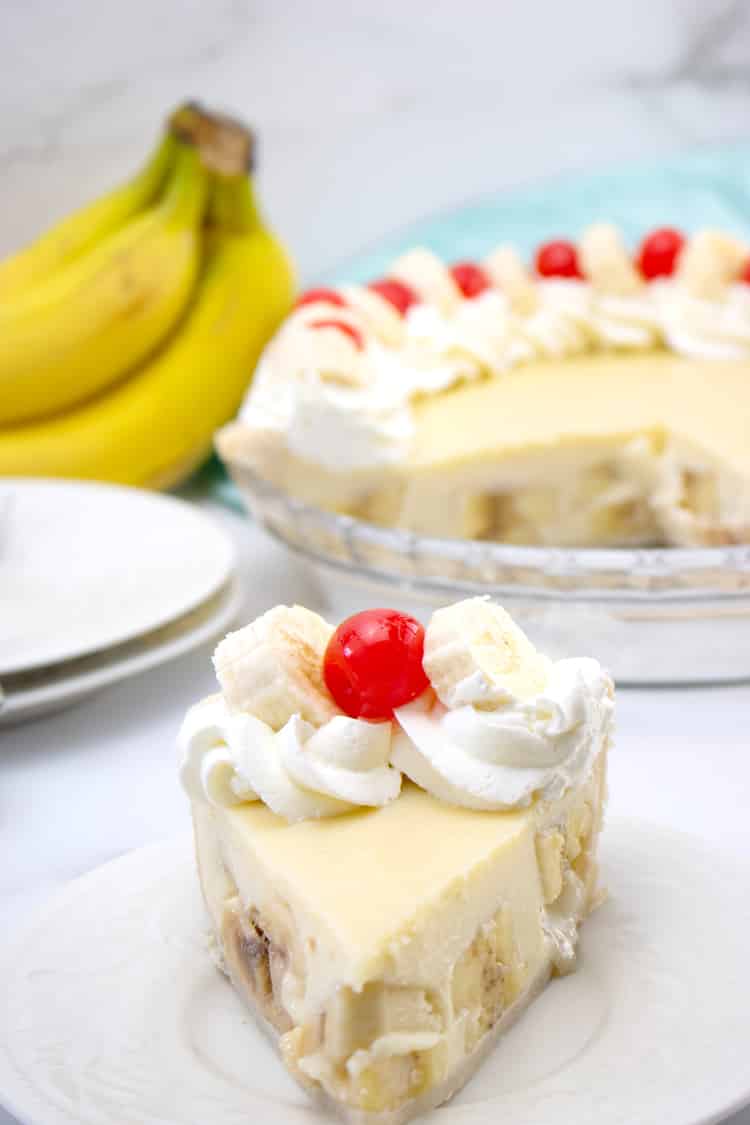 If desired, you could use a graham cracker crust instead. Just skip the baking time in the blind baking directions.
Second, arrange sliced bananas in the pie crust.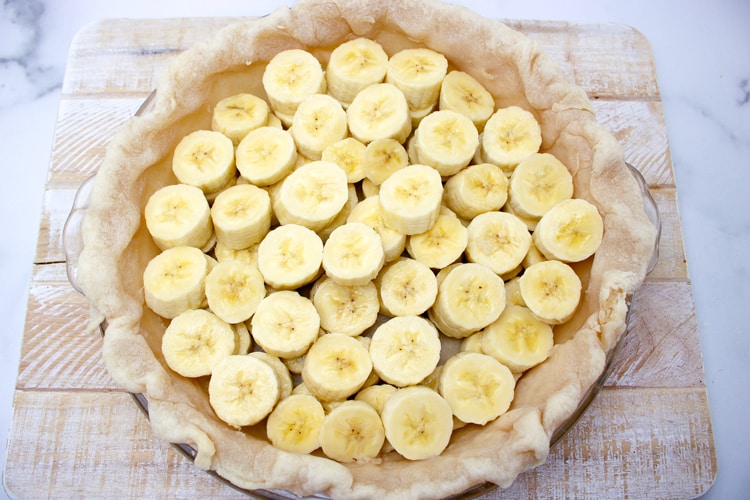 Third, mix the custard ingredients including the sugar, cornstarch, and milk and then pour it over the bananas. Put the pie plate back in the oven and fully bake the pie..
How to Blind Bake Pie Crust
What does 'blind bake crust' mean? Simply put, blind baking a pie crust means baking a crust with no filling in it.
There are many types of pies that either use pie crusts that are completely baked or partially baked before the filling is added. Any type of refrigerated or frozen pie (think ice cream pie, or some cream pies) have the filling put into a pre-baked crust.
Some pies, like our Banana Cream Pie, require the crust to be partially baked, because the baking time for the filling isn't enough time to bake the crust the whole way.
To blind bake a crust, first mix up the dough. The images below will walk you through the process if you are new to making pie crust.
Once the dough is mixed, refrigerate it for an hour before rolling the crust out. This actually will make the dough easier to roll out and result in a better crust. Make sure to let the dough rest for about 10 minutes when you take it out of the refrigerator, so it will be more pliable.
When the dough is ready, press it down on a lightly floured surface and roll the dough out to about a 15 inch circumference. You will want to alternate back and forth the direction you are rolling, so you make your way around the circle and keep the pie crust even.
Next, fold the dough over in half, and then in half again, so it's folded into a quarter pie shape. Lift this into the pie plate, and unfold it. Press the pie crust into the pan.
Cut the excess pie crust off, or fold the excess under. Crimp the dough down along the ridge of the pie plate either with your thumb, a fork, or a pastry wheel.
After that, you can poke fork holes in the bottom of the crust. It's not required, and I normally skip that step, but some people do it all the time. I use pie weights, or when I don't have those available, I'll use dry beans, so I don't have to worry about my pie crust bubbling up like it would if I didn't have the weights.
National Banana Cream Pie Day - March 2nd Every Year
As if we need a special day to celebrate Banana Cream pie, there is a day every year dedicated to all things banana cream pie! March 2nd is the perfect day to serve this pie recipe up for dessert.
National Banana Day is April 15th, which means another entire day to celebrate everything bananas.
Here are some more recipes to help you celebrate bananas: Banana Cream Ice Box Cake No Bake Dessert, Banana Muffins, Instant Pot Banana Cake.
Does Banana Cream Pie Need to be Refrigerated
Cream pies should be refrigerated. Banana Cream pie can be kept in the refrigerator for 3-4 days and enjoyed for that duration.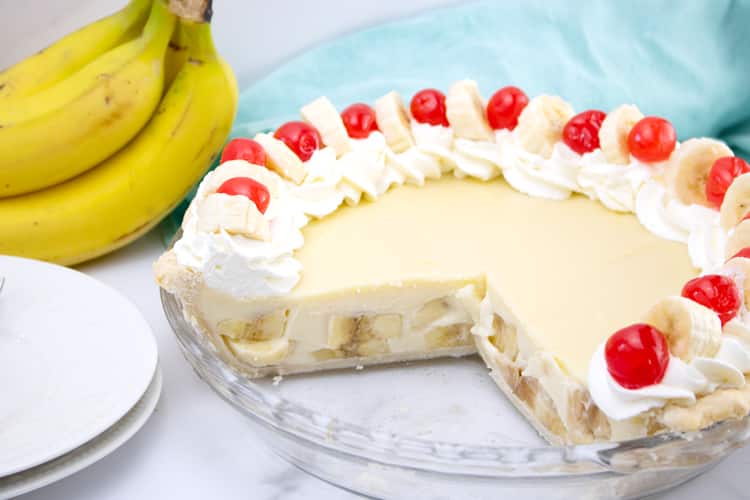 Great Tools for Pie and Cake Making
Stand Mixer or Hand-held Mixer- This makes it SO much faster to whip the topping. Like I said above, it can be done without a mixer, but make sure you have a strong arm and patience. I have a KitchenAid Pro Mixer that I've had for 12+ years and love it!
Round Cake Storage and Carrier- Having a pan with lid and carrier makes it easier for storage. No more having to deal with plastic wrap that gets messy and twisted up.
8-inch Parchment Rounds- No more dealing with cake sticking to the bottom of the pan!
Cake Leveler- This tool is a must if you want to make layered cakes. It allows you to evenly remove the rounded part of the cake top and make perfectly level layers.
Cake Server- A good cake server makes a world of difference. It makes it so much easier to lift the dessert lasagna out of the pan in nice and even slices.
Cake Decorating Set- Making a pretty cake is reasonably easy when you use the tools in this decorating set. With a little practice, you will be decorating cakes like a pro in no time.
How to Make Banana Cream Pie Filling Thicker
Cornstarch is traditionally used to thicken Banana Cream pie. Alternatively, flour can be used as a thickener.
However, this recipe uses a combination of cornstarch and gelatin, which holds up perfectly and and eliminates the runny filling that some cream pie recipes have.
How Many Calories in Banana Cream Pie
I cut our Banana Cream pie into 8 slices, with each slice coming in at 597 calories, not including garnishes. Don't forget you can cut smaller slices to reduce the calories.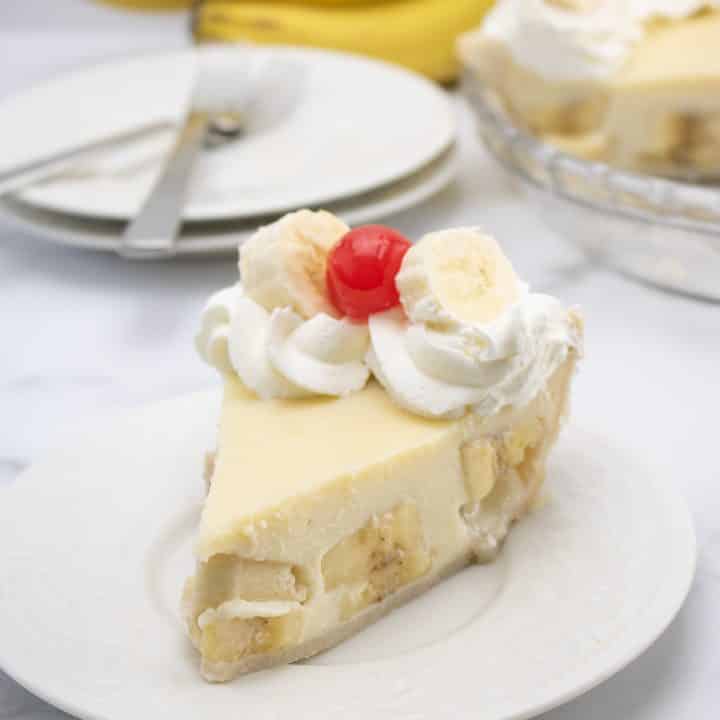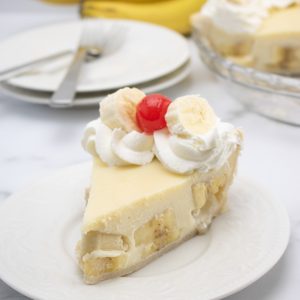 Banana Cream Pie
Learn how to make Banana Cream Pie from scratch with this easy recipe and in process video. This is a creamy and delicious banana cream pie recipe using fresh bananas and a homemade custard. It also has a from scratch pie crust recipe.
Instructions
Preheat the oven to 400 degrees.

Use a stand or hand-held mixer to mix up the dough for the pie crust. Mix the flour, salt, and shortening in a medium-size bowl. Add in the ice-cold water a little at a time, until the dough clumps together and can form a ball.

Refrigerate dough for an hour before rolling the dough out.

Set the dough on a lightly floured surface. The dough might need to sit out for 10 minutes to make it easier to roll out.

Roll out the dough into a 12-inch diameter. Fold the dough in half and then in half again and transfer it into a 9-inch diameter deep-dish pie plate. Press the dough down into the pie pan. If there is more than ½ inch of excess dough hanging over the edges, cut it off. Fold the edges of the dough under, and then crimp together with your thumb or a fork.

Line the pie crust with parchment paper and fill it with pie weights or dry beans. Blind bake the crust for 15 minutes.

Remove the crust from the oven and get rid of the dry beans or pie weights.

Mix the first 7 filling ingredients in a large saucepan until well blended. Heat over medium-low heat while whisking often. When the custard has thickened and becomes difficult to stir, turn the heat off and stir in the butter and vanilla.

Slice the bananas and line the bottom of the pie crust with two layers of sliced bananas.

Pour the custard over the bananas and
smooth the custard out throughout the pie.

Reduce the temperature to 350 degrees
and bake the pie for 20-25 minutes.

When the baking time finishes, remove the pie from the oven and let it cool completely before storing it in the refrigerator. Chill for a few hours or overnight before serving cold.

When ready to serve, top with optional whipped cream and additional banana slices.
Nutrition
Serving:
1
g
Calories:
597
kcal
Carbohydrates:
65
g
Protein:
11
g
Fat:
34
g
Saturated Fat:
17
g
Polyunsaturated Fat:
15
g
Cholesterol:
102
mg
Sodium:
289
mg
Fiber:
3
g
Sugar:
31
g
Check Out Our Latest Posts