Dutch Apple Pie is a delicious apple pie recipe that you can make easily. A five-ingredient dutch applie pie recipe that is so simple to make.
I love an apple pie that has cinnamon sprinkled over the apples, it helps bring out so much flavor in the apples.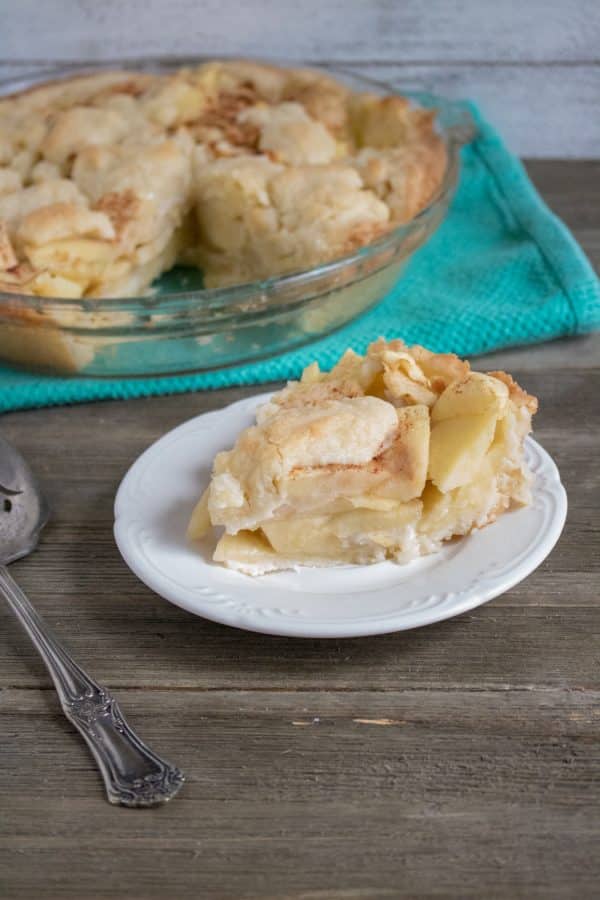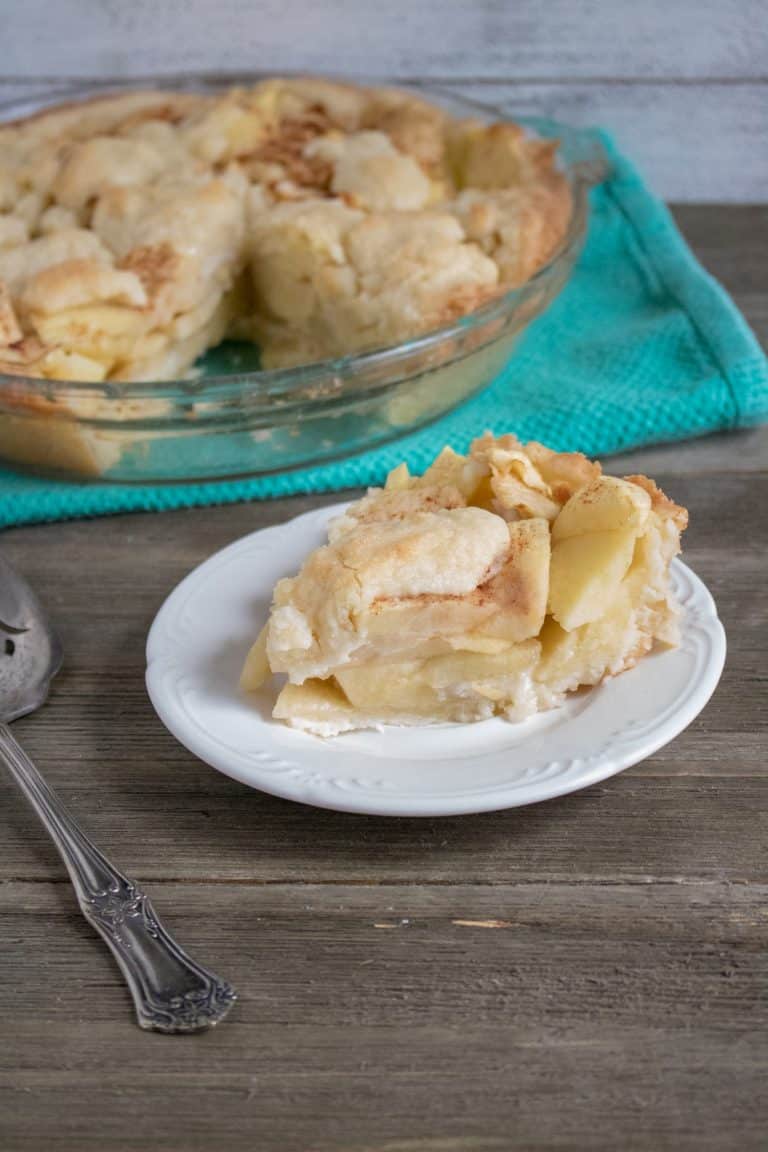 Dutch Apple Pie
I plan to make this pie this Thanksgiving for my family. It is one you can throw together fast, and get it baking and get your home smelling incredible in no time.
Looking for more apple recipes
Slow Cooker Apple Butter | Make this apple butter in your slow cooker. This is such an easy recipe to make.
Apple Butter Coffee Cake | Transform your coffee cake with an apple butter twist. This moist and delicious cake that is such a treat.
Apple Spice Poke Cake | If you are a fan of poke cakes you will enjoy this apple spice cake. Tender cake, that is topped with whipped topping and more.
What Is Different About Dutch Apple Pie
The difference you have with a dutch apple pie is it uses leftover pie crust to crumble over the top of the pie, and bake. So it gives it a unique texture as it bakes up.
How Many Apples Do You Need for Apple Dutch Pie
I used around 8 apples for this pie. You want to reach for a medium sized apple. If you are using smaller apples, you will want to grab extra ones.
What Kind of Apples Are Best For Apple Pie
I reached for a tart apple for this apple pie recipe. I find that Granny Smith are a great apple to use when making pie. If you would prefer a sweeter take go ahead and reach for a Jonagold or Honeycrisp apple.
Feel free to play around with what apples you want and make it work for what you want.
Granny Smith
Honeycrisps
Jonagold
Ginger Gold
Gala
Pink Lady
Jazz
McIntosh
Do You Peel Apples for Crumb Pie
Yes, you will want to peel your apples. If you leave the peel on it will add a lot of texture to your pie. Peel and core your apples, then thinly slice.
Aim to create uniform slices of apple slices as it will evenly cook. You don't want large pieces of apple next to thin or you will find some apples will be cooked to different textures that way.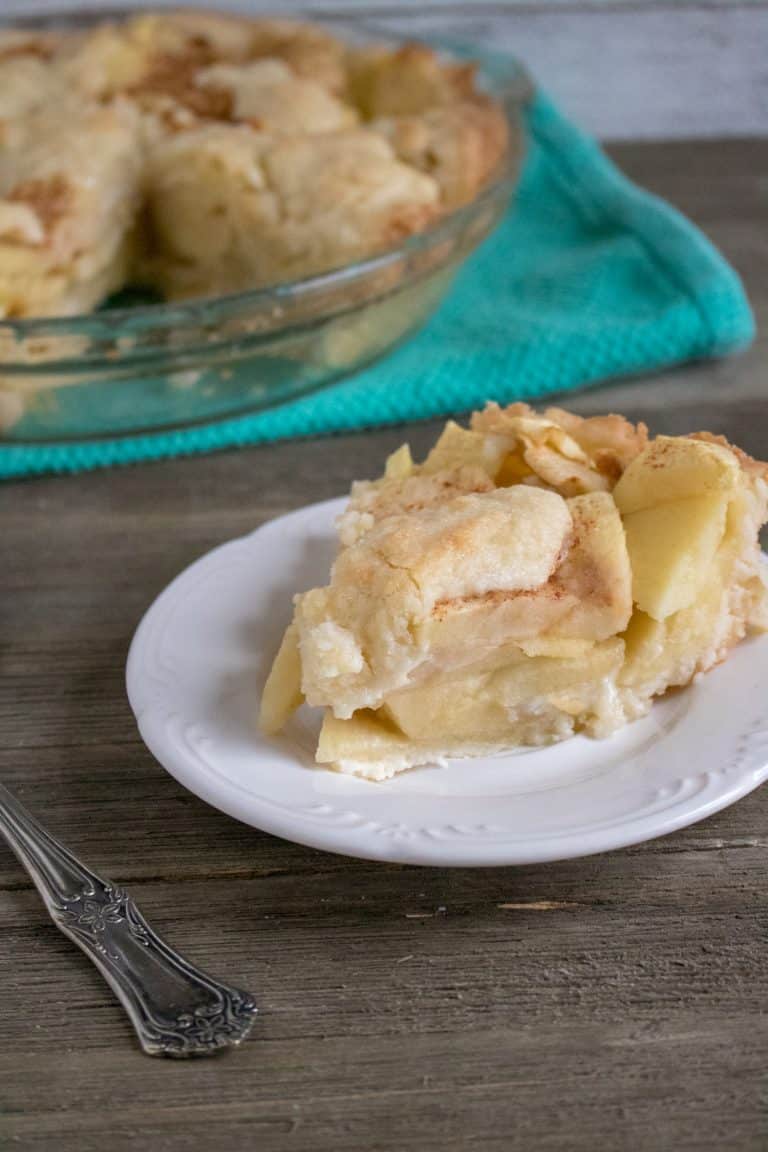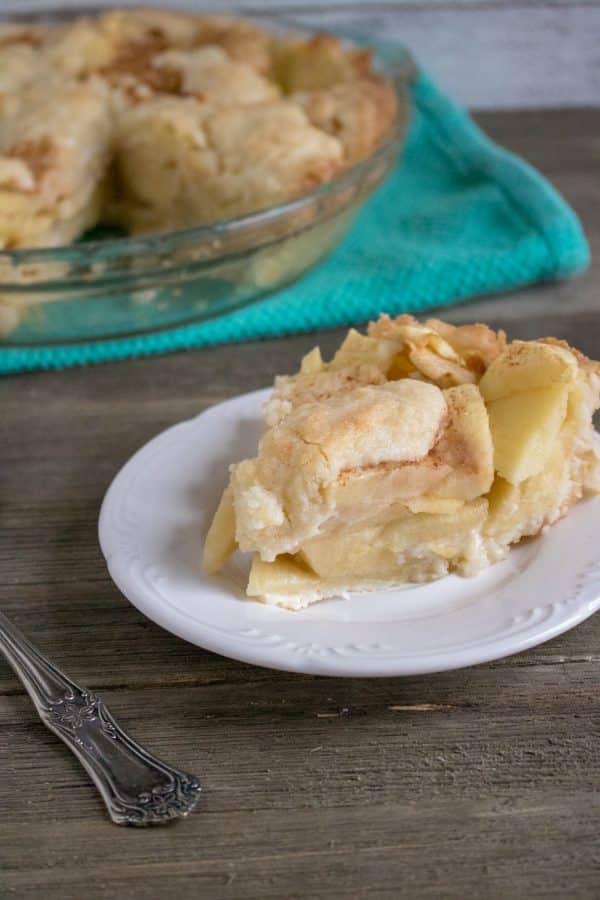 Supplies to Have on Hand for Baking Pies
How To Know When Dutch Apple Pie Is Done
You will know when your pie is done when the top of your pie is bubbly and golden brown. If you want to prevent your crust from over-browning you can use a pie cover for the crust.
Or put aluminum foil around the edge of the pie, and cover the pie for all but the last 15 minutes of cooking. Then it will brown up in the last 15 minutes.
How Do You Make Dutch Apple Pie
Start by pushing about half of the pie crust, and form it in the pie pan. Leave the other half as you will use that to top your pie.
Now work on peeling and slicing your apples, and place in the pie. Dust with cinnamon, and then sprinkle on the crumbles of the leftover pie crust.
Bake for 45 minutes or until the pie is cooked through. Allow it to cool before you slice and serve.
How to Store Dutch Pie
You can store your apple Dutch pie in the fridge for up to five days. If you store it on the counter at room temperature it will only store for 1-2 days.
You can warm up the pie in the microwave or heat up in the oven for that warm fresh out of the oven taste.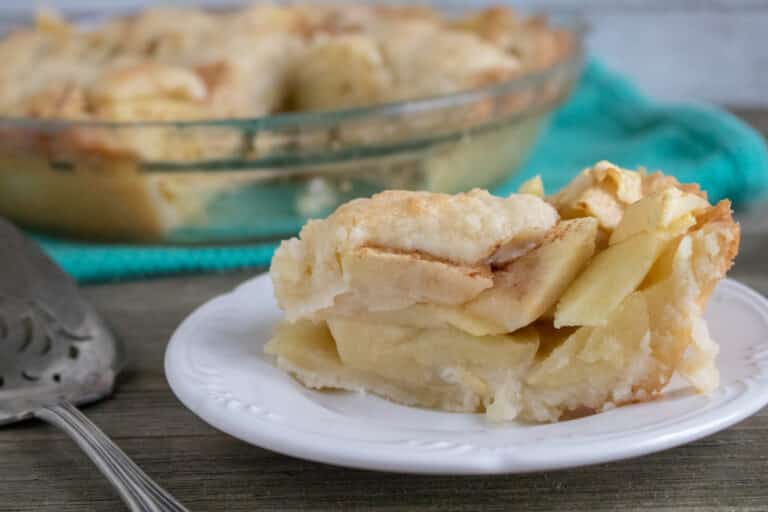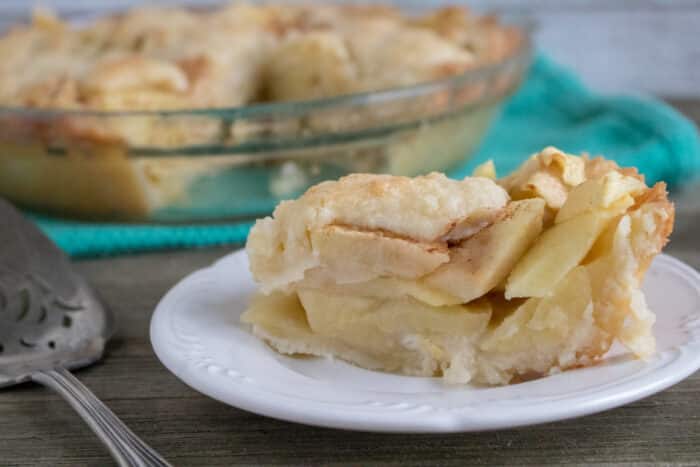 Can You Freeze Apple Dutch Pie
You can freeze your apple Dutch pie easily. Just wrap in aluminum foil or place in an airtight container. You can store the pie in the freezer up to three months.
Then place in the fridge the night before you plan to serve it. That way it can thaw slowly.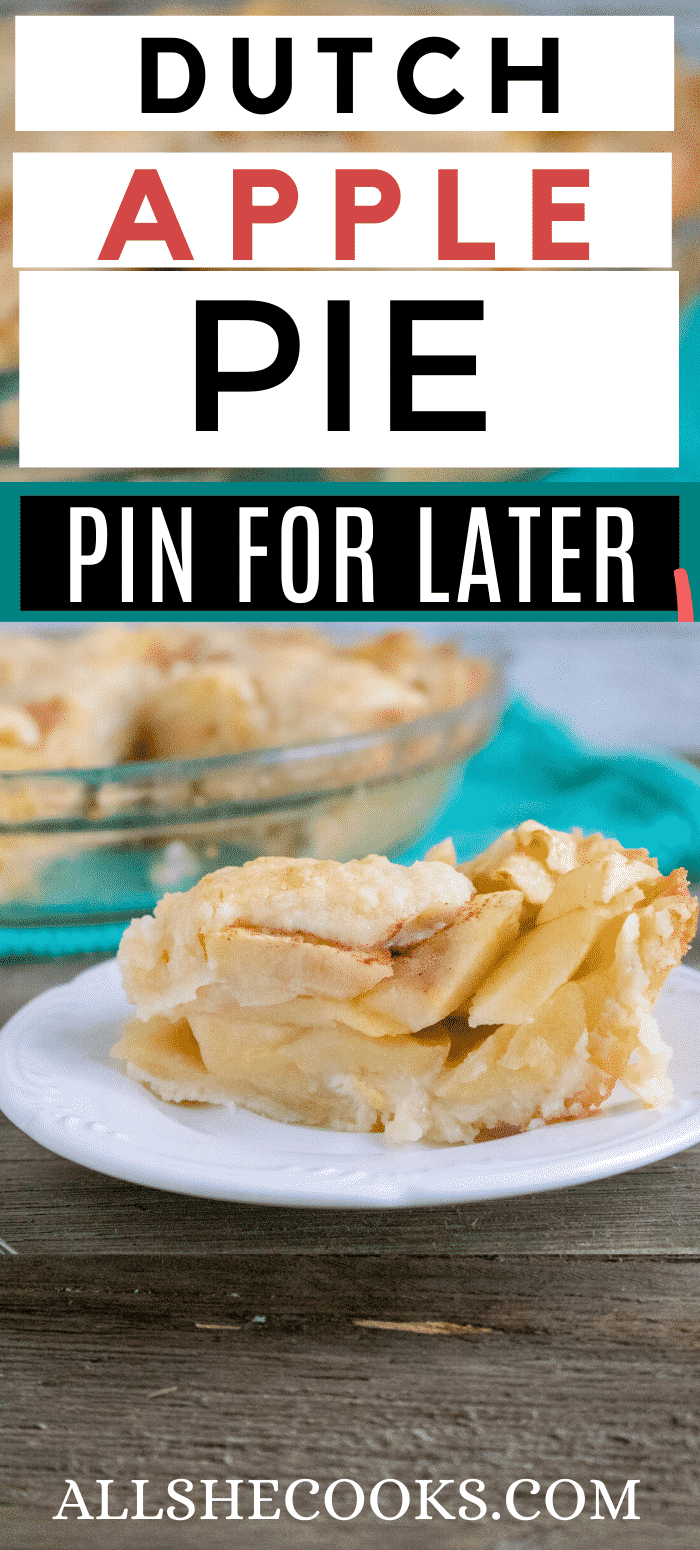 This Dutch apple pie is such a delicious apple pie recipe that offers a tasty variance in texture and flavor. Give this pie recipe a try, and let me know how you all like it.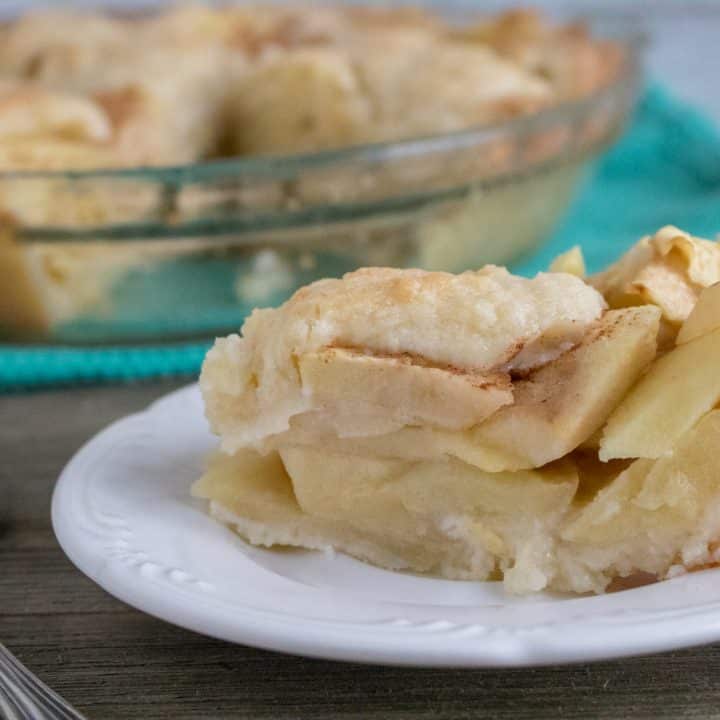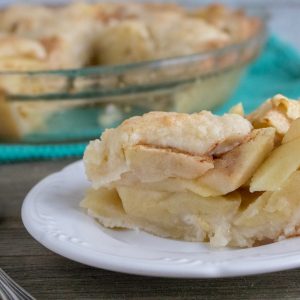 Dutch Apple Pie
You're going to love the taste of this easy and delicious Dutch Apple Pie!
Ingredients
1

cup

butter

melted

1

cup

sugar

1

egg

2

cups

cake flour

8

large tart apples - peeled

cored and sliced
Instructions
Preheat oven to 350 degrees F (175 degrees C).

In a medium bowl, combine butter, sugar, egg and flour. Stir with spoon for a few moments until mixture hangs together a bit. Then use hands to form dough. Pat a bit more than ½ of the dough on the bottom and sides of 9 inch pie dish.

Fill pie shell with apples and dust them with cinnamon. Crumble the rest of the dough over top of apples until they are more or less covered evenly. If desired, sprinkle a handful of sugar over the top for a sugary top crust. Bake in preheated oven for 45 minutes.
Nutrition
Calories:
331
kcal
Carbohydrates:
74
g
Protein:
6
g
Fat:
2
g
Saturated Fat:
1
g
Cholesterol:
24
mg
Sodium:
42
mg
Potassium:
274
mg
Fiber:
5
g
Sugar:
45
g
Vitamin A:
177
IU
Vitamin C:
8
mg
Calcium:
53
mg
Iron:
1
mg