These Low Carb Crepes are flourless crepes that can be made either sweet or savory. Either way, you'll love them!
Traditionally, crepes aren't exactly low carb. The popular French dish is commonly made by combining a few low carb ingredients (eggs, milk, and butter) with a few high carb ingredients (flour and sugar). The result is a tasty breakfast treat, but if you're trying to keep your carbs down, traditional crepes are an easy way to blow your diet.
Thankfully, eating fewer carbs doesn't mean you have to give up crepes forever. I'm going to show you how to make low carb crepes that are just as good as the real thing!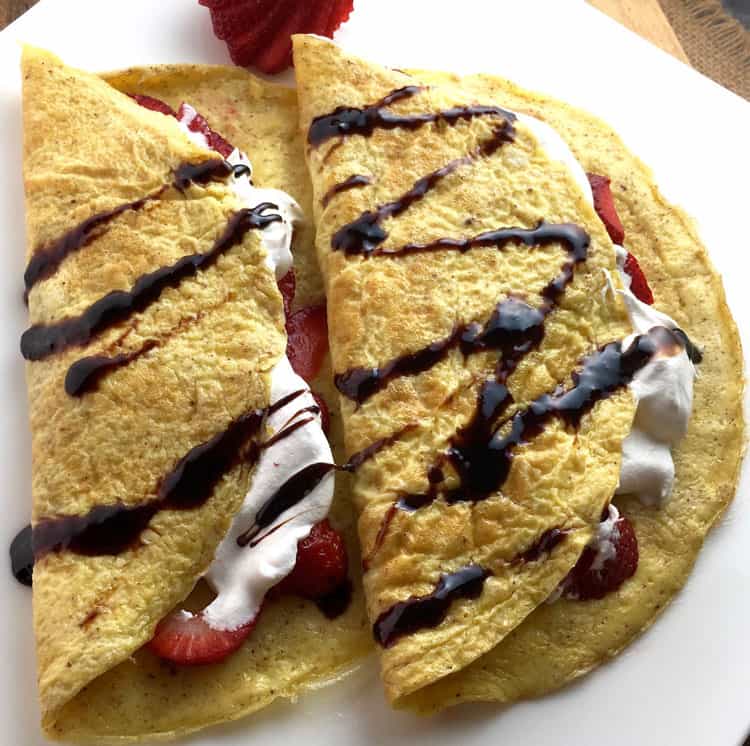 These Are Low Carb Crepes and Gluten Free Crepes
These crepes serve double duty by being both low carb crepes and gluten free crepes. Take a look at the ingredient list for yourself:
Eggs
Half and half
Extra virgin olive oil
Non-stick cooking spray
That's definitely the ingredient list for low carb crepes and gluten free crepes... no carbs or gluten hiding anywhere!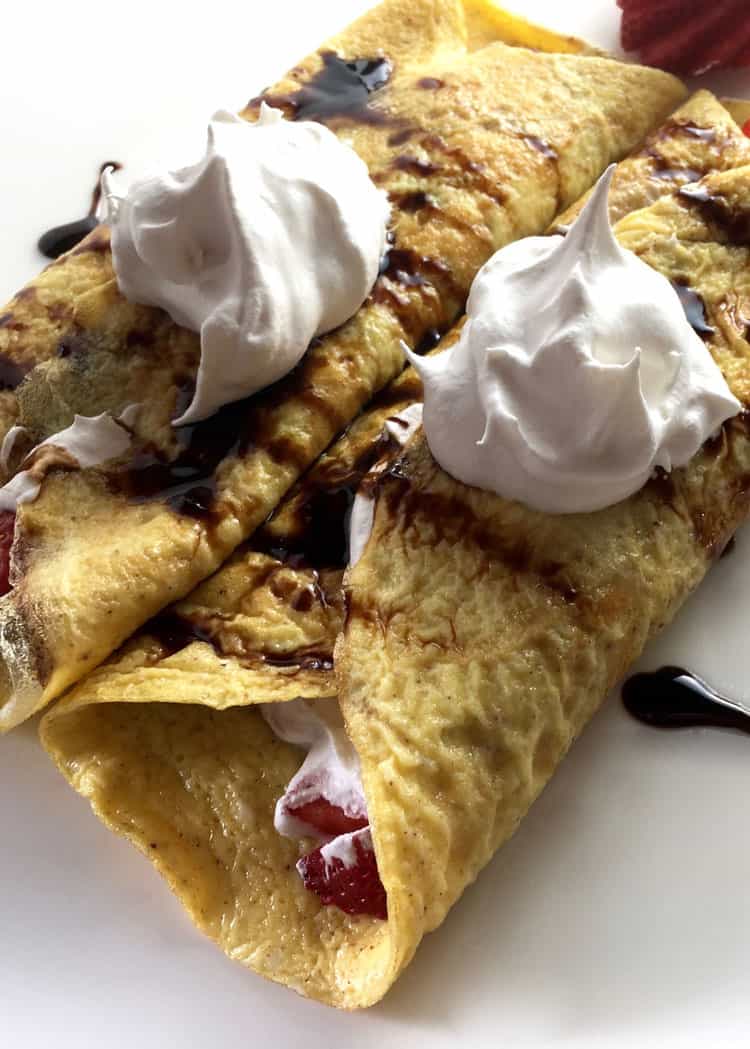 You Can Make These Low Carb Crepes Savory or Sweet
Depending on what kind of mood you're in when you wake up (or during lunch or dinner... no judgment here – crepes are great any time of the day), you can make these crepes savory or sweet.
Let's talk about the fillings and how they fit into low carb diets and gluten free diets.
If you're following a gluten free diet, you can fill them with my suggested savory or sweet fillings with no modifications. They're gluten free as listed.
If you're following a low carb diet, you're good to go with my suggested savory fillings (goat cheese, grape tomatoes, white mushrooms, basil, and green onion).
When it comes to my suggested sweet fillings, what you include will depend on how much leeway you have in your diet to include carbs. I've included a recipe for maple syrup-sweetened whipped cream as well as a balsamic glaze. To keep the carb count down, you'll probably want to sweeten the whipped cream with a sugar substitute instead, plus go a little easy on the balsamic glaze. (Balsamic vinegar isn't too high in carbs, but when it's reduced to a glaze, it gets up there.)
No matter your diet, there are plenty of ways to make these Low Carb Crepes taste amazing!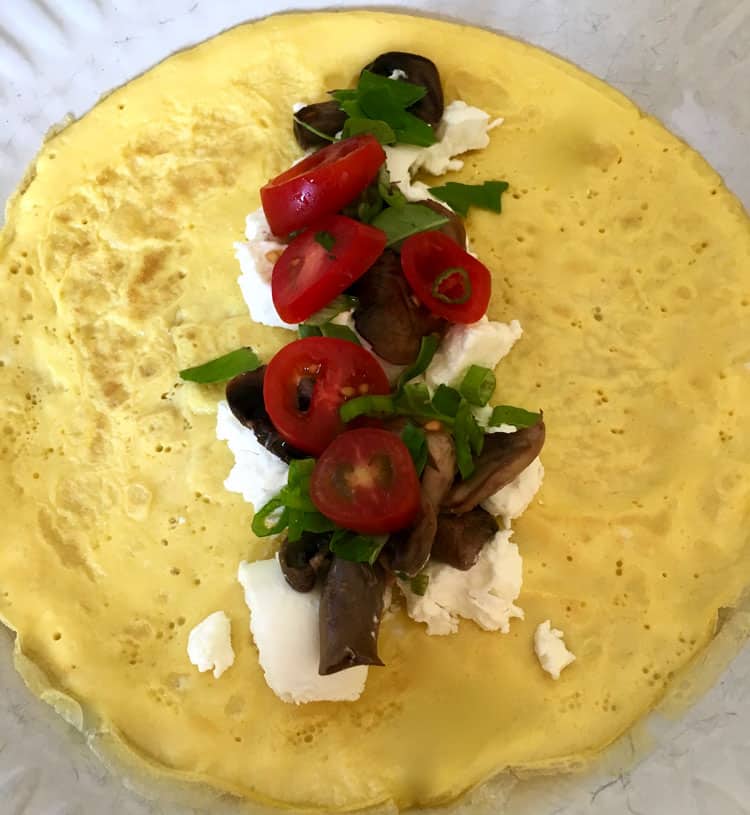 Additional Filling Suggestions for Low Carb Crepes
Feel free to experiment with these Low Carb Crepes. They serve as a great base for a lot of ingredients... even leftovers from the previous night's dinner! Here are a few ideas for you:
Savory Crepes Fillings
Grilled steak
Rotisserie chicken
Ham
Your favorite cheese (Swiss is a great choice)
Roasted vegetables
Caramelized onions
Sweet Crepes Fillings
Blackberries, raspberries, or strawberries
Cream cheese sweetened with a sugar substitute
Nut butters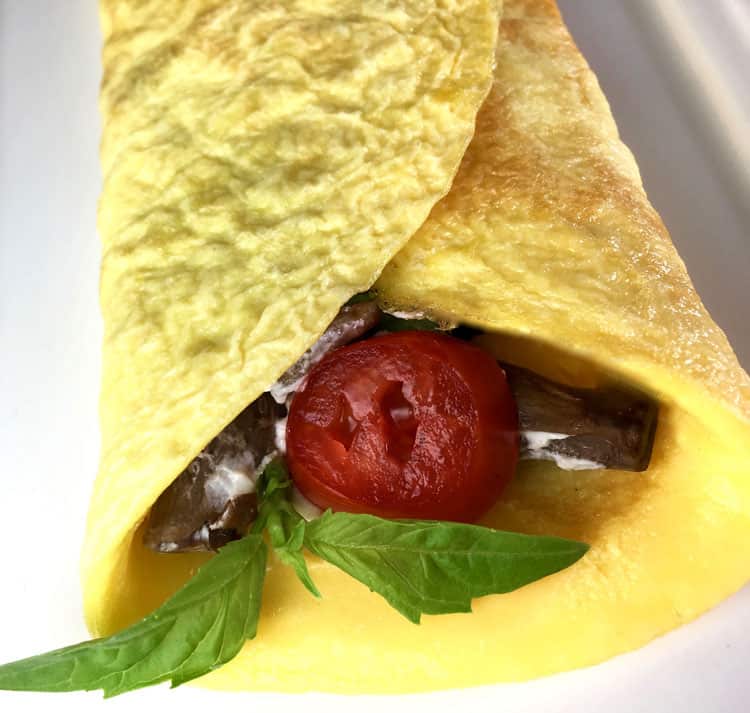 More Crepe Cooking Tips
When cooking savory crepes, you can add black pepper, salt, garlic salt, and/or dried herbs to the crepe batter before you cook it.
When cooking sweet crepes, you can add cinnamon, vanilla extract, and/or a sugar substitute to the crepe batter before you cook it.
You've definitely found your next favorite breakfast with these low carb, gluten free crepes!

More Low Carb Recipes
Here are a few other low carb recipes you may enjoy:
Low Carb Crockpot Recipes for Easy Holiday Cooking
Recipe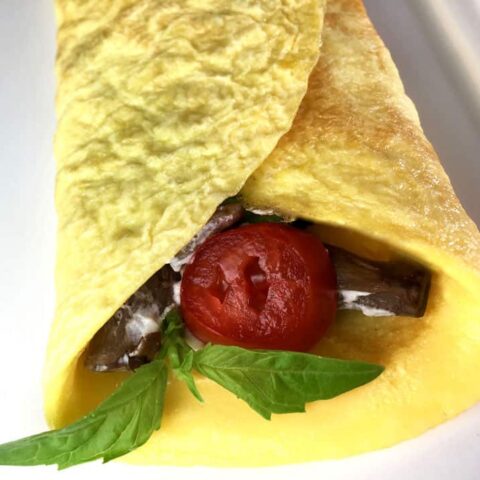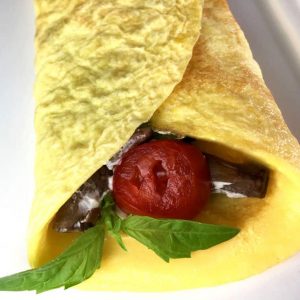 Low Carb Crepes - Sweet or Savory
Enjoy these Flourless Crepes two ways. We have both a Savory Crepe recipe and a Sweet Crepes recipe that we know you will love.
Ingredients
2

eggs

2

tbsp

half and half

1

tsp

olive oil

non-stick cooking spray
Whipped Cream or Maple Whipped Cream (optional):
Balsamic Glaze (optional):
Instructions
In a large bowl, combine eggs, half and half, and olive oil. Whisk until smooth. Optionally, you can season the batter with spices, extracts, sweetener, etc.

On medium-low heat, place a 10" non-stick skillet that has been lightly sprayed with non-stick cooking spray. (Adjust heat to slightly above or below medium if necessary.)

Pour ¼ cup of the egg batter into your pre-heated skillet and swirl the pan evenly until you've coated the bottom with a thin layer of crepe batter. (Add more batter to fill if any holes appear.)

Cover the pan and cook the crepe batter until it begins to set, which will take 2-3 minutes. Don't overcook it!

After the batter is set, use a silicon spatula to (gently) loosen the edges and flip your crepe. Be careful and make sure you don't break or tear the crepe. Cook for an additional minute and then remove the crepe.

Repeat the process with the remaining batter.

Fill each crepe with your desired filling (keep the filling in the middle of the crepe) and fold over both sides to cover the filling. Serve immediately.
To Make Whipped Cream (Maple or Plain):
Pour 1 pint of heavy whipping cream into a large glass bowl. Using a hand or immersion blender, blend the whipping cream until it changes texture and is twice the size. If you just want low carb, plain whipping cream, stop at this step.

To make maple whipped cream, drizzle 1 to 2 tablespoons of maple syrup into the bowl and continue to blend until the whipped cream is light and fluffy.
To Make a Balsamic Glaze:
Over medium-high heat, heat one cup of high-quality balsamic vinegar until the vinegar begins to boil.

Reduce the heat. Simmer and stir continually until the balsamic vinegar is about ⅓ of the original volume. Once the vinegar has reached a thick, syrupy consistency, it's ready to use. Cool slightly before serving.
Nutrition
Calories:
353
kcal
Carbohydrates:
12
g
Protein:
4
g
Fat:
32
g
Saturated Fat:
19
g
Cholesterol:
164
mg
Sodium:
63
mg
Potassium:
141
mg
Sugar:
9
g
Vitamin A:
1256
IU
Vitamin C:
1
mg
Calcium:
80
mg
Iron:
1
mg