Need the perfect side dish for your holiday feast? These roasted beets are tossed with tangy feta cheese and a simple balsamic vinaigrette. Yum!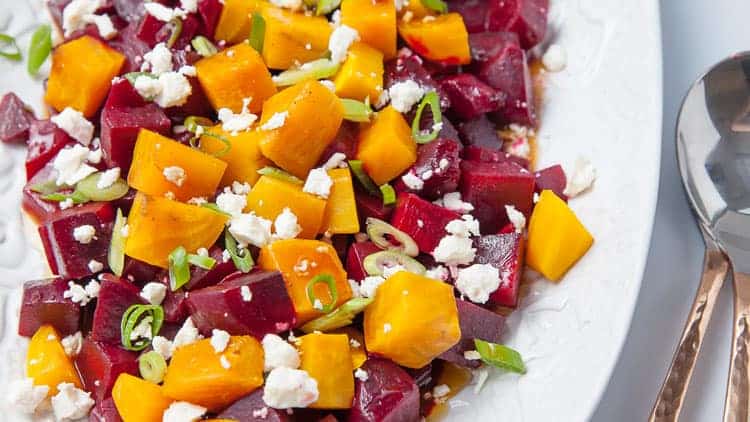 In this Article:
Holiday Side Dish Recipes To Try
Sometimes you need to bring a new recipe to the table. It's called for. It means you switching things up a little bit, trying new things.
Because seriously, who wants to eat the same food day in and day out? I know I sure don't.
When it comes to Thanksgiving side dishes, I love mixing things up and having several to choose from. I mean - the sides are the best part, right? I normally make the classics that I serve year after year and then add in some new choices for fun.
Some of my favorite classic holiday side dishes are: Parmesan Green Beans Recipe , Gluten-Free Squash Casserole , and this easy Creamed Corn.
How Much to Make for Thanksgiving Dinner
When it comes to the holidays, it's always fun to gather with family and friends. And let's face it, those gatherings are often centered around food.
How much to cook, how much to bring, and how much to eat are often questions that are overlooked at the holidays.
Instead...bring more, eat more, make more is often the mantra when it comes to the food we eat and love when surrounded by friends and family for the holidays.
If you love food as much as I do...and I'm guessing since you're looking up recipes on the internet, that is likely the case...then you will love this delicious and colorful presentation of beets and feta. Not only does it make a gorgeously presented side dish, but the flavor is amazing.
The great thing about making more than you normally would for Thanksgiving or other holidays is that you can have a lazy day or two afterwards and enjoy some leftovers. Ours do not go to waste, that's for sure!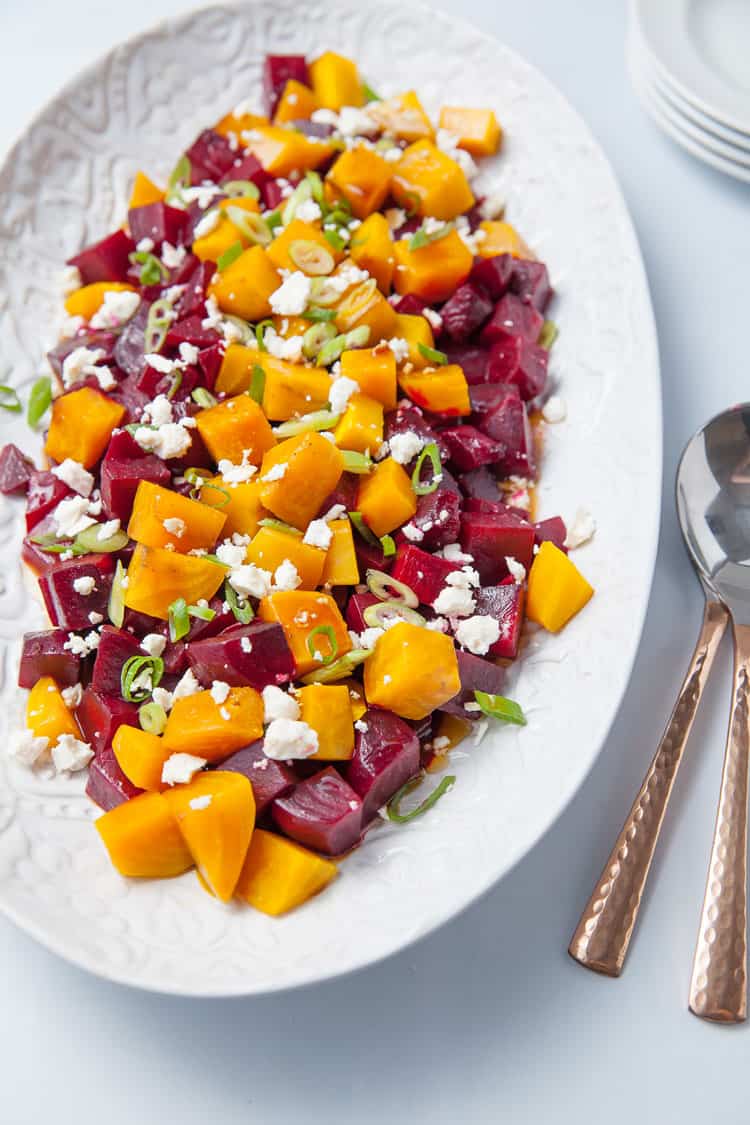 I'm a huge lover of all things side dishes when it comes to holiday meals.
Yes, I'll take a small portion of whatever meat is being served, but enjoying nibble after nibble of the side dishes is where my heart finds content.
I'll pick a favorite side dish to save for last, and to be honest that is normally my Pecan Sweet Potato Casserole because they might as well be dessert.
Best Thanksgiving Dessert Recipes
Don't think for a minute that means I forgo dessert. Not on your life!
Holiday desserts are a no-brainer. If there isn't a side table that is filled with desserts...well, I'm just not sure what to do with that.
I've got a few favorite desserts... namely Pumpkin Cheesecake, which is a household favorite. And then of course there is the classic Apple Pie or this amazing Sweet Potato Pie.

Will this delicious Roasted Beets with Feta side dish be gracing your table soon? Let us know how it turns out!
Recipe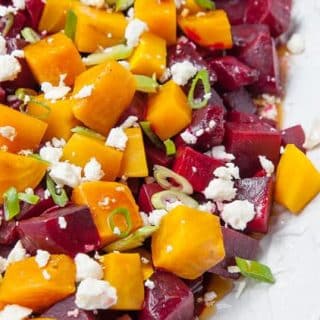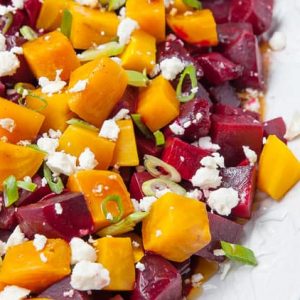 Roasted Beets with Feta - Side Dish Recipe!
Need the perfect side dish for your holiday feast? These roasted beets are tossed with tangy feta cheese and a simple balsamic vinaigrette. Yum!
Instructions
Peel 4 medium beets and cut into ½ inch pieces.

Toss with 1 tablespoon olive oil and spread on a baking sheet.

Roast at 450° F, until tender, or approximately 35 minutes.

Transfer beets to a bowl and toss with Balsamic Vinaigrette and chopped scallions.  Top with crumbled feta.
Notes
To make your own simple balsamic vinaigrette, simply whisk together ¼ cup balsamic vinegar, ¼ cup olive oil, 1 tsp honey, 1 tsp dijon mustard, 2 minced garlic cloves, ½ tsp salt and ⅛ tsp black pepper.
Nutrition
Calories:
175
kcal
Carbohydrates:
10
g
Protein:
4
g
Fat:
13
g
Saturated Fat:
4
g
Cholesterol:
17
mg
Sodium:
408
mg
Potassium:
311
mg
Fiber:
3
g
Sugar:
7
g
Vitamin A:
226
IU
Vitamin C:
6
mg
Calcium:
114
mg
Iron:
1
mg