How to Make Meat Sauce for Pasta
Meat sauce for pasta is really easy to make. For this recipe, you brown the sausage in a skillet large enough to hold all the ingredients for the sauce.
When the sausage has cooked all the way through, drain any excess grease, and then add the tomato ingredients and let the sauce simmer for at least 30 minutes. When you're almost ready to eat, add in the seasonings and allow the meat sauce to cook for ten more minutes.
One of the things I like most about spaghetti meat sauce is that it can simmer for a short amount of time or even hours.
How Many Calories in Spaghetti Meat Sauce
Our spaghetti meat sauce in this recipe has 340 calories based on 6 servings. Don't forget to add the calories for pasta to your count. One cup of cooked pasta is 221 calories.
If you want to add a salad to your dinner, that would be a good low-calorie side dish to serve with pasta and meat sauce.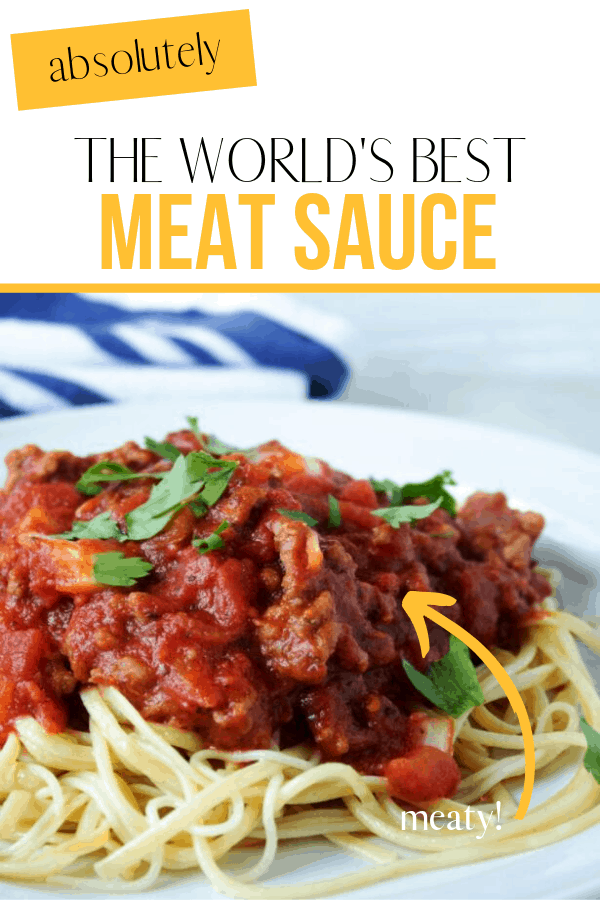 What to Do with Leftover Spaghetti and Meat Sauce
There are many ways to use up leftover spaghetti meat sauce in different recipes. Here are some of my favorite:
Stuffed Zucchini Boats- This recipe calls for a cup of pasta sauce, so it is a perfect opportunity to use up some of your leftover sauce. It's also a great way to use up zucchini if you happen to have an over-abundance of the fast growing garden vegetable.
Stuffed Cabbage Rolls- Substitute leftover spaghetti sauce for the diced tomatoes with green chiles in this stuffed cabbage rolls recipe. You'll enjoy a delicious Italian inspired
Homemade Pizza Dough- Pair up our delicious pasta sauce with this homemade pizza dough and you have the base for an amazing homemade pizza. Top it with a variety of favorite pizza toppings like pepperoni, cheese, peppers, sliced tomatoes, and olives.
Stuffed Peppers- Just about any stuffed pepper can be taken to the next level by adding a hefty scoop of homemade meat sauce.
Store your leftover spaghetti meat sauce in these containers that are freezer safe and BPA free. You can even double the sauce recipe in order to have extra meat sauce to have for these meal ideas and more.
Can You Freeze Spaghetti with Meat Sauce
Yes. You can freeze spaghetti with meat sauce for 3-4 months, but its best to use it up withing a couple months to enjoy it when the spaghetti is at its best quality.
The sauce and noodles can be frozen together or separately. I always like to use stacking freezer containers when I put up freezer meals.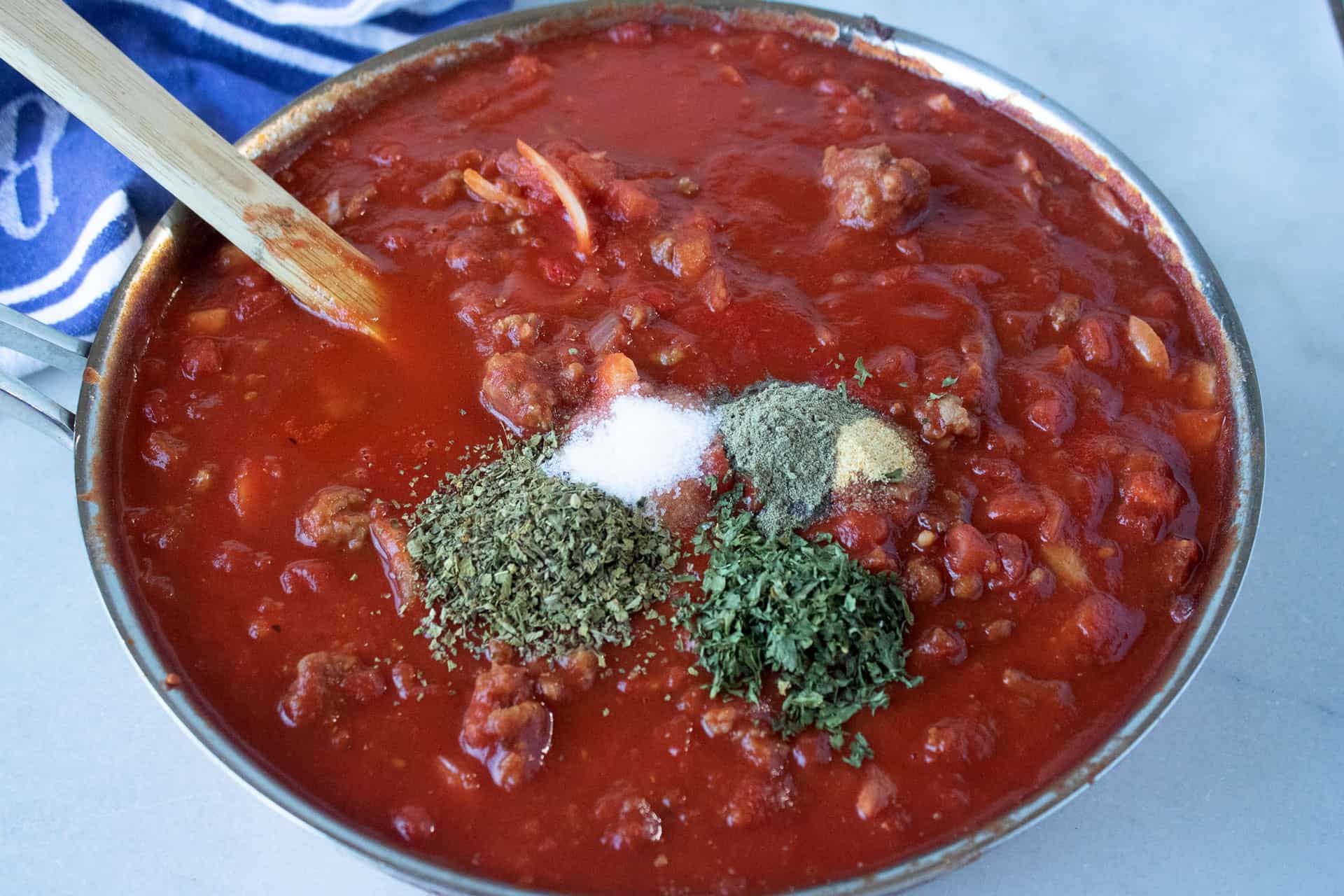 How Long Does Meat Sauce Last for in the Fridge
You can save leftover spaghetti and meat sauce in the refrigerator for 2-3 days. There are many ways to enjoy the leftovers during that time.
Be sure to plan out your meals for the week. If you have leftover sauce, enjoy leftovers for lunch. Or, whip up a different tasty meal using meat sauce.
How Many Carbs in Spaghetti and Meat Sauce
The number of carbs in spaghetti and meat sauce is just under 30 net carbs per 1 cup serving. Keep that in mind when you're loading up your plate.
If you're looking for a way to eat spaghetti and meat sauce on a low carb or keto diet, you can try zoodles as a substitute for pasta.
Best Pasta Meat Sauce Recipe
There are many pasta meat sauce recipes out there. This meat sauce is hands down the best that I've had. It is full of flavor and goes well with pasta, zucchini and more.
Even better, this sauce can be made in just under an hour. It can also be reheated as leftovers, making it a great option of busy weeknight meals.
Family dinners are important, even during the week. That is one reason why it's helpful to have meals that can be made or reheated in a pinch.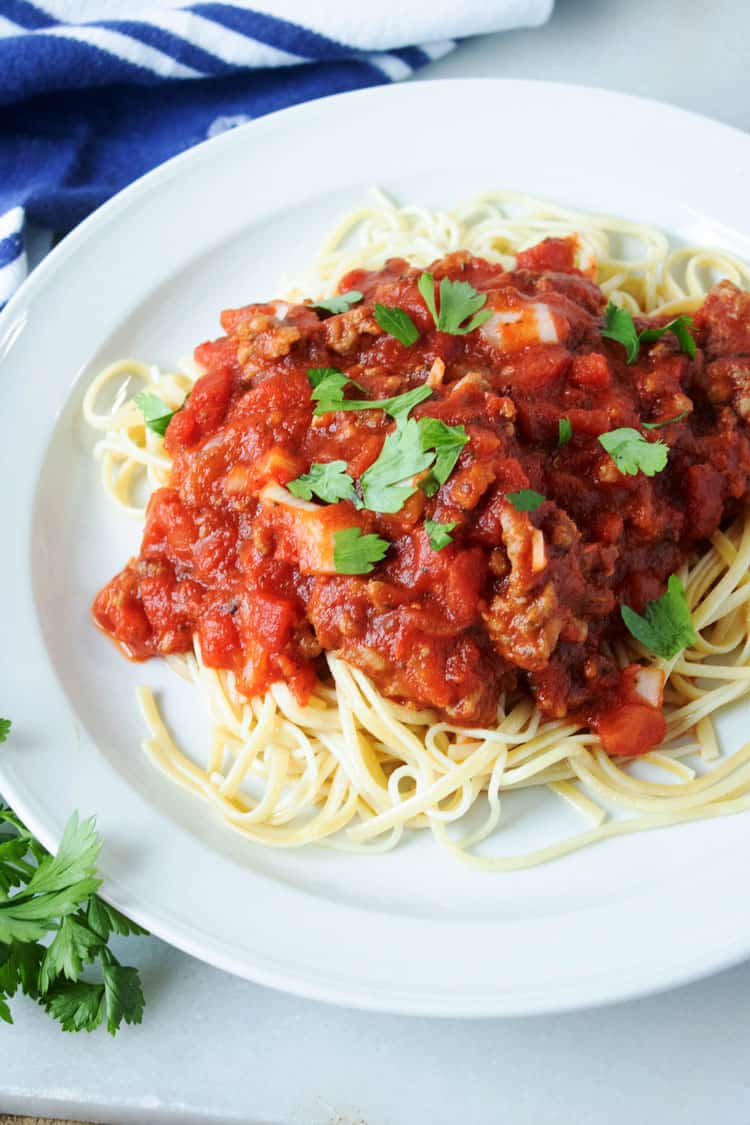 Dinner time during the week can feel hectic and rushed. It's also a wonderful time to connect with loved ones over food. If your family is anything like ours is, you all love good food. Especially the best Pasta Meat Sauce recipe.
We like cooking up fun Italian food like our Spicy Sausage Pasta Bake, Hazelnut Layered Icebox Cake, and even Homemade Pizza Dough. Yum!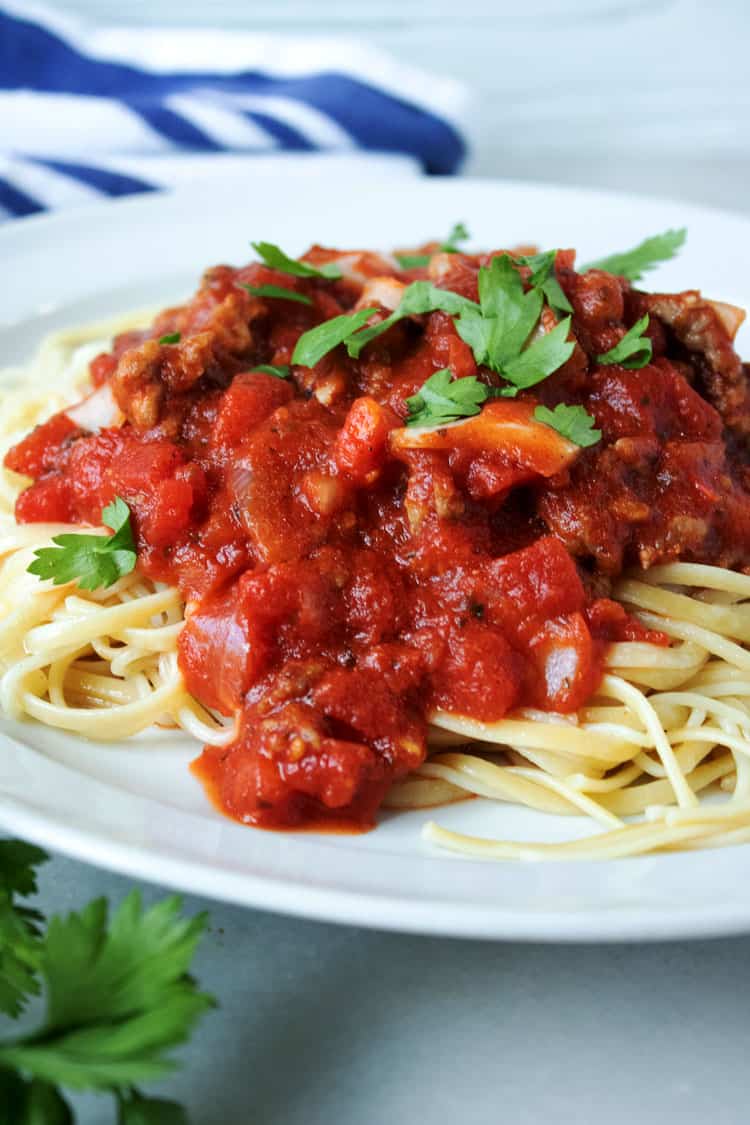 Other Pasta Recipes to Try
Instant Pot Stuffed Cabbage- Stuffed Cabbage is an easy recipe made even easier by the quick cooking method used in the Instant Pot.
Healthyish Creamy Pasta- From whole wheat pasta to broccoli, this creamy pasta recipe is beyond delicious. Save your leftovers for lunch--you won't regret it.
Instant Pot Chicken Alfredo- Insanely tasty and easy to make, you'll love this Instant Pot version of Chicken Alfredo. It has a combination of tender chicken and creamy Alfredo sauce.
Mushroom Bowtie Pasta- This bowtie pasta recipe is SO yummy and cooks up in less than 20 minutes. If you like mushrooms, you will love this pasta recipe.
Shrimp Pasta- Such a quick recipe that takes only 5 ingredients, counting the olive oil you toss the cooked pasta with.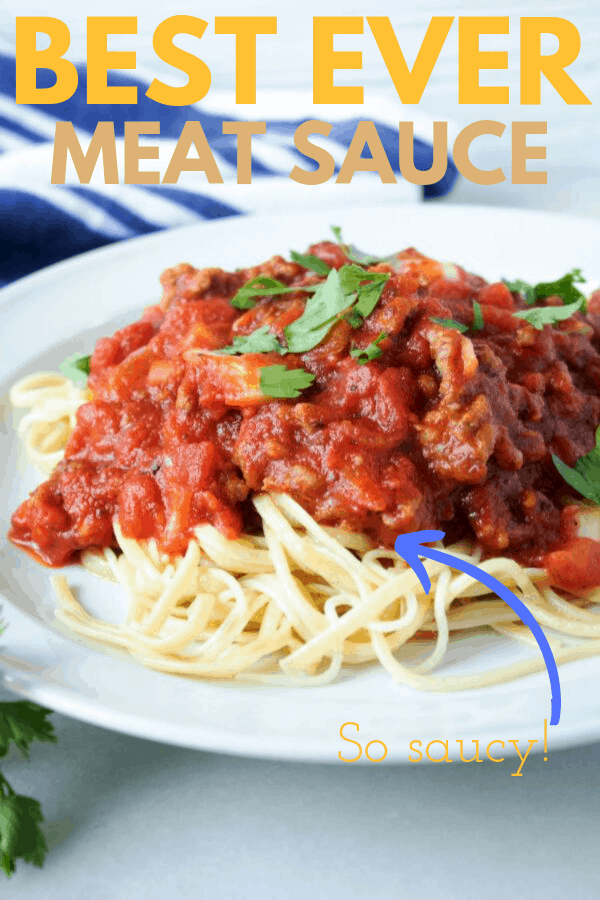 Helpful Kitchen Tools for Pasta Recipes
Pasta Portion Control Measuring Tool- Never make too much pasta again! This is one kitchen tool that can be a huge help when you want to make sure not to cook too much pasta at once.
KitchenAid Stand Mixer Pasta Attachment- If you've wanted to make pasta from scratch and have a KitchenAid mixer, this tool will make making pasta from scratch super easy.
Pasta Ladle- This ladle will let you scoop up all the pasta noodles at once instead of having to take multiple scoops. It's also handy for straining vegetables and more.
Pasta Maker, 3-in-1 machine- At right about $50, this pasta maker gives you the essential pasta making tools for many pasta varieties. If you want to make pasta on an even a semi-regular basis, this is a great low-budget investment.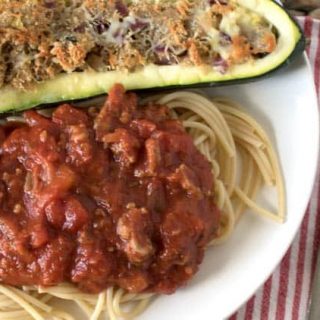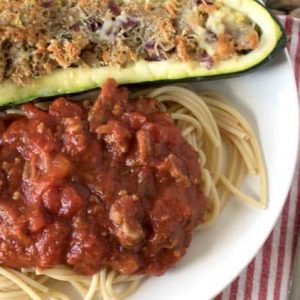 Best Chunky Spaghetti Meat Sauce
This meat sauce is so flavorful. The hot Italian sausage brings a level of heat that balances nicely with the seasonings.
Ingredients
1

pound

hot Italian sausage

1

onion

chopped

15

ounce

can crushed tomatoes

2

14.5 ounce cans diced tomatoes

15

ounce

can tomato sauce

6

ounce

can tomato paste

2

teaspoons

dried oregano

1

teaspoon

dried parsley

1

teaspoon

jarred garlic or 1 clove garlic

pressed, or ½ teaspoon garlic salt

½

teaspoon

pepper

1

teaspoon

salt
Instructions
Brown Italian sausage in large skillet. Add all tomato ingredients and simmer for 30 minutes or more. Add seasonings and simmer an additional 10 minutes.
Nutrition
Serving:
1
g
Calories:
255
kcal
Carbohydrates:
16
g
Protein:
14
g
Fat:
16
g
Saturated Fat:
6
g
Polyunsaturated Fat:
12
g
Cholesterol:
32
mg
Sodium:
1196
mg
Fiber:
4
g
Sugar:
9
g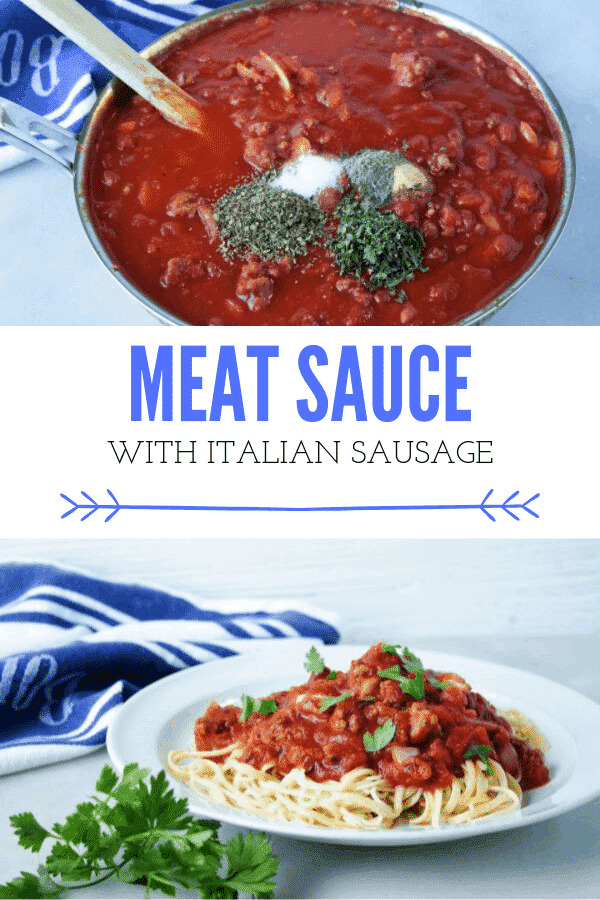 Save
Save
Save
Save
Save
Save
Save