Wake up, fellow breakfast enthusiasts! It's time to say goodbye to those dull, store-bought sausage and say hello to the homemade breakfast sausage patties that will make your mornings sizzle!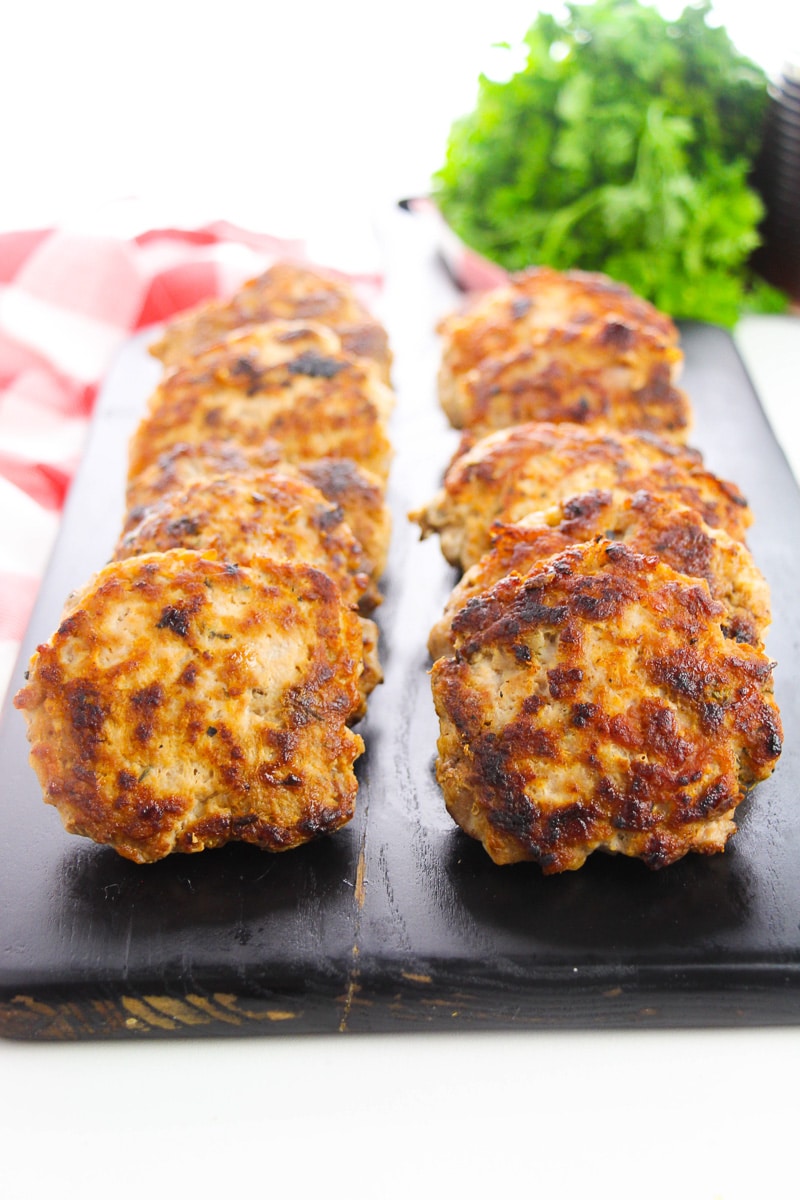 When it comes to breakfast, there's nothing quite like homemade breakfast sausage to start your day off right. These sausage patties are a surefire crowd pleaser, and easy to make too. Plus, when you make homemade breakfast sausages, you have complete control over the ingredients, ensuring that your sausage patties are also made with high-quality, nutritious ingredients.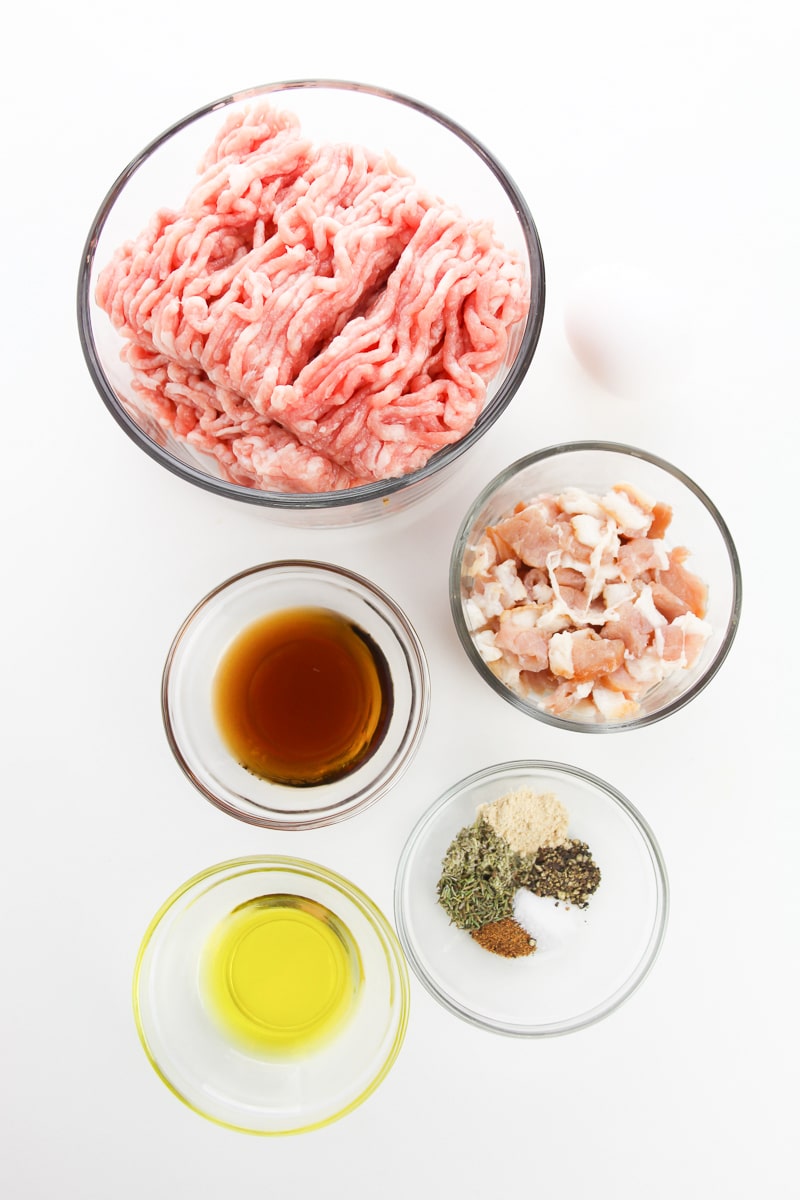 I love these homemade breakfast sausage patties because they're so versatile. You can enjoy them on their own, or use them to make a breakfast sandwich or breakfast burrito. They're also great for meal prep, as you can make a big batch and store them in the freezer for later.
Let's get started!
What You'll Need – The Ingredients!
When it comes to making homemade breakfast sausage patties, the ingredients are key to achieving that perfect flavor and texture. Here are the ingredients I use in my recipe:
Ground Pork
Bacon
Seasonings: sage, thyme, garlic powder, salt, black pepper, and nutmeg.
Maple Syrup (or brown sugar).
Olive Oil – for frying the patties.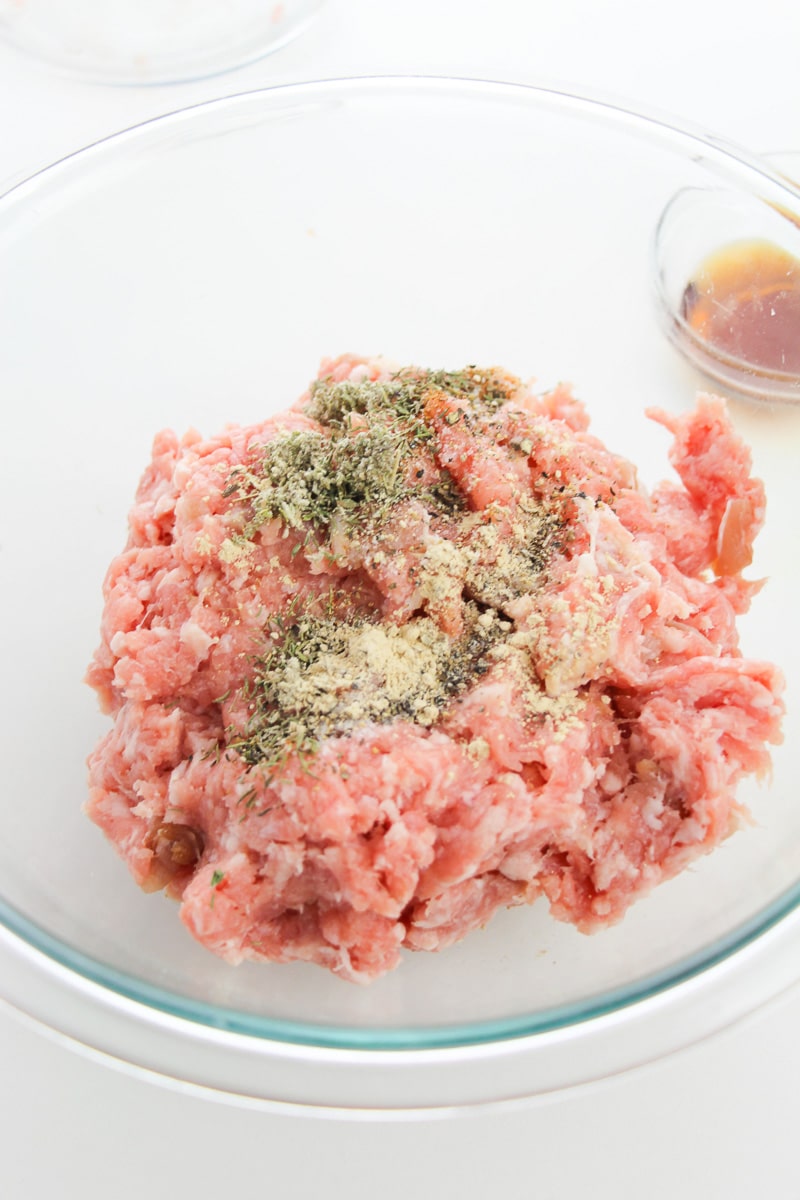 I find that using a combination of ground pork and chopped bacon results in sausage patties are that are loaded with flavor and juicy too! The sage and thyme provide that classic breakfast sausage taste, while the garlic powder and nutmeg add a subtle kick of extra flavor. Adding a bit of maple syrup or brown sugar helps to balance out the savory notes with a touch of sweetness.
Making the Sausage Patties
To make the breakfast sausage patties, start by simply combining all of your ingredients in a large mixing bowl. Then use your hands (yep, it works best to use your hands!) to combine it all together.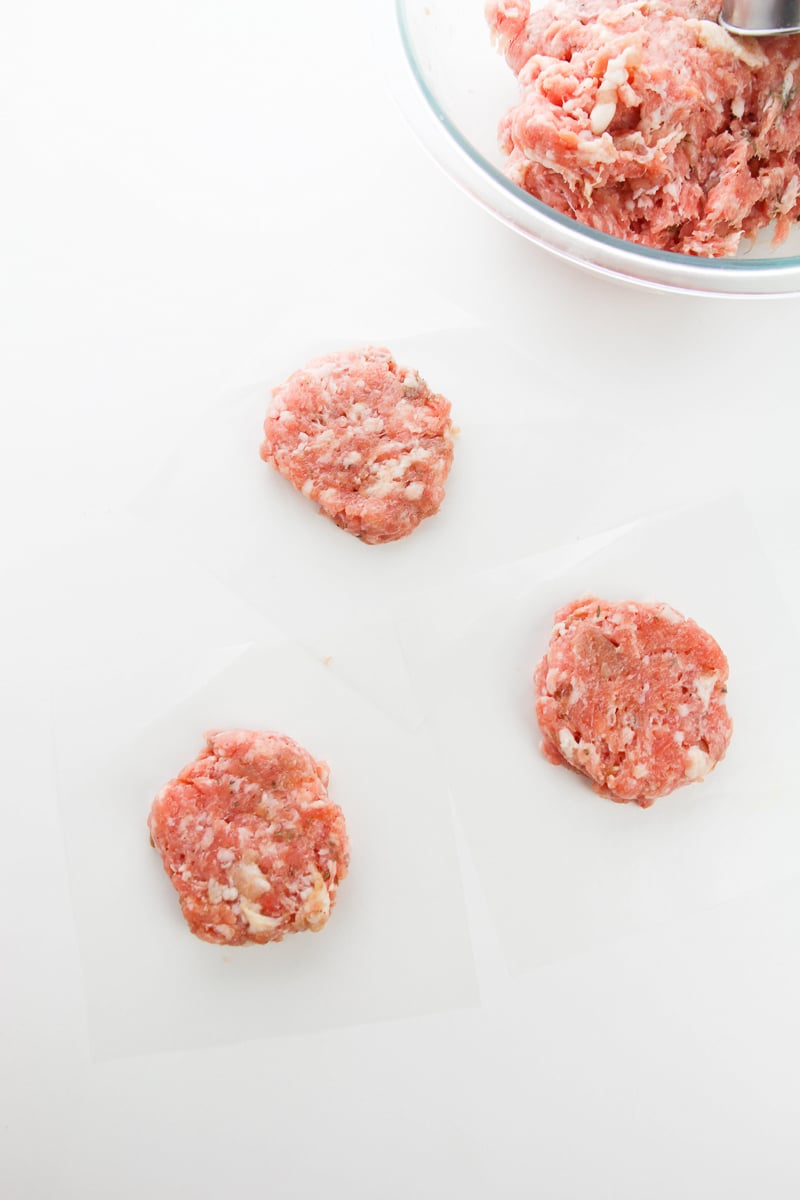 Separate the sausage mixture into ¼ cup sized portions and then form them into flat ½" thick patties. Don't worry about measuring anything here – it's fine to eyeball it!
Cooking Homemade Breakfast Sausage Patties
When it comes to cooking homemade breakfast sausage patties, there are two methods to choose from: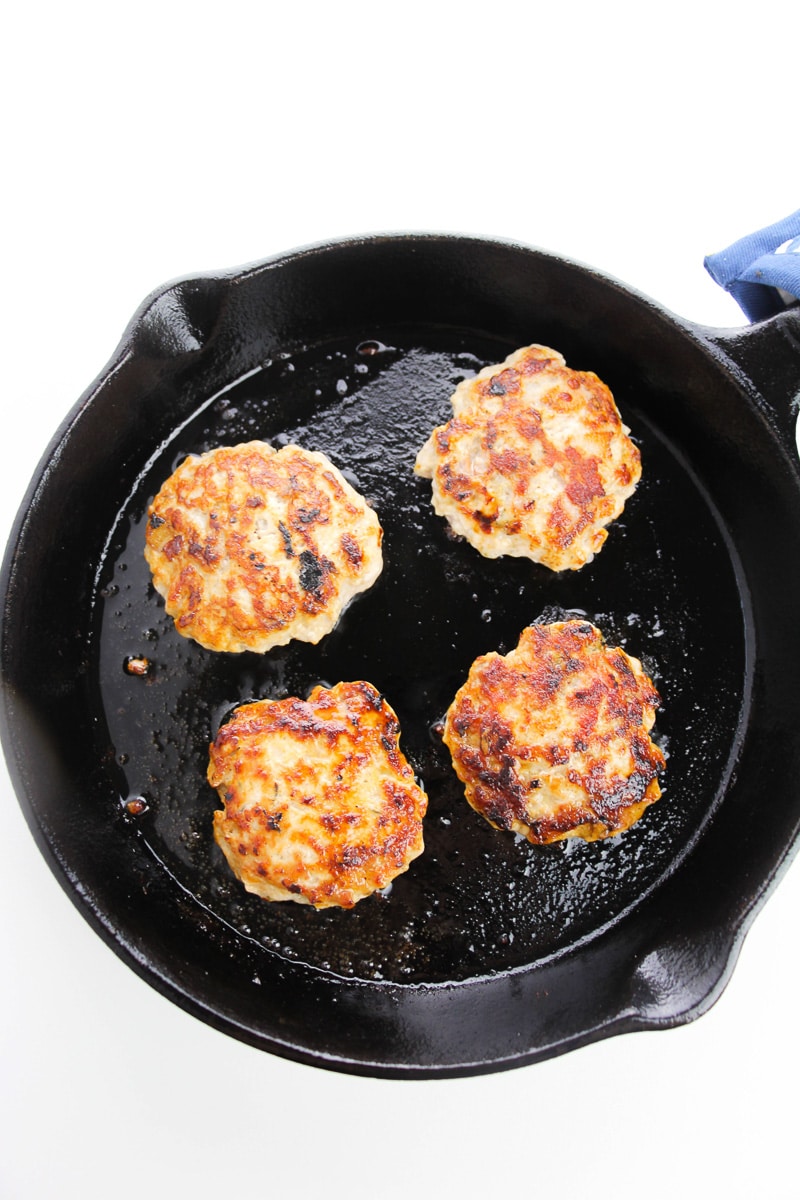 Stovetop Cooking
I prefer to cook my sausages on the stovetop, as I think it gives the best result- patties that are a little crispy on the outside and soft on the inside. Simply heat some olive oil in a frying pan, and cook the patties for 3-4 minutes on each side. Use a spatula to transfer the cooked patties to a plate lined with paper towels to absorb any excess grease.
If you prefer an even crispier texture, try cooking the patties in a cast iron skillet. Just be sure to preheat the skillet before adding the sausage patties to ensure even cooking.
Baking in the Oven
Baking the breakfast sausages is a great option if you want to cook a large batch of sausage patties at once. Preheat the oven to 375°F. Line a sheet pan with a piece of parchment paper. Arrange the patties on the pan, and bake for 15-20 minutes.
If you want to freeze the cooked patties for later use, place them in a freezer bag or airtight container. To reheat, microwave for 2-3 minutes or until heated through.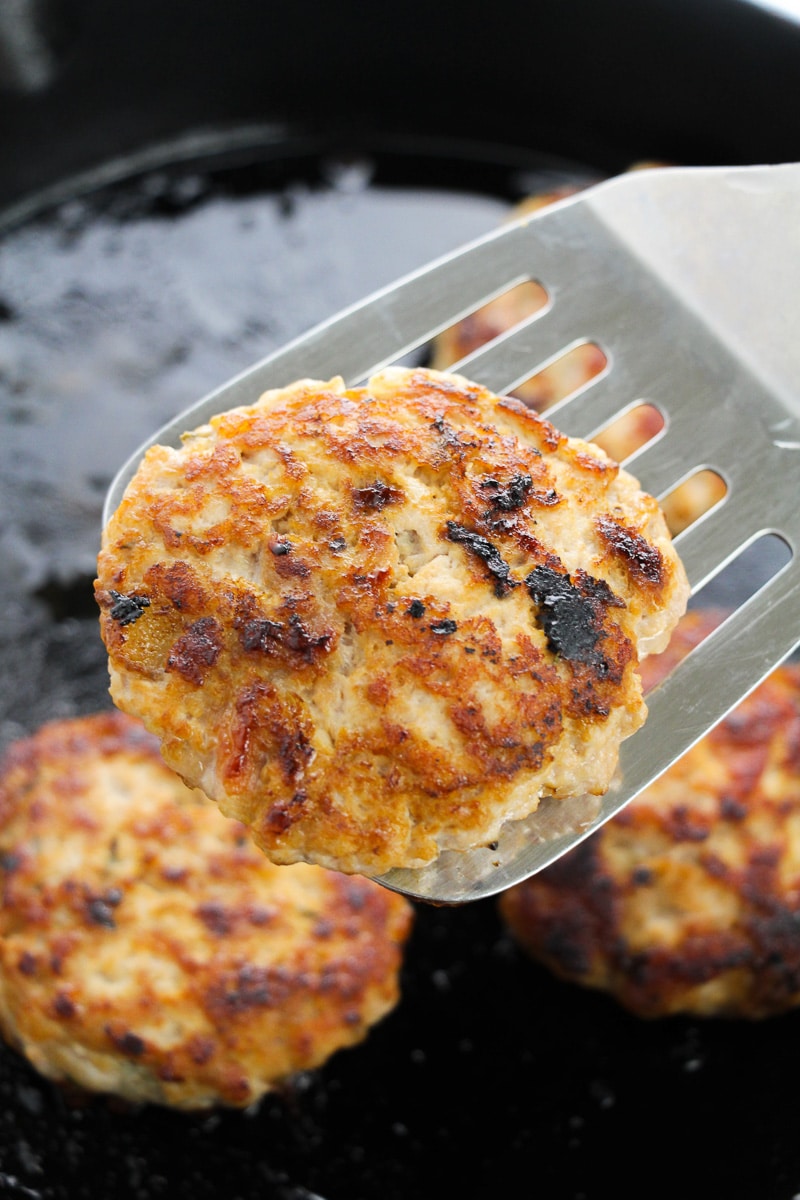 No matter which method you choose, be the patties are fully cooked before digging in. If you prefer to use a thermometer for checking, it should measure about 160°F.
Serving Ideas!
The best thing about these homemade breakfast sausages is that they are so versatile! There are just an endless number of ways you can use these tasty little breakfast treats. Here are a few of my favorites: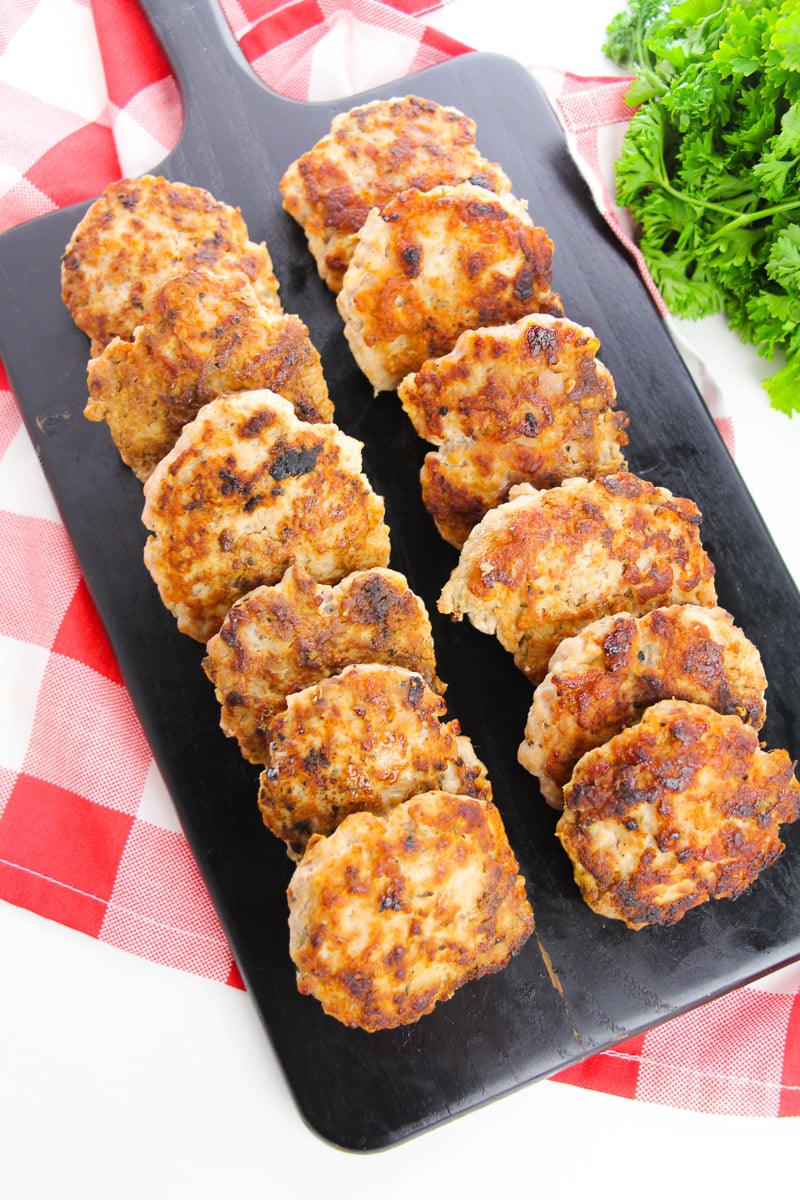 Breakfast Sandwiches
Load up an English muffin or biscuit with a cooked sausage patty, some scrambled eggs and cheese, and you have a delicious and filling breakfast perfect for on-the-go. Or add some sausage to this hefty Moons Over My Hammy sandwich.
Make sausage gravy
If you're looking for something a little more indulgent, homemade sausage gravy is the way to go. Crumble the sausages into a hot pan with some butter and flour. Add milk and stir until the mixture thickens into a creamy gravy. Serve over biscuits for a classic Southern breakfast.
Add flavor to quiches or casseroles
Try crumbling some breakfast sausages into your favorite quiche or casserole recipe for an extra boost of flavor.
Make it brunch!
Serve the sausages alongside pancakes, waffles, or French toast for a truly brunch-worthy spread.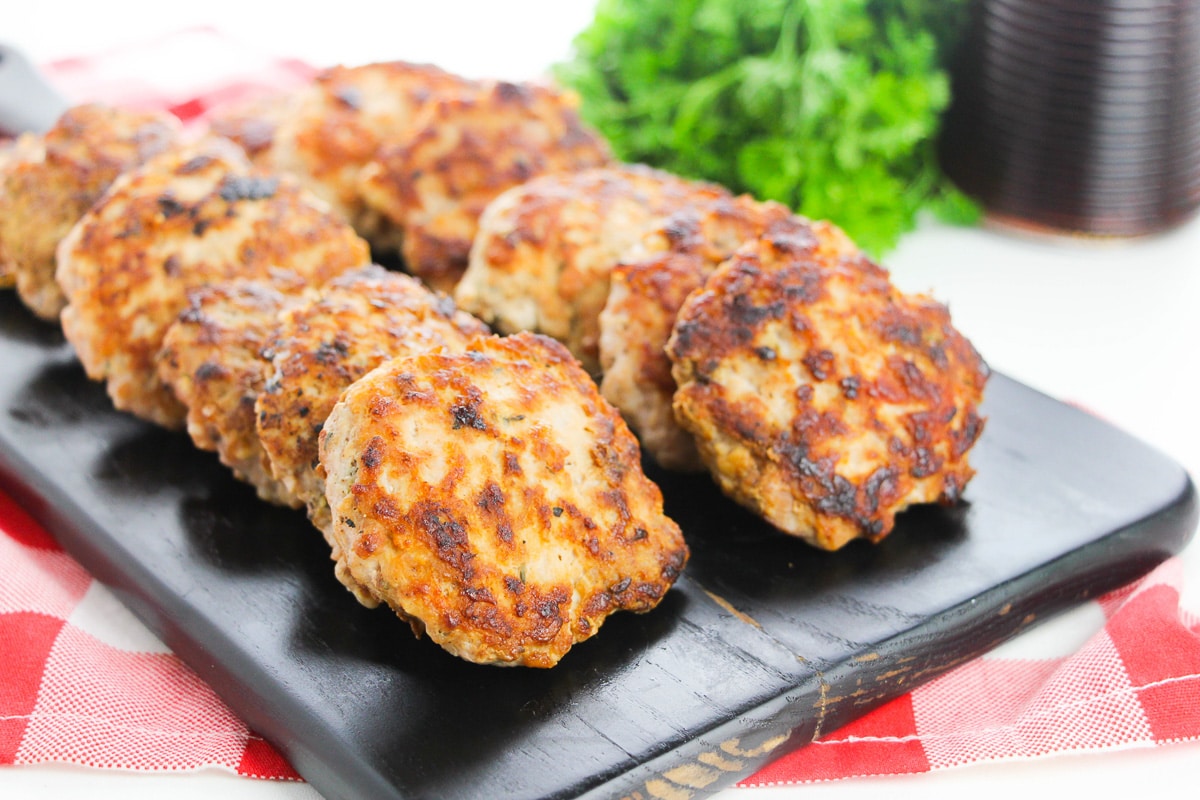 Storing the Sausage Patties
In the refrigerator
If you plan to eat the sausage patties within a week, you can refrigerate them. Place the cooked patties in an airtight container and store them in the fridge. This will help prevent bacteria growth and keep them fresh for 2-3 days.
In the freezer
If you want to store the sausage patties for a longer period, freezing is the way to go. To freeze the patties, first allow the cooked patties to cool down to room temperature. Place them in a freezer bag or an airtight container. Make sure to label the container with the date so you can keep track of how long they've been in the freezer.
To prevent freezer burn, remove as much air as possible from the bag or container. You can use a vacuum sealer or press the air out of the bag manually and seal it tightly.
Store the sausage patties in the freezer for up to two months.
Reheating
When you're ready to eat your sausage patties, simply thaw them in the fridge overnight, then reheat in the oven or microwave.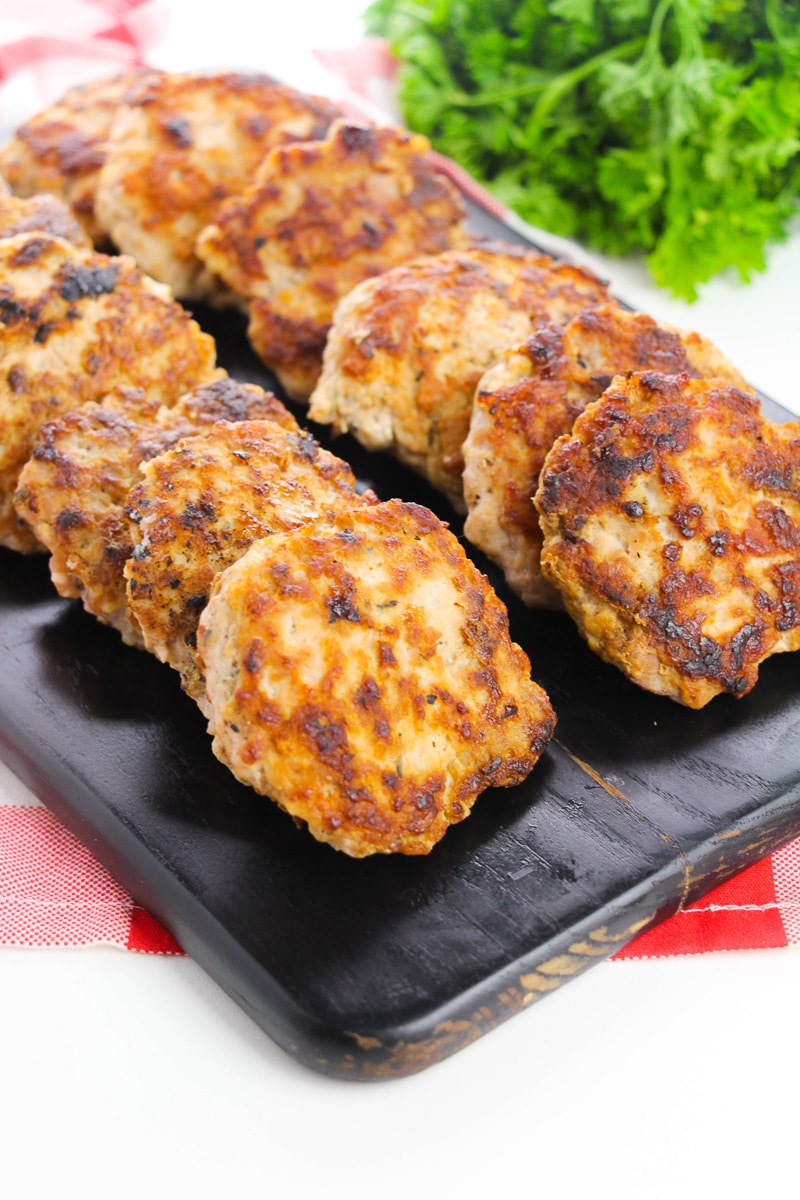 More Tasty Ideas
If you love these homemade breakfast sausage patties, be sure to check out these other delicious ideas:
Recipe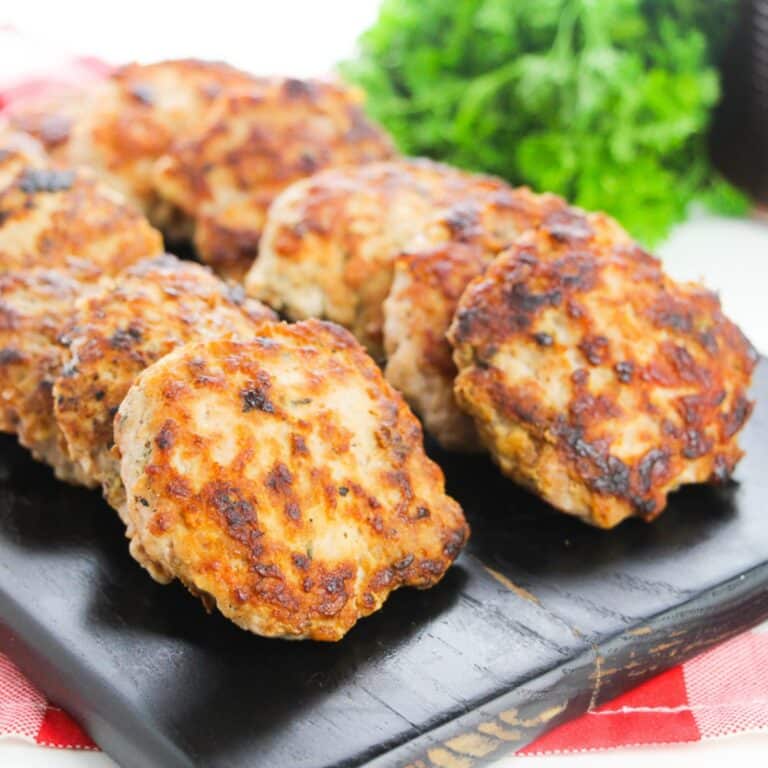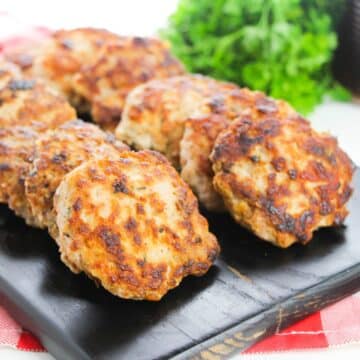 Homemade Breakfast Sausage Patties
Start your day off right with these homemade breakfast sausage patties. Made with high-quality, nutritious ingredients, they're so versatile, and easy to make too.
Ingredients
1 ½

lbs

ground pork

3-4

bacon strips

chopped

1

teaspoon

sage

1

teaspoon

thyme

½

teaspoon

garlic powder

½

teaspoon

salt

½

teaspoon

black pepper

½

teaspoon

nutmeg

2

Tablespoons

maple syrup

can use brown sugar

2

Tablespoons

olive oil

as needed
Instructions
In a medium-sized bowl, use your hands to combine the ground pork and uncooked, chopped bacon.

Season with sage, thyme, garlic powder, salt, pepper and nutmeg and combine well.

Sweeten with maple syrup, as desired.

Place 1 Tablespoon of olive oil in a skillet over medium heat.

As the oil heats, portion out the sausage mixture in ¼ cup portions and form into flat ½" thick patties.

Cook the sausage patties, 4 at a time, in the hot oil for 3-4 minutes per side, until well browned and an inserted thermometer reaches 145F minimum.

Repeat with all patties, adding extra olive oil as needed.
Notes
These sausages can be portioned out and frozen, uncooked, if desired.
Nutrition
Calories:
203
kcal
Carbohydrates:
3
g
Protein:
10
g
Fat:
17
g
Saturated Fat:
6
g
Polyunsaturated Fat:
2
g
Monounsaturated Fat:
8
g
Trans Fat:
0.01
g
Cholesterol:
44
mg
Sodium:
166
mg
Potassium:
186
mg
Fiber:
0.1
g
Sugar:
2
g
Vitamin A:
14
IU
Vitamin C:
1
mg
Calcium:
14
mg
Iron:
1
mg