Balsamic and Maple Roasted Brussels Sprouts will turn anyone into a Brussels sprouts fan. The Brussels sprouts in this recipe are roasted to perfection and drizzled with a maple-balsamic glaze, making this side dish the perfect combination of savory and sweet.
In general, people tend to feel one of two ways about Brussels sprouts: they love 'em or they hate 'em. I'm of the opinion that many of the people in the "hate 'em" category just haven't tried them the right way yet. They tend to have a bad memory of mushy, bland Brussels sprouts and think Brussels sprouts always taste that way.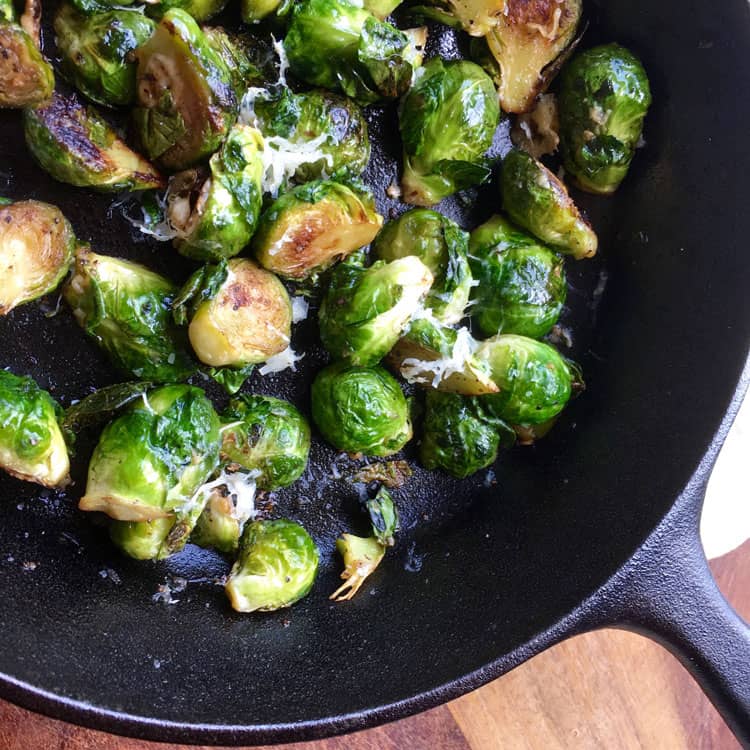 Those of us who love them, well... we know that definitely isn't true. With the right Brussels sprouts recipe and the right Brussels sprouts, they can pretty easily become a preferred side dish. (And if you're a light eater like me, you might just make a meal out of a recipe like Pan-Roasted Brussels Sprouts and Bacon.)
If you're wondering what I meant when I said "the right Brussels sprouts," I meant to use firm, fresh, brightly colored Brussels sprouts. So many of those bad Brussels sprouts experiences come from dishes made with frozen, microwaved Brussels sprouts. That process can lead to mushy Brussels sprouts and a lifetime Brussels sprouts hater!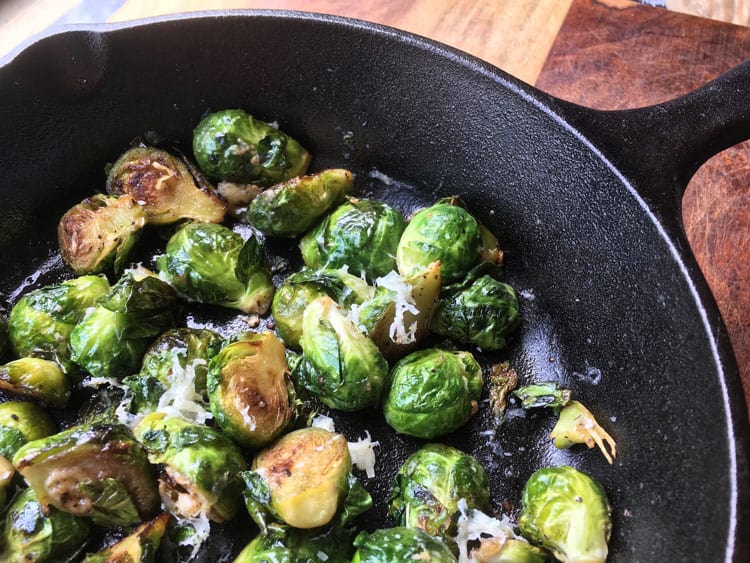 Why You'll Love Balsamic and Maple Roasted Brussels Sprouts
There's a lot to love about Balsamic and Maple Roasted Brussels Sprouts:
The balsamic-maple syrup reduction is fun to make. It's fun to see balsamic vinegar reduce into a thick syrup. Best of all, it tastes amazing!
Brussels sprouts are incredibly healthy. There's a reason why your mom always tried to get you to eat your Brussels sprouts. They're rich in Vitamin K and Vitamin C, they contain many other valuable nutrients, and they actually have a decent amount of protein. (About 3 grams per cup — pretty amazing when you consider one cup only contains about 40 calories.)
This recipe is suitable for vegans and vegetarians. Many popular Brussels sprouts recipes contain bacon, but this one is completely free of animal products. Even if you're not a vegan or vegetarian yourself, it's a great side dish to serve at gatherings when you're not sure of everyone's dietary preferences.
It's also a Paleo Brussels sprouts recipe. Maple syrup is a Paleo-friendly natural sweetener, so it's great for those on the Paleo diet.
It's a quick and easy side dish. If you're in a hurry to get dinner on the table, Balsamic and Maple Roasted Brussels Sprouts come together in just about 20 to 25 minutes.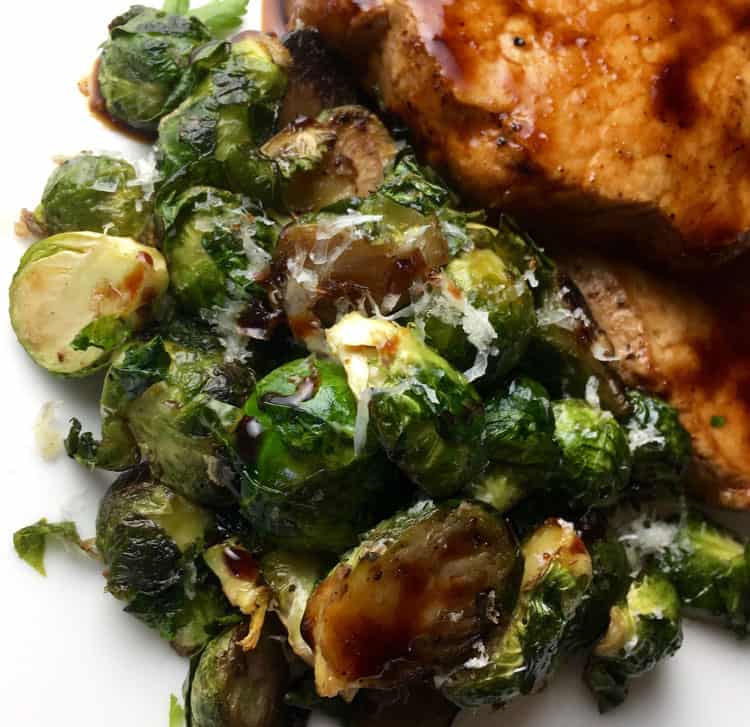 What to Serve With These Baked Brussels Sprouts
These baked Brussels sprouts are the perfect complement to so many meals because of the sweet-savory flavor combination. I put together a list of a few recipes to serve with Balsamic and Maple Roasted Brussels Sprouts:
Maple and Balsamic Pork Chops (made with a maple-balsamic glaze, just like this recipe)
Cedar Plank Salmon (substitute the spaghetti squash with Brussels sprouts)
Tasty Steak with Balsamic Mushrooms
Perfectly Grilled Chicken Halves Recipe

I hope you enjoy this Brussels sprouts side dish recipe. It's a winner!
Recipe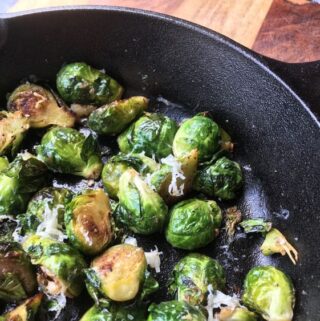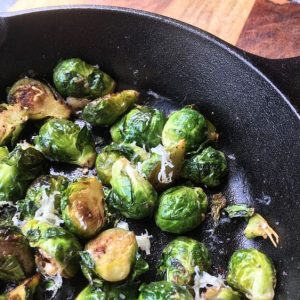 Balsamic and Maple Roasted Brussels Sprouts
Balsamic and Maple Roasted Brussels Sprouts are a tasty side dish with the perfect combination of savory and sweet.
Ingredients
2

tablespoons

extra virgin olive oil

1

pound

small Brussels sprouts

rinsed and cut in half

Salt

to taste

pepper

to taste

⅓

cup

balsamic vinegar

1

tablespoon

real maple syrup
Instructions
Preheat oven to 400°F with the oven rack in the center position.

In a large cast iron skillet or another oven-safe skillet, heat olive oil over medium-high heat. Add Brussels sprouts to skillet, seasoning with salt and pepper to taste.

Stirring occasionally, cook Brussels sprouts until they begin to brown (a few minutes).

Once browned, transfer skillet into the preheated oven. Roast for 15-20 minutes, making sure to stir halfway through. Brussels sprouts are ready to be removed when they turn a rich brown color and are tender.

While the Brussels sprouts are in the oven, combine maple syrup and balsamic vinegar in a small skillet over medium-high heat. Bring the mixture to a boil and stir constantly, and then reduce the heat to medium. Continue the stirring process until the mixture has reduced to about ⅓ of its original volume. It will be syrupy and thick. (Be careful not to overcook; it will become sticky.)

Transfer baked Brussels sprouts to a plate and drizzle with maple-balsamic reduction. Season to taste with salt and pepper.
Nutrition
Calories:
143
kcal
Carbohydrates:
17
g
Protein:
4
g
Fat:
7
g
Saturated Fat:
1
g
Sodium:
34
mg
Potassium:
476
mg
Fiber:
4
g
Sugar:
9
g
Vitamin A:
855
IU
Vitamin C:
96
mg
Calcium:
59
mg
Iron:
2
mg