Peach pie is a must make pie recipe when you have fresh peaches on hand. A hint of warm spices, tender peaches, and a crust that melts in your mouth. This peach pie recipe is incredibly easy to make!
Growing up I always looked forward to peach season cause I knew that meant peach pie was on the horizon! If you are a peach fan, you might want to add this recipe to your list.
Peach Pie Recipe
What I love about this fruit pie is it takes just minutes to prep and it is in the oven filling your home with incredible flavor! Remove and allow to cool down a bit and then slice and serve up a tasty pie recipe that will win over a crowd of your family,
Do You Peel Peaches for Peach Pie
This is optional when it comes to peaches. The skins will soften up quite a bit in the cooking process. So it is all about personal preference in terms of peeling or not.
What Kind of Peaches Are Used In Pie
Reach for a darker-skinned peach, they offer a bright-colored flesh. This variety of peach is a yellow peach and is perfect for using in the pie.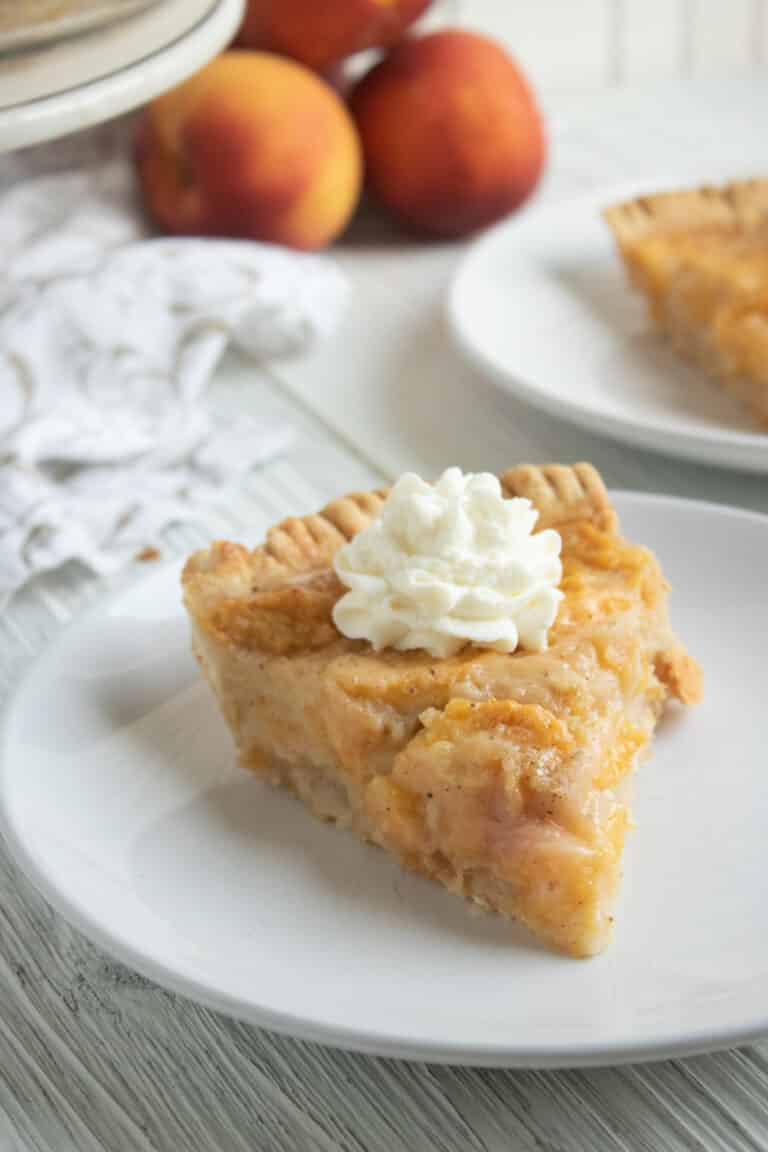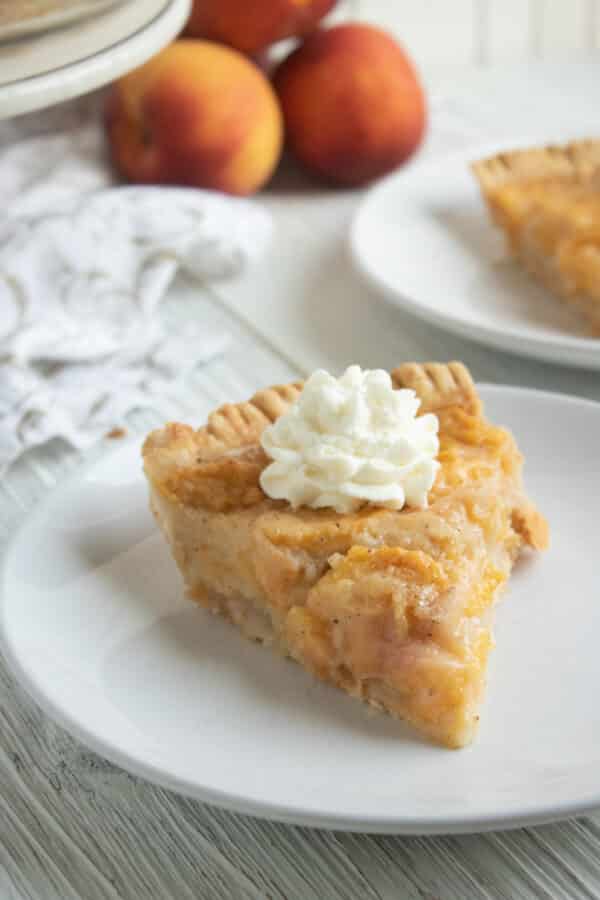 Pie and Cake Supply List
Stand Mixer or Hand-held Mixer- This makes it SO much faster to whip the topping. Like I said above, it can be done without a mixer, but make sure you have a strong arm and patience. I have a KitchenAid Pro Mixer that I've had for 12+ years and love it!
Round Cake Storage and Carrier- Having a pan with lid and carrier makes it easier for storage. No more having to deal with plastic wrap that gets messy and twisted up.
8-inch Parchment Rounds- No more dealing with cake sticking to the bottom of the pan!
Cake Leveler- This tool is a must if you want to make layered cakes. It allows you to evenly remove the rounded part of the cake top and make perfectly level layers.
Cake Server- A good cake server makes a world of difference. It makes it so much easier to lift the dessert lasagna out of the pan in nice and even slices.
Cake Decorating Set- Making a pretty cake is reasonably easy when you use the tools in this decorating set. With a little practice, you will be decorating cakes like a pro in no time.
Variations to Peach Pie
Raspberries | Add in ½ cup of raspberries for a fun twist to the flavor.
Strawberries | Another fruit is strawberries to toss in. Just look for ripe berries.
Topping | Add a crumble top with oats or opt for a designed top with pie crust.
You can really have fun changing things up a bit. I love this classic peach pie but feel free to experiment.

Fresh Peaches or Frozen
Either fresh or frozen peaches works in this pie recipe. Most of the time you will find that frozen peaches offer a nice sweetness to them just as fresh would. They are frozen in their prime.
So if you use frozen don't thaw and just mix in frozen and pour into the pie pan and bake.
What Is The Difference Between Peach Pie and Peach Cobbler
The difference between the two is how they are made. A cobbler is made in a baking dish and a pie is made with pie crust and in a pie pan. Cobblers are topped with a pastry dough or crumble.
How Many Peaches Equals A Cup
Two medium peaches when pitted and peeled will equal around one cup. Just make sure if you reach for smaller peaches to add to it or you will come up short.
Here are more juicy peach recipes
Peach Pie Poke Cake | Here is a White Poke Cake that gives you the flavors of peach pie in every bite!
Soy Peach Milkshake | I love a good milkshake and this creamy and sweet milkshake hits the spot every time!
Peach Salsa | This salsa is incredible. You have the sweet aspect of the fresh fruit in every bite!
How to Make Peach Pie
First start by preheating the oven. Then lay out your pie crust in pie pan. You can make homemade or buy store bought crust.
Then you will want to prep your peaches and then pour them into a bowl. Create the filling batter and mix then fold in peaches. Pour into pie pan and bake.
Best Way To Store Peach Pie
Once you pie has cooled down you can wrap up or place in airtight container and store in the fridge for 4-5 days. If you leave on the counter at room temperature the pie will only store for 2 days.
Can You Freeze Homemade Peach Pie
Yes, peach pie freezes well. Cover tightly and place in a freezer bag or container. Then store in the freezer for up to three months. Thaw in the fridge when preferably the night before you plan to eat.
Can I Make This Pie in Advance
You can make this pie a day in advance. Then if you want a fresh warm pie cover in aluminum foil and place in the oven at 325 degrees. And allow it to warm up a bit then slice and serve as it was a freshly baked pie.
If you have peaches on hand, don't miss out and try this homemade peach pie. It is one of my favorite peach recipes I make!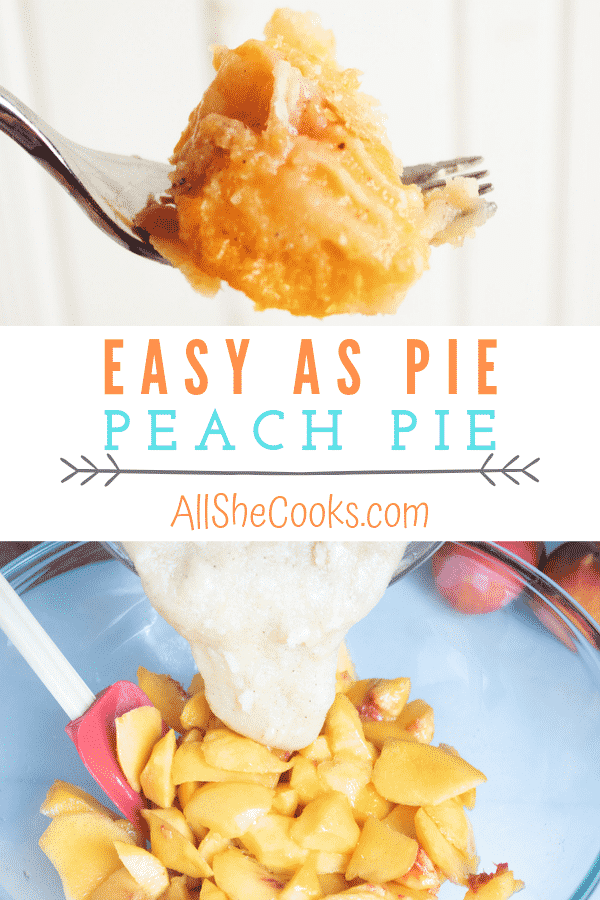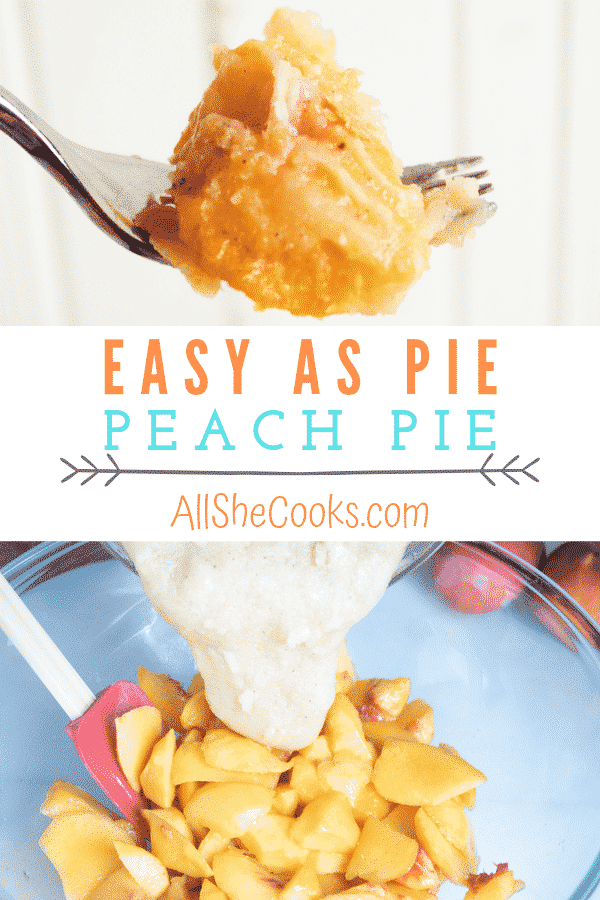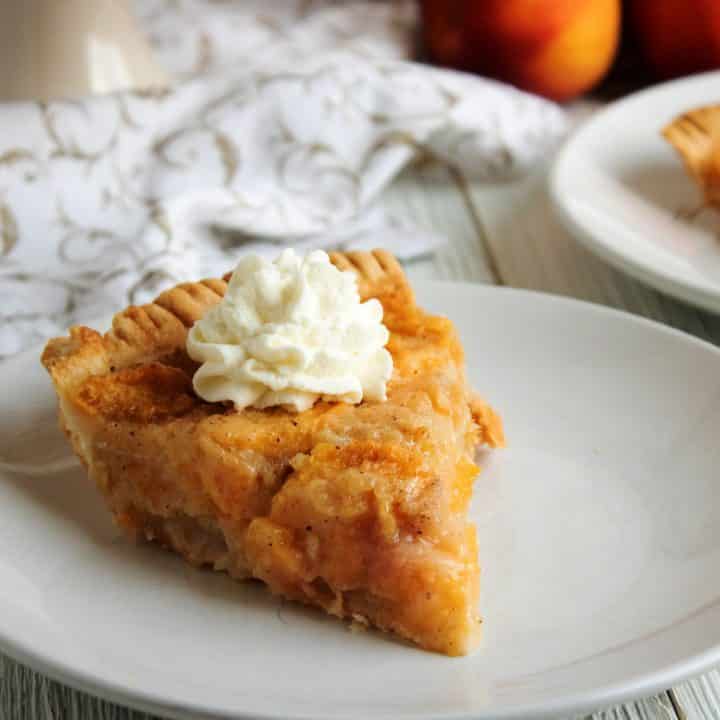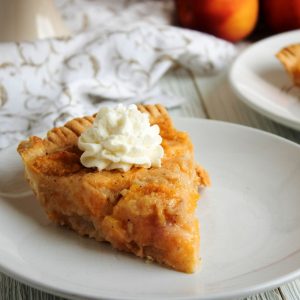 Peach Pie Recipe
Easy flavorful pie recipe made with fresh (or frozen) peach slices. This is a refreshing dessert! Top it with whipped cream or vanilla ice cream.
Ingredients
1

unbaked pie crust for 9-inch pan

refrigerated, or your favorite pie crust recipe

5

cups

sliced fresh peaches

⅓

cup

unsalted butter

melted

1

cup

granulated sugar

⅓

cup

all-purpose flour

1

egg

1

teaspoon

nutmeg
Instructions
Preheat oven to 350 degrees. Prepare pie crust in a pie pan.

Add peaches to a large mixing bowl.

In a small bowl, mix together remaining ingredients until smooth and then pour over the peaches and mix together.

Pour peach mixture into the pie crust and spread evenly.

Bake for 65-70 minutes.

Notes
Use a frozen pie crust and frozen peaches for a shortcut. You will need to increase the baking time by 5-7 minutes.
Use foil, or a pie guard to prevent the edges of the crust from burning.
Nutrition
Serving:
1
g
Calories:
358
kcal
Carbohydrates:
53
g
Protein:
3
g
Fat:
16
g
Saturated Fat:
8
g
Polyunsaturated Fat:
7
g
Cholesterol:
43
mg
Sodium:
127
mg
Fiber:
2
g
Sugar:
33
g