We don't want you to deny yourself some flavorful dessert especially after a tasty meal! So, here's a perfect dessert for all of us.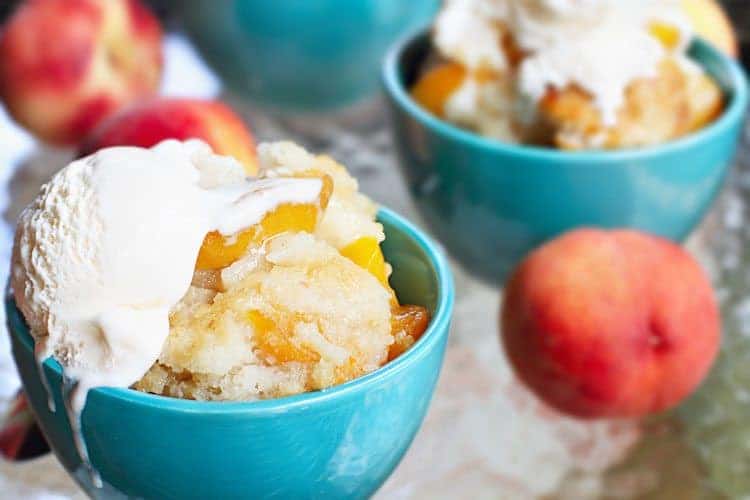 Remember to Keep Your Portions Small
The Weight Watchers peach cobbler is perfect for satisfying your next sweets craving while on a Weight Watchers diet plan.
If you have the points to spare, add a small scoop of fat-free vanilla ice cream and savor that indulgent flavor!
Perfect Dessert after a Summertime Meal
We want to savor the flavors of summer and we prefer to think that we all have a sweet tooth buried somewhere within us.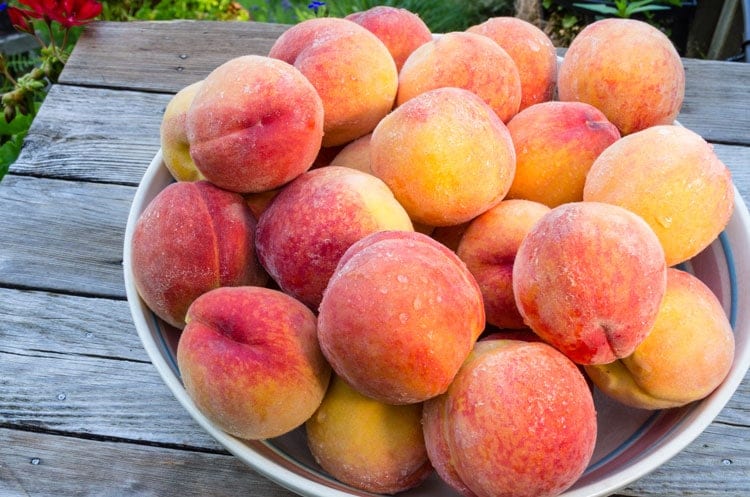 Use Canned Peaches or Trade Them Out for Fresh!
So it's always a great idea to serve up some sliced fresh peaches cooking away with butter (flavored cooking spray, that is) and spices, right?
It relives the taste of summer but whatever the season, this homey dessert is always irresistible after that traditional baked Grilled Pork Ribs meal.
Well in fact, it's perfect after any meal, like our yummy Chicken Salad or Grilled Chicken Halves.
Yum!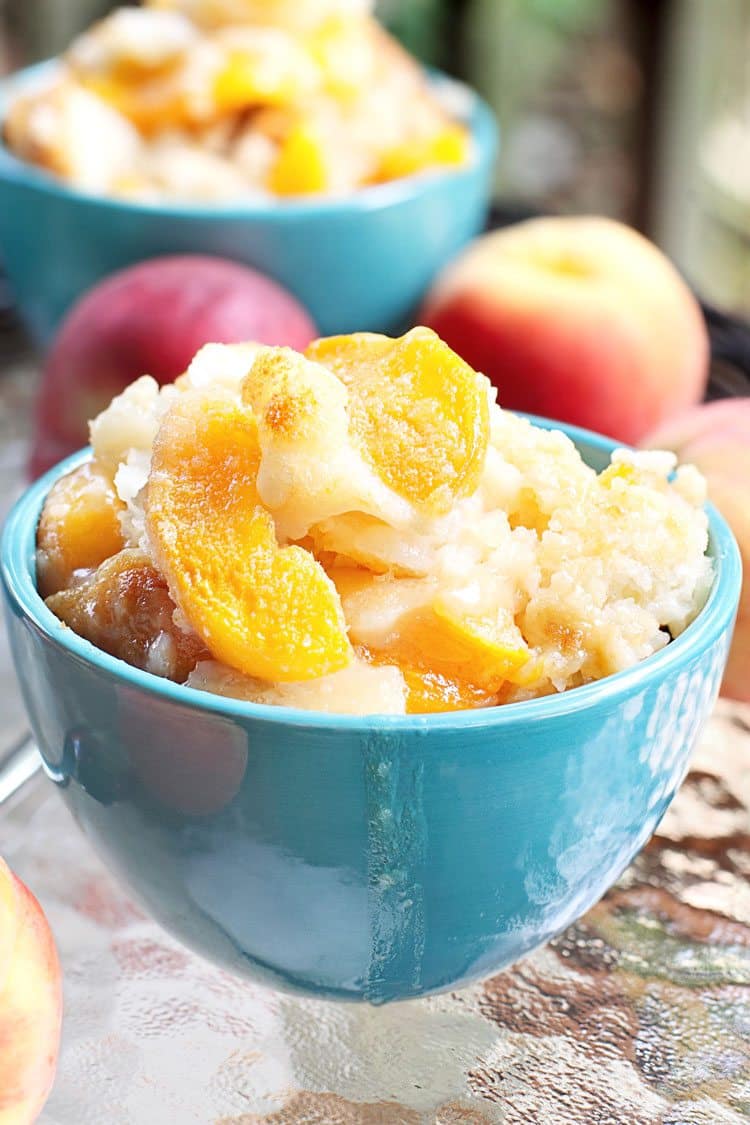 This warm-weather dessert may be seasonal, but you can always serve it anytime of year.
You might also some of the recipes we found in these Weight Watchers cookbooks:
We love a good Weight Watchers cookbook because they give us all sorts of new recipe ideas. Which is always a winner.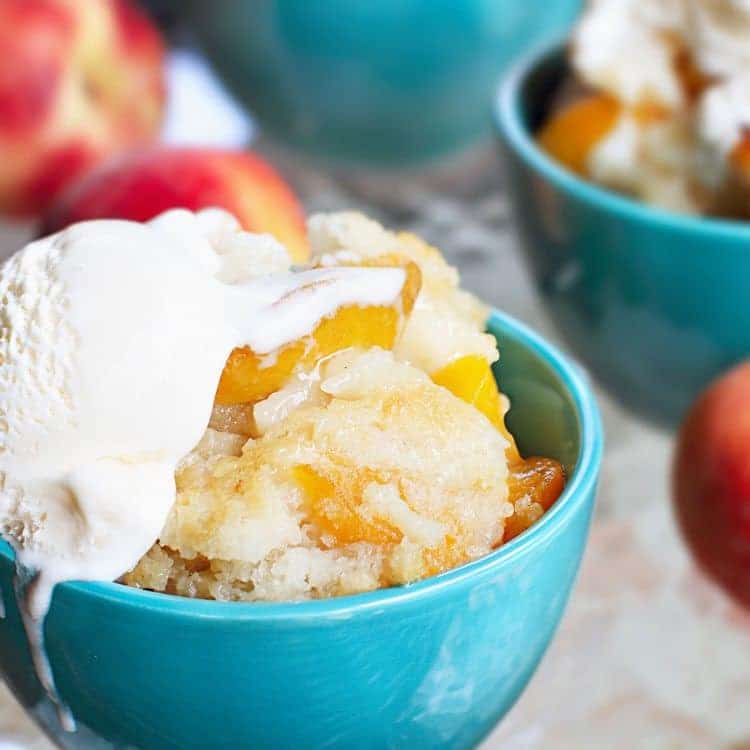 End Your Meal with a Delicious Dessert
Planning to host a backyard barbecue?
This is always one of the perfect ways to end to a summer meal.
We can reassure you that this Weight Watchers peach cobbler recipe will make sure your cookout ends on a sweet note.
Don't Mind Our Huge Bowlfuls...Use a Smaller Dish
You're going to love this tasty peach cobbler. We've made it so many times and absolutely dig in every single time we make it.
Peach Cobbler is an easy and delicious recipe that is SO perfect for summer cookouts without all the guilt of high calorie desserts.
Pair it with a small scoop of fat free ice cream and you're set!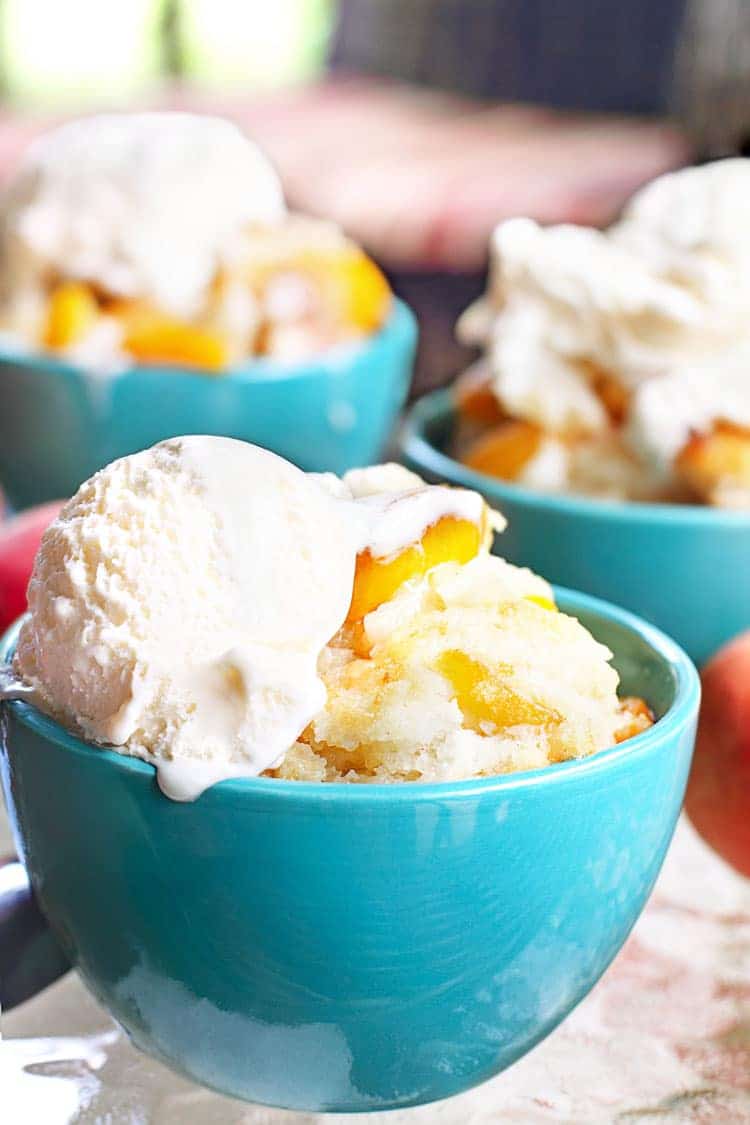 Get the latest scoop on all the recipes I'm whipping up in the kitchen by following along with All She Cooks on Facebook, Instagram, and Pinterest. Also, don't forget to join my Facebook Group where you can share your favorite blogger recipes: Easy & Delicious Recipes.
Have you tried this recipe? Don't forget to Rate This Recipe below. While you're at it, share a picture on Instagram with #allshecooks so we can see how your recipe turned out!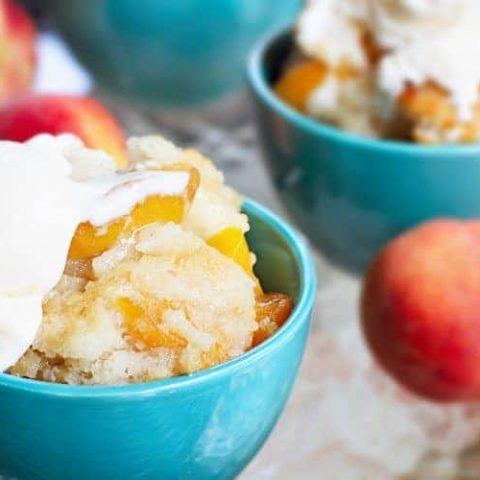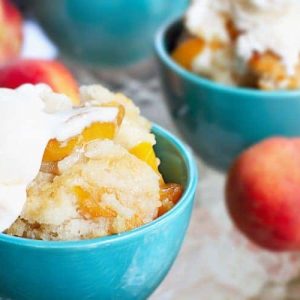 Weight Watchers Peach Cobbler
Now you can eat one of your favorites on Weight Watchers diet. Weight Watchers Peach Cobbler recipe is easy and delicious. Just make sure to use small bowls!
Ingredients
_empty_
1

cup

self rising flour

1

cup

skim milk

1

cup

Splenda

1

can peaches in own juice

Dash cinnamon

Butter flavored cooking spray
Instructions
Mix first 3, fold in peaches, pour into greased (spray with cooking spray) dish and then give a light spray of cooking spray on top.

Add a dash of cinnamon.

Bake in 375 degree oven for 30-35 minutes or until golden brown.
6 servings, 2.8 Smart Points each
Nutrition
Calories:
211
kcal
Carbohydrates:
50
g
Protein:
4
g
Fat:
1
g
Saturated Fat:
1
g
Cholesterol:
1
mg
Sodium:
18
mg
Potassium:
132
mg
Fiber:
1
g
Sugar:
31
g
Vitamin A:
165
IU
Vitamin C:
2
mg
Calcium:
53
mg
Iron:
1
mg
Get More Weight Watchers Recipes
Weight Watchers Chili | Get a lower calorie chili that gives the classic comfort food flavor you love, with less guilt.
Weight Watchers Meatballs| Can you say lower fat meatballs? Switch up the meat you grab for in the grocery store!
Weight Watchers Taco Soup | Load this soup up with tons of veggies for even more of a health kick.
Weight Watchers Garlic Mashed Potatoes | There's just something about garlic. And if you love garlic, you're going to adore this recipe.
Weight Watchers Banana Bread | This is a fun take on banana and pumpkin bread, and combines two of our favorites.
Weight Watchers Hash Brown Casserole | One of my very favorites. This is a serious comfort food meal.
Weight Watchers Key Lime Bars | If you like dessert, these simple and delicious bars will be a treat.
Weight Watchers Peach Cobbler | This cobbler is so amazing! Feel free to swap out the peaches for other fruits or berries.
Weight Watchers Chicken Pot Pie | A meal like no other. You simply can't have chicken pot pie without feeling savoring each and every bite.
Weight Watchers Pumpkin Pie | One of our most popular recipes-- yes, you can have pumpkin pie on a Weight Watchers diet!
Weight Watchers Mac and Cheese | For the love of mac & cheese recipes! Calling all cheese lovers, this one's for you. It's a quick and easy solution for all your mac and cheese cravings.
Weight Watchers 1 point Brownies | Who says you can't have a brownie on a diet? We say you can!
Weight Watchers Cheese Biscuits | If you like Red Lobster biscuits, you'll get the general idea of these delicious treats.
Weight Watchers Deli Crab Salad | This salad makes a great lunch or dinner. 
Weight Watchers Cheese Lasagna | Pasta on a diet? Yes, please! And cheese on top of that?
Weight Watchers Meatloaf | This is one of my very favorite meatloaf recipes. I love that I can mix up a tasty lower-calorie meatloaf.
Weight Watcher Chicken Teriyaki | If you love chicken teriyaki, this recipe is for you. Hands down, one of the best low-cal chicken recipes I've had.