Whip up this pumpkin poke cake for the perfect fall dessert recipe. This pumpkin caramel poke cake is moist, filled with pumpkin flavor, and a nice creamy caramel sauce. One of my favorite fall poke cake recipes I make every single year. 
While some swoon over the caramel apple flavor pairing, my heart is always steadfast on pumpkin spice. This pumpkin cake recipe is so simple, and the creamy filling makes this cake so moist and bursting with fall flavors. 
Pumpkin Poke Cake 
You might be thinking, some people call Pumpkin Poke Cake 'Better Than Sex Pumpkin Cake'. And yes, it has been called that. I prefer just calling it a poke cake, but this cake is amazing no matter what it's called. Call it whatever you want, because you will be making it over and over again! 
The pumpkin pie spice and pure pumpkin puree are two ingredients that are essential for this delicious poke cake recipe. Our pumpkin poke cake is made completely from scratch. It doesn't use yellow cake mix, spice cake mix or pumpkin pie filling like a lot of other pumpkin poke cakes.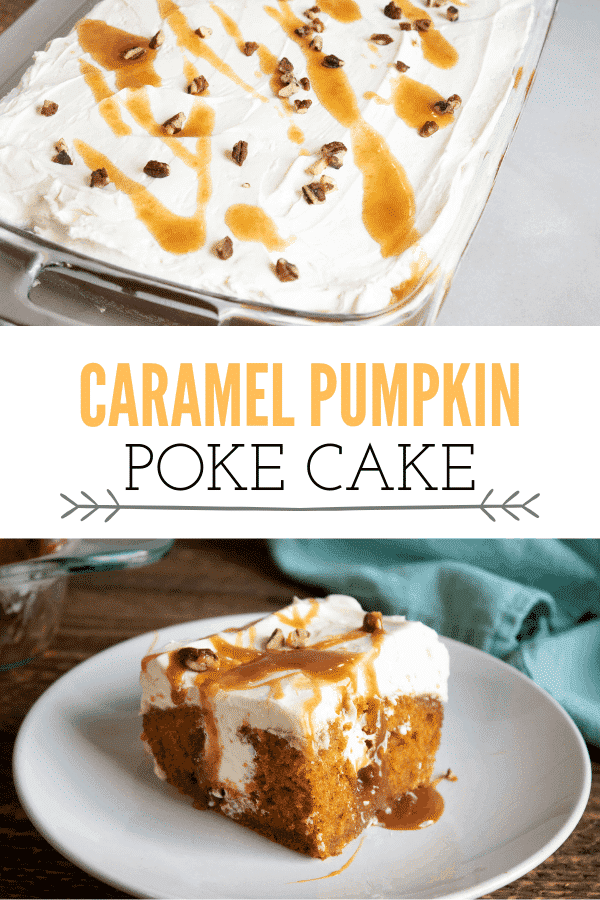 Why Is It Called A Poke Cake 
After you bake the cake and a toothpick poked in the cake comes out clean, take the back of a wooden spoon and poke holes all over the cake. Then pour a caramel sauce over the cake. Then top with a whipped topping based frosting. All the caramel soaks into the cake, making it a dream come true in flavor. 
Want More Poke Cake Recipes
Apple Spice Poke Cake | Here is a recipe for all you apple fans. Get the tender apples in each bite next to the fall spices we know and love. This is a cake that can be made and enjoyed all year long, but is especially enjoyed during the late summer into fall baking season.
Oreo Poke Cake | If you have a love for that classic American cookie, this poke cake will be a treat. This cake starts with a basic white cake, and is finished off with a whipped cream topping and crumbles of Oreos! 
Caramel Toffee Poke Cake | This one is another great contender for the fall and winter months. You get a rich toffee and caramel combination that will win over your friends and family after the first bite. Seriously, you will be coming back for seconds on this one.
Cherry Almond Poke Cake | Cherries and almonds are two flavors that go perfectly together. This cake is so good year round, but would also make a great dessert on your holiday table.
Strawberry Poke Cake | Delicious! Strawberry flavor is the star of this dessert, so if you like strawberries, you will adore this cake.
Jolly Rancher Watermelon Poke Cake | There is something to be said for new bakery creations. You might not have thought about baking a Jolly Rancher Watermelon cake before, but it's one you'll want to take a bite out of.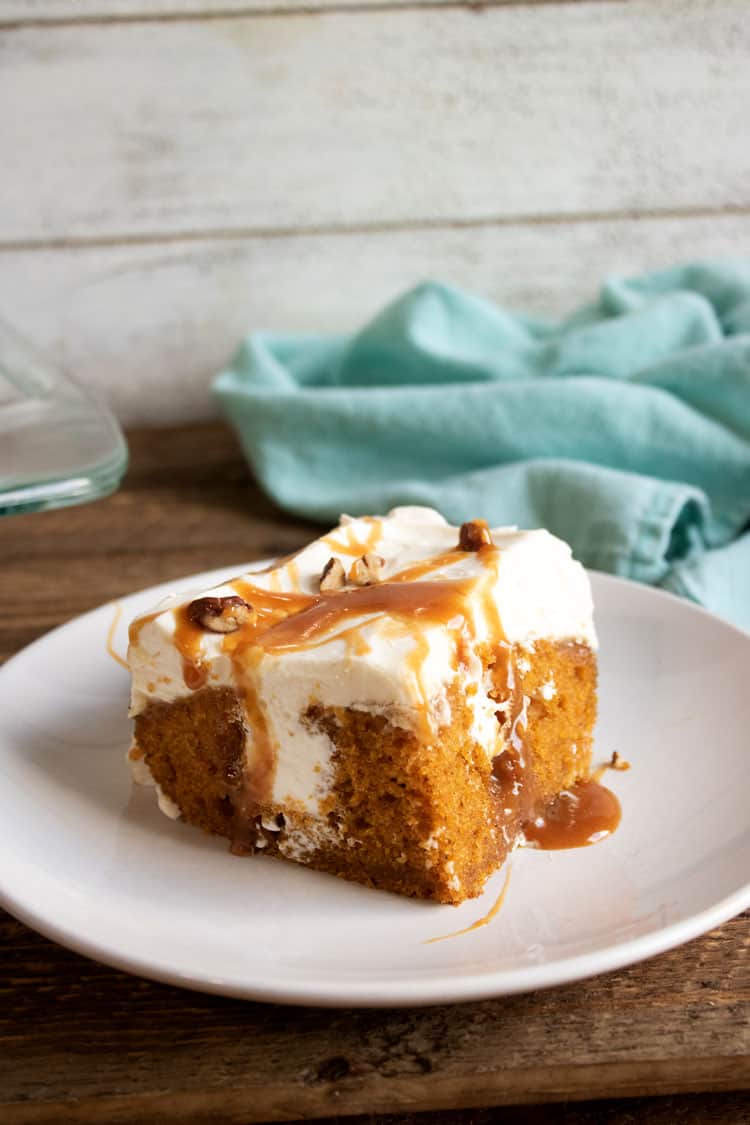 What Type Of Frosting Goes on A Poke Cake
Most poke cake recipes have some form of a whipped frosting to top the cake. There is no hard and fast rule about what kind of frosting has to be used.
For my pumpkin poke cake, I used cream cheese, powdered sugar, whipped cream, and a few other ingredients. I wanted it to be extra flavorful, and fluffy. I mean you can top it with just whipped cream, but the frosting I made really pairs perfectly with the pumpkin cake layer underneath. 
This cake has layers of flavor that really compliment each other.
How Many Holes Do You Need To Poke In A Poke Cake 
I use the back end of a big spoon and poke 6 or so holes in a line, and then work my way down the cake. The holes are what the sauce is going to soak into. This is going to make your cake taste extra flavorful and offer that creamy and moist texture you know and love from a poke cake. Try to evenly space out the holes, and then pour your caramel sauce evenly over the pumpkin cake. 
Once I pour the sauce over the cake, I like to take a spatula and spread any remaining sauce over the top of the cake. The goal here is to push it into any hole it might have missed.
Is There Sweetened Condensed Milk in this Pumpkin Cake Recipe 
I wanted to create a recipe that didn't have sweetened condensed milk in it. I did a caramel base instead. You will see some poke cakes that have a base made with sweetened condensed milk that gets poured over the cake. 
I've created a lot of poke cake recipes, and I have never used sweetened condensed milk as a base. There is absolutely nothing wrong with it, it's just not an essential ingredient in poke cakes.
Can I Used Boxed Cake Mix Instead of Homemade Pumpkin Cake 
If you can find a pumpkin cake mix you are welcome to go that route. I love the flavor of this homemade pumpkin spice cake, but I get it if you want to cut a corner. 
If you decide to make the recipe from scratch like I do, you'll love how easy it comes together. There really isn't that much more to it than there is to preparing a cake mix. Just a few more ingredients and fresh pumpkin puree right out of the can.
Is It Hard to Make Homemade Caramel Sauce 
Homemade Caramel Sauce is so easy to make, you will be amazed. To make the caramel sauce, add brown sugar, butter, milk, and vanilla to a saucepan and stir over medium-low heat. Then watch over the mixture while stirring and watch it transform into a buttery caramel sauce that will completely knock your socks off. 
Remove the sauce from the burner and let it cool for a little bit before pouring it over the cake.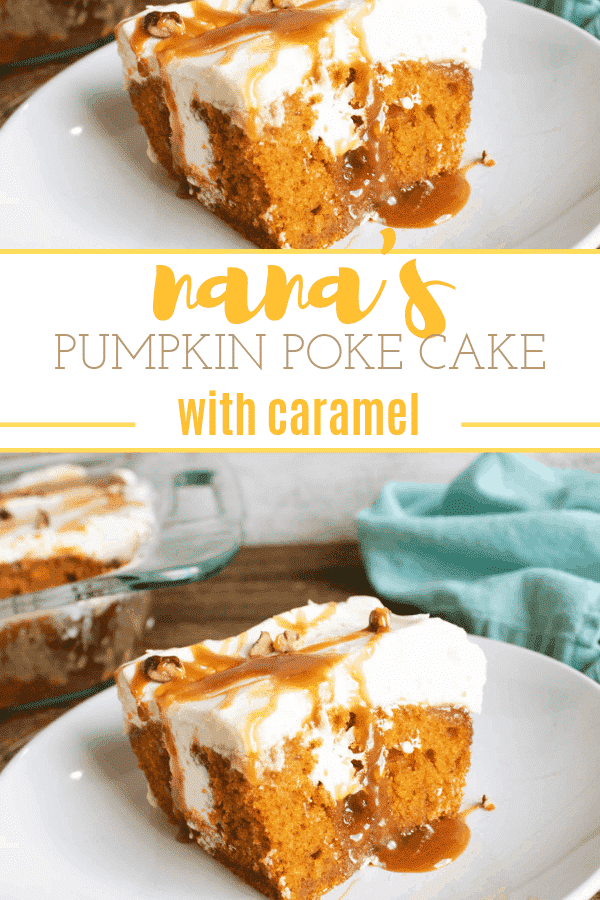 How to Store Pumpkin Caramel Poke Cake 
You will want to store this leftover caramel poke cake in the refrigerator. It will go bad if left out on the counter. I always use my 13x9 baking pan with lid when I make poke cakes, because it keeps the cake fresh.
It tastes amazing served chilled, so just slice and serve right from the fridge. 
How to Make Pumpkin Poke Cake with Caramel
Pumpkin Poke Cake is pretty straightforward to make. To start, preheat oven to 350 degrees. Then, mix the wet ingredients in a large bowl. The remaining cake ingredients are added into the bowl until just mixed.
Next, pour the batter into a prepared baking dish and then the cake is baked for 35-40 minutes.
While the cake is cooling, prepare the caramel sauce on the stove. Poke holes in the top of the cake and then pour the caramel sauce over the cake and push into the holes with a spatula.
Finally, it's time to mix up a cream cheese frosting with powdered sugar that is mixed with cool whip.
It takes less than 30 minutes to make the caramel and construct the cake.
When To Make This Pumpkin Cake 
Birthday Parties | Poke cake is a fun twist to the classic birthday cake! And, our Caramel Pumpkin Poke Cake is especially great for those fall and winter birthdays. 
Holiday Gatherings | This is such a simple and easy cake for potluck-style parties. Or if you want a quick and easy dessert to serve up to guests, this is a winning recipe. 
Treat for the week | Sometimes life calls for cake. There doesn't have to be a reason, just a treat to break up the week! Poke cake is always a fun cake to serve up for an indulgent treat.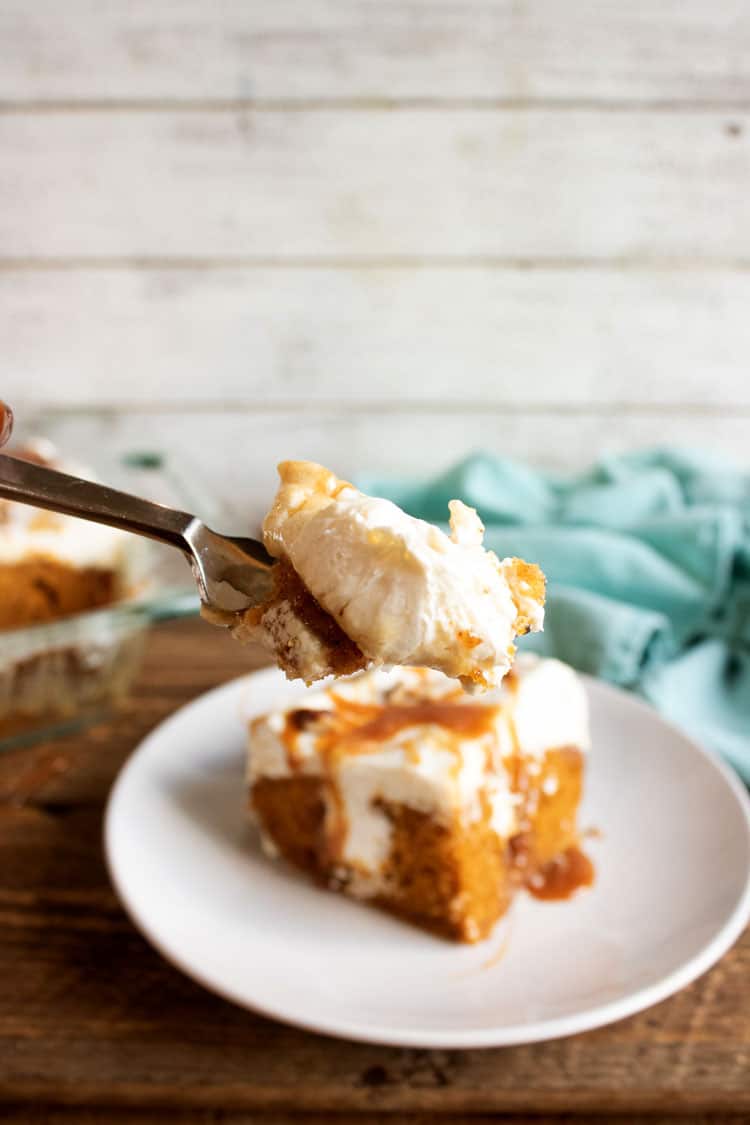 Essential Supplies for Making Poke Cakes  
Wooden Spoon | One of the necessary things to make a poke cake correctly is to have a wooden spoon with a round handle. This is what you use to poke holes in the cake.
13x9 Cake Pan with Lid | Poke Cakes have to be refrigerated because of the type of fillings and toppings that are added to them. Our Caramel Pumpkin Poke Cake is loaded with delicious fillings like homemade caramel sauce. It also has a cream cheese and whipped cream based topping--both of which need to be stored in the refrigerator.
Cake server | If you want to easily be able to scoop up a slice of cake, a cake server is the best kitchen tool for doing this. Sure, you could use a fork or a spatula, but you'll have an easier time with a cake server. It will also make less of a mess.
Have you ever made a pumpkin poke cake before?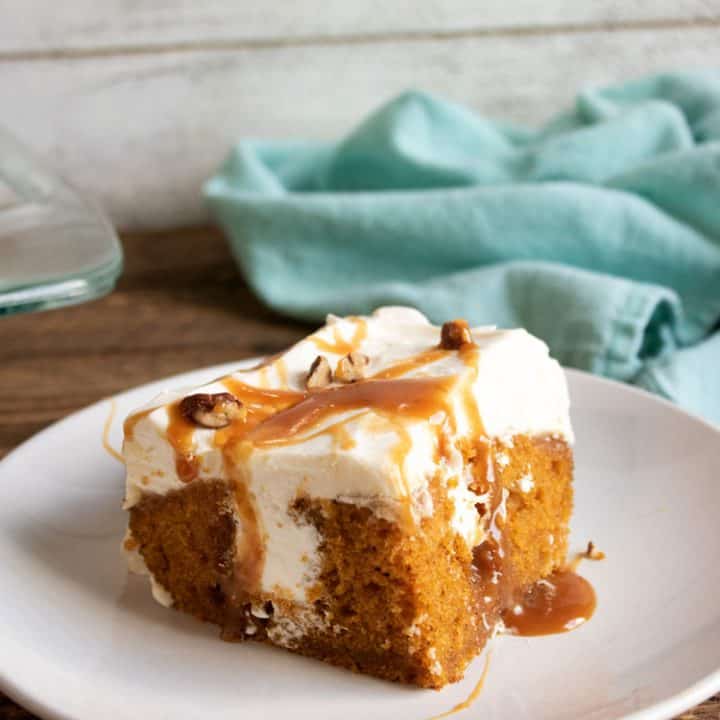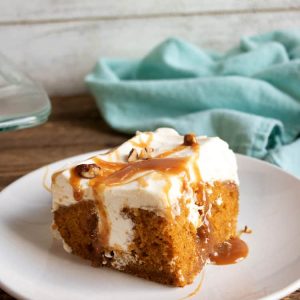 Pumpkin Poke Cake Recipe - Best Pumpkin Spice Dessert Recipe
Pumpkin Poke Cake with Caramel is the perfect fall dessert and encompasses a layer of flavors you'll want to share with everyone.
Ingredients
Cake
1 ½

cups

granulated sugar

1

cup

vegetable oil

15

ounce

can pumpkin puree

4

eggs

2

teaspoons

vanilla extract

2

cups

all-purpose flour

2

teaspoons

baking powder

1

teaspoon

baking soda

1 ½

teaspoon

ground cinnamon

¼

teaspoon

ground cloves

¼

teaspoon

ground nutmeg
Caramel Sauce
1

cup

brown sugar

½

cup

unsalted butter

½

cup

milk

1

teaspoon

vanilla extract
Topping
16

ounces

cream cheese

½

cup

heavy whipping cream

1

teaspoon

vanilla

8-

ounce

container whipped topping

½

cup

chopped pecans
Instructions
Preheat oven to 350 degrees. 

Combine first 5 ingredients in a large mixing bowl. Stir until combined. 

Add remaining cake ingredients to the wet ingredients. Mix until just incorporated, being careful not to over-mix. 

Spray a 9x13 pan with non-stick cooking spray, and then pour batter into the cake pan. 

Bake cake for 35-40 minutes or until a toothpick inserted in the middle comes out clean. 

Remove cake from oven and let cool on a cooling rack. 

Add brown sugar, unsalted butter, and milk to a small saucepan and heat over medium heat to make the caramel sauce, frequently stirring until thickened. Remove the pan from the burner, and add vanilla.  

Let the caramel sauce cool. 

Poke holes in the cake with the end of a rounded wooden spoon.  

Pour caramel sauce over the cake and push into the holes, making sure to reserve some sauce for the top of the cake. 

Beat the cream cheese until smooth and then mix in the heavy cream, and vanilla. Fold in the whipped topping, and then spread the cream cheese mixture over the top of the cake. 

Decorate the top of the cake with drizzles of caramel and chopped pecans.  
Notes
Use a round wooden spoon to poke holes in the cake. If you don't have a wooden spoon, you can also use the back of any round handled utensil that is about ¼ inch wide.
Nutrition
Serving:
1
g
Calories:
572
kcal
Carbohydrates:
51
g
Protein:
6
g
Fat:
39
g
Saturated Fat:
16
g
Polyunsaturated Fat:
21
g
Cholesterol:
99
mg
Sodium:
262
mg
Fiber:
2
g
Sugar:
36
g