Are you ready for a slow cooker corn chowder soup recipe that you'll want to make again and again? This Corn Chowder recipe is AMAZING! It has amazing flavor and is SO easy to make.
How to Make Slow Cooker Corn Chowder
This corn chowder recipe is a breeze to make. It uses basic ingredients that allow you to cook a frugal meal and serve a crowd.
Our recipe makes six servings, but it is easy to double or even triple!
What is Corn Chowder Soup
Slow cooker corn chowder is a soup recipe with a milk base. Some recipes call for chicken, diced potatoes, and a variety of other healthy ingredients.
In addition to this tasty corn chowder recipe, I've made chowder that had chicken, carrots and other mixed vegetables in it. You can easily add in additional veggies or cooked chicken to make this a heartier meal, or to stretch it to feed more people.
What to Serve with Corn Chowder
One of my favorite things to serve with soup are these Cheddar Biscuits. If you like the biscuits at Red Lobster, you will adore the homemade version.
A salad is another great option when trying to figure out what to pair with this slow cooker corn chowder recipe. There is a reason why 'soup and salad' is offered on so many restaurant menus. This Italian-style salad is a favorite in my family.
Can You Freeze Corn Chowder
The short answer is yes, you can freeze this soup recipe. Now for the but.
If you plan to freeze this recipe, swap out the milk for either evaporated milk, heavy cream, or a combination of the two. Both heavy cream and evaporated milk hold up better in freezer meals than regular milk.
How to Freeze Soup
Use freezer-safe containers to freeze leftover chowder. These containers offer a perfect lunch-size or single serving option. They are made of glass, so they are an environmentally-friendly option.
You can also use a larger glass container if you plan to heat the leftovers to serve as a family meal. Having multiple container options for freezer meals comes in handy, and helps to save time for future meals. The containers in the link provided are also glass, and it is a set of 12 containers with lids.
Another option used in freezer cooking is to fill freezer bags up with cooled soup, and then lay them flat on a freezer shelf. Stacking up the full, flat bags allows more food to fit in the freezer.
How Long Does Corn Chowder Last in the Refrigerator
This corn chowder recipe will last for 3-4 days in the refrigerator. If you decide to freeze the leftovers, chowder will last 4-6 months in the freezer.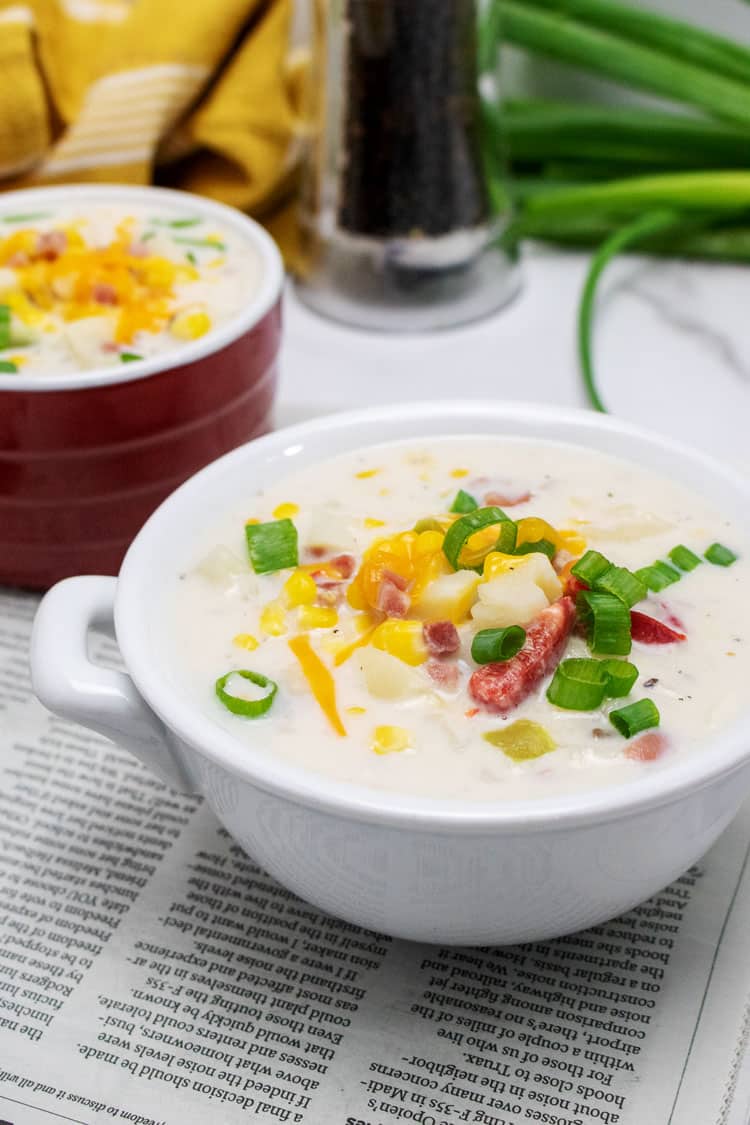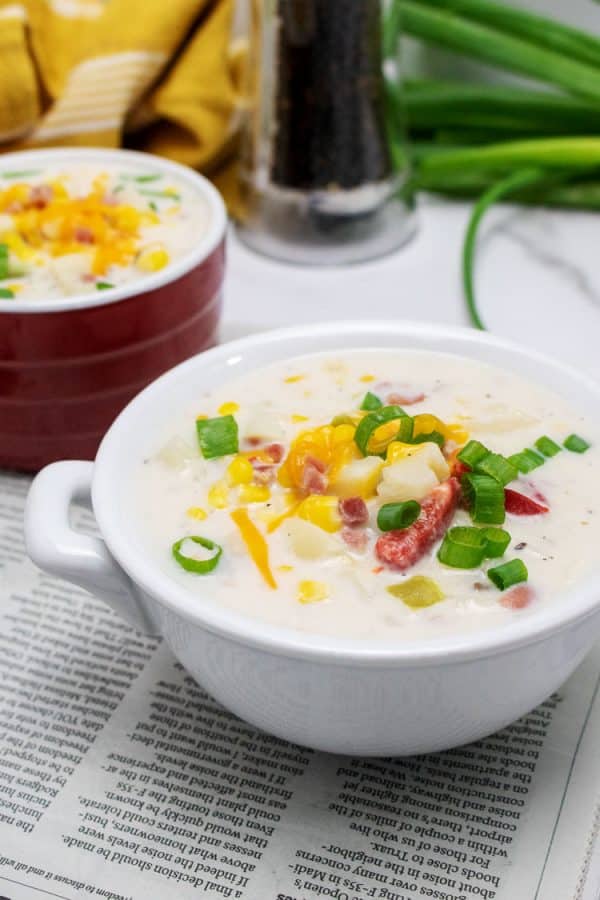 How Do You Make Corn Chowder Variations
There are so many possibilities for chowder variations. One of the most popular variations is chicken corn chowder.
To make a chicken corn chowder crock pot recipe, simply add in cooked chicken breast or some chopped up rotisserie chicken. This would be a great way to use a baked or rotisserie chicken in 2-3 recipes or meals throughout the week.
You could also use leftovers at the holidays and make turkey corn chowder. Dice the turkey up and add it in place of ham.
Another possibility is leftover ham and corn chowder. Simply dice up the ham and use it in place of the cooked ham that the recipe calls for.
How to Thicken Corn Chowder
Here are ways to thicken corn chowder, or any creamy soup.
Mix cornstarch with a small amount of broth and stir until smooth. Stir it into the soup and it will thicken as it cooks.
Heavy cream. Stir in a ½ cup of heavy cream to the soup. This will make a richer and creamier soup.
Puree a can of white beans (rinsed and drained) in a food processor. Add a small amount of broth as needed to blend the beans into a nice paste. Then mix the beans into the soup. This adds even more vitamins to an already nutrient-rich meal.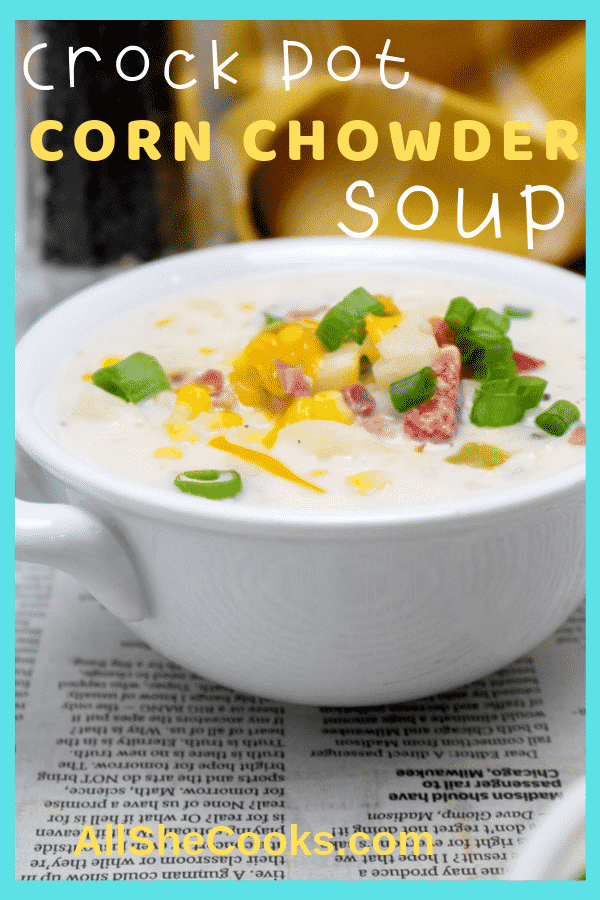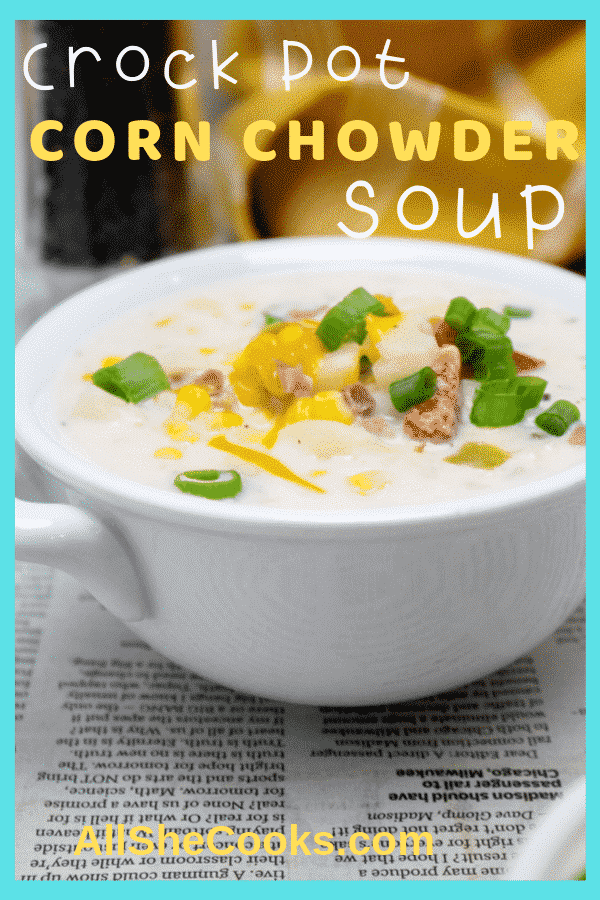 How Do You Make Homemade Slow Cooker Corn Chowder
Our recipe almost cooks itself. If you can open up a few packages, you can make this soup.
We take frozen sweet corn, frozen hash browns with peppers, cooked diced ham, cream of mushroom soup and milk...add it all to the slow cooker, and that's it.
Turn it on low (or high depending on what time you start the slow cooker), and let the chowder cook while you are busy doing other things. Since this is a slow cooker meal, there is no need for stirring constantly.
A few optional add-ins for this hot soup that we recommend: crispy bacon, diced bell pepper, and a bay leaf.
Need a dessert idea? Try one of these tasty cheesecakes from our sister site A Pressure Cooker. Our favorite is the Sweet Potato Cheesecake, but we also adore the Peppermint Cheesecake. Both have a wow factor and are cooked in a pressure cooker.
How Many Calories in Corn Chowder
With six servings, this Crockpot corn chowder weighs in at 249 calories per serving. Depending on your calories allowed each day, you can enjoy a couple servings of soup for dinner.
Slow Cooker Supplies and Resources
One of the best investments for slow cooker cooking is a slow cooker with a locking lid. You can also use a slow cooker liner to make dinnertime clean up easier. There are a variety of sizes available.
Here are Some of Our Best Slow Cooker Recipes
We're doing a 30-Day Slow Cooking Challenge. Here is a list of the recipes we're cooking up. Let me know if you try one of them by leaving a comment on that recipe post and rating the recipe!
There are several types of recipes that we are making during the challenge, from chicken slow cooker recipes, beef recipes, and even vegetarian recipes.
Slow Cooker Supplies and Resources
One of the best investments for slow cooker cooking is a slow cooker with a locking lid. You can also use a slow cooker liner to make dinnertime clean up easier. There are a variety of sizes available.
Recipe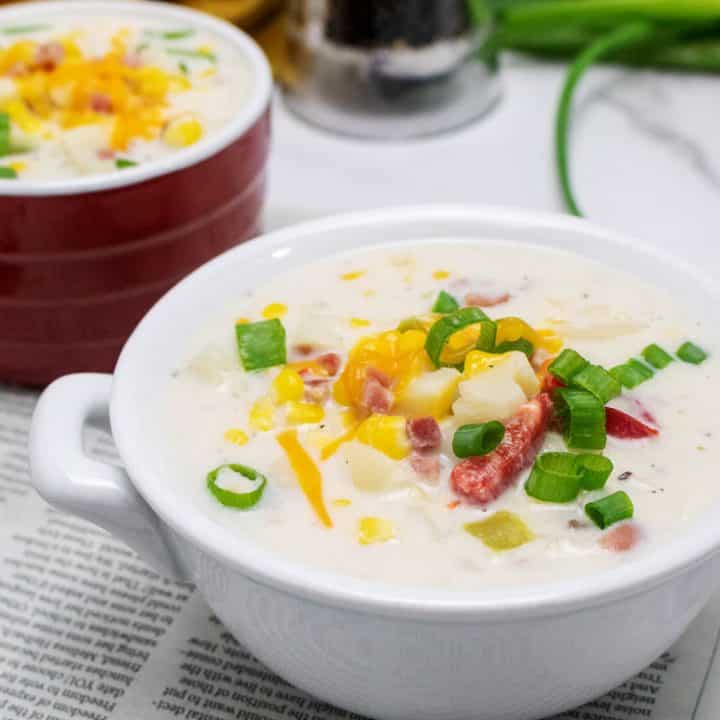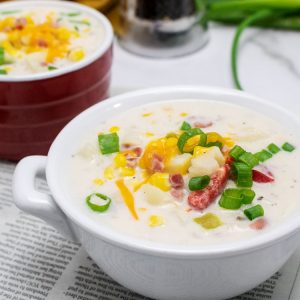 Slow Cooker Corn Chowder
Slow Cooker Corn Chowder is an easy weeknight meal that is practically done for you. This is a meal that is perfect for when you are in a rush and don't have time to cook. Skip the drive-thru and enjoy this delicious soup recipe instead!
Ingredients
1

cup

frozen hash browns with peppers and onions

1

cup

cooked ham

diced

1

10 oz package frozen corn

1

10 oz can cream of mushroom soup

2 to 2 ½

cups

milk

Salt and pepper to taste
Instructions
Put all ingredients in slow cooker and stir to combine.

Set heat to low and cook for 5 to 7 hours.

Add more salt and pepper if desired.
Notes
If cooking on high, cook for 3-4 hours
To make a thicker soup, add ½ cup heavy cream or mix a small amount of corn starch with broth or milk to make a thickener.
Add in chopped (cooked) chicken or turkey for a variation of this recipe. You can use leftovers from chicken, turkey or ham dinners.
Nutrition
Serving:
1
g
Calories:
249
kcal
Carbohydrates:
27
g
Protein:
14
g
Fat:
10
g
Saturated Fat:
3
g
Polyunsaturated Fat:
6
g
Cholesterol:
31
mg
Sodium:
635
mg
Fiber:
2
g
Sugar:
2
g