This slow cooker red beans and rice recipe makes life easier! Do you love getting beans and rice from Popeyes? We do!
This is our version of Popeyes Red Beans and Rice. Full disclosure, we're using ham in this recipe for that tasty flavor. Popeyes doesn't use ham at all. They use liquid smoke to create the smoky flavor.
Another note, I normally make this recipe with smoked ham hocks. However, I was in a bit of a time crunch and my store didn't have any on hand so I tossed in a large uncooked (and definitely not smoked) ham hock instead. I also added in a ¼ teaspoon of liquid smoke to make sure I still got that flavor that I love.
Whether you use liquid smoke or not, this recipe is incredible! Picky eaters even approve.
Slow Cooker Red Beans and Rice
I use my slow cooker a lot. Especially when we hit the cooler months. It's amazing how easy it is to throw together a meal with little effort at all.
This recipe comes together SO quickly. The biggest thing you need to remember is to put the beans in a pot of water to soak the night before you are planning to make this recipe. I remembered at the last minute and was so glad I did.
Can I Make This Into a Canned Red Beans and Rice Crockpot Recipe
You certainly can substitute canned kidney beans for this recipe instead of the dry beans we used. We prefer to use the dry beans, but either option is healthy. And both work fine in this recipe.
How to Make Red Beans and Rice Crockpot Recipe
This recipe is so easy to make in the slow cooker. The photos below (and step-by-step instructions) will walk you through the step-by-step process of how to make beans and rice in your crock pot.
First, rinse and sort the beans and then soak them overnight. In the morning, drain the beans and rinse again.
Then, saute your veggies in a large pan with olive oil on the stove top for just about 5 minutes, stirring occasionally. This is to release some of the flavor from the vegetables and to have the flavors start to meld together. Add the sauteed vegetables to the slow cooker.
Add the beans to your slow cooker. Add in your ham hock or ham bone.
If you want to add in any extra ingredients, now is the time to do it. Bay leaves and cajun seasoned smoked sausage are both great ideas.
This recipes cooks on low for 9-10 hours or for 6-7 hours on high.
When the beans and ham are nearly finished, remove the ham hocks from the slow cooker and remove any meat from the bones. Toss the bones in the trash and return the ham meat to the slow cooker. Stir it in to the the red beans.
What Goes With Red Beans and Rice
Cornbread is always a winning recipe to serve alongside beans and rice. Shrimp, fried chicken, greens, and so many more recipes will go perfectly with red beans and rice.
Or, if you want to serve up a couple New Orleans style recipes, try this Instant Pot Creole Jambalaya. It's delicious!
Red beans and rice can be a side dish, or it can be a main dish. We like to make up a big pot and then eat the leftovers during the next couple of days. Everyone in our family loves this meal.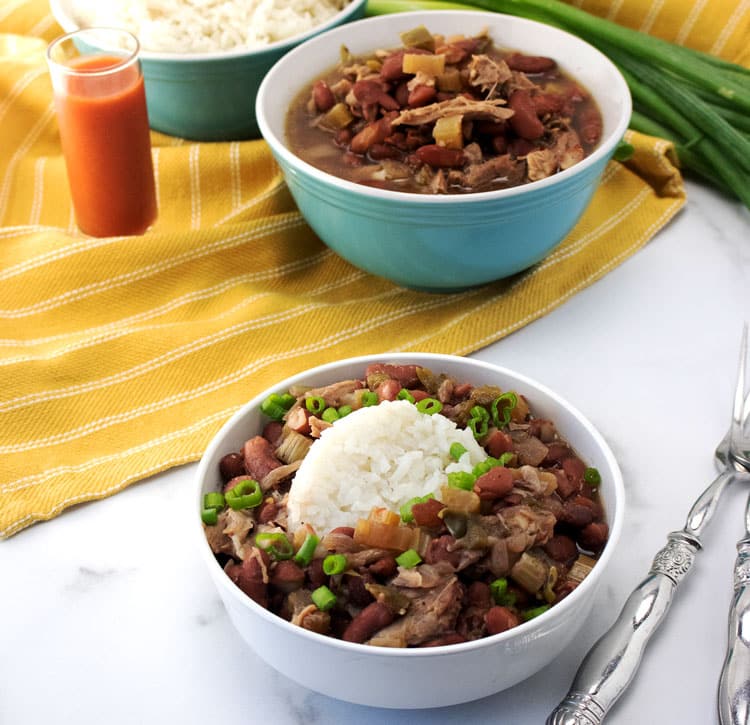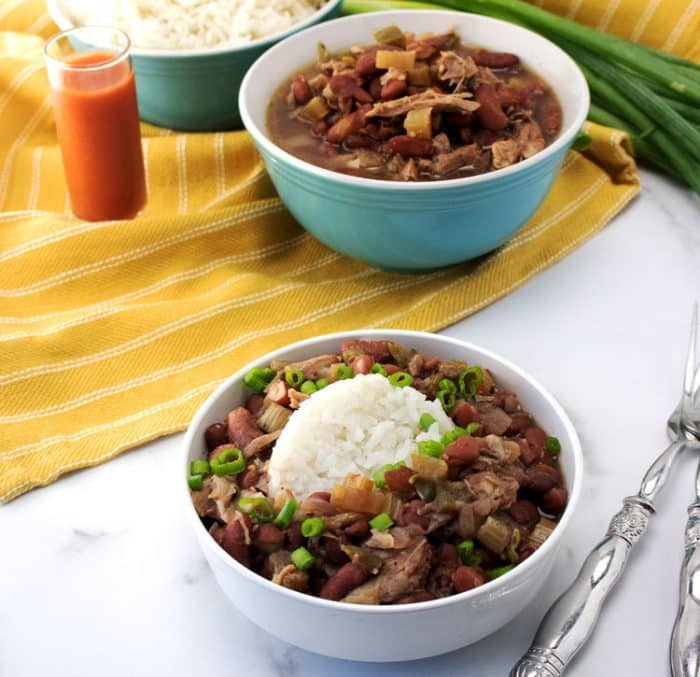 Easy Red Beans and Rice
Beans and rice is an easy recipe, but if you make it on the stove it will take more hands-on time than this slow cooker version does.
Since the only two hands on things that need to be done are finished in just about 10 minutes, this counts as a super easy red beans and rice recipe that pretty much everyone can make.
The two more difficult parts (and they're easy) are cutting up the veggies and sauteing them. Easy, right?
What Are the Health Benefits of Beans and Rice
Beans and rice are both good for you. If you're concerned about making the healthiest food choices, a good option when it comes to rice is to select brown rice over white rice.
As far as health benefits of beans...there are many. They are an excellent protein source, full of important nutrients like folate, and also rich in antioxidants.
There is a reason why WIC (Women, Infants and Children) programs provide beans as one of the foods they supplement. The program is based on providing nutrient rich foods to women and children, and it also requires participants to attend nutrition classes so they can learn about how to make healthy meals.
Another easy recipe like our slow cooker red beans and rice recipe is is our Slow Cooker Pinto Beans recipe.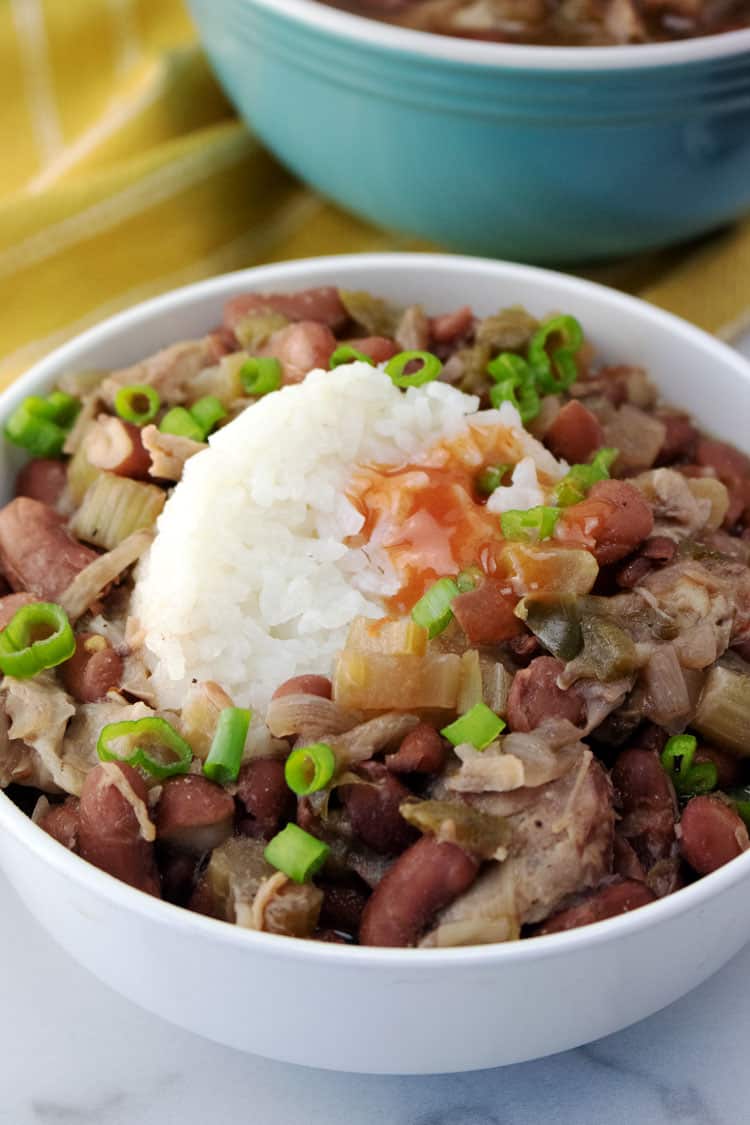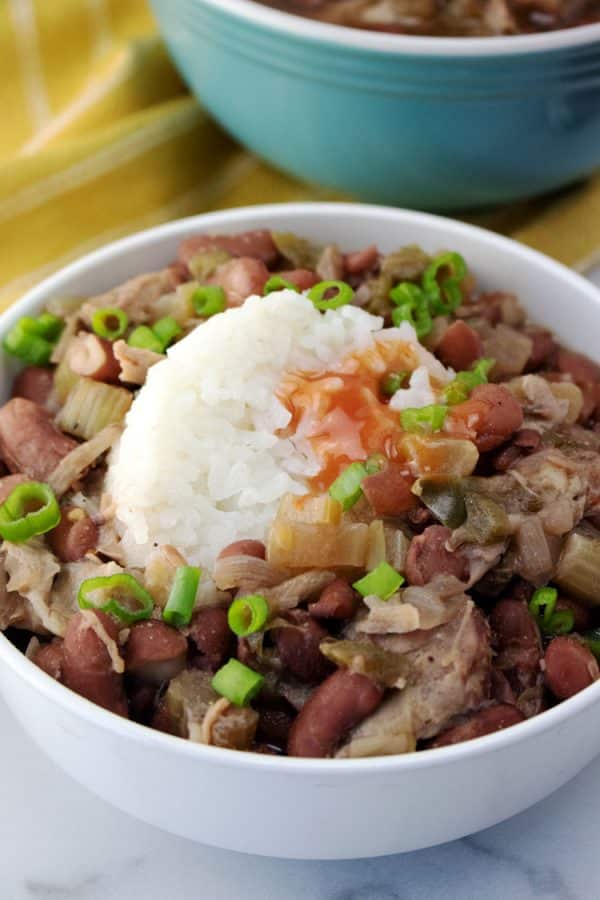 Here are Some of Our Best Slow Cooker Recipes
We're doing a 30-Day Slow Cooking Challenge. Here is a list of the recipes we're cooking up. Let me know if you try one of them by leaving a comment on that recipe post and rating the recipe!
There are several types of recipes that we are making during the challenge, from chicken slow cooker recipes, beef recipes, and even vegetarian recipes.
Red Beans and Rice Calories
As is, this recipe makes six servings. Each of the servings is just over 300 calories. That makes it a perfect side dish, as you still have plenty of calories available for the rest of your meal.
Crock Pot Beans and Rice
Cooking beans and rice in the Crock Pot means that you can set the temperature on your slow cooker and let your food slowly cook all day.
I love these slow cooker supplies because they make cooking that much easier. Trust me--you'll appreciate the time-saving, and your family will appreciate all the yummy dinners you cook.
Slow Cooker Supplies and Resources
One of the best investments for slow cooker cooking is a slow cooker with a locking lid. You can also use a slow cooker liner to make dinnertime clean up easier. There are a variety of sizes available.
Differences Between Beans and Rice Variations
There are many versions of red beans and rice recipes around the world. Here are a few that you might want to try.
New Orleans Red Beans and Rice | Food can be spicy down in the Big Easy, and this New Orleans style red beans and rice is no different. In addition to the ingredients in our recipe (bottom of page), this variation also calls for bay leaves, Creole seasoning, thyme, sage and hot pepper sauce.
Popeyes Red Beans and Rice | This version has no meat and instead uses a couple drops of liquid smoke to get that yummy flavor. Be careful when using liquid smoke. It's really powerful and only a tiny bit is needed.
Cajun Red Beans and Rice | The Cajun variety of beans and rice uses classic seasonings of bay leaves, cayenne pepper, parsley, sage, thyme, as well as Cajun seasoning and andouille sausage.
Creole Red Beans and Rice |The Creole version typically uses fewer types of spices, but includes salt and pepper, Creole seasoning, and smoked sausage.
Dominican Republic Red Beans and Rice Recipe | Let's just call it Moro de Habichuelas Rojas. Leave out the celery, add in some capers, olives, oregano, tomato sauce and a little bit of cilantro. This beans and rice dish is served mixed together with the rice.
Panamanian Red Beans and Rice Recipe | The traditional beans and rice in Panama involves coconut rice with red beans. It's called Arroz de coco con frijoles rojos. Their recipe is vegan and uses long grain rice, vegetable stock, coconut milk, red pepper, onion, vegetable oil and red beans. Season with salt and pepper, and it's ready.
Get the latest scoop on all the recipes I'm whipping up in the kitchen by following along with All She Cooks on Facebook, Instagram, and Pinterest. Also, don't forget to join my Facebook Group where you can share your favorite blogger recipes: Easy & Delicious Recipes.
Recipe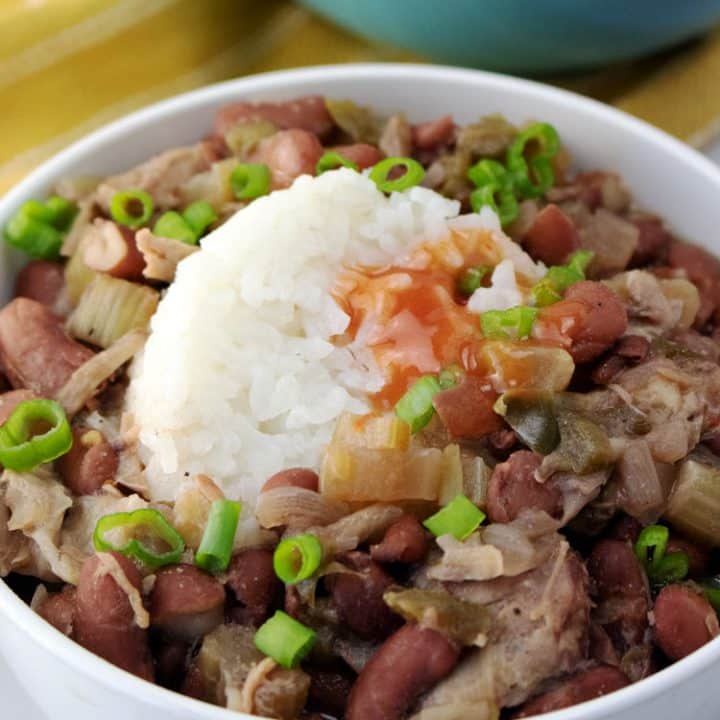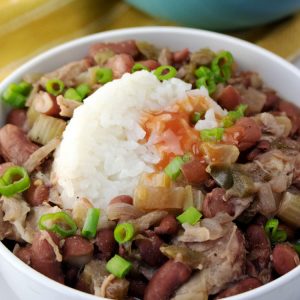 Slow Cooker Red Beans and Rice
This makes a great side dish with any type of pork, chicken, or shrimp. It can also be served as a main course meal if you wish.
Ingredients
1

pound

dried red beans

rinsed and drained well

2

tablespoons

vegetable oil

3

celery stalks

chopped

1

medium onion

chopped

1

green bell pepper

seeded and chopped

3

scallions

chopped

2

garlic cloves

minced

3 ½

cups

of water

2 ⅔

cups

of beef broth

½

tsp

crushed red hot peppers

1-2

smoked ham hock

skin scored in a diamond pattern (if smoked ham hocks aren't available, an uncooked ham hock will work)

4

cups

hot cooked rice
Instructions
Soak the beans over night in water. Drain well.

Place the oil into a skillet over medium high heat. Add the celery, onions, bell pepper, scallions and garlic. Stirring often, cook the mixture for 6 minutes or until the onion is tender. Transfer to the crock pot.

Add the beans and stir to blend in. Pour the water and beef broth into the crock pot. Add the crushed peppers and stir to blend all the ingredients together. Bury the ham hock into the beans.

Cover the crock pot and cook on low for 9 hours or until the beans are tender. Remove the ham hock and remove the skin and any fat. Shred the meat and place back into the beans. Serve the beans over the hot cooked rice.

Notes
Vary your meat addition by adding a smoked turkey wing, cut into 2 pieces instead of using the ham hock.
Nutrition
Serving:
1
g
Calories:
315
kcal
Carbohydrates:
53
g
Protein:
13
g
Fat:
6
g
Saturated Fat:
1
g
Polyunsaturated Fat:
5
g
Cholesterol:
2
mg
Sodium:
510
mg
Fiber:
6
g
Sugar:
3
g