Are you ready to bring some psychedelic fun to your next party? Look no further than this easy tie dye cake. This colorful dessert tastes every bit as good as it looks!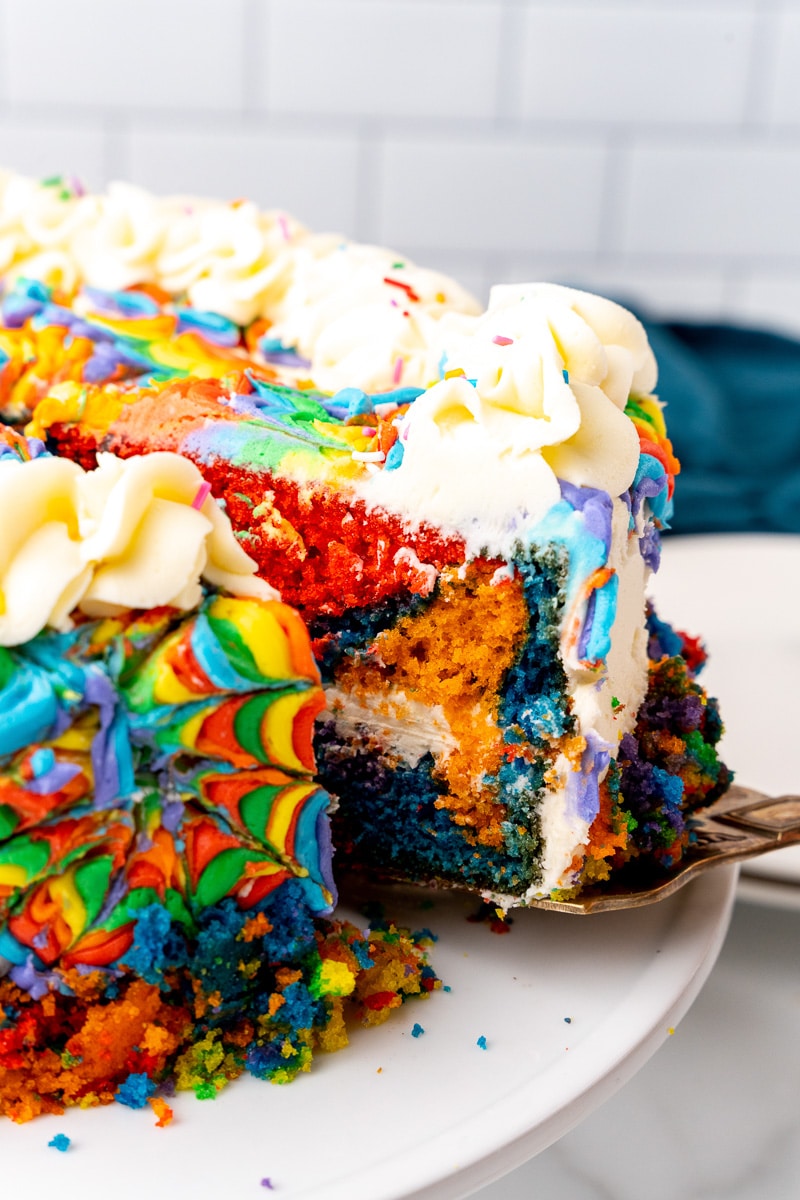 I've gotten so much love for my recently posted tie dye cupcakes, that I just had to give you all this tie dye cake as well. Who knew you were such tie dye fans?!
This tie dye cake is:
Colorful. (Duh.)
Delicious.
A fun family friendly recipe!
Super easy to make.
Great summer time dessert.
So what are you waiting for? Let's make this groovy cake!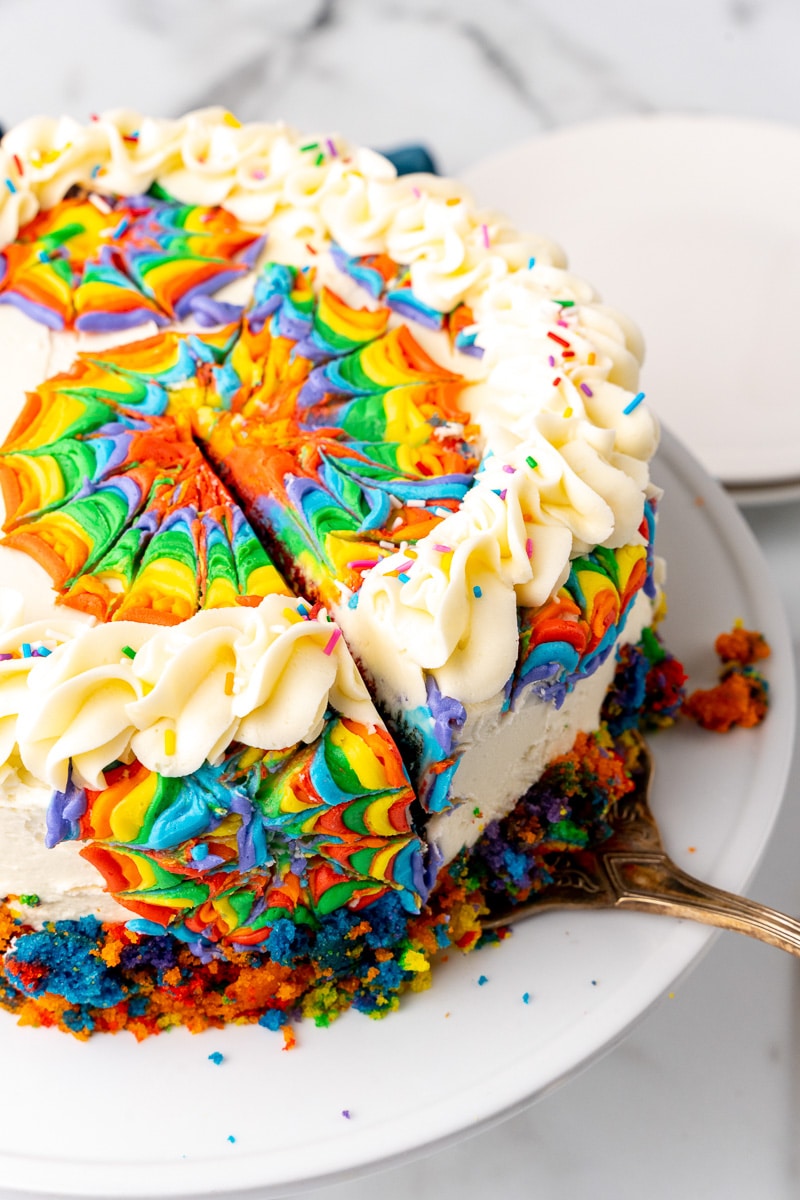 How to Make a Tie Dye Cake
First things first, don't let all those colors intimidate you. Making a tie dye cake is actually quite simple. It's really just a basic cake recipe with a couple extra steps!
Start off by mixing up your cake batter. I used a pretty simple vanilla cake recipe (full details below), but you can also make this with a boxed cake mix if you prefer.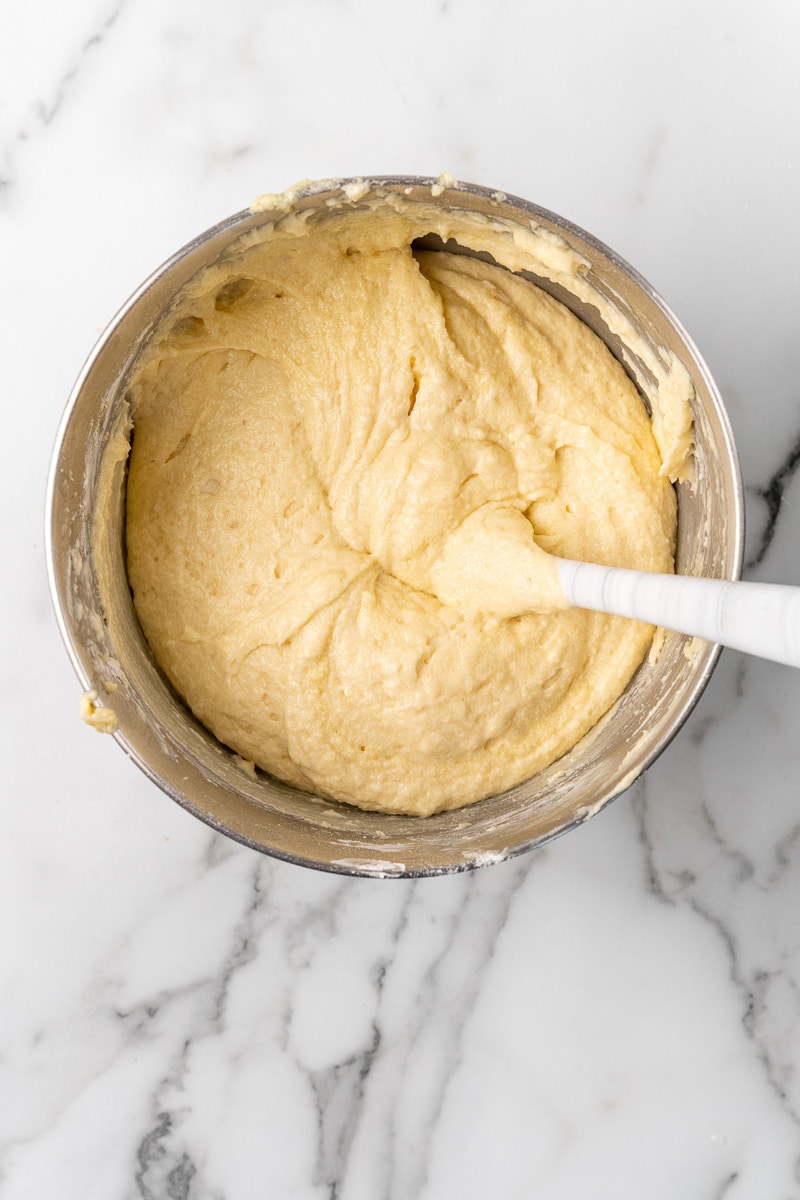 Divide the cake batter into separate bowls, one for each color that you want to incorporate in your cake. I used six colors - red, orange, yellow, green, blue, and purple. Add a few drops of food coloring to each bowl and mix until you achieve your desired color.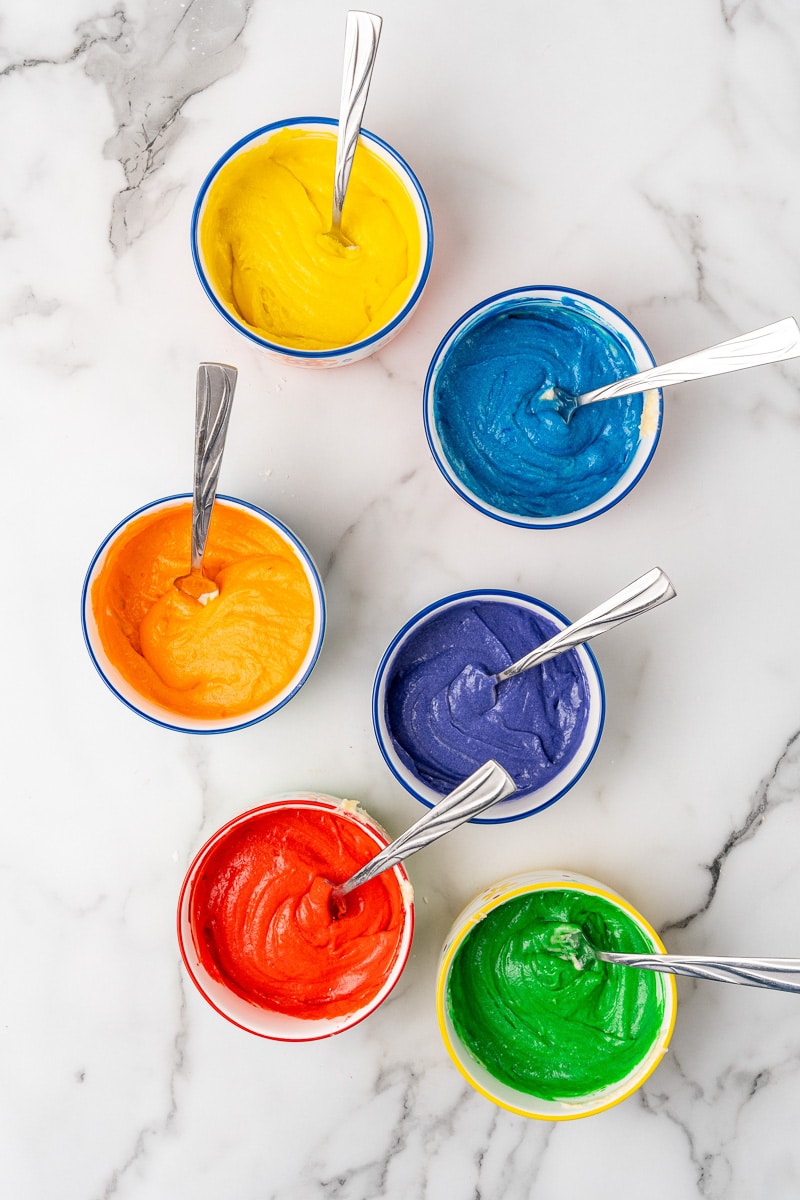 Now get two 8" cake pans (so we can have two layers to the cake), and gently pour half of each colored batter into each cake pan. Use a toothpick to gently swirl the colors together to get your tie dye look.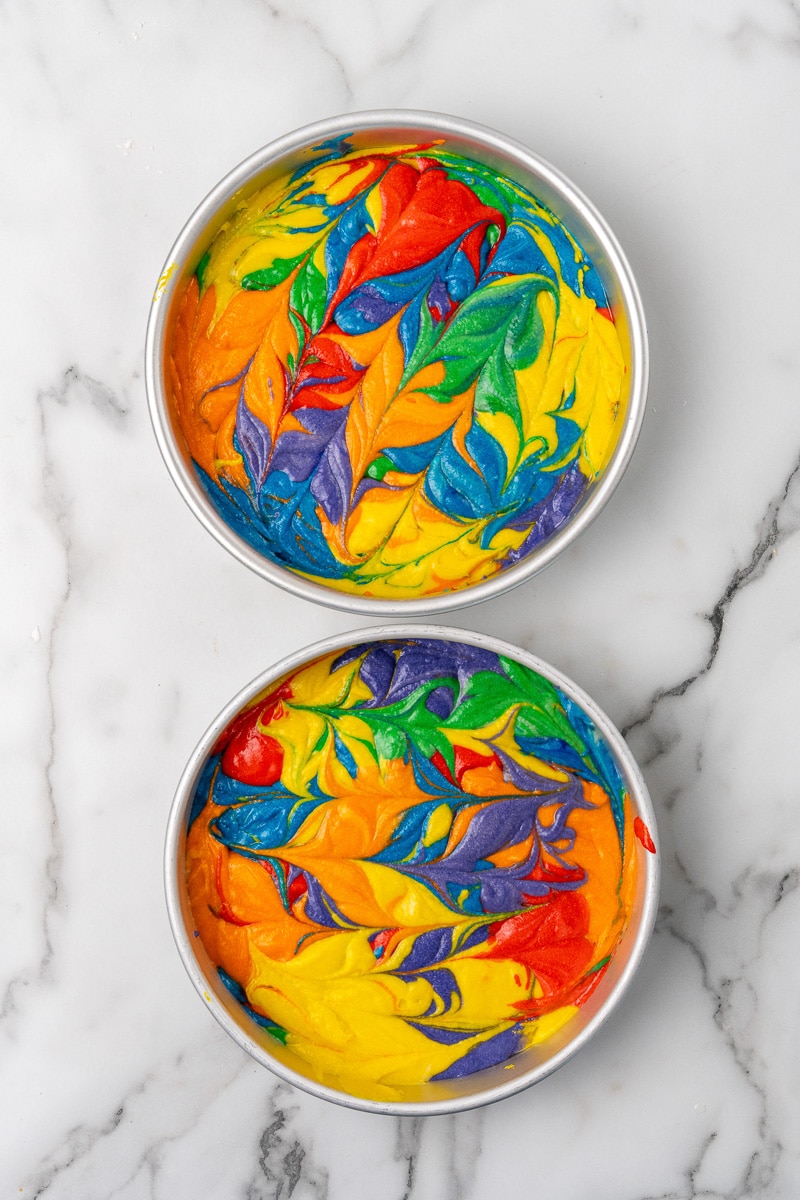 Then bake and frost the cake as usual, and top with some colorful sprinkles! I used a homemade buttercream frosting, which is in the recipe card below.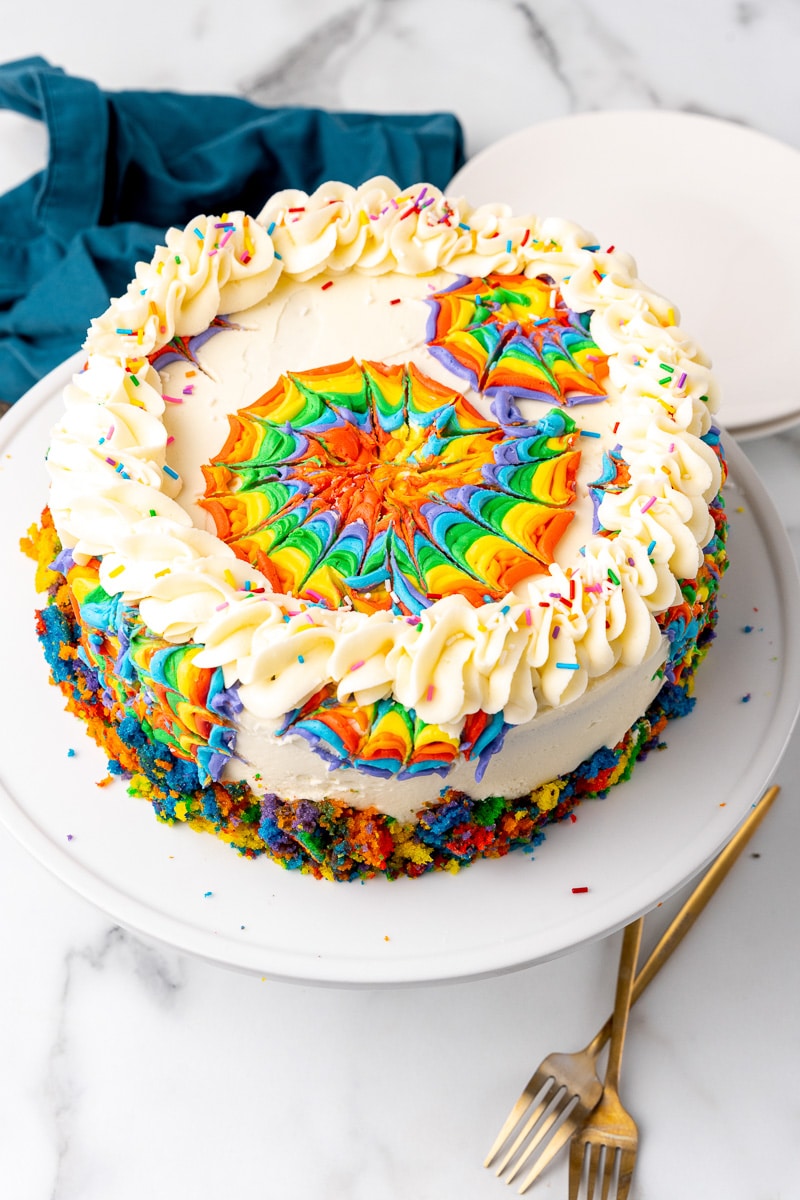 Tips & Variations
Swirl gently!
One thing to keep in mind when making this colorful cake recipe from scratch is that the colors can easily blend together if you're not careful. Then you'll have a less delightful brown cake. To avoid this, use a toothpick or knife to gently swirl the colors together in your pan, being careful not to overmix. You want to see distinct colors in your finished cake, not a muddy mess.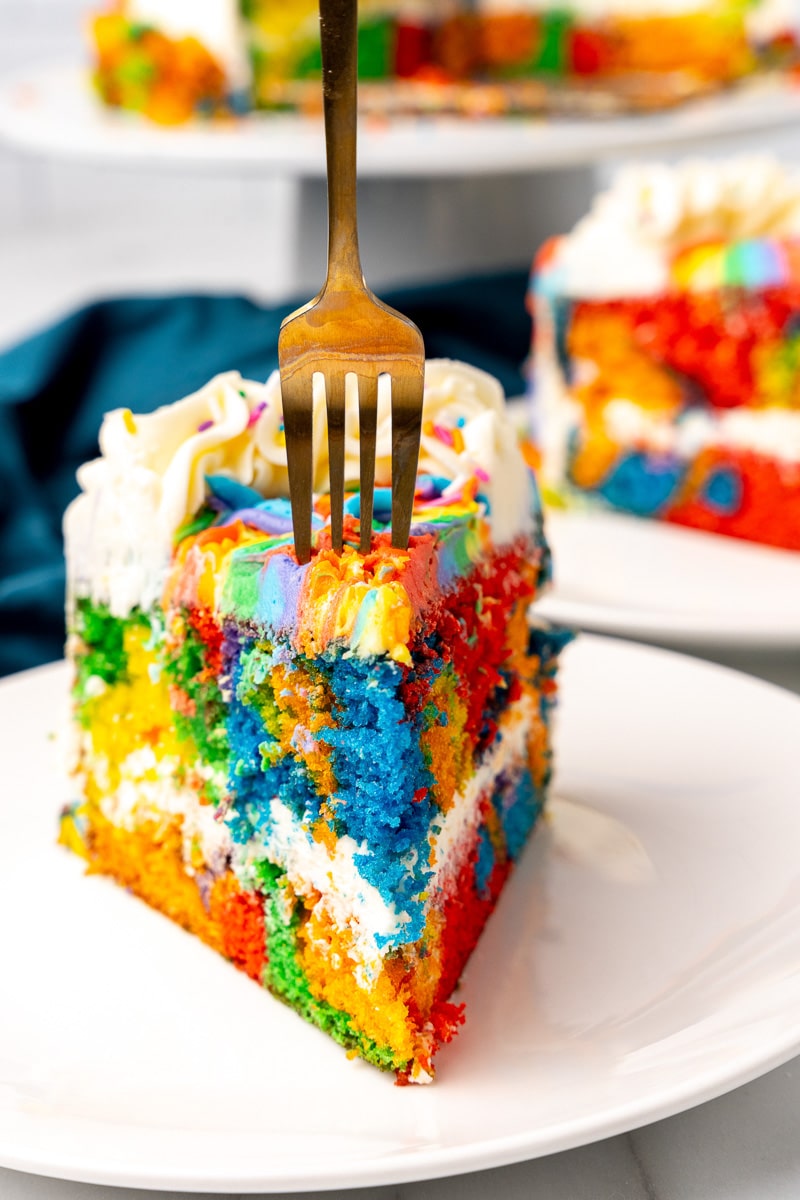 Experiment with colors.
Build your own color combinations for a truly unique tie dye cake. Try using pastel colors for a more subtle look, or go all out with bright neon colors. Have fun!
Cake flavors.
If you're feeling extra creative, try using different cake flavors for each color. For example, use strawberry cake mix for pink batter, lemon cake mix for yellow batter, and so on.
Natural Food Colorings.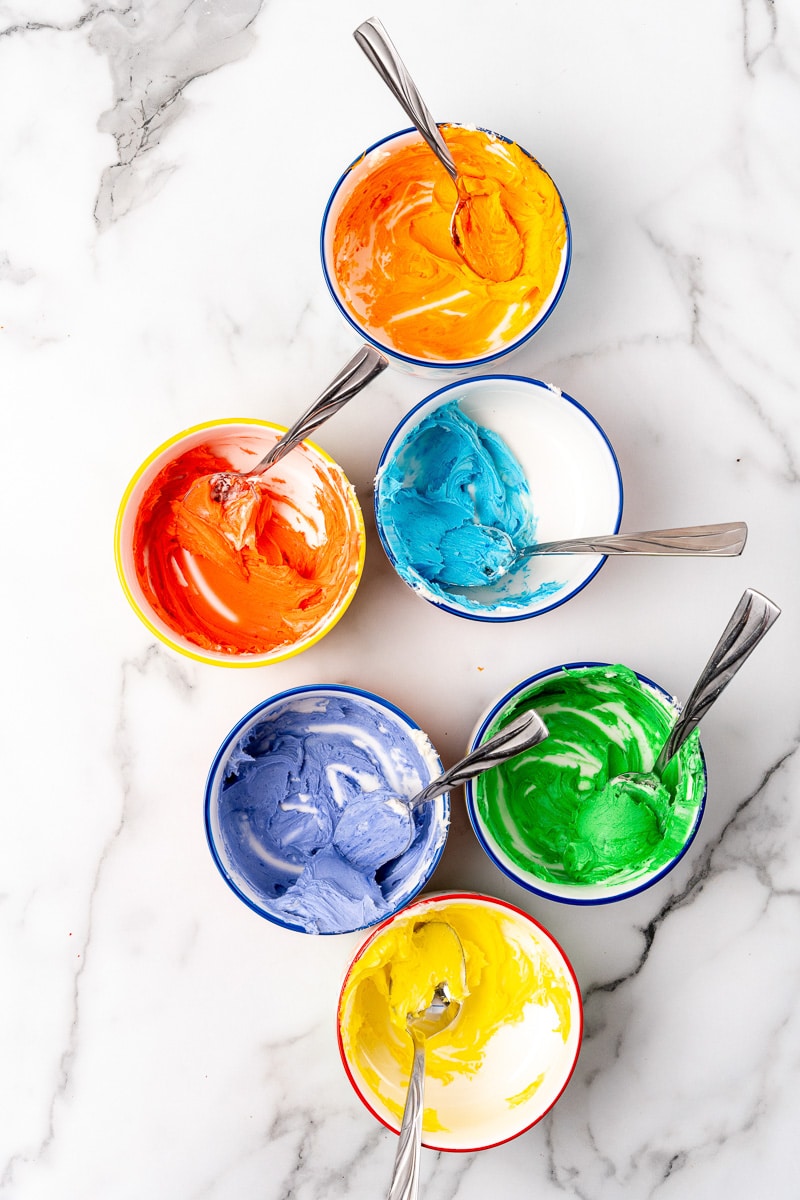 Don't have food coloring on hand or don't like to cook with them? No problem! You can achieve similar results with natural food dyes like beet juice, turmeric, or matcha powder.
Add Mix-Ins.
Want to make your tie dye cake even more festive? Consider adding some fun mix-ins like chocolate chips, sprinkles, or even pieces of fruit (like strawberries).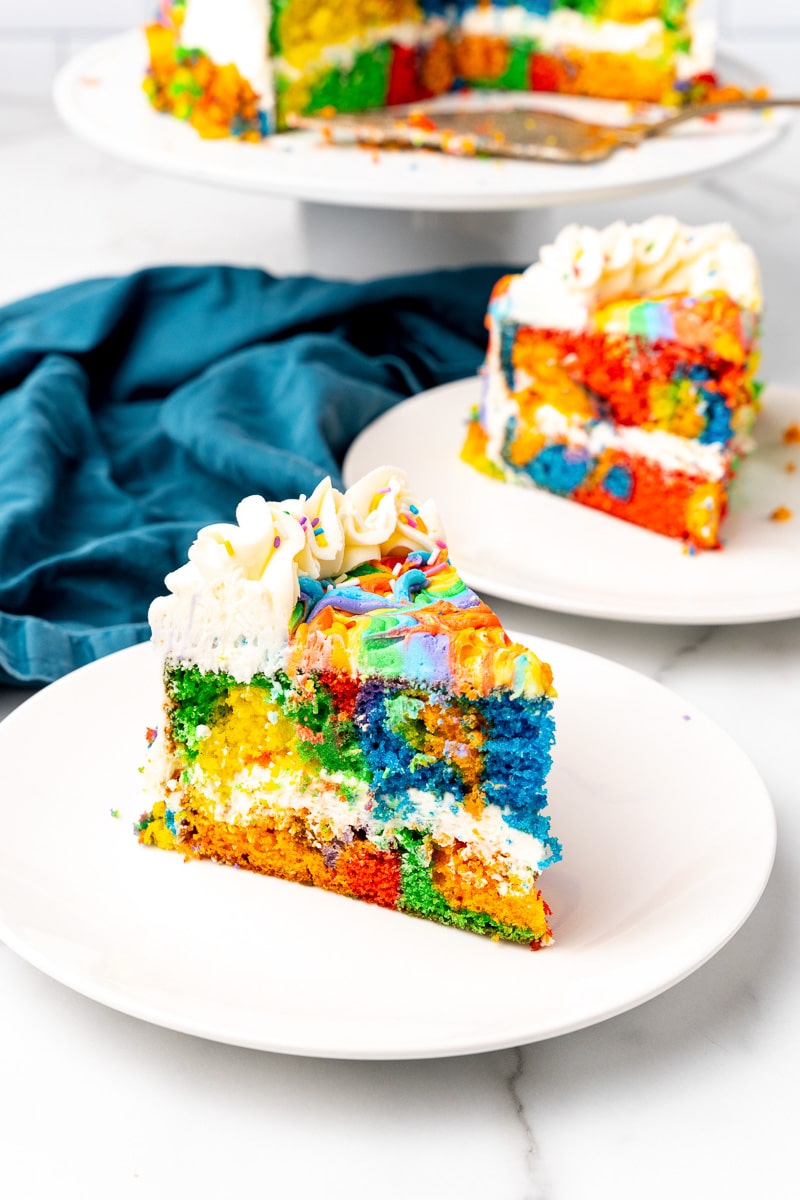 Make cupcakes instead.
Don't have a cake pan? No worries! You can make tie dye cupcakes or even a tie dye bundt cake using the same technique.
There you have it - everything you need to know to make a showstopping tie dye cake. Whether you're hosting a birthday party, baby shower, or just looking for a fun baking project, this dessert is sure to impress. Now, get your apron on and let's get baking!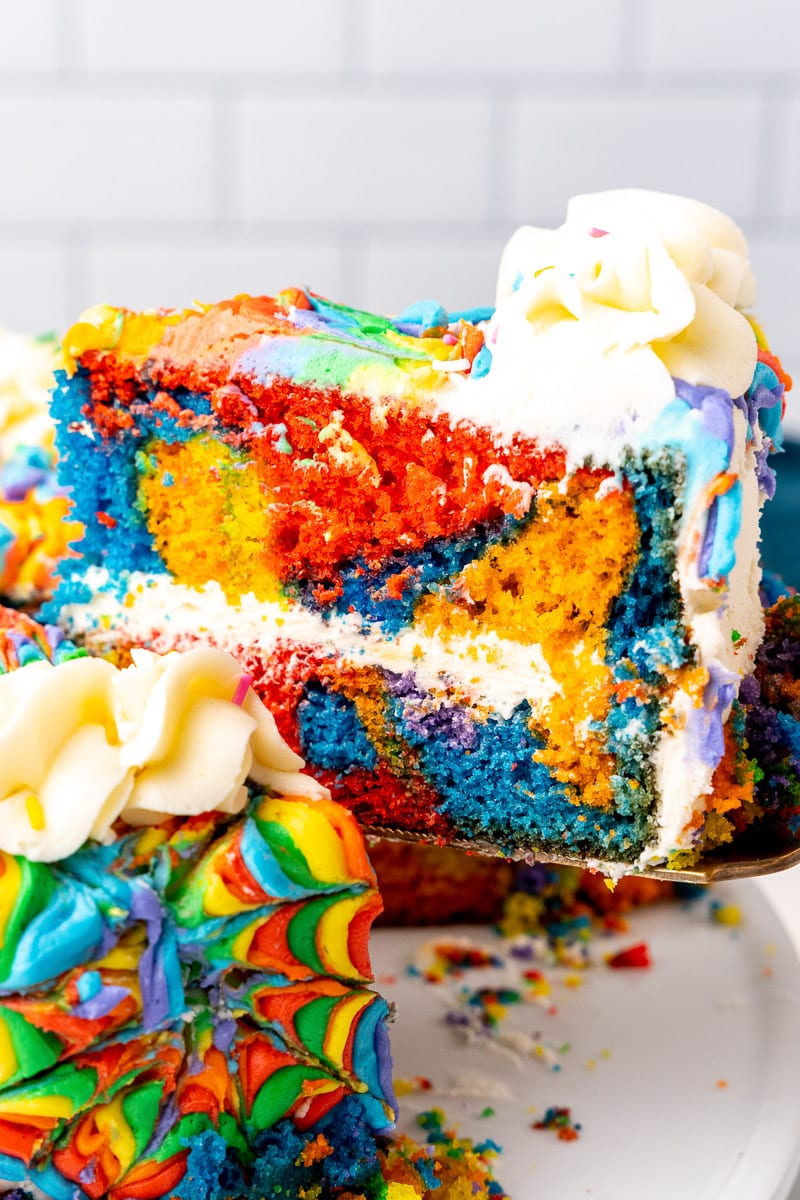 More Tasty Treats
If you love this tie dye cake, be sure to check out these other delicious ideas:
Recipe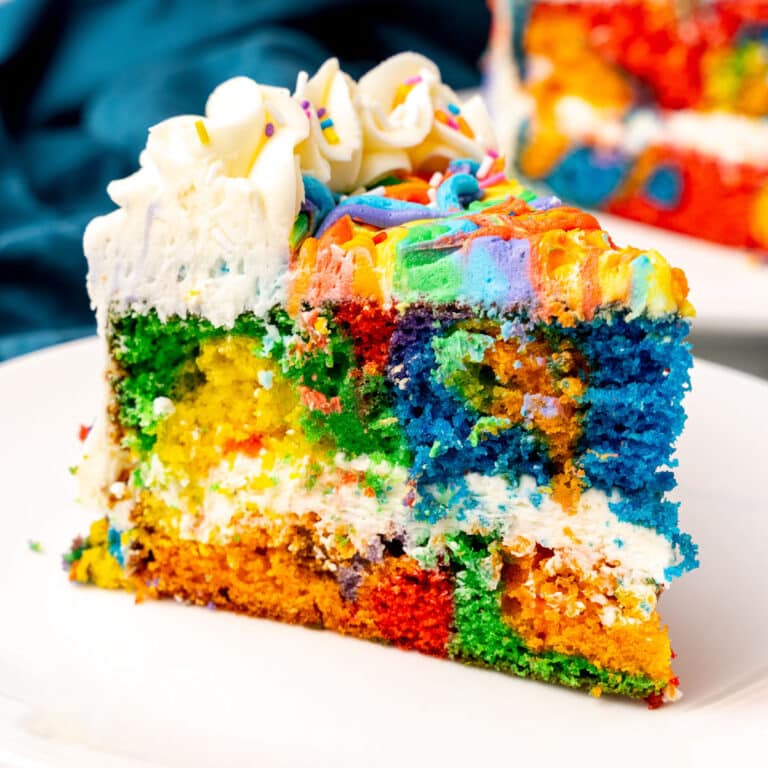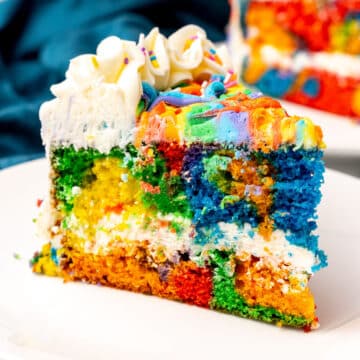 Tie Dye Cake
This easy tie dye cake will bring some psychedelic fun to your next party. A colorful dessert that tastes every bit as good as it looks!
Ingredients
Cake:
3

cups

flour

2

tablespoons

cornstarch

1

tablespoon

baking powder

1

teaspoon

baking soda

½

teaspoon

salt

1

cup

butter

softened to room temperature

1 ½

cups

sugar

4

large eggs

room temperature

2

teaspoons

vanilla

1

cup

buttermilk

Food coloring

red, orange, yellow, green, blue and purple
Instructions
Cake:
Preheat oven to 350 F, grease two 8" cake pans and set aside

In a medium mixing bowl, stir together the flour, cornstarch, baking powder, baking soda, and salt; set aside

In the bowl of a stand mixer fitted with the paddle attachment, beat the butter and sugar on high until light and fluffy, add the eggs one at a time and mix well after each addition

Stir in the vanilla extract

Add half the flour mixture, followed by half the buttermilk and repeat until all the flour and buttermilk has been used

Evenly divide the batter into 6 bowls, and dye each a different color (red, orange, yellow, green, blue, purple)

Add half of each of the colors to each pan, then swirl gently with a toothpick

Bake in preheated oven 30 minutes, or until a toothpick inserted into the center comes out clean

Allow to cool in pan for 5 minutes before removing from pan onto a wire rack and cooling completely
Frosting:
In a stand mixer fitted with the paddle attachment add the butter and beat on high until light and fluffy, add the powdered sugar 1.5-2 cups at a time, and beat well after each

Add the cream and vanilla and beat again until light and fluffy

Remove 2-3 cups of frosting and divide into 6 bowls, dye each bowl a different color (red, orange, yellow, green, blue, purple)

Level the cakes, crumble the domed part to use later

Frost the cooled and leveled cake with white, then add rainbow swirls

Drag a toothpick through it to create the tie dye effect

Create a white border along the top and add rainbow sprinkles, then press some reserved crumbs onto the bottom edge of the cake
Nutrition
Calories:
1506
kcal
Carbohydrates:
197
g
Protein:
10
g
Fat:
78
g
Saturated Fat:
49
g
Polyunsaturated Fat:
3
g
Monounsaturated Fat:
20
g
Trans Fat:
3
g
Cholesterol:
285
mg
Sodium:
1059
mg
Potassium:
161
mg
Fiber:
1
g
Sugar:
157
g
Vitamin A:
2514
IU
Vitamin C:
0.1
mg
Calcium:
174
mg
Iron:
3
mg