Sip back and chill – we're about to put a grown up spin on everyone's favorite summer treat with these simple and delicious Wine Popsicles!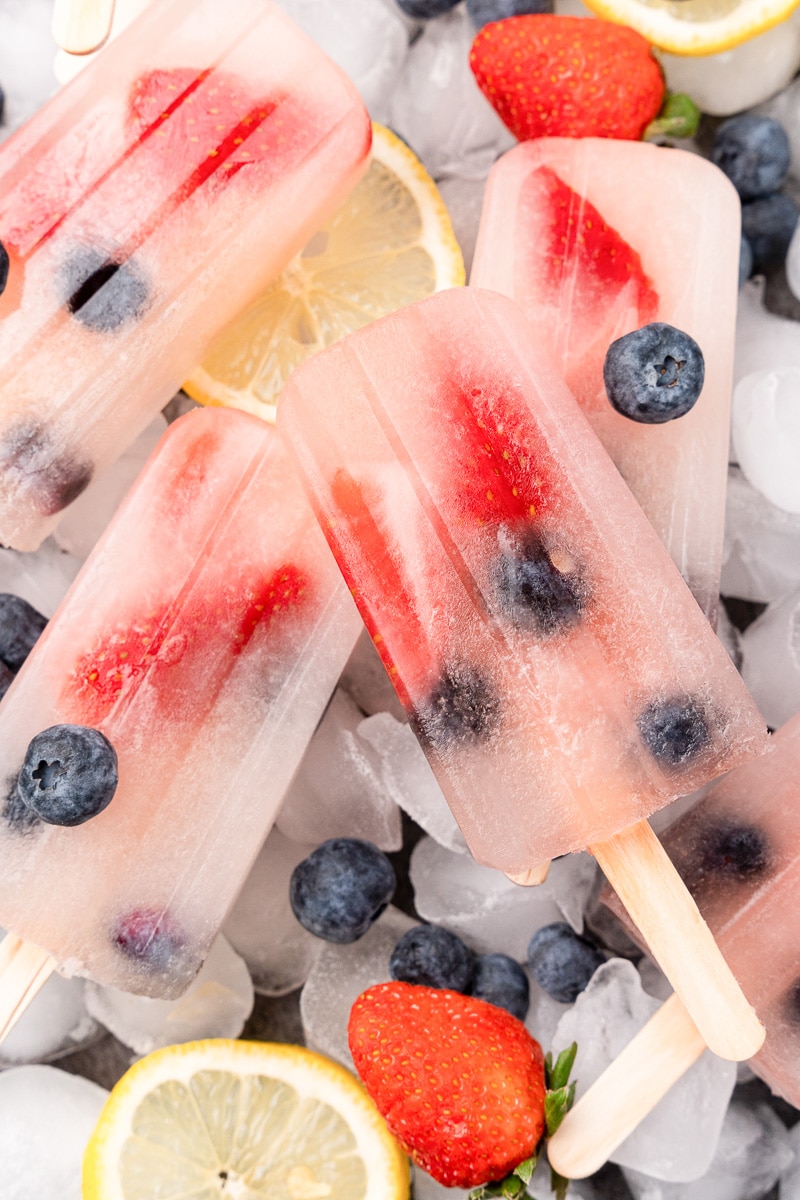 It's no secret that I love wine. But sometimes it's just too darn hot to be sipping a glass of wine on these Florida summer nights. So I came up with a fun idea: wine popsicles! Because… why not?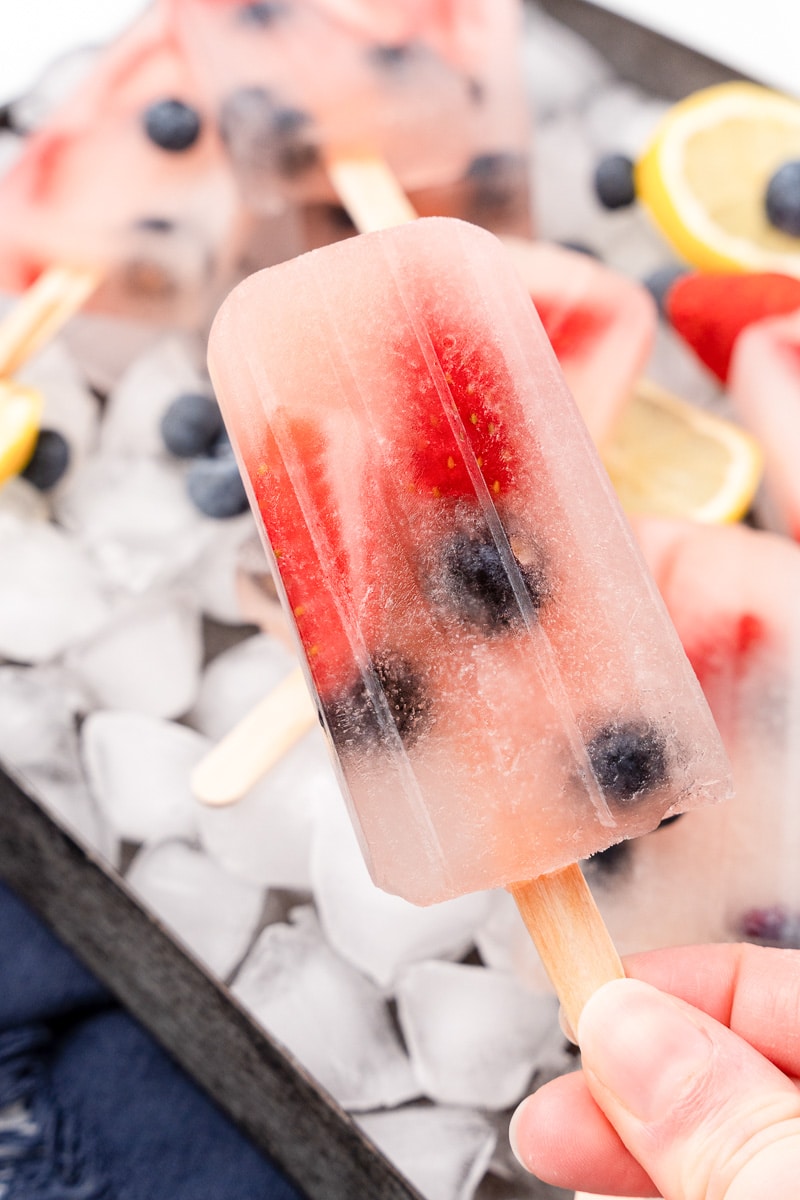 These boozy frozen treats combine sweet and fruity summer flavors with your favorite white wine, making for a refreshing adult treat for those hot summer days.
These wine popsicles are perfect for all kinds of spring and summer occasions. Whether you're hosting a pool party, looking to add a touch of elegance to a summer barbecue, or simply in the mood for a grown-up twist on a childhood favorite, these boozy bites are sure to become your go-to warm weather indulgence.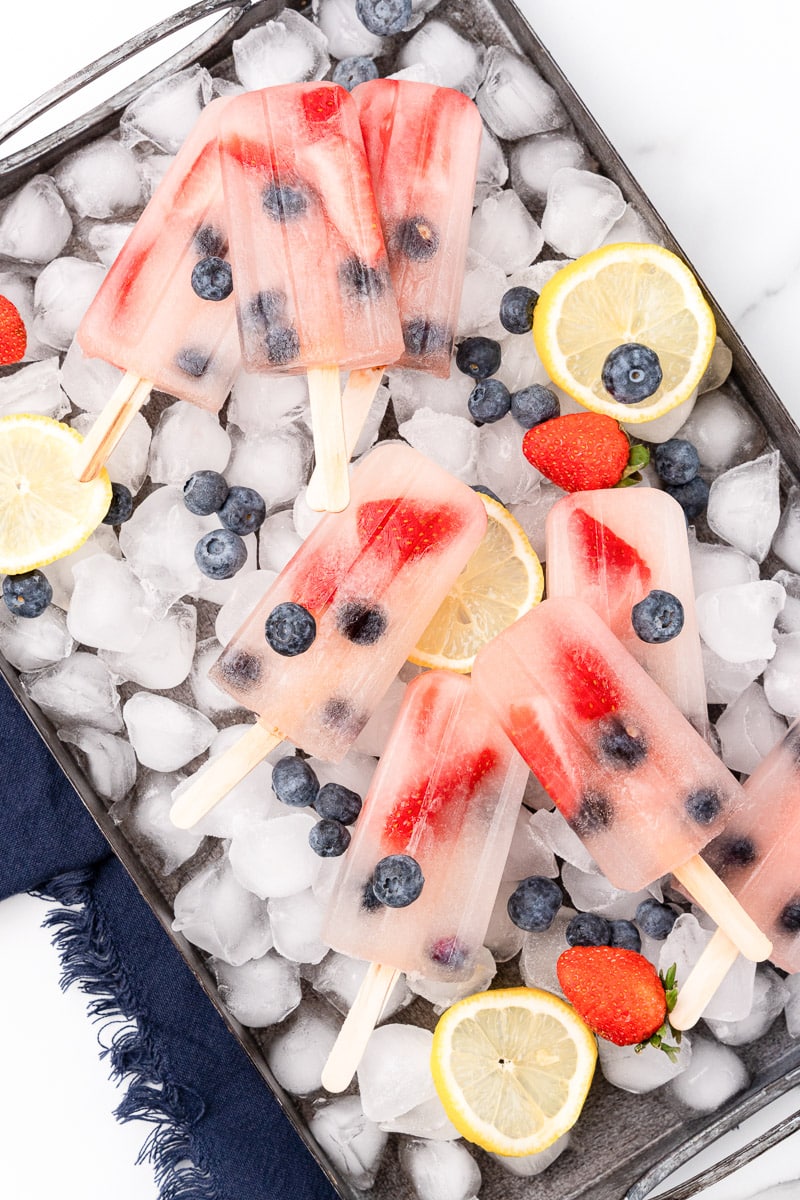 And the best part? Making these wine pops is a breeze, with just a few simple ingredients and endless options for experimentation.
Let's raise a toast to sweet summertime memories – and boozy summer treats!
The Ingredients
After quite a bit of experimentation, I've landed on what I think is the perfect combination of fresh summer flavors for these wine popsicles. My go-to ingredients are: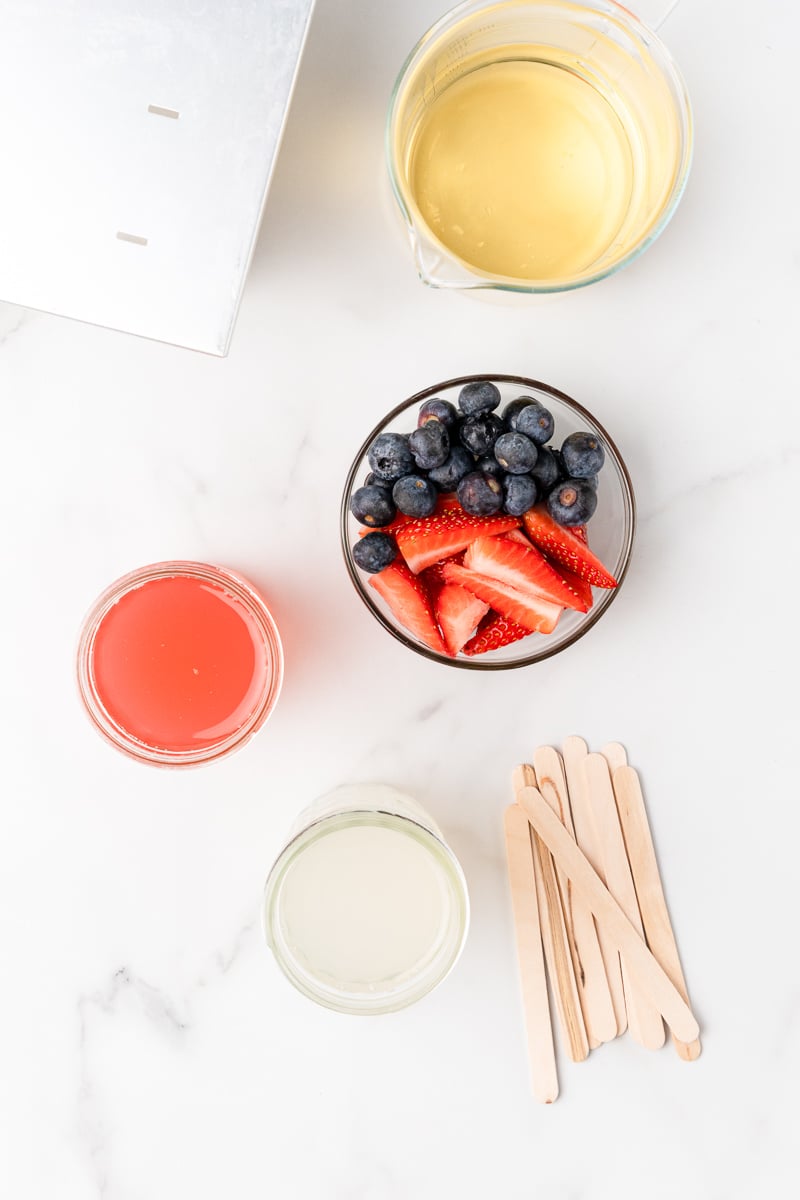 White Wine
You'll want to use a decent quality white wine to make these popsicles. Just like cooking with wine, a good rule of thumb is that you shouldn't cook with it if you wouldn't drink it. A Pinot Grigio works great since they tend to be light, crisp, and relatively neutral in flavor. Or for a sweeter treat, pick a sweet white wine like Moscato. 
Lemonade
I used lemonade to add a little bit of sweetness and tanginess to the wine pops. You can use store-bought lemonade or make your own by combining water, lemon juice, and sugar. I used half pink lemonade and half regular and really enjoyed the combination.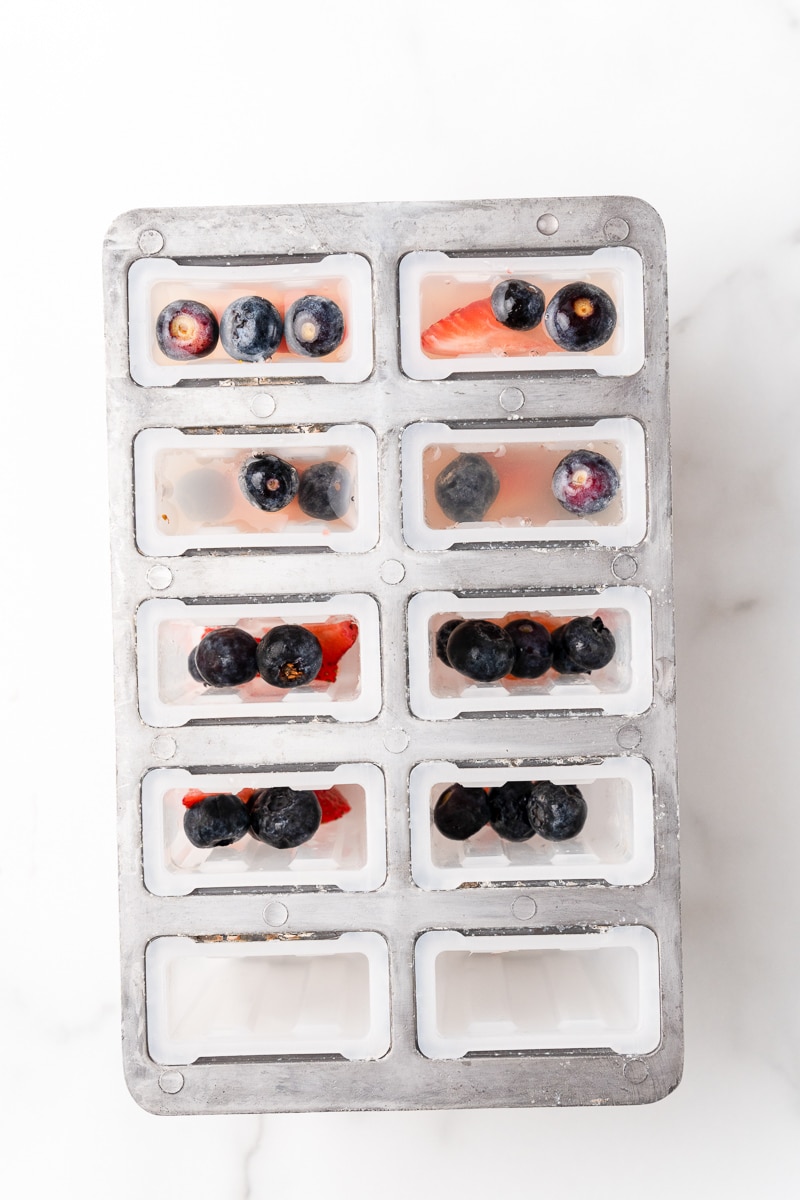 Berries
Fresh berries add a burst of flavor and color to the popsicles. I used a mix of fresh blueberries and sliced strawberries. But feel free to add your favorite berries or even chopped up pieces of other fruit – like raspberries or kiwi!
I used approximately two cups of lemonade and one cup of white wine, plus a handful of berries. You can adjust the ratio to your liking. You can't really mess this one up.
Aside from the ingredients listed here, you'll also need a popsicle mold with popsicle sticks to make your wine popsicles. I like these inexpensive popsicle molds – simple, cheap, and they work every time.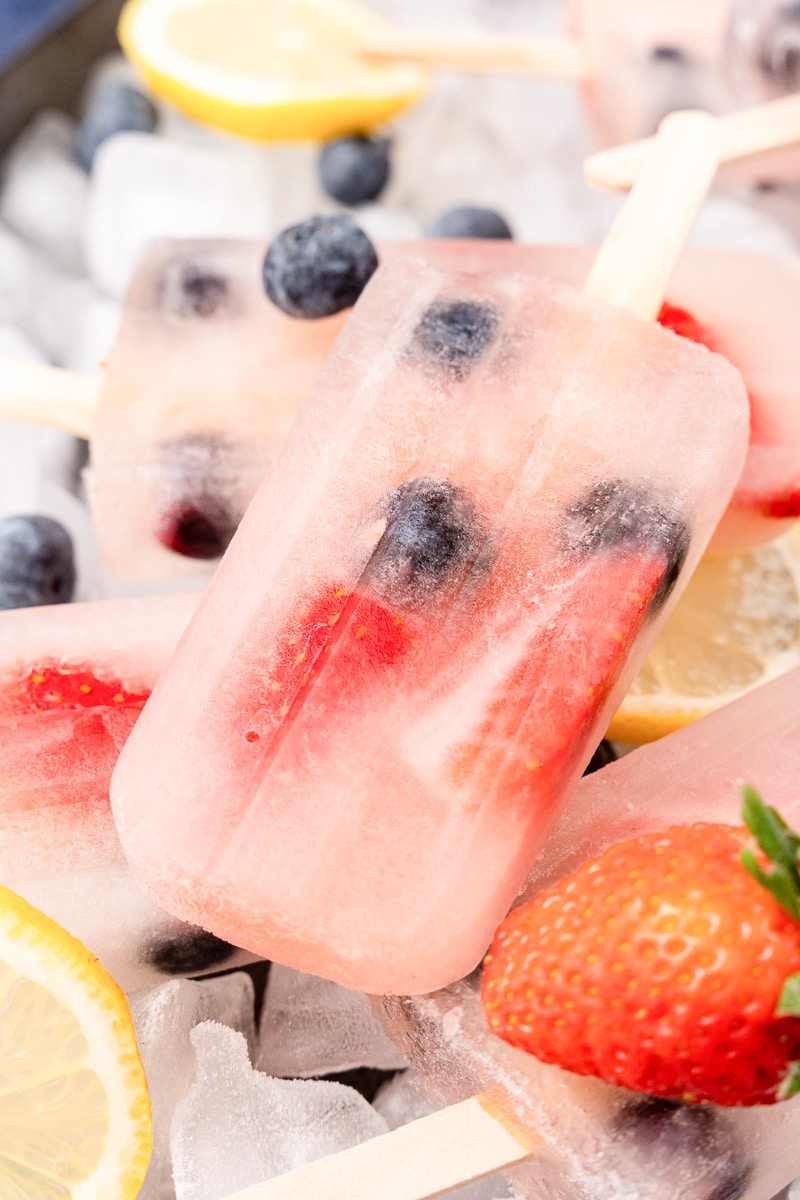 How to Make Wine Popsicles
It couldn't get much easier than this simple recipe. Start by mixing together the wine and lemonade. Then pour the mixture into the popsicle molds. Leave a little space if you are adding berries.
Then gently add a few berries to each popsicle mold. Add the sticks, and freeze for at least four hours. When the wine pops are frozen solid, you can slide them out of the popsicle molds to serve.
These are such a unique, crowd-pleasing treat, and will definitely be my new go-to recipe for summer parties!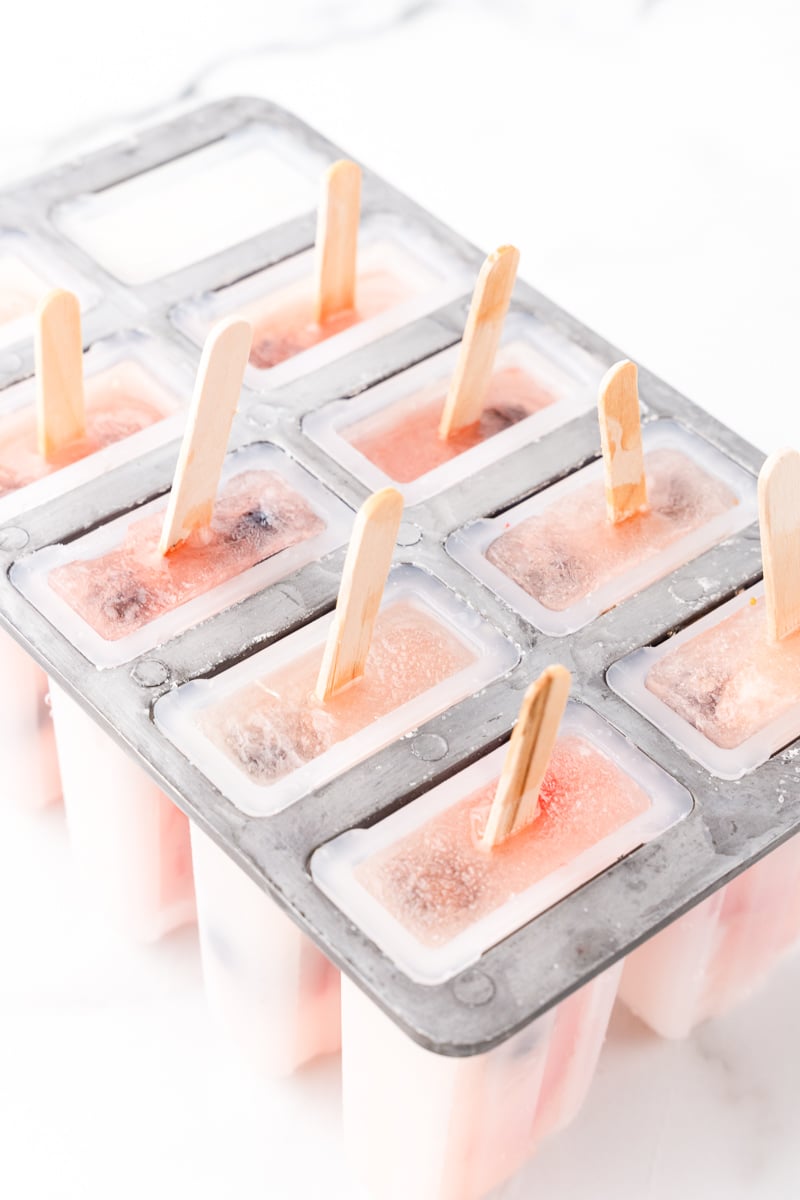 Tips & Tricks
When making wine popsicles, I've found some essential tips and tricks to help ensure your popsicles turn out perfectly every time:
Choosing the right mold
Popsicle molds come in various shapes and sizes. I recommend using silicone molds for easy release of the wine popsicles. Make sure the molds come with a lid or cover to prevent spills or freezer burn. I like these inexpensive popsicle molds – cheap and easy.
Wine selection
The wine you choose can make a big difference in the final outcome! I like using something like a Pint Grigio (more fresh and neutral) or a Moscato (sweeter). Feel free to experiment with your favorite wines!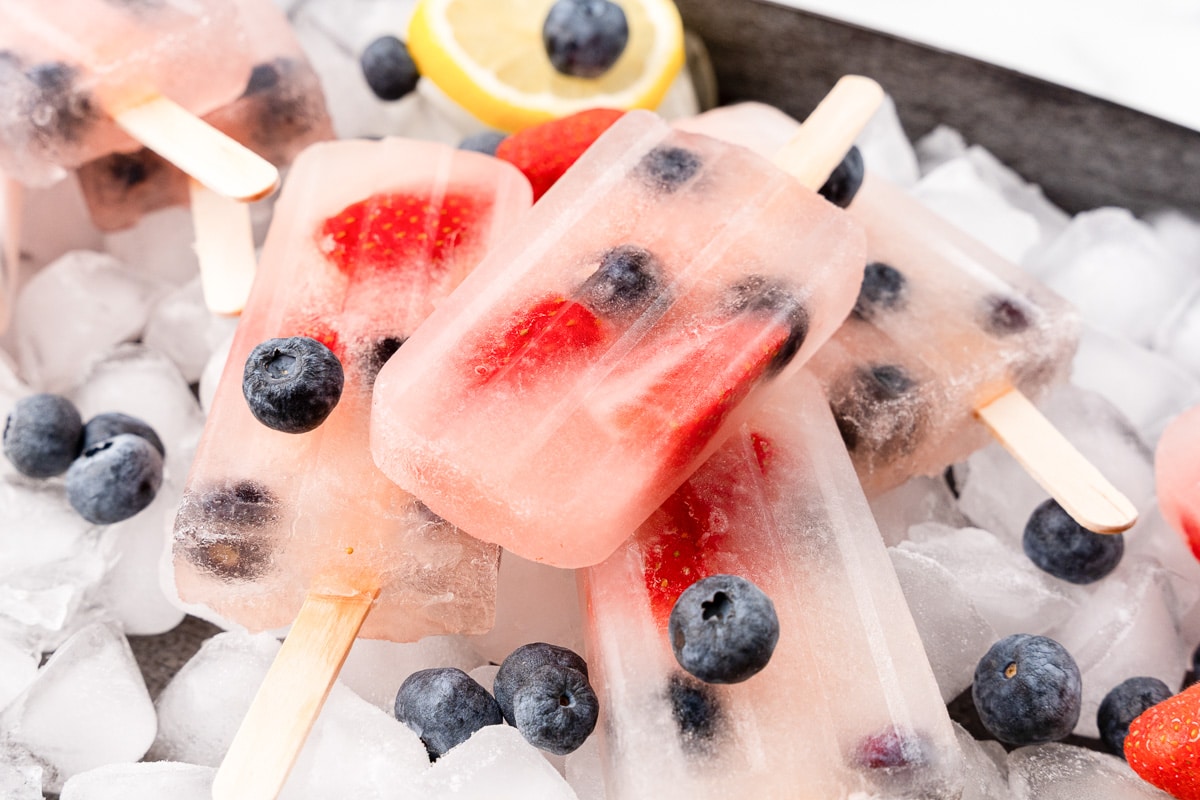 Alcohol content and freezing point
Keep in mind that alcohol has a lower freezing point than water. The higher the ABV (alcohol by volume) in your popsicles, the longer the freezing time will be. Mixing the wine with fruit juices, purees, or simple syrup, can help lower the alcohol content and allow for easier freezing. Hence the lemonade in our recipe!
Adding a little extra kick
If you want to give your wine popsicles a bit more kick, consider adding a splash of vodka. Be cautious with the amount, as too much can prevent the popsicles from freezing properly.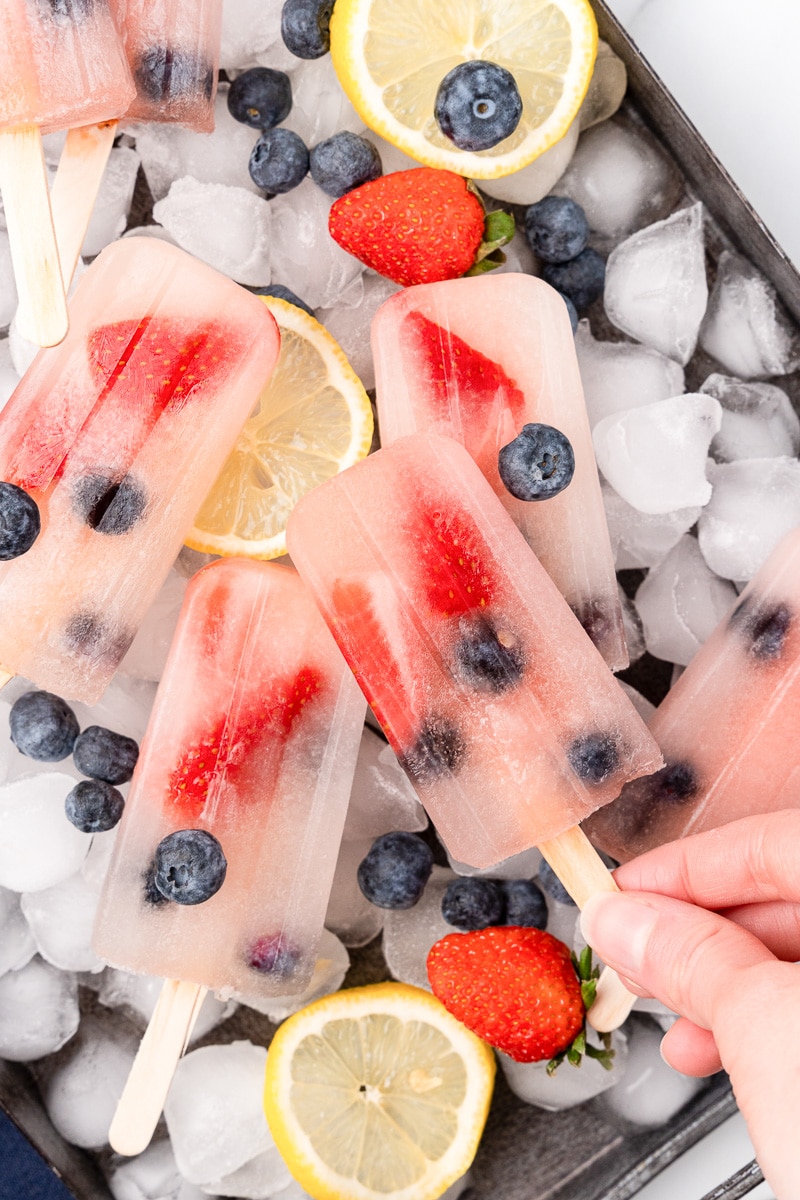 Variations
When I think about creating popsicle recipes, I love to mix and match different fruits and flavors to come up with unique and refreshing combinations.
For a more sophisticated flavor profile, try red wine popsicles spiced with cardamom, cinnamon, and a touch of lemon juice. A hint of honey can be added for additional sweetness. This one is perfect for an elegant summer gathering!
Or make a sangria-style popsicle. Simply infuse your wine with fruit like oranges, lemons, and berries, and add a bit of orange zest to really bring out the flavors.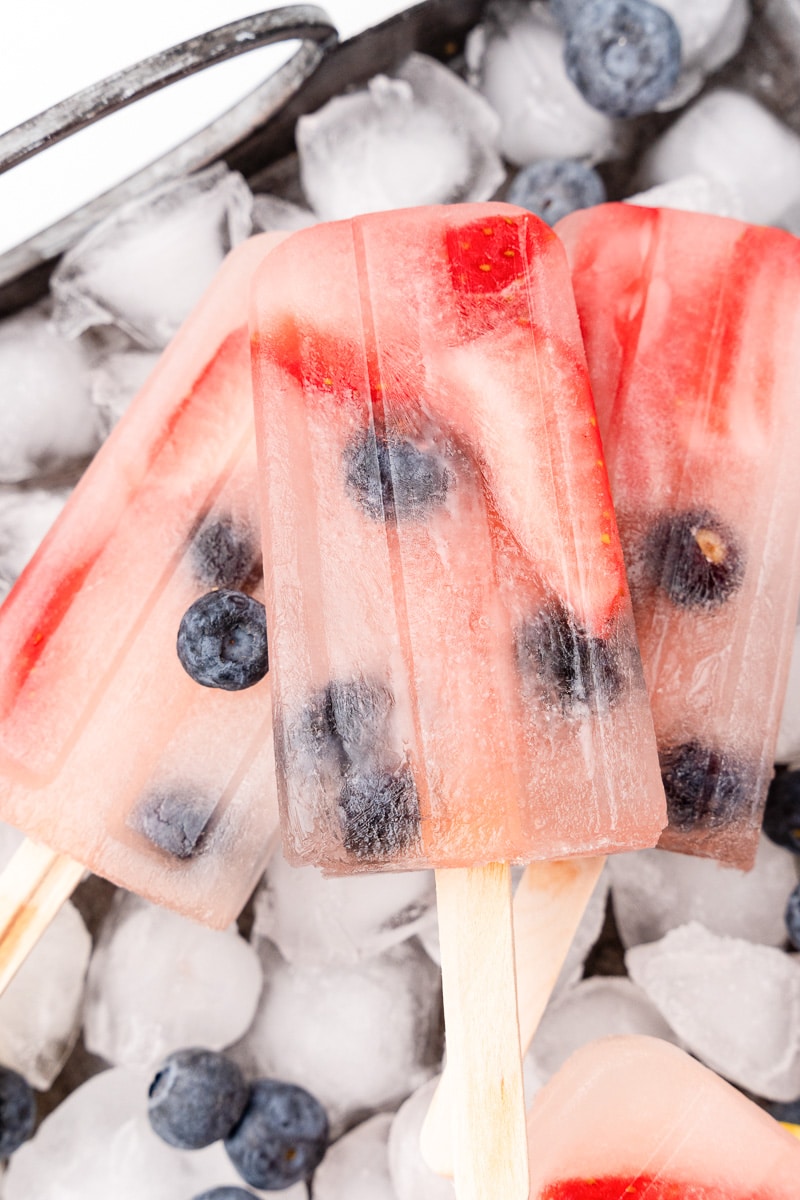 Don't be afraid to get creative and invent your own combinations of flavors and colors. The possibilities for alcohol popsicles are only limited by your imagination! Whether you're making wine slushies for a party or just a treat for yourself, you'll love discovering new ways to enjoy these delicious frozen pops.
More Tasty Treats
And if you love these wine popsicles, be sure to check out these other delicious treats: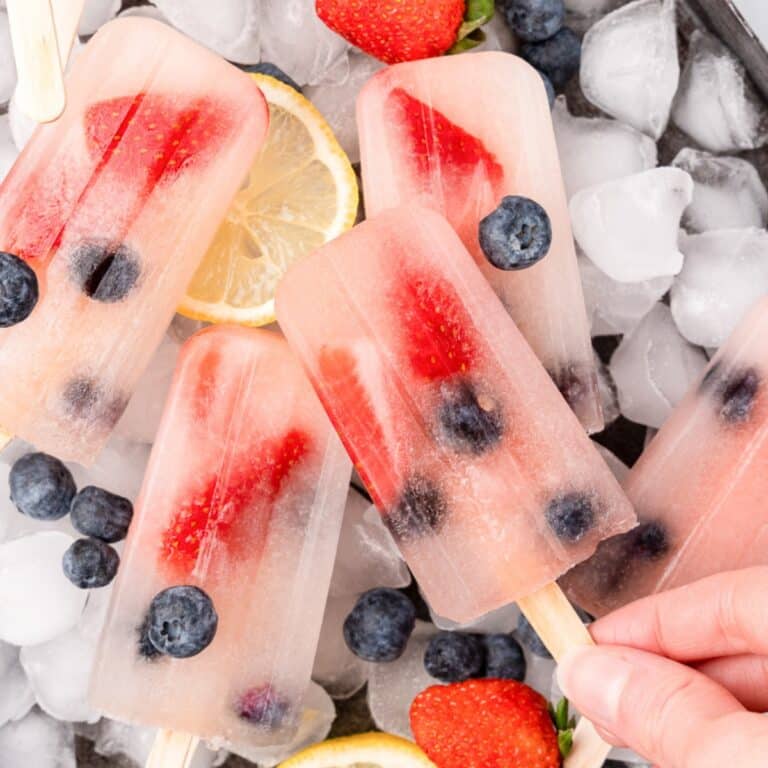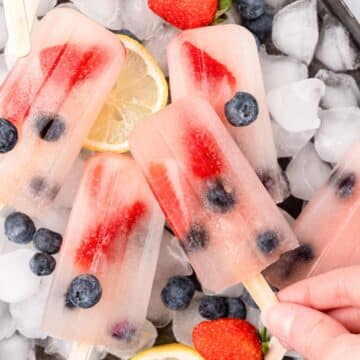 Wine Popsicles
These simple and delicious Wine Popsicles put a grown up spin on everyone's favorite summer treat. With just a few simple ingredients, these boozy frozen treats are a breeze to make!
Ingredients
2

cups

lemonade

I used half pink and half regular

1

cup

sweet white wine

Chopped berries

optional
Instructions
Mix the lemonade with the wine (of using two kinds then mix half the wine with each kind of lemonade)

Add the berries to the popsicle mold

Then divide the wine mixture evenly between the mold

Place the lid on and the popsicle sticks, then freeze for at least 4 hours before serving

Run under hot water to help loosen the popsicles
Nutrition
Calories:
78
kcal
Carbohydrates:
12
g
Protein:
0.1
g
Sodium:
6
mg
Potassium:
28
mg
Sugar:
9
g
Calcium:
2
mg
Iron:
0.1
mg