Apple rhubarb pie is a sweet and tart double layer pie crust pie. Rhubarb and Apple really work nicely together. This rhubarb apple pie will be the best decision you ever made. 
Rhubarb is always welcome in my home. We have had a nice supply coming in all year. So desserts have been happening left and right. No one has complained so far.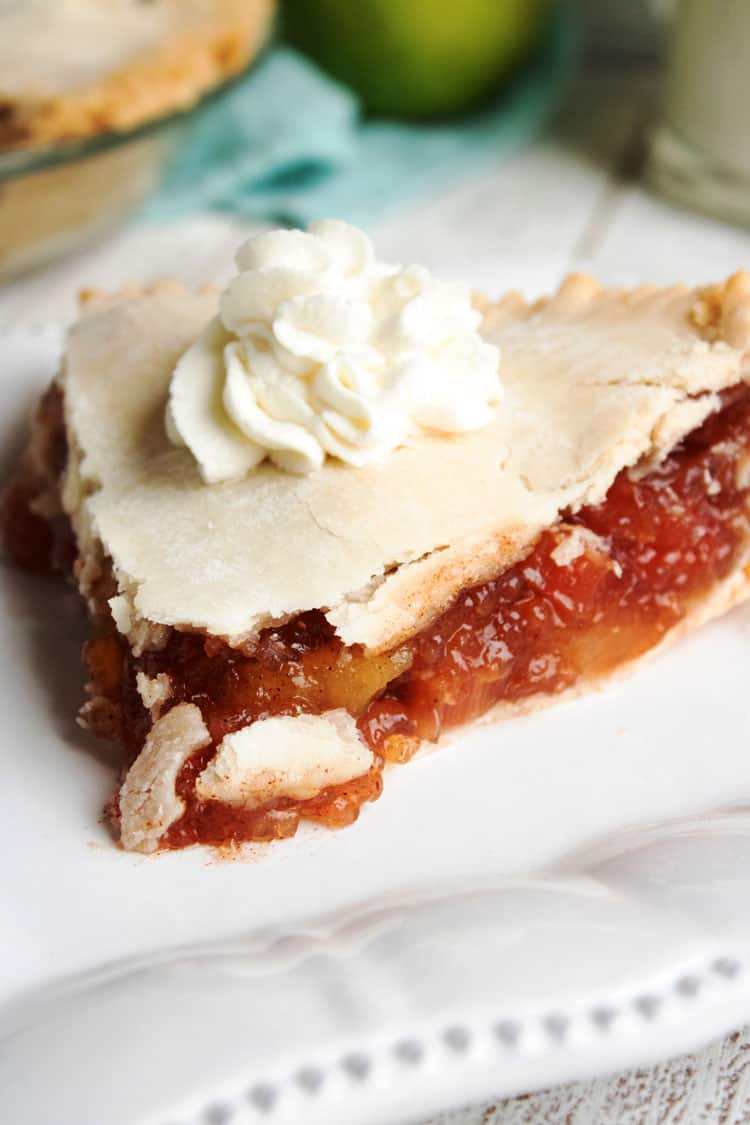 Apple Rhubarb Pie
Apple Rhubarb pie is so easy to make, and boy does it scream eat me as it fills your home with incredible flavor as it bakes up! 
What Type of Pie Crust Do You Use
I reached for store-bought pie crust. Now if you love pie crust, go ahead and make homemade! 
If you buy crust you want one in a pan and one crust you can roll out. Or do both you can roll out. I find the pie crust in the fridge section.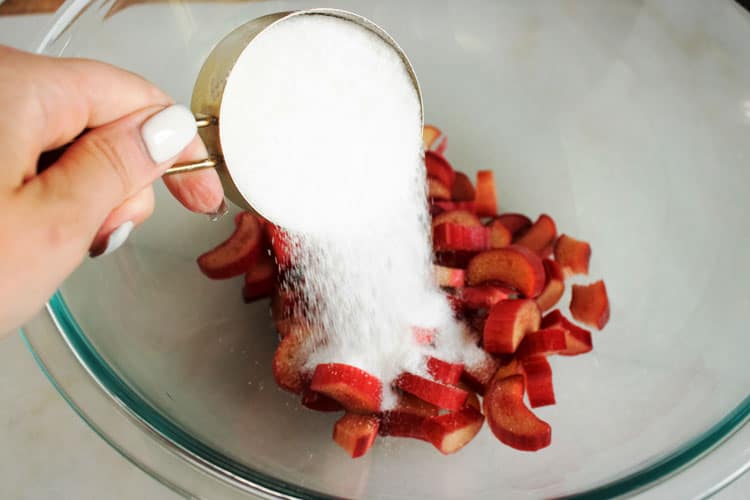 What Type of Rhubarb Does Rhubarb Apple Pie Use
I use red rhubarb. I find it offers the right flavor next to the apples and spices used in the pie. Red varieties offer a juicy and even tangy and sweet flavor that pairs great with fruits. 
Searching for more Rhubarb Recipe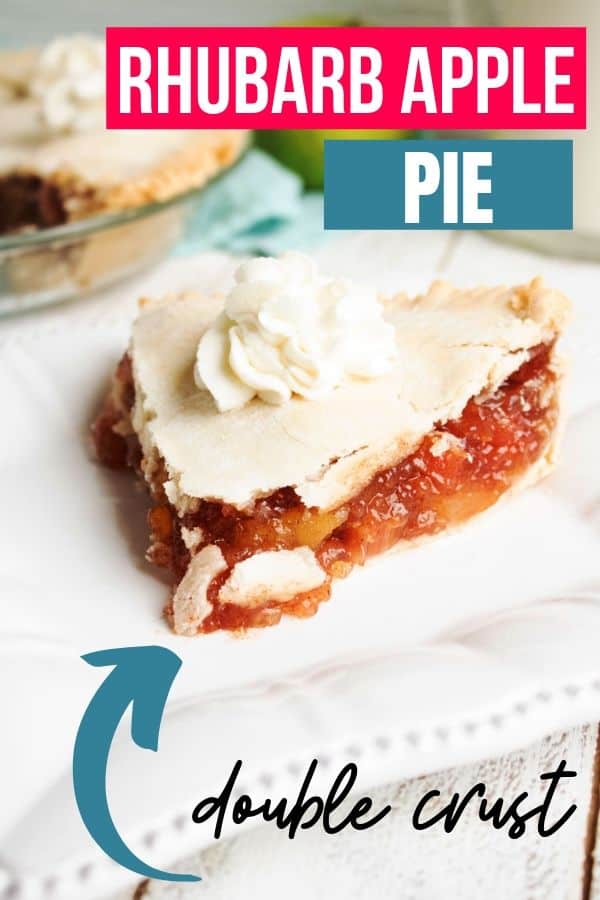 Do I Need To Peel Rhubarb for Pie
Peeling rhubarb is something you can do or skip. Rhubarb can offer strings just like celery does. So if you want to do a little peeling before you slice it up for the filling. 
When Do You Pick The Best Rhubarb
When picking rhubarb there are some things to look for. Let me share tips to set you up for success on the best rhubarb. 
Firm stalks

Small leaves indicate baby plants which offer the best taste

Crisp if broken

Avoid limp stalks

Avoid plant if you see split ends or bad spots
Just remember the leaves of rhubarb are toxic. Avoid eating them in any way, and always wash hands food after you come into contact with the leaves.
How to Make Apple Rhubarb Pie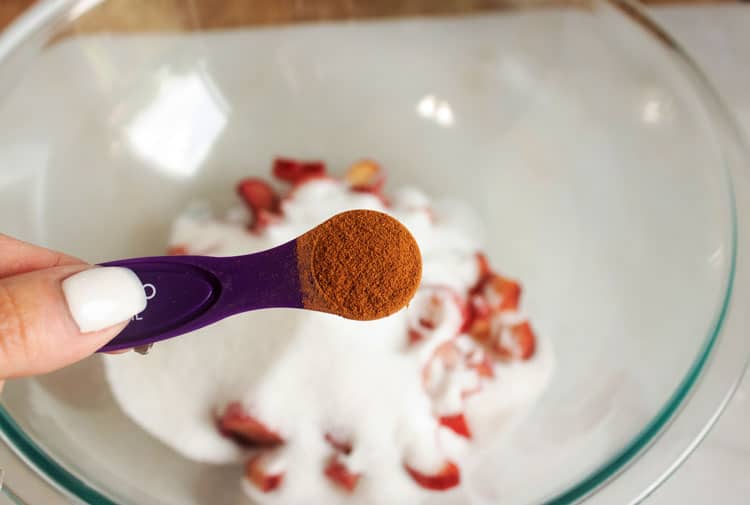 Start by preheating the oven and placing your pie crust in a greased pie pan. Then you want to work on prepping the rhubarb filling. Combine ingredients and then let sit for 15 minutes. Make sure to stir often, and do not skip this step. It will help break down the rhubarb and give it a sweeter and less tangy taste in the pie.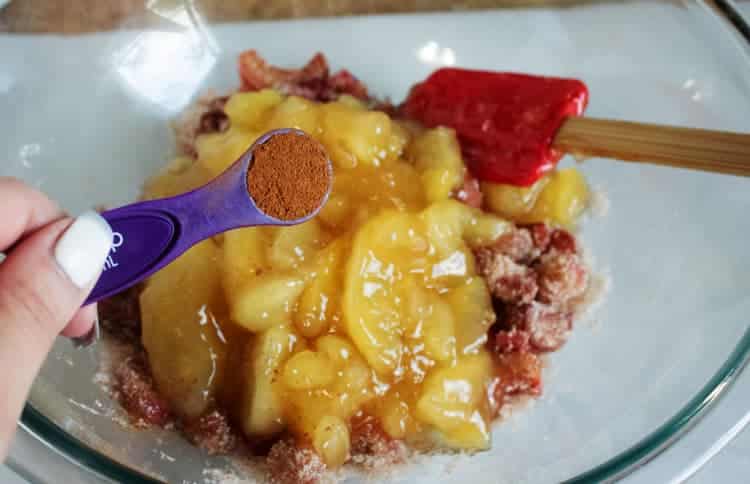 Once that has finished, add in the rest of the ingredients and pour into the pie pan. Top with the other pie crust and seal up the edges. Bake accordingly and then let cool and serve!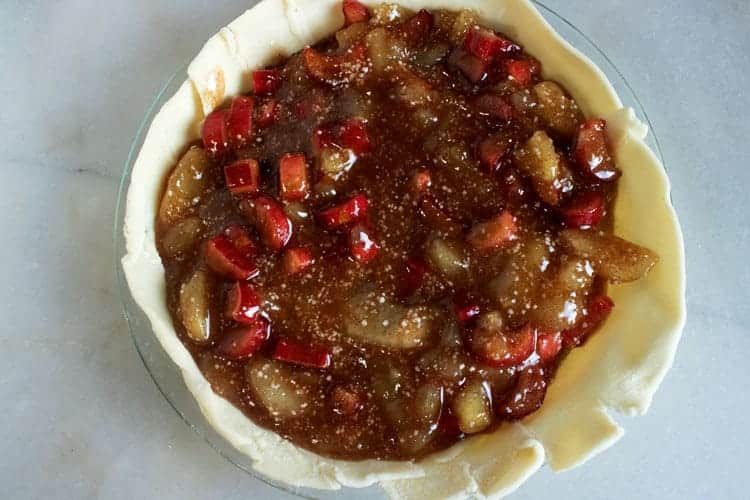 Does Apple Rhubarb Pie Need To Be Refrigerated
Technically no. Because this pie does not contain dairy or eggs it can be left on the counter at room temperature for two days. But, if you store it in the refrigerator it will last an additional 2-3 days, extending the shelf life. 
Just ensure with either method you cover your pie.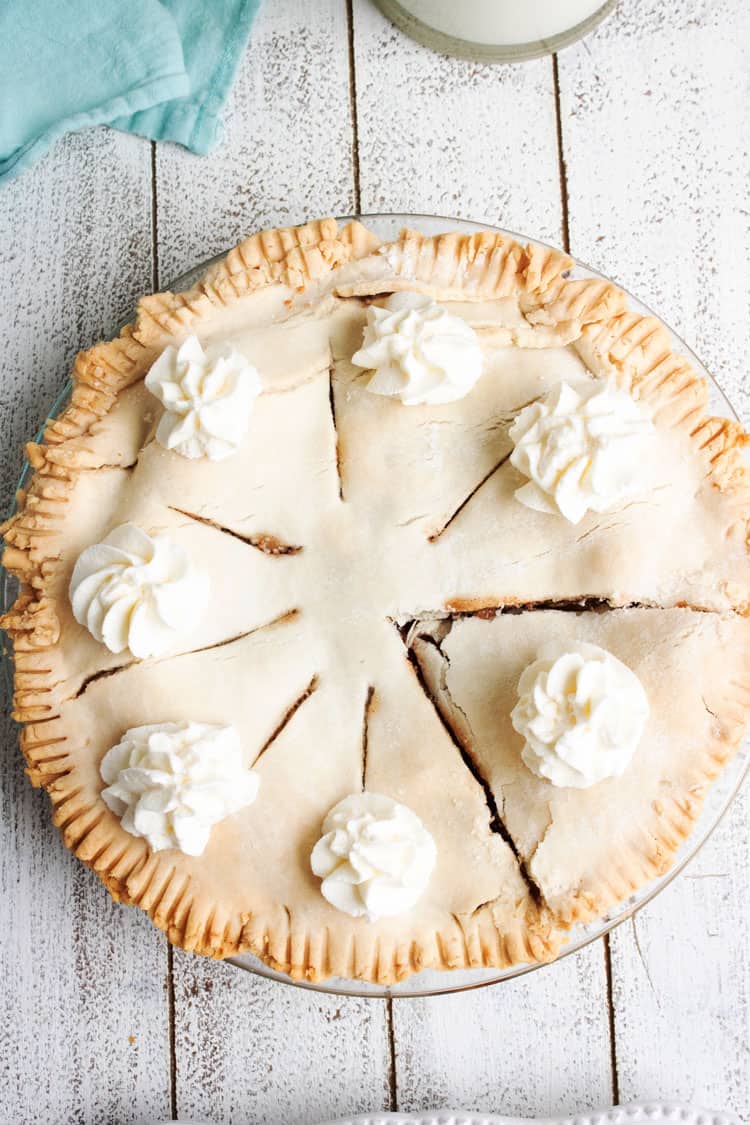 Can I Use Sweetener to Replace Sugar in Rhubarb Pie
I have not used sweetener for this recipe but I don't see why you couldn't. Just make sure to follow your sweetener directions on how to properly convert to a recipe. I know some sweeteners require a lot less than regular sugar in a recipe. 
Can I Use Homemade Apple Pie Filling vs Canned
Of course! Apple pie filling can be expensive at times. I get wanting to make your own. There are tons of recipes online that show you how easy it is to make! 
I reached for canned cause it saves me Prep and I enjoy the taste. But feel free to use anything you want in terms of brands to buy or making homemade.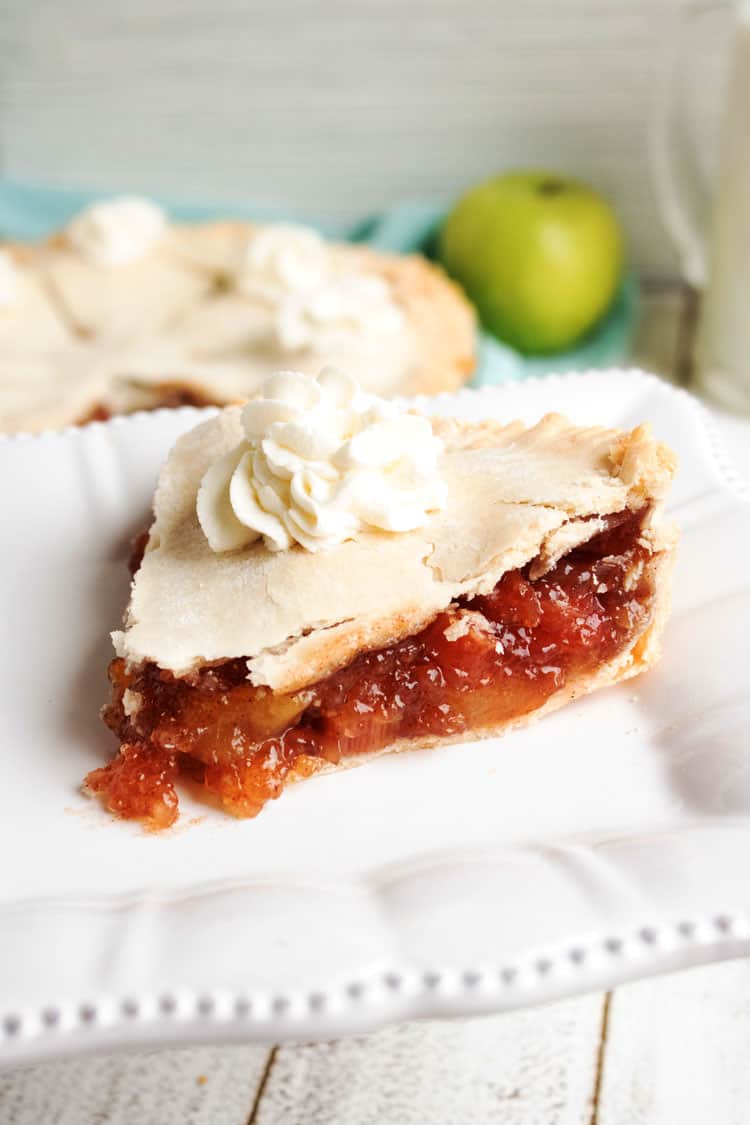 Check Out My Other Pie Recipes
Strawberry Yogurt Mini Pies

| Don't be fooled by their mini size. These pies are bursting with flavor! 

Chocolate Cream Pie

| I highly recommend giving this chocolate cream pie a try. It is a classic recipe that is a homemade delight. 

Pina Colada Pie

| This pie recipe gives you that tropical taste in every bite. Pineapple and coconut collide in an incredible way!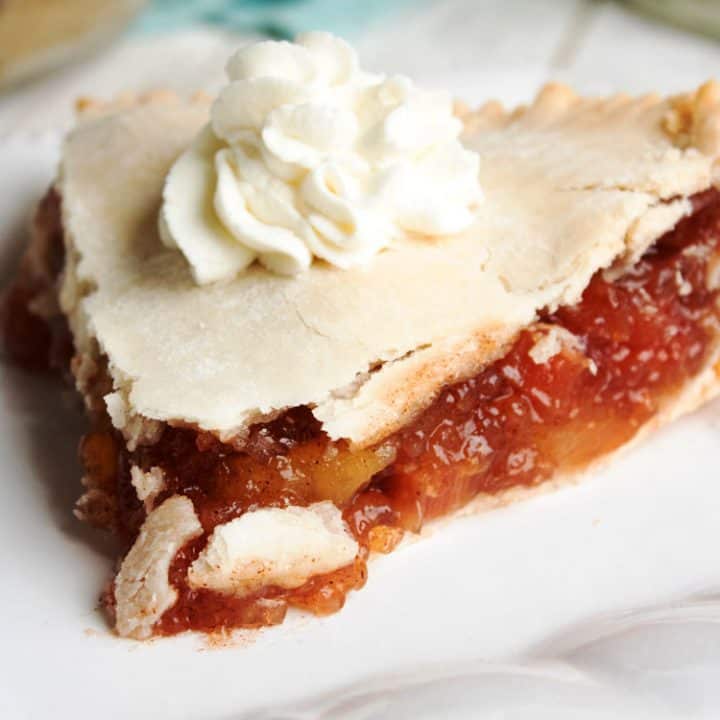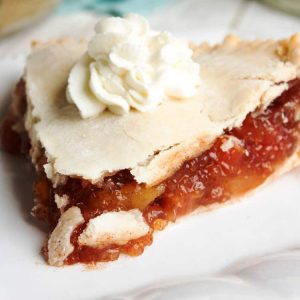 Apple Rhubarb Pie
Apple Rhubarb Pie is an quick and easy dessert recipe to make using fresh rhubarb from your garden or farmers market and a few kitchen staples. This sweet pie is a winning recipe on any dessert table.
Ingredients
Crust
2

9-inch refrigerated pie crust, or your favorite pie crust recipe, uncooked
Instructions
Preheat oven to 325 degrees. Spray 9-inch pie pan with non-stick cooking spray, and place one unbaked pie crust in the pan.

In a medium bowl, mix rhubarb, sugar and cinnamon. Let sit for fifteen minutes, stirring on and off.

Add in the pie filling, apple pie spice and tapioca and mix together.

Pour into pie crust-lined pan, and then lay the second pie crust over the top and flute the edges of the crust.

Bake for 55 minutes and let cool completely prior to serving.

 

Makes 8 servings. 
Nutrition
Serving:
1
g
Calories:
337
kcal
Carbohydrates:
58
g
Protein:
3
g
Fat:
11
g
Saturated Fat:
4
g
Polyunsaturated Fat:
7
g
Sodium:
194
mg
Fiber:
2
g
Sugar:
32
g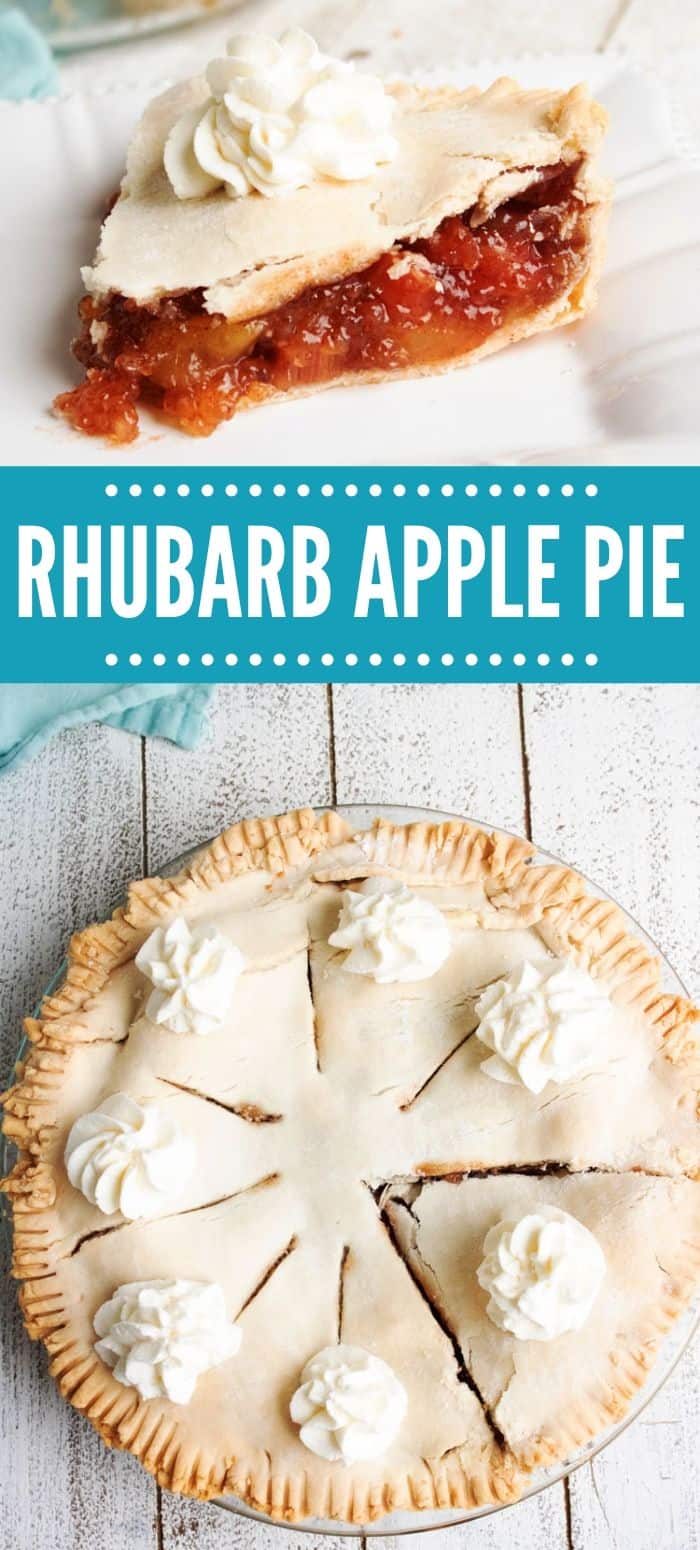 More Of Our Pie Recipes You'll Love:
Brown Sugar Pie
Cherry Almond Mousse Pie
Dutch Apple Pie
Oatmeal Pie
Sweet Potato Pie