Brown Sugar Pie is one easy and delicious sugar pie that will melt in your mouth. A classic pie that is great for the holidays, birthday parties and more. 
Brown Sugar Pie is full of rich and deep brown sugar flavor in every single creamy bite. This sugar pie is very similar to the popular chess pie, but yet different enough you call it something else!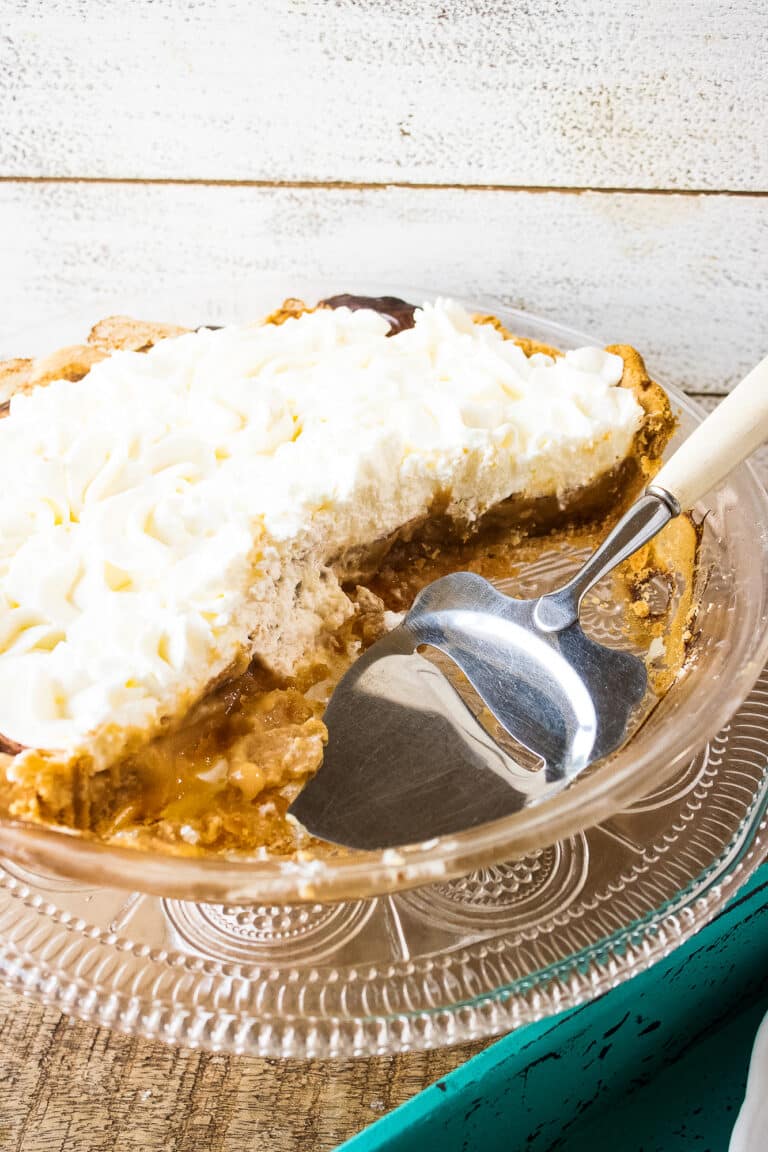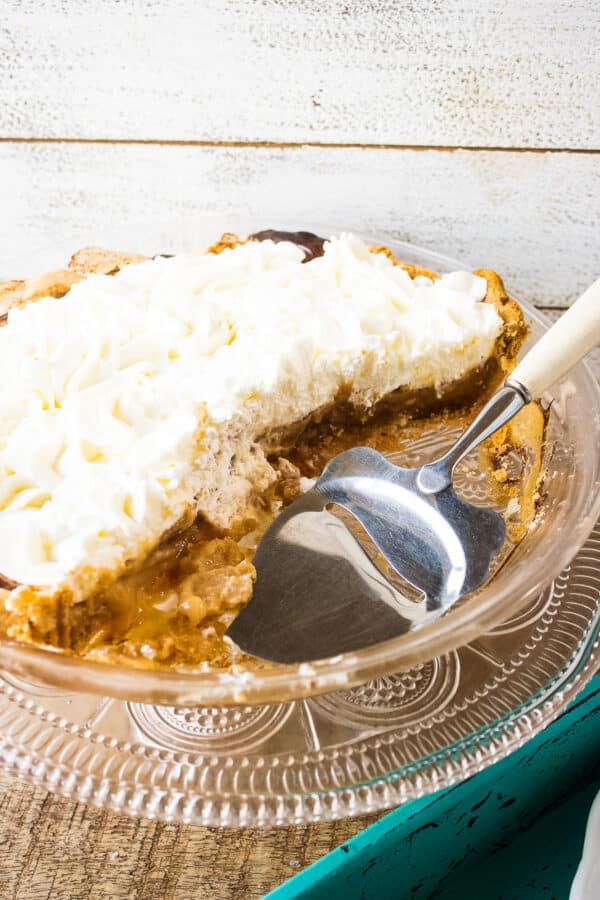 More Of Our Pie Recipes You'll Love:
Brown Sugar Pie
Cherry Almond Mousse Pie
Brown Sugar Pie
Amish brown sugar pie, Southern brown sugar pie, sugar pie, however you name it, this recipe is going to win over your family, friends, and yourself.
It is shocking to me that depending on where you live you may not have heard of a sugar pie. This is a recipe that I have grown up eating, and still make for my family today. So if you have yet to try this recipe, give it a whirl and let me know how you like it.
How To Serve Brown Sugar Pie
Personally I love making a whipped topping to dress up the top of the pie. You could add a sprinkle of cinnamon on top the whipped cream for added color. Or skip the whipped cream and serve it alone.
Homemade Pie Crust VS Store Bought
There are some people who swear by homemade pie crust. If you consider that you, make your own. Any pie crust will work for this recipe. It all depends on what you prefer.
You can roll out store bought crust and prep the pan and decorate the crust as you would like. Or make homemade by following whatever recipe is your favorite.
Can I Use Condensed Milk In Replace of Evaporated Milk
Evaporated milk and condensed milk are two different things. Unfortunately, you can't swap the two ingredients. Evaporated milk is very light, while condensed milk is thicker and a lot sweeter.
How To Make Brown Sugar Pie
Start by prepping your crust. Then add in your flour, brown sugar, and salt and mix together in the crust. 
You will then pour the milk over the crust and resist the urge to stir. Add the pieces of butter over the pie, followed by a sprinkle of cinnamon. 
Bake until the pie is done, and allow to cool. Then once your pie has cooled down, make your whipped cream and top your pie. 
Supplies We Use for Cake and Pie Making
Stand Mixer or Hand-held Mixer- This makes it SO much faster to whip the topping. Like I said above, it can be done without a mixer, but make sure you have a strong arm and patience. I have a KitchenAid Pro Mixer that I've had for 12+ years and love it!
Round Cake Storage and Carrier- Having a pan with lid and carrier makes it easier for storage. No more having to deal with plastic wrap that gets messy and twisted up.
8-inch Parchment Rounds- No more dealing with cake sticking to the bottom of the pan!
Cake Leveler- This tool is a must if you want to make layered cakes. It allows you to evenly remove the rounded part of the cake top and make perfectly level layers.
Cake Server- A good cake server makes a world of difference. It makes it so much easier to lift the dessert lasagna out of the pan in nice and even slices.
Cake Decorating Set- Making a pretty cake is reasonably easy when you use the tools in this decorating set. With a little practice, you will be decorating cakes like a pro in no time.
How To Store Brown Sugar Pie
You will need to store your pie in the refrigerator. You can buy a sealed pie case or opt to cover with aluminum foil. Store for up to 3-4 days in the refrigerator. Slice and serve whenever you want.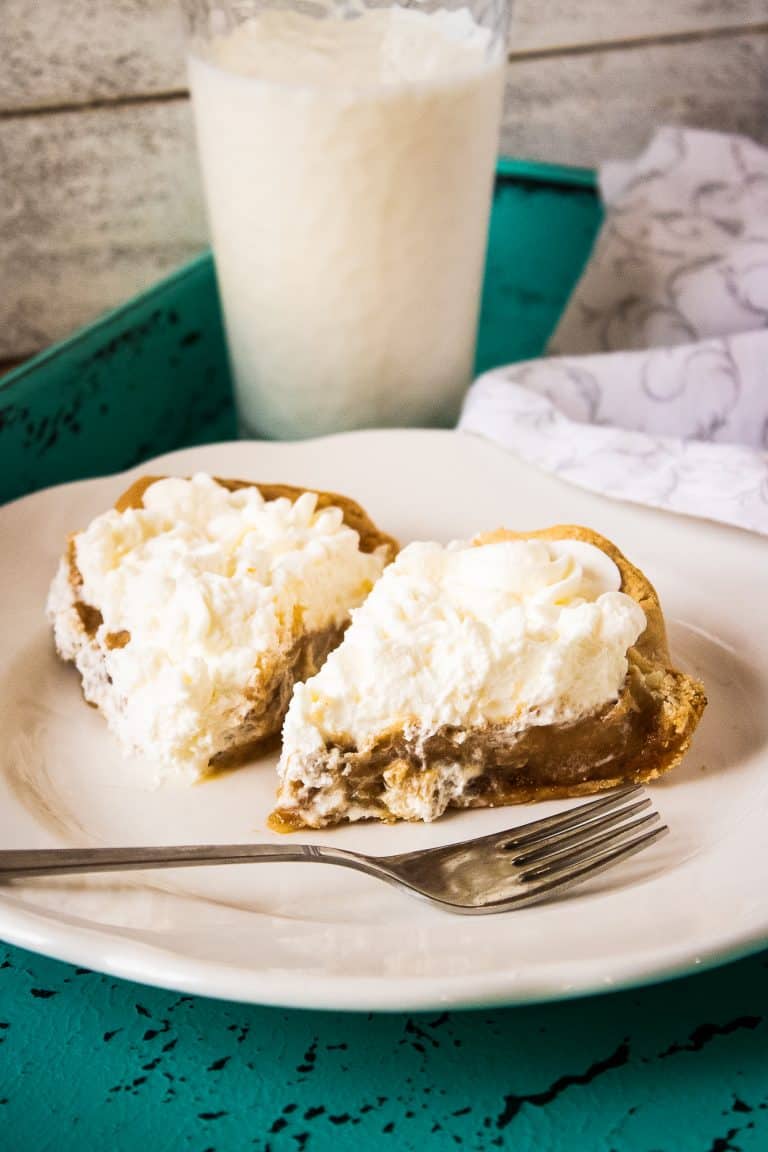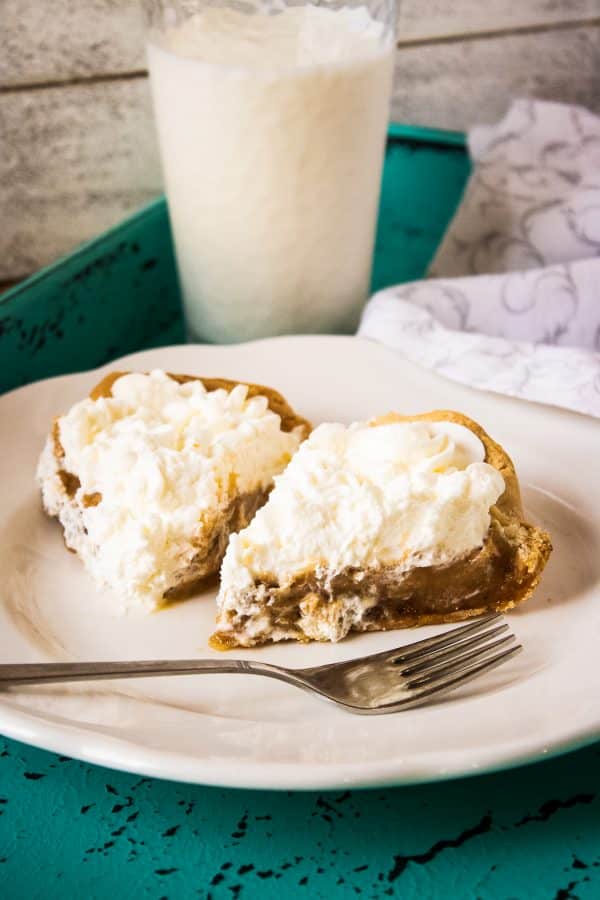 Looking for more pie recipes
Can You Freeze Sugar Pie
I have personally never frozen a sugar pie. We normally eat it well before it would expire. Our family loves pies, and I always make this recipe at Thanksgiving and Christmas.
If you freeze the pie it should work, but you the crust might become a bit soggy in texture. But other than that I think it should be okay. 
Place the pie in the fridge straight from the freezer so it can thaw the night before you plan to eat. I would also only freeze for around 2-3 months maximum.
Holiday Pie
A very simple and easy holiday pie that takes seconds to prepare and toss into the oven. If you are not a huge baker, consider trying this recipe as it practically bakes itself.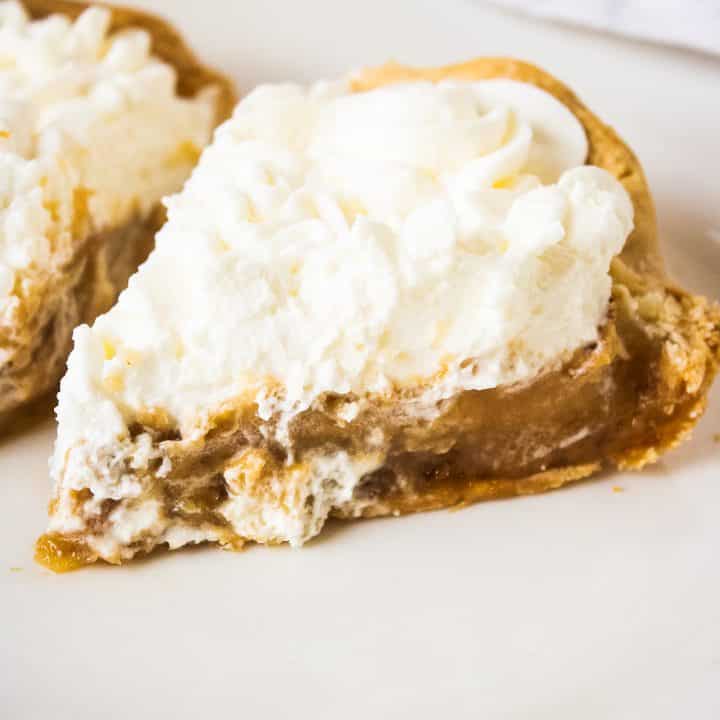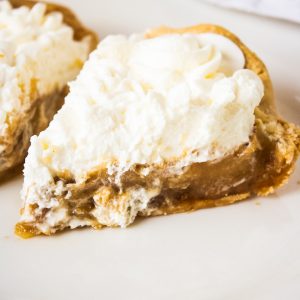 Brown Sugar Pie
Brown Sugar Pie is a classic pie recipe. It's been referred to my many names, including Amish Brown Sugar Pie.
Ingredients
Crust
1

unbaked 9-inch pie shell
Instructions
Preheat oven to 350 degrees.

Line pie pan with 9-inch pie crust. Add the flour, brown sugar and dash of salt and mix together.

Pour evaporated milk over the brown sugar mixture. Do not stir. Cut the butter into several pieces and disperse it over the pie. Sprinkle cinnamon over the pie.

Bake for 50-60 minutes until filling bubbles up in the middle. The filling will not completely set.

Cool pie.

Whip the heavy cream in a medium-sized mixing bowl until thick.

Add in powdered sugar and mix on low speed to incorporate, or fold in. Spread whipped topping over the pie, or use a piping bag to add whipped cream to the pie in a decorative fashion.
Nutrition
Serving:
1
g
Calories:
317
kcal
Carbohydrates:
40
g
Protein:
3
g
Fat:
17
g
Saturated Fat:
10
g
Polyunsaturated Fat:
6
g
Cholesterol:
46
mg
Sodium:
51
mg
Fiber:
1
g
Sugar:
30
g