Some of the links in this post are affiliate links. This means if you click on the link and purchase the item, I will receive an affiliate commission at no extra cost to you. All opinions remain my own.
Layered Pumpkin Cheesecake pie is a perfect holiday dessert recipe. Three classic dessert flavors meld into one delicious holiday pie recipe.
Pumpkin pie, classic cheesecake, a pecan crust AND a pecan pie streusel make this dessert a winning combination of holiday flavors.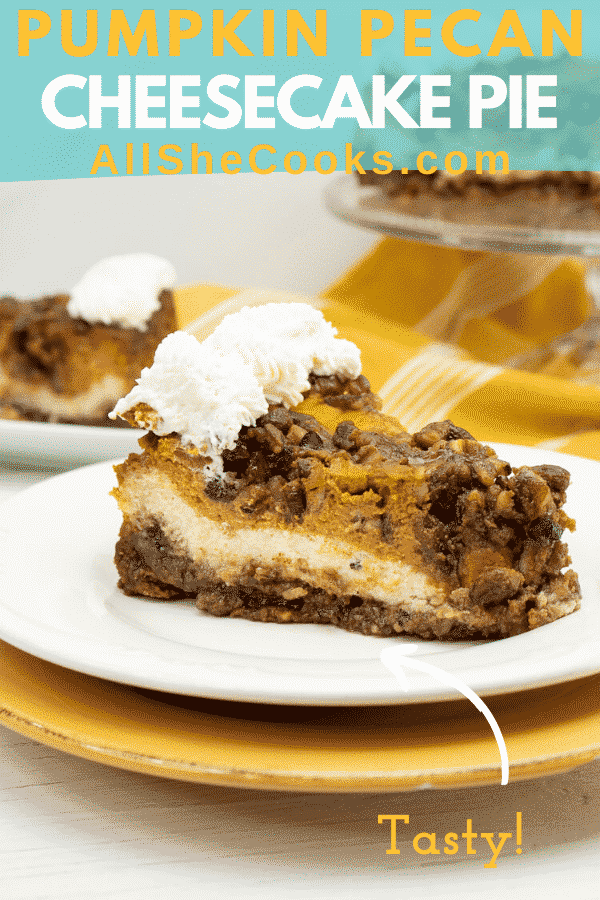 Is Pumpkin Pie Gluten Free
Pumpkin pie is not normally gluten free because of the pie crust that is traditionally used. However, this gluten free pumpkin pie recipe doesn't use that type of pie crust.
Instead, we make a pie crust with ground pecans, which makes this double layer pumpkin pie recipe is naturally gluten free.
If you don't want to make a pecan crust, you could also make a regular pie crust for this recipe. To make it gluten free, use gluten free flour.
You could also make a gluten free graham cracker crust with gluten free graham crackers.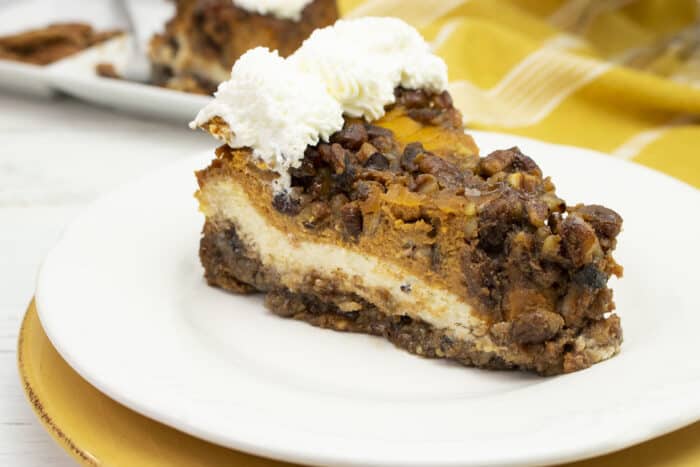 How to Make Pecan Pie Crust
Pecan pie crust is easy to make, especially if you have a good food processor. I use my Kitchenaid food processor for so many things.
I mixed the crust in a mixing bowl, but it could actually all be mixed in your food processor.
First, grind up pecans in the food processor to a coarsely ground consistency. Then, add in melted butter and sugar, and mix together.
Pat the pecan crust mixture down onto the bottom of a greased or sprayed 10 inch springform pan. Then, set it the freezer and freeze for 10 minutes while preparing the next layer.
How to Make Cheesecake Layer
Cheesecake is pretty easy to make and is normally made with these same basic ingredients.
The trick to a smooth cheesecake is using cream cheese and eggs that are room temperature.
Mix the cream cheese with sugar and then add in the eggs. It works best to add in eggs one at a time and blend the mixture in between.
Then, mix in the vanilla.
Finally, pull the crust out of the freezer and pour the cheesecake layer onto the crust. Spread the cheesecake filling out evenly over the crust.
Then, freeze for 10-20 minutes while mixing together the next layer.
Then, freeze in the springform pan for an 10-20 minutes while mixing together the next layer.
How to Make an Easy Pumpkin Pie Layer
Pumpkin pie is a simple dessert to make. Combine pumpkin, granulated sugar, evaporated milk, eggs, and seasonings.
Spread the pumpkin pie filling over the cheesecake layer.
Now, it's time to partially bake the cheesecake and pumpkin pie layers.
Cover the outside of the spring form pan with aluminum foil and set it into a large roasting pan. Pour boiling water into the roasting pan to halfway up the side of the spring form pan.
How to Make a Pecan Streusel Layer
The pecan layer of this layered pumpkin pie cheesecake dessert is super easy to make. It's a simple combination of pecans, brown sugar and corn syrup.
Because it is a streusel instead of traditional pecan pie filling, there are no eggs in the topping and less corn syrup is used than in a pecan pie.
Once the pie is partially baked, add the streusel to the top of the pumpkin pie filling. Drop spoonfuls of the pecan mixture over the pie. Then, bake for the remaining time listed in the recipe instructions.
Other Layered Pumpkin Dessert Recipes You Might Like
Pumpkin layered desserts are always popular during the fall pumpkin season. Some of our favorites include: Layered Pumpkin Cake with Pumpkin Ganache, Pumpkin Lasagna and Pumpkin Poke Cake.
Other pumpkin desserts you should try are this Copycat Cheesecake Factory Pumpkin Cheesecake AND this yummy Instant Pot Pumpkin Cheesecake.
Get the latest scoop on all the recipes I'm whipping up in the kitchen by following along with All She Cooks on Facebook, Instagram, and Pinterest. Also, don't forget to join my Facebook Group where you can share your favorite blogger recipes: Easy & Delicious Recipes.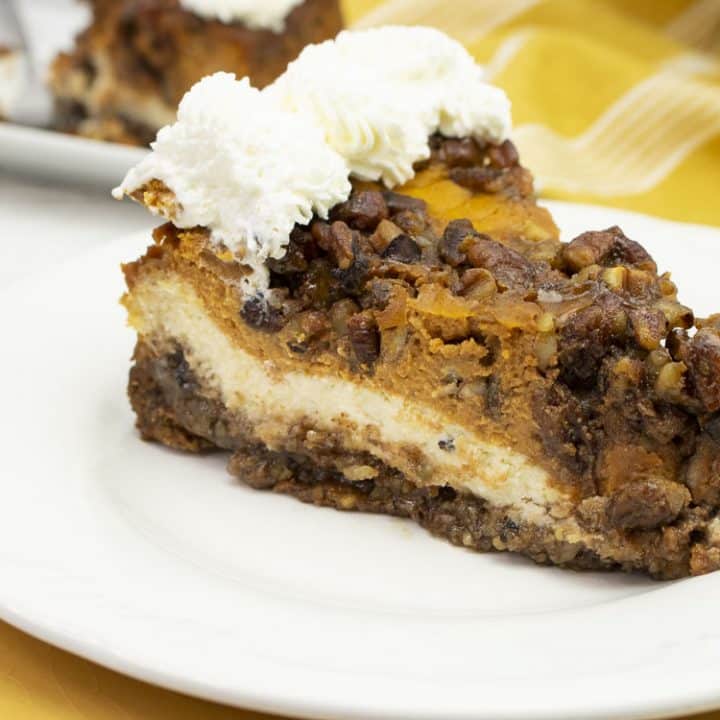 Double Layer Pumpkin Cheesecake Pie with Pecan Streusel
Cook Time:
1 hour
30 minutes
Total Time:
2 hours
30 minutes
Layered Pumpkin Cheesecake pie is a perfect holiday dessert recipe. Three classic dessert flavors meld into one delicious holiday pie recipe.
Ingredients
Pecan Crust
3 cups pecans, ground
1/2 cup unsalted butter, melted
1/2 cup granulated sugar 
Cheesecake Layer
2- 8 ounce packages cream cheese, softened to room temperature
1/2 cup granulated sugar
2 eggs, room temperature
1 teaspoon vanilla extract
Pumpkin Pie Layer
14 ounces pumpkin puree
12 ounce can evaporated milk
2 eggs, room temperature
3/4 cup granulated sugar
1 teaspoon ground cinnamon
1 teaspoon ground ginger
1/2 teaspoon ground nutmeg
1/2 teaspoon salt
Pecan Pie Streusel Topping
2 cups chopped pecans
1 cup brown sugar
1/2 cup light corn syrup
Instructions
Preheat oven to 350 degrees. 
Process 3 cups pecans (in a food processor or blender) until ground up. Transfer to a medium-size bowl.
Add melted butter and sugar to the pecans and stir to combine.
Prepare a 10 ½ inch springform pan with non-stick cooking spray or greasing with shortening. Pat pecan mixture into the bottom of the pan. Freeze for 10 minutes while preparing next layer.
In a large mixing bowl, mix the softened cream cheese with the sugar. Add in the eggs one at a time, mixing in between. Mix in the vanilla.
Pour the cream cheese mixture over the pecan crust, and spread out evenly.
Freeze for 20 minutes.
In a large mixing bowl, combine the pumpkin pie ingredients and mix until nicely incorporated. Pour over the partially frozen cheesecake filling.
Bake for 40-45 minutes until the pumpkin pie is starting to firm up around the outside.
Mix the streusel topping ingredients in a small bowl and then drop in spoonfuls over the partially baked pie.
Return the pie to the oven, and bake for an additional 50-65 minutes, or until the pumpkin and pecan topping is set.
Notes
Notes: To make a graham cracker crust for the pecan crust, substitute graham cracker crumbs for the ground pecans. 
Recommended Products
As an Amazon Associate and member of other affiliate programs, I earn from qualifying purchases.
Nutrition Information:
Yield:

16
Serving Size:

1
Amount Per Serving:
Calories:

597
Total Fat:

42g
Saturated Fat:

13g
Trans Fat:

0g
Unsaturated Fat:

27g
Cholesterol:

97mg
Sodium:

210mg
Carbohydrates:

52g
Fiber:

4g
Sugar:

47g
Protein:

8g