If you like a hearty bowl of chili, you'll love this Copycat Texas Roadhouse Chili recipe. It tastes just like the restaurant favorite you know and love, but it's easy to make at home!
Tender ground beef, beans, and seasonings combine to make a dinner that will fill you up and warm you to the bone. Serve with crackers, a sprinkle of cheese, and a dollop of sour cream for the perfect finish.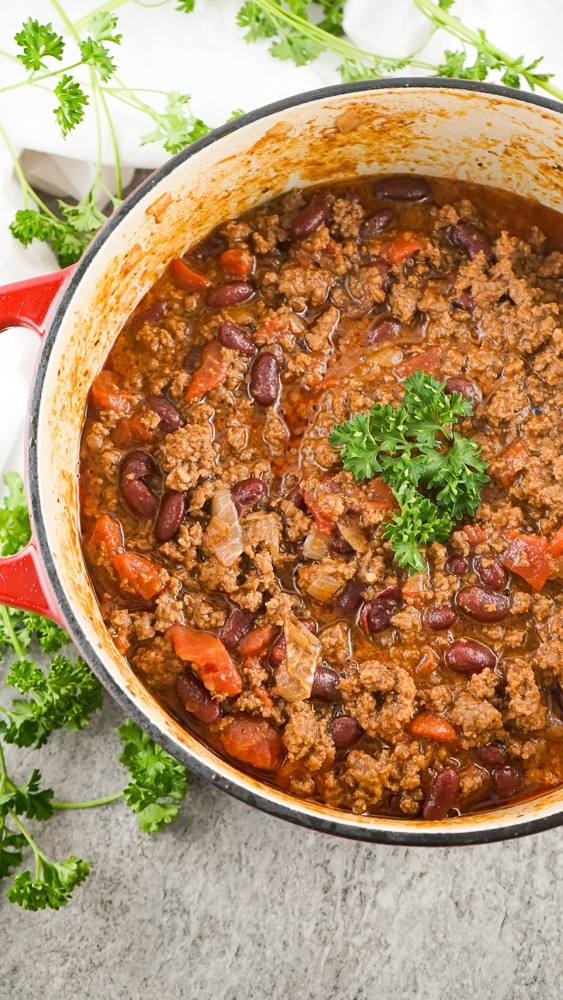 In this Article:
This Copycat Texas Roadhouse Chili Recipe turned out so much better than I first imagined.
Usually, when you're trying to copy a restaurant recipe, it takes a few tries to really get it right. Well, lucky for me, I got it right the first time around with this chili, and was doing a victory dance in my kitchen.
If you love this chili as much as I do, you'll probably break into a little dance as well. No shame!
I'm actually a huge lover of chili recipes in general. I have a few go-to recipes that I tend to swap between when my tummy cries for chili. My other favorites are these: Game Day Chili, Creamy White Chicken Chili, Lone Star Texas Chili, and Weight Watchers Chili (for those lighter days).
This Copycat Texas Roadhouse Chili is:
Warm and comforting.
Just a touch spicy (but you can amp it up!).
Perfect for fall and winter dinners.
A family-friendly meal idea.
Just like the restaurant version you love!
And if Texas Roadhouse is your jam, don't miss my Copycat Texas Roadhouse Fried Pickles! They're the most popular recipe on the blog.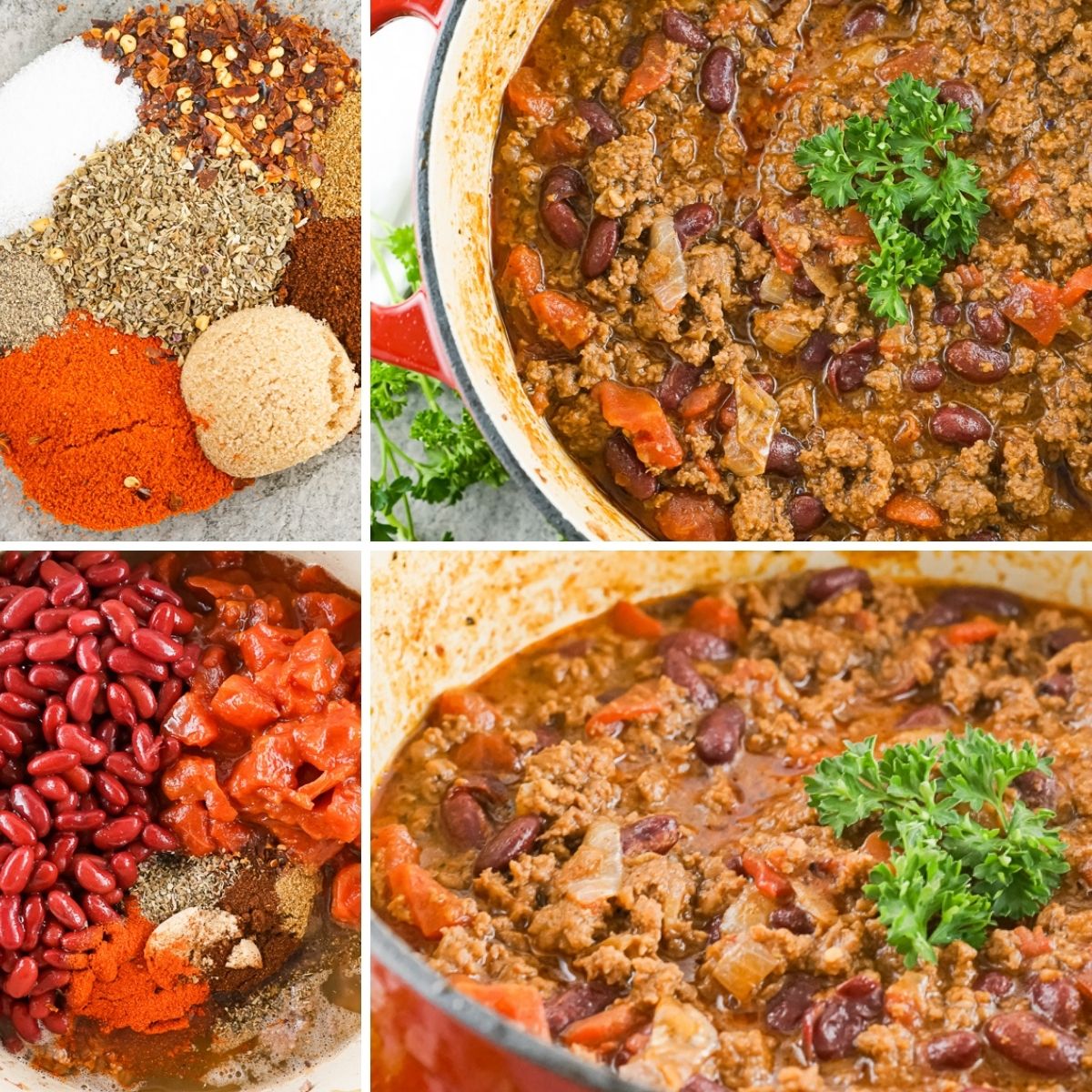 How to Make Copycat Texas Roadhouse Chili
Cook the onion and garlic in a skillet until the onion is translucent.
Add the ground beef to the pan and brown.
Add the rest of the ingredients (not the flour). Simmer for 35–40 minutes.
Add the flour. Simmer until thickened. Garnish and enjoy!
For detailed instructions and measurements, scroll down to the printable recipe card.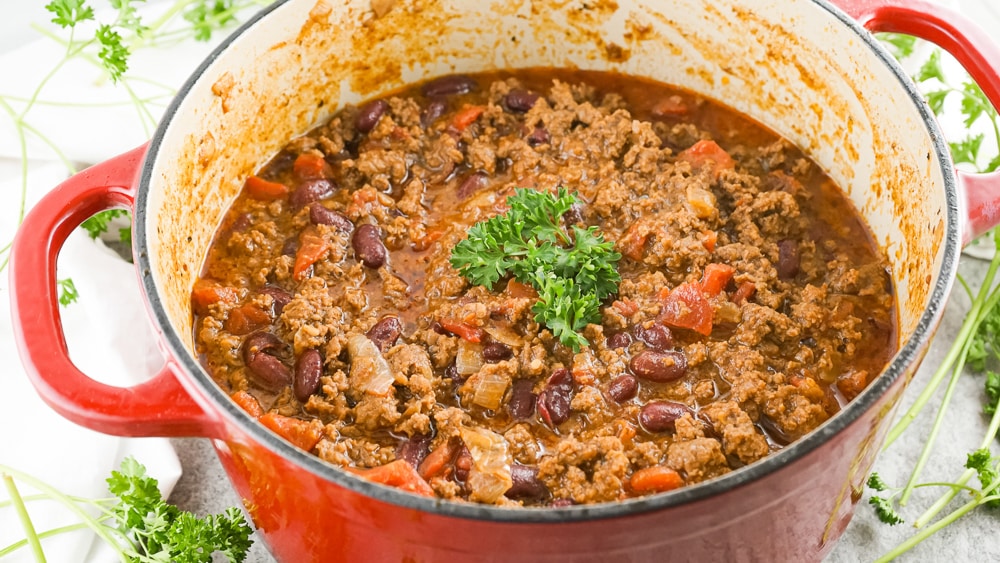 Tips and Variations
Storage - Store leftover chili in a sealed container, in the fridge, for up to 5 days. Store in an airtight container, in the freezer, for up to 3 months. This is a great make-ahead meal prep recipe.
Reheating - Reheat using the microwave, stove, instant pot, or even slow cooker. Simply heat until warmed through.
Use other types of beans - The kidney beans used in this copycat recipe are perfect for chili. However, you can use whatever beans you like or prefer - black beans and pinto beans both work fine here.
Use dried beans - Instead of using canned beans, you can opt to prep dried beans for this recipe. You will need to soak them overnight, then drain and rinse. This makes the recipe much healthier by reducing the sodium content but means planning ahead a little bit.
Use other meats - Swap out the beef for protein options such as ground turkey, chicken, or sausage. You could even make a vegetarian version using soy crumbles or even chickpeas. You could also skip the meat altogether and simply double the beans.
Make it spicy - Add some crushed red pepper or even some diced jalapenos to the mix for a spicy kick. Other spicy peppers, like serrano, would do the trick as well.
Toppings - Shredded cheese, sour cream, chives, crackers, and cornbread are all delicious ideas for topping and serving your chili. Some fresh herbs never hurt either!
Great for meal prep - This chili is easy to make in large batches and store for later use. It tastes great, even when reheated days or months later!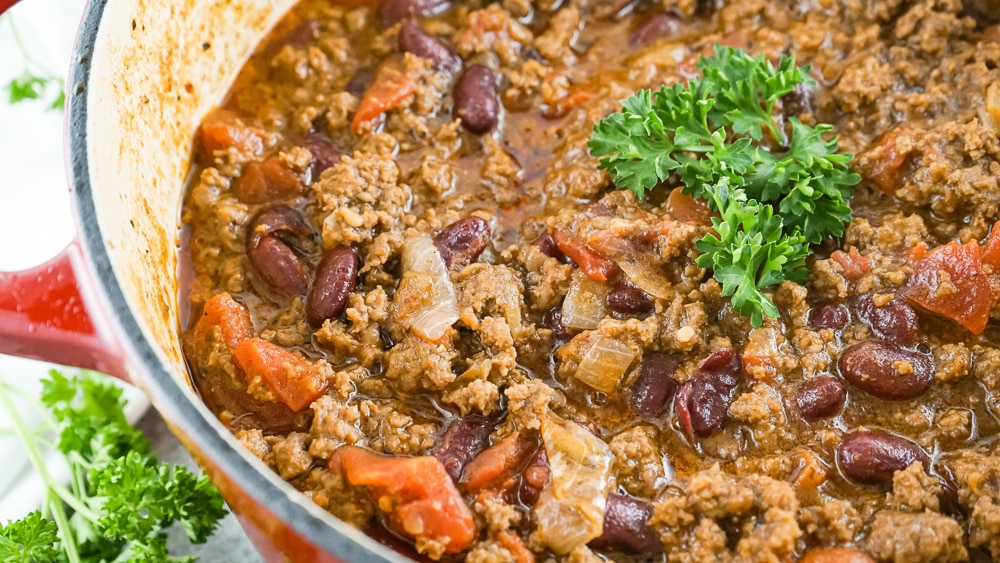 FAQs
Which Ground Beef is Best for Chili?
For a chili with a really full and rich flavor, you'll want to use ground chuck that has a higher fat content. You'll need to make the beef separately and drain it, but don't rinse it with water, before mixing it with the rest of the ingredients.
For a healthier option, you can use a low fat ground chuck and skip the need for having to drain. This will leave it lacking in flavor a bit, but you can always make up for that with additional seasoning or fresh herbs.
Does Texas Roadhouse Have Chili?
Yes, Texas Roadhouse has their own chili that's offered on the menu. They're well-known for their steaks, but their chili is also super popular! It's always been one of my husband's favorite items on the menu. And that's why I decided to make my own copycat version.
If you decided to give this Copycat Texas Roadhouse Chili Recipe a try, please let me know in the comments below or on social media!
More Recipes to Try
If you love this copycat chili recipe, be sure to check out these other tasty ideas:
Recipe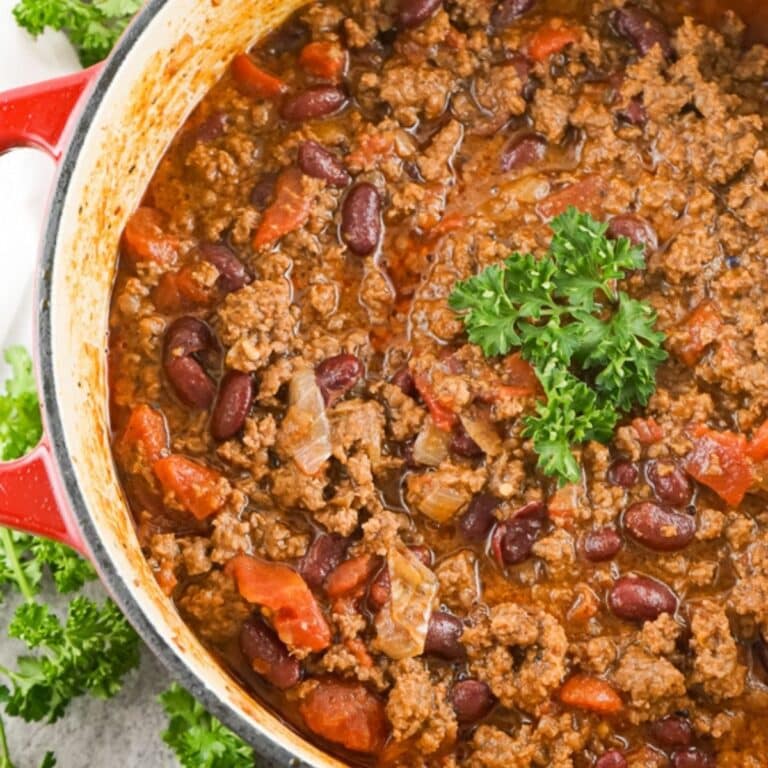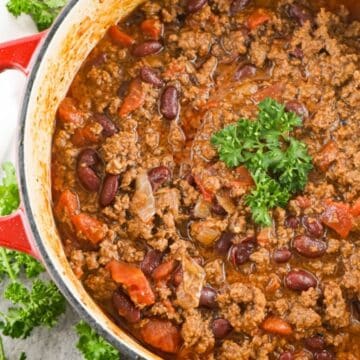 Copycat Texas Roadhouse Chili Recipe
If you like a hearty bowl of chili, you'll love this Copycat Texas Roadhouse Chili recipe. It tastes just like the restaurant favorite you know and love, but it's easy to make at home!
Instructions
Heat a dab of olive oil in a dutch oven. Add the garlic and onion and saute until onion is translucent, 2–3 minutes.

Add the hamburger to the pot and brown thoroughly.

Add the rest of the ingredients except the flour and simmer over medium heat for about 35–40 minutes.

Add the flour and let it cook for another 15 minutes or until it's thickened up a bit more.

Top with some diced jalapenos, sour cream, shredded cheese, or crushed crackers, and enjoy!
Nutrition
Calories:
781
kcal
Carbohydrates:
39
g
Protein:
51
g
Fat:
47
g
Saturated Fat:
18
g
Polyunsaturated Fat:
2
g
Monounsaturated Fat:
20
g
Trans Fat:
3
g
Cholesterol:
161
mg
Sodium:
364
mg
Potassium:
1479
mg
Fiber:
12
g
Sugar:
7
g
Vitamin A:
1524
IU
Vitamin C:
15
mg
Calcium:
140
mg
Iron:
10
mg