We're always looking for great new salad recipes to try, and this recipe for Cauliflower Kale Salad sure does the trick.
With tasty ingredients, not to mention that super food kick, we're pretty sure this delicious salad will quickly become a new favorite around your dinner table too.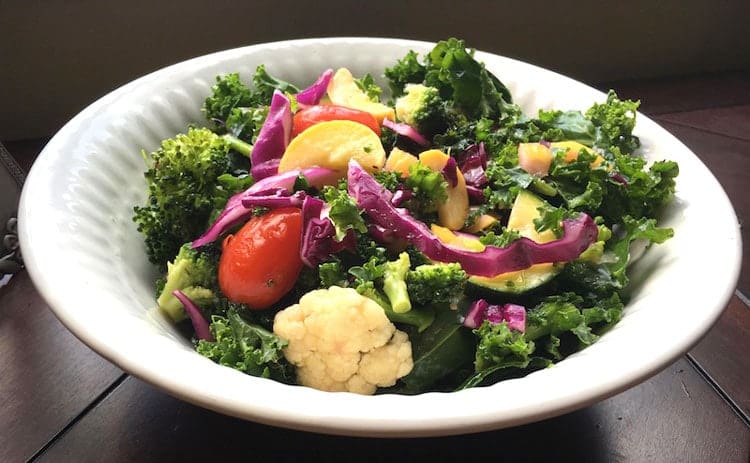 This salad would be so good served as a side dish for Grilled Chicken Halves, the Perfect Pork Ribs, and our yummy Flank Steak.
You'd love all three of those choices and you will seriously LOVE this salad...and pairing it with the perfect meat...YUM!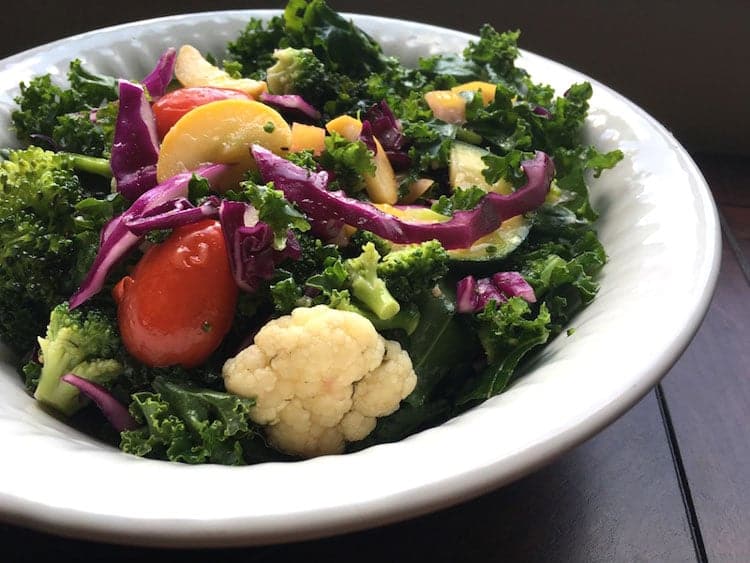 Citrus Cauliflower Kale Summer Salad
Without question, the addition of the salt-cured lemon slices is what elevates this recipe from bland to grand. The bright, briny flavor of the preserved lemon adds a fresh burst of flavor to an otherwise sedate dish.
The lemons are really easy to make by pressing fresh lemon slices between 2 Himalayan salt blocks. Allow 2 days for the salt blocks to work their magic and you will be rewarded with a very tasty treat you'll reach for again and again.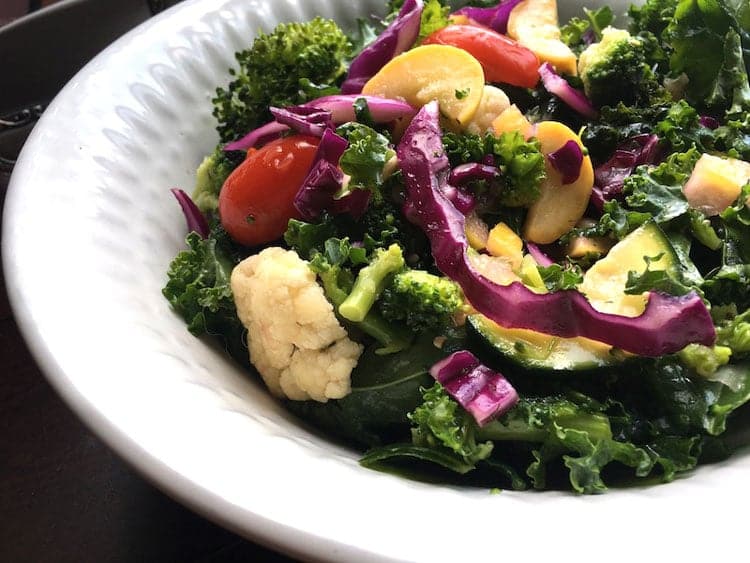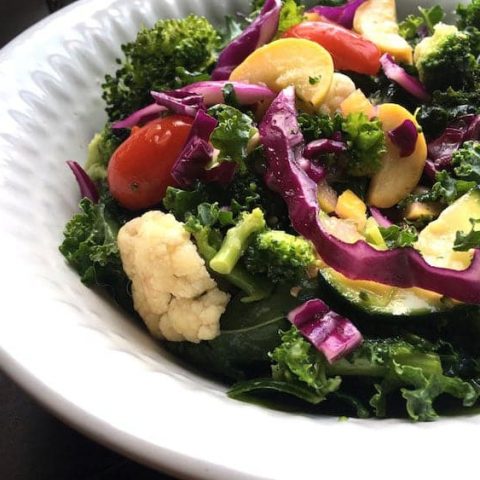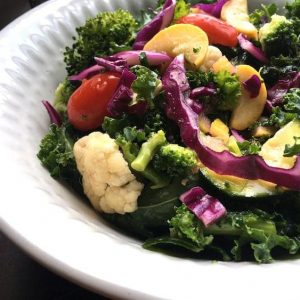 Best Recipe Cauliflower Kale Salad for a Superfood Salad
Enjoy this tasty Cauliflower Kale Salad that is made with the freshest healthy ingredients and superfood ingredient kale. Power salad perfect for lunch.
Instructions
In a glass bowl, combine all vinaigrette ingredients and whisk until thoroughly combined. If possible, make in advance to allow the flavors to mingle. Taste and adjust seasonings as desired. Set aside.

Place zucchini, squash, cauliflower, and broccoli in a large microwave-safe dish and add 2 tablespoons water. Cover and microwave on high for about 5 or 6 minutes, or until crisp tender. Cook times will vary by microwave, so test after 3 minutes and adjust cook time accordingly. Do not overcook. Set aside to cool.

In a large glass bowl, add torn kale and drizzle with olive oil. With your fingers, massage each piece of kale with your fingers until the olive oil is worked into the leaf. This will soften the kale and improve its taste. Add cooled zucchini, squash, cauliflower, broccoli, tomatoes, basil, chopped preserved lemon and cranberries to bowl. Toss to combine. Serve immediately or store in the refrigerator for up to two days.

Right before serving, add desired amount of citrus vinaigrette and toss to coat thoroughly. Add salt and pepper to taste.